Around Red Deer May 2nd…..
10:35 am – The Odd / Even watering system is in effect for the Town of Innisfail. Details Here.
For more local news, click here!
10:30 am – Street sweeping is underway in Sylvan Lake again today! Read More.
10:25 am – Three days of Free large item pick-ups begin in Sylvan Lake today! Read More.
10:15 am – The Abbey Centre in Blackfalds will close for a few days starting on Wednesday. Read More.
For more local news, click here!
10:02 am – Blackfalds firefighters will will two teams competing in the Firefighter Stairclimb Challenge on May 7th. It's being hosted by the Calgary Firefighters Benevolent Society (CFBS). Read More.
9:46 am – Westerner Park and the Red Deer Rebels have partnered to launch a new ticketing system! Read More.
9:01 am – A new garbage collection system will begin in Red Deer early next year. See what this means to you!
For more local news, click here!
8:53 am – Red Deer City Council has set our Property Tax Rate for 2017. Read More.
8:43 am – Residential street sweeping starts in Red Deer today. Find out where.
8:35 am – Red Deer RCMP are warning local businesses about "Quick Change" scammers that are making their way through town. Surveillance photos of the suspects are available. Can you identify them?
For more local news, click here!
8:20 am – École Secondaire Notre Dame High School in Red Deer will host some Rugby action today. Starting at 5 pm , the Girls Rugby team will play against Hunting Hills High School, while the Boys Rugby team will travel to Rocky Mountain House to play against West Central High School at 6 pm.
8:16 am – City Badminton Finals are getting underway in Red Deer this week. The Grade 9 Badminton team from St. Francis of Assisi Middle School will compete in the City Finals starting with a round robin competition at Hunting Hills High School on Tuesday, May 2 at 2:00 p.m. and continuing with finals at Lindsay Thurber Comprehensive High School at 4:00 p.m. Grade 6 Girls Singles and Doubles will play at St. Francis of Assisi Middle School beginning at 4:00 p.m. on May 2. The Boys Singles, Doubles and Mixed Doubles will play at the school on May 3 beginning at 4:00 p.m.
8:05 am – May is Bike Safety Month, so Better Biking Red Deer is kicking-off it's bike safety awareness campaign at Annie L. Gaetz Elementary School this morning. They will be reading the bike proclamation, doing bike checks for students and hosting a hot dog lunch for the students.
Canadian brothers make like Mounties on "once-in-a-lifetime' trip to World Cup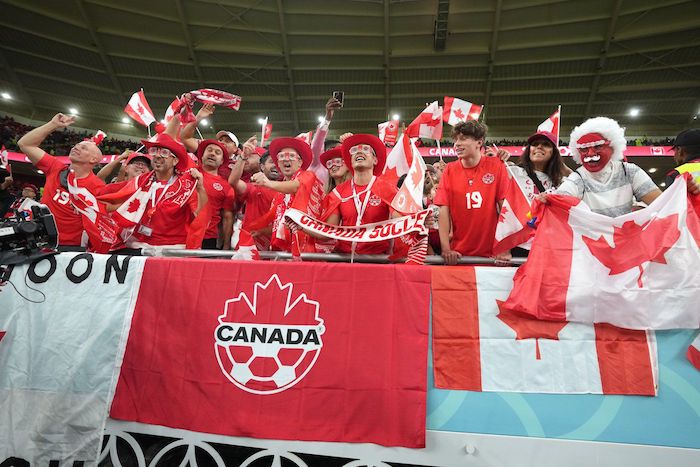 By Neil Davidson in Doha
The Mounties are at the World Cup, thanks to Canadians Geoff, Graham and Stephen Rawlinson.
The trio, making their first brothers' trip in more than 10 years, range in age from 48 to 56. Geoff and Graham are from Toronto, while Stephen calls Edmonton home.
They got their tickets some six months ago via the FIFA portal lottery, with Graham in charge of the logistics. That included assembling facsimile Mountie costumes for the "once-in-a-lifetime trip."
In real life, the brothers are a banker, lawyer and in the oil and gas business.
"We actually put the (basic) trip together in about 10 days … but it's been taking us four or five months to put everything else together," said Geoff.
Once they got match tickets, booking accommodations came next in the form of an apartment through the tournament organizers. Their Doha digs are costing close to $10,000 for two weeks, although the three came up with different cost estimates when asked.
"Is my wife going to read this?" one of the brothers asked with a laugh.
They splurged on a direct flight, paying some $3,100 each, and are taking in nine games over 13 days.
They say they have several other Canadian-themed costumes, including Toronto Maple Leaf gear.
And while the advance logistics were somewhat complicated, the brothers report things have been "seamless" since their arrival in Qatar.
And the fun quotient is high. They are already thinking of the next brothers' trip.
—
Follow @NeilMDavidson on Twitter
This report by The Canadian Press was first published Nov. 25, 2022.
Laval Rouge et Or win Vanier Cup with 30-24 victory over Saskatchewan Huskies
LONDON, Ont. — The Laval Rouge et Or are Vanier Cup champions.
They defeated the Saskatchewan Huskies 30-24 at Western Alumni Stadium.
Laval has won the Canadian university football championship a record 11 times.
It's the Rouge et Or's first title since 2018.
The Huskies also reached the final last year but fell to Western.
Saskatchewan was looking for its first championship since 1998.
This report by The Canadian Press was first published Nov. 26, 2022.
The Canadian Press