Around Red Deer May 2nd…..
10:35 am – The Odd / Even watering system is in effect for the Town of Innisfail. Details Here.
For more local news, click here!
10:30 am – Street sweeping is underway in Sylvan Lake again today! Read More.
10:25 am – Three days of Free large item pick-ups begin in Sylvan Lake today! Read More.
10:15 am – The Abbey Centre in Blackfalds will close for a few days starting on Wednesday. Read More.
For more local news, click here!
10:02 am – Blackfalds firefighters will will two teams competing in the Firefighter Stairclimb Challenge on May 7th. It's being hosted by the Calgary Firefighters Benevolent Society (CFBS). Read More.
9:46 am – Westerner Park and the Red Deer Rebels have partnered to launch a new ticketing system! Read More.
9:01 am – A new garbage collection system will begin in Red Deer early next year. See what this means to you!
For more local news, click here!
8:53 am – Red Deer City Council has set our Property Tax Rate for 2017. Read More.
8:43 am – Residential street sweeping starts in Red Deer today. Find out where.
8:35 am – Red Deer RCMP are warning local businesses about "Quick Change" scammers that are making their way through town. Surveillance photos of the suspects are available. Can you identify them?
For more local news, click here!
8:20 am – École Secondaire Notre Dame High School in Red Deer will host some Rugby action today. Starting at 5 pm , the Girls Rugby team will play against Hunting Hills High School, while the Boys Rugby team will travel to Rocky Mountain House to play against West Central High School at 6 pm.
8:16 am – City Badminton Finals are getting underway in Red Deer this week. The Grade 9 Badminton team from St. Francis of Assisi Middle School will compete in the City Finals starting with a round robin competition at Hunting Hills High School on Tuesday, May 2 at 2:00 p.m. and continuing with finals at Lindsay Thurber Comprehensive High School at 4:00 p.m. Grade 6 Girls Singles and Doubles will play at St. Francis of Assisi Middle School beginning at 4:00 p.m. on May 2. The Boys Singles, Doubles and Mixed Doubles will play at the school on May 3 beginning at 4:00 p.m.
8:05 am – May is Bike Safety Month, so Better Biking Red Deer is kicking-off it's bike safety awareness campaign at Annie L. Gaetz Elementary School this morning. They will be reading the bike proclamation, doing bike checks for students and hosting a hot dog lunch for the students.
Mohawk Council of Kahnawake 'repulsed' by politicization of Habs' land acknowledgment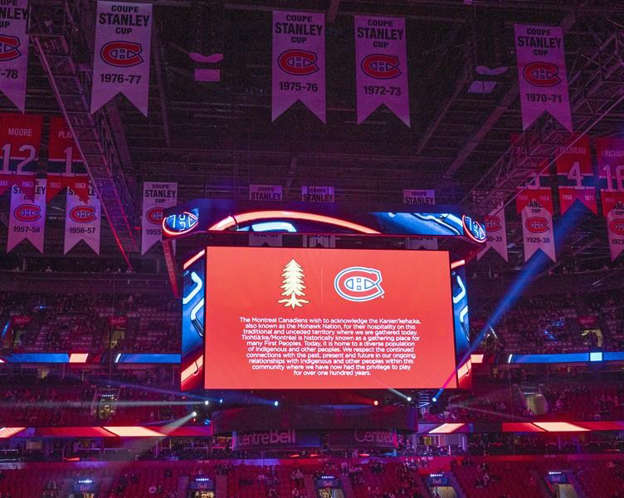 MONTREAL — The Mohawk Council of Kahnawake is blasting the Quebec government for questioning a land acknowledgment by the Montreal Canadiens that refers to the unceded territory of the Mohawk Nation.
The statement, which has been read before the NHL team's home games this season, acknowledges the hospitality of the Mohawk Nation "on this traditional and unceded territory where we are gathered today."
Quebec Indigenous Affairs Minister Ian Lafrenière told reporters on Wednesday the acknowledgment may be an error.
In a statement Thursday, the elected council for the First Nations reserve across the river from Montreal commended the hockey club's gesture as an example of true reconciliation and added it was "repulsed" by the province's attempt to politicize the effort, which it said undermines the Mohawk presence in the Montreal region.
On Wednesday, Lafrenière told reporters that referring to a specific nation may be a mistake as historians differ on which nation was the first to live in Montreal, while adding it was important to recognize that First Nations were the first occupants.
Grand Chief Kahsennenhawe Sky-Deer said in a statement that land is an essential part of Mohawk identity.
"It holds the knowledge of our ancestors, our history and our presence, now and for the future," Sky-Deer said. "Opinionated commentary that challenge and discredit our presence are not only insulting, they are taken as displaced attacks on our existence."
This report by The Canadian Press was first published Oct. 21, 2021.
The Canadian Press
Supreme Court of Canada sides with injured woman in snow-clearing squabble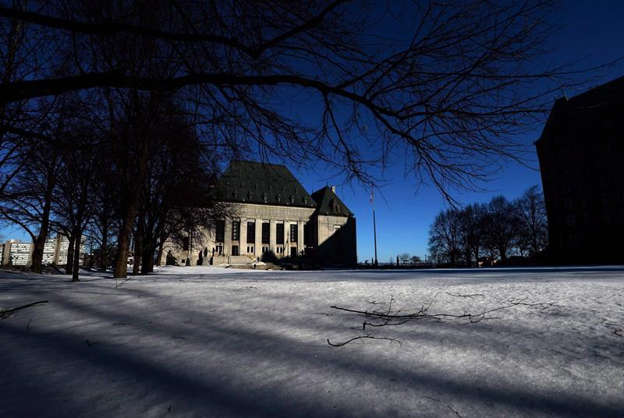 OTTAWA — A woman will get another chance to sue for damages over a leg injury she suffered while climbing through snow piled by a city's plow, the Supreme Court of Canada has ruled.
Taryn Joy Marchi alleged the City of Nelson, B.C., created a hazard when it cleared snow from downtown streets after a storm in early January 2015.
The removal effort left snow piles at the edge of the street along the sidewalk early in the morning of Jan. 5.
Late in the afternoon of Jan. 6, Marchi — then a 28-year-old nurse — parked in an angled spot on the street and, wearing running shoes with a good tread, tried to cross a snow pile to get on to the sidewalk.
Her right foot dropped through the snow and she fell forward, seriously injuring her leg.
Marchi contended the city should have left openings in the snowbank to allow safe passage to the sidewalk.
She pointed to the neighbouring municipalities of Castlegar, Rossland and Penticton in arguing there were preferable ways to clear the streets so as to ensure safe access for pedestrians.
However, the trial judge dismissed her case, saying the city was immune from liability because it made legitimate policy decisions about snow clearing based on the availability of personnel and resources.
In any event, the judge concluded, Marchi assumed the risk of crossing the snow pile and was "the author of her own misfortune."
The B.C. Court of Appeal overturned the decision and ordered a new trial, saying the judge erred in addressing the city's duty of care and the question of Marchi's negligence.
The ruling prompted the City of Nelson to seek a hearing in the Supreme Court.
In a written submission to the high court, the city said its actions amount to "a clear example of a core policy decision" that should be immune from liability.
In her filing with the court, Marchi said city employees made a number of operational decisions that fell below the expected standard of care of a municipality — decisions not required by the written policy.
In its 7-0 ruling Thursday, the Supreme Court said a fresh trial should take place because the city has not proved that its decision on how to clear the snow was "a core policy decision" immune from liability.
While there is no suggestion the city made an irrational or "bad faith decision," the city's core policy defence fails and it owed Ms. Marchi a duty of care, justices Sheilah Martin and Andromache Karakatsanis wrote on behalf of the court.
"The regular principles of negligence law apply in determining whether the City breached the duty of care and, if so, whether it should be liable for Ms. Marchi's damages."
This report by The Canadian Press was first published Oct. 21, 2021.
Jim Bronskill, The Canadian Press