Around Red Deer May 10th…..
12:29 pm – Red Deer RCMP are investigating what's considered to be the non-suspicious death of a man near Kin Kanyon. Read More.
12:06 pm – Lacombe City Council has approved amendments to the Southeast Area Structure Plan in order to facilitate redevelopment in the industrial area of the plan and ensure alignment with the City's 2015 Municipal Development Plan (MDP). Chief Administrative Officer Dion Pollard says in a release that "They do not change the overall intent or proposed land uses of the area; rather they ensure that future developments within the area align with the City's current development standards."
12:02 pm – The Town of Innisfail is excited to announce the opening of new RV dump station on Friday, May 19! Read More.
Fore more local news, click here!
12:01 pm – Innisfail's annual fire hydrant maintenance and flushing program is now underway. Read More.
11:57 am – The Town of Sylvan Lake handed out it's Leaders of Tomorrow Excellence Awards on Monday! Find out who was recognized!
11:54 am – Sylvan Lake Town Council has amended it's bylaw that regulates the hours in which licensed establishments may serve alcohol, and provide outdoor entertainment. Check this week's Town Council Highlights!
For more local news, click here!
11:51 am – Street sweeping continues in Sylvan Lake today as well. Read More.
11:50 am – Crews with the Town of Sylvan Lake have figured out what's up with that water leak at the intersection of 50th Street and 47th Avenue. Read More.
11:37 am – Street sweeping continues in Lacombe today: on Onyx Ave, Opal Cl, Fieldstone Blvd, Hearthstone Dr, Knightsbridge Rd, Telford Cr and Pickwick Lane. Don't forget to move your vehicles!
For more local news, click here!
11:32 am – The Blackfalds Fire Department is hosting an Open House and BBQ tonight to mark National Emergency Preparedness Week. Read More.
11:26 am – May 7-13 is National Emergency Preparedness Week. Please join the Penhold Fire Department on Wednesday May 10 at 6:30 pm for an open house and BBQ. There will be some excellent information on hand for everyone.
11:17 am – Street sweeping continues in Red Deer's Sunnybrook South and Bower neighbourhoods today. Read More.
For more local news, click here!
10:04 am – There's a long list of FCSS events going on in Red Deer County over the coming weeks. Check them out here!
9:59 am – Find out more about Red Deer County's Rural Property Crime Prevention efforts with the RCMP. Details and Video Here.
9:49 am – There's a Town Hall Meeting with Red Deer County Division 6 Councillor Christine Moore tonight. The focus will be a Crime Prevention Strategy. It's 7:00 pm at the Poplar Ridge Hall.
For more local news, click here!
9:06 am – Red Deer RCMP are looking for the owner of a tandem bike that police recovered this week in some brush in the area of Taylor Drive and 22 Street. If your tandem bike was stolen recently, please contact Red Deer RCMP Exhibits staff at 403-406-2574 from Monday to Thursday between 8 am and 6 pm and Friday between 8 am and 3:30 pm. You will be asked to provide a description of the bike to prove ownership.
9:02 am – Red Deer County Council approved 2nd and 3rd reading of the municipal tax rate bylaw for 2017 at it's Regular Meeting on Tuesday, May 9th. In recognition of the continued economic challenges, Council has approved a zero percent increase in tax rates. Major projects for the year include Gasoline Alley road construction, bridge repairs and contributions to the Delburne Agriplex.
8:58 am – Street sweeping continues in Penhold today:
· Windsor Avenue (from Emma Street to Grey Street)
· Newton Drive (from Hayter Street to Robinson Avenue)
· Logan Avenue
· Hampton Close
· Hutton Place
For more local news, click here!
8:51 am – Heads up Red Deer motorists! City crews have a number of projects they're working on, so you can expect to see some road closures throughout the City over the next little while. Read More.
8:43 am – Maskwacis RCMP are pleased to advise that Azhlyn Buffalo that was previously reported as missing, has now been safely located. Mounties Thank the public and media for their help in finding her.
8:39 am – The Town of Penhold has provided an update on it's Capital Projects currently underway.
The Oxford Reservoir Water Main Feeder – Construction on this project is progressing. Minor traffic delays may be expected on Oxford Blvd.
Drainage Project in Lane Way behind Morton Close – The start of this project has been postponed. Expected start date is now

Monday May 15, 2017

.
Robinson Avenue Storm Line Project – Construction has been delayed. Work is expected to begin on

Tuesday May 23, 2017.
For more local news, click here!
8:32 am – June is Block Party month in Lacombe, so the City is excited to announce that for 2017 they will be giving away $100 gift cards to Lacombe CO-OP to help purchase party supplies. Register your June Block Party during the month of May to be entered for a chance to win. Draws will be made on June 1. Click here to download your registration package.
8:22 am – The G.H. Dawe Community Centre in Red Deer is closed from 8:30 am – 4:00 pm today due to a private function. Details Here.
8:17 am – The Netflix series, 13 Reasons Why, debuted on March 31, 2017, and is trending nationally as well as in the Red Deer Catholic Regional Schools community. Officials say this 13-hour series depicts strong and graphic themes of suicide, bullying, sexual assault, drug use, and other social issues. While District officials are unaware of any specific incidents related to the series, they want to provide parents with an opportunity to discuss the series with mental health professionals. That chance is tonight from 7:00 – 9:00 pm at St. Thomas Aquinas Middle School (3821 39 St, Red Deer, AB T4N 0Y6). All parents in the community are invited to attend.
For more local news, click here!
8:11 am – Students from Ecole Secondaire Notre Dame High School in Red Deer will showcase their talents at the annual Spring Evening of the Arts tonight. This event will take place in the school's Gathering Area.
8:07 am – The City of Red Deer has chosen St. Patrick's Community School to plant a tree on the West side of the school today. The school has invited the Mayor's office, as well as City Councillors to attend and celebrate Arbour Day with the school's Grade one and two students at 10:30 am!
8:01 am – Grade 7 Badminton players from St. Francis of Assisi Middle School in Red Deer will be competing at the CWAJHAA's today!
Afghan rights leader heartbroken after year of Taliban rule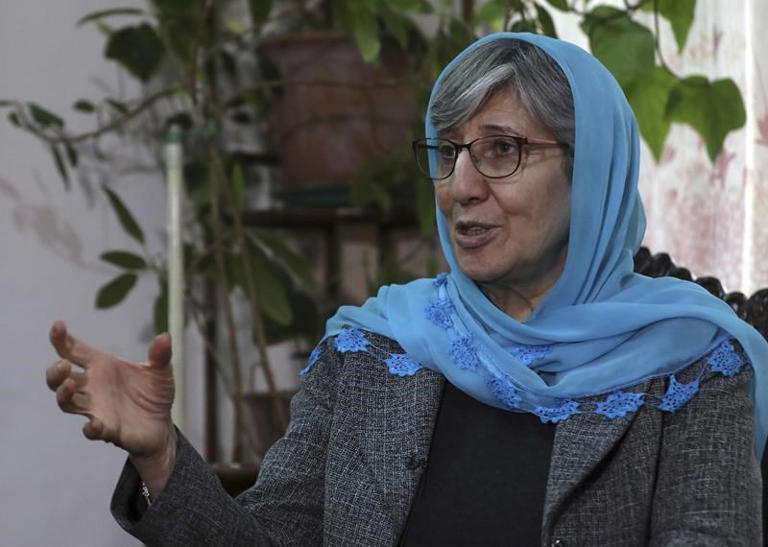 UNITED NATIONS (AP) — A year after the Taliban takeover of Afghanistan, prominent Afghan rights activist Sima Samar is still heartbroken over what happened to her country.
Samar, a former minister of women's affairs and the first chair of the Afghanistan Independent Human Rights Commission, left Kabul in July 2021 for the United States on her first trip after the COVID-19 pandemic, never expecting Afghan President Ashraf Ghani to flee the country and the Taliban to take power for the second time soon after on Aug. 15.
"I think it's a sad anniversary for the majority of people of my country," Samar said, particularly for the women "who don't have enough food, who do not know what is the tomorrow for them."
A visiting scholar at the Carr Center for Human Rights at the Kennedy School at Harvard, she has written the first draft of an autobiography and is working on a policy paper on customary law relating to Afghan women. She is also trying to get a Green Card, but she said, "I honestly cannot orient myself, where I am, and what I'm doing."
She wishes she could go home — but she can't.
In an interview Friday with The Associated Press, she recalled a Taliban news conference a few days after they took power when they said if people apologized for past actions they would be forgiven.
"And I said, I should be apologizing because I started schools for the people?" said Samar, a member of Afghanistan's long persecuted Hazara minority. "I should apologize because I started hospitals and clinics in Afghanistan? I should apologize because I tried to stop torture of the Taliban? I should apologize to advocate against the death penalty, including (for) the Taliban leadership?"
"All my life I fought for life as a doctor," she said. "So I cannot change and support the death penalty. I shouldn't apologize for those principles of human rights and be punished."
Samar became an activist as a 23-year-old medical student with an infant son. In 1984, the then-communist government arrested her activist husband, and she never saw him again. She fled to Pakistan with her young son and worked as a doctor for Afghan refugees and started several clinics to care for Afghan women and girls.
Samar remembered the Taliban's previous rule in the late 1990s, when they largely confined women to their homes, banned television and music, and held public executions. A U.S.-led invasion drove the Taliban from power months after the 9/11 attacks in 2001, which al-Qaida orchestrated from Afghanistan while being sheltered by the Taliban.
After the Taliban's ouster, Samar returned to Afghanistan, moving into the top women's rights and human rights positions, and over the next 20 years schools and universities were opened for girls, women entered the workforce and politics and became judges.
But Samar said in an AP interview in April 2021 — four months before the Taliban's second takeover of the country — that the gains were fragile and human rights activists had many enemies in Afghanistan, from militants and warlords to those who wanted to stifle criticism or challenge their power.
Samar said the Afghan government and leadership, especially Ghani, were mainly responsible for the Taliban sweeping into Kabul and taking power. But she also put blame on Afghans "because we were very divided."
In every speech and interview she gave nationally and internationally over the years, she said Afghans had to be united and inclusive, and "we have to have the people's support. Otherwise, we will lose."
As chair of the Human Rights Commission, she said she repeatedly faced criticism that she was trying to impose Western values on Afghanistan.
"And I kept saying, human rights is not Western values. As a human being, everyone needs to have a shelter … access to education and health services, to security," she said.
Since their takeover, the Taliban have limited girls' public education to just six years, restricted women's work, encouraged them to stay at home, and issued dress codes requiring them to cover their faces.
Samar urged international pressure not only to allow all girls to attend secondary school and university, but to ensure all human rights which are interlinked. And she stressed the importance of education for young boys, who without any schooling, job or skill could be at risk to get involved in opium production, weapons smuggling or in violence.
She also urged the international community to continue humanitarian programs which are critical to save lives, but said they should focus on food-for-work or cash-for-work to end peoples' total dependency and give them "self-confidence and dignity."
Samar said Afghan society has changed over the past two decades, with more access to technology, rising education levels among the young and some experience with elections, t even if they weren't free and fair.
She said such achievements leave the possibility of positive change in the future. "Those are the issues that they (the Taliban) cannot control," she said. "They would like to, but they cannot do it."
Samar said she hoped for eventual accountability and justice for war crimes and crimes against humanity. "Otherwise, we feel the culture of impunity everywhere, everywhere — and the invasion of Russia to Ukraine is a repetition of Afghanistan's case," she said.
Her hope for Afghan women is that they can "live with dignity rather than being a slave of people."
Edith M. Lederer, The Associated Press
Ship carrying grain for hungry Ethiopia leaves Ukraine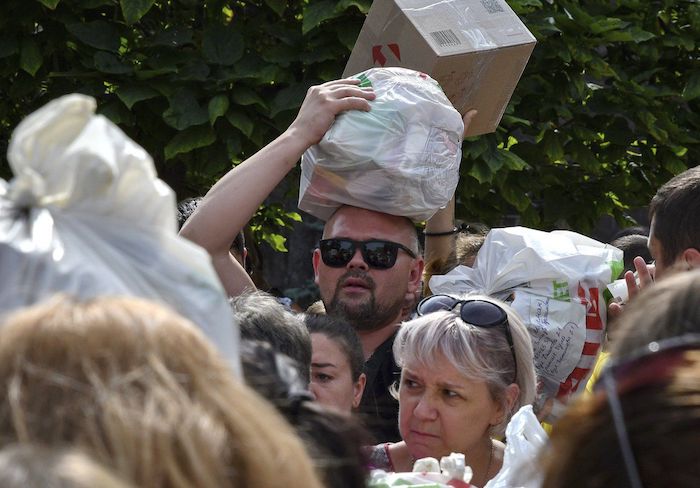 By Derek Gatopoulous in Kyiv
KYIV, Ukraine (AP) — A United Nations-chartered ship loaded with 23,000 metric tons of Ukrainian grain destined for Ethiopia set sail Sunday from a Black Sea port, the first shipment of its kind in a program to assist countries facing famine.
The Liberia-flagged Brave Commander departed from the Ukrainian port of Yuzhne, east of Odesa, according to regional governor Maksym Marchenko. It plans to sail to Djibouti, where the grain will be unloaded and transferred to Ethiopia under the World Food Program initiative.
Ukraine and Russia reached a deal with Turkey on July 22 to restart Black Sea grain deliveries, addressing the major export disruption that has occurred since Russia invaded Ukraine in February.
Ethiopia is one of five countries that the UN considers at risk of starvation.
"The capacity is there. The grain is there. The demand is there across the world and in particular, these countries," WFP Ukraine coordinator Denise Brown told The Associated Press. "So if the stars are aligned, we are very, very hopeful that all the actors around this agreement will come together on what is really an issue for humanity. So today was very positive."
On the front line, Russian forces on Sunday fired rockets on the Mykolaiv region in southern Ukraine, killing at least one person. That region is just north of the Russian-occupied city of Kherson, which Ukrainian forces have vowed to retake. The Ukrainian emergency service said one person was killed in shelling early Sunday settlement of Bereznehuvate in Mykolaiv.
A Russian diplomat, meanwhile, called on Ukraine to offer security assurances so that international inspectors could visit a nuclear power station that has come under fire.
As fighting steps up in southern Ukraine as Russia's war closes in on six months, concern has grown sharply about the Zaporizhzhia nuclear power plant, which is held by Russian forces and has been hit by sporadic shelling. Both Ukraine and Russia blame each other for the shelling, which officials say has damaged monitoring equipment and could lead to a nuclear catastrophe.
The Zaporizhzhia facility is Europe's largest nuclear power plant.
Russia's envoy to international organizations based in Vienna, Mikhail Ulyanov, called on Ukraine to stop attacking the plant in order to allow an inspection mission from the International Atomic Energy Agency.
"It is important that the Ukrainians stop their shelling of the station and provide security guarantees to members of the mission. An international team cannot be sent to work under continuous artillery shelling," he was quoted as saying Sunday by Russian state news agency Tass.
Ukraine says Russia is shelling nearby regions from the plant and storing weapons there.
___
Follow the AP's coverage of the war at https://apnews.com/hub/russia-ukraine