Around Red Deer June 9th – 11th…..
3:06 pm – Officials with Red Deer Catholic Regional Schools are celebrating the honour bestowed upon Allan Mahoney, a teacher at École Secondaire Notre Dame High School who received the Mayor's Recognition Award on Thursday night for Distinguished Voluntary Service! Mahoney began his volleyball coaching career in 2011. He has coached the Notre Dame Senior Boys Varsity Volleyball Team for the past six years and has dedicated more than 15 hours per week working with students during the volleyball season. He coordinates and runs week-long volleyball camps during the summer for students in Grades 6-12. For the past seven years, Mahoney has coached the Central Alberta Kings Volleyball Club U18 team.
2:36 pm – A big Thank You going out to the Moovers and Groovers adult walking club in Innisfail. Find out why.
2:31 pm – The Town of Innisfail would like to thank everyone who gave their time at the 2017 Mayor and Seniors Garden Party for their contributions in making the event a great success. Read More.
For more local news, click here!
2:20 pm – The Town of Sylvan Lake is set to party with 1913 Days starting today! Details Here.
1:52 pm – Check out the progress being made on the Laura Avenue extension project underway in Gasoline Alley.
1:25 pm – It's Child Safety Week and Alberta Health Services (AHS) is reminding all Albertans to make all-terrain vehicle (ATV) safety a priority this week and every week. Read More.
For more local news, click here!
1:17 pm – The Ross Street Patio Party, Kick it to the Curb and JDRF Telus Walk to Cure Diabetes are all happening in Red Deer this weekend. Find out what else is going on throughout the City.
1:08 pm – The Reining Alberta Spring Classic is underway at Red Deer's Westerner Park until Sunday (June 11). Read More.
12:15 pm – A Boil Water Advisory has been issued for parts of Red Deer's Bower neighbourhood. Read More.
For more local news, click here!
12:08 pm – Residential building picked up in Red Deer last month, as residential permits were valued at $5.8 million in May, surpassing permit values of $3 million in May 2016. Read More.
11:59 am – A Red Deer Mother and Daughter are celebrating a Set For Life Lottery Win! Read More.
11:49 am – Penhold Fire Crews were called to power lines down on Lucina St. and Emma St. in Pnehold early Friday morning (June 9). There is no estimate of when the roads will re-open or when power will be restored. Fortis AB is on scene and working hard to restore service. As of 8:20 am, all Penhold units have been cleared of both scenes by Fortis who have set up road closures in the same locations and are hard at work trying to restore power in all areas of Penhold that are still without power. There are also lines down in the back alley of Fleming Ave. between Emma St. and Lucina St. Residents have been warned not to go into their back yards or the alley until Fortis can make the situation safe. One resident has also suffered from medical distress due to the power outage affecting their medication equipment.
For more local news, click here!
11:35 am – The City of Red Deer has provided an update on the 67th Street Roundabout construction project. Read More.
11:28 am – Fire crews were called to a small kitchen fire on Hayter Street in Penhold Thursday June 8th. Officials say the source was determined to be a hard plastic container left on the stove top. The cause was the occupant placed the container on the stove inadvertently turning a burner on. There were no injuries and crews cleared from the scene within 40 minutes. Penhold Fire Chief Jim Pendergast would like to remind everyone not to leave combustible materials on a stove or other potentially hot surface. Damage is estimated at less than $1000.00. 1 unit and 5 firefighters responded.
11:18 am – Innisfail RCMP were on patrol on highway 2 on June 7th and observed a vehicle failing to maintain the centre lane. A traffic stop was initiated with the vehicle, upon approach to the passenger's side of the vehicle Police observed a zip-lock bag of marihuana in a bag on the passenger seat. Read More.
For more local news, click here!
11:11 am – Motorists can expect delays as construction on 32 Street starts on Monday, June 12. Details Here.
11:04 am – Red Deer RCMP arrested a number of people this week who were found to be breaching various court-imposed conditions or who had failed to appear in court on earlier charges. Read More.
10:52 am – Red Deer RCMP are looking for public assistance to identify the man who robbed a north end gas station at knifepoint at approximately 12:30 am on June 8. Read More.
For more local news, click here!
10:43 am – Rainfall Warnings have been issued for the Rocky Mountain House – Caroline and Nordegg Regions today. Details Here.
10:35 am – Good news to pass along regarding a missing Red Deer woman. Mounties say 26 year old Christina Linthorne has been located and RCMP thank the public for their assistance.
10:28 am – The Recreation Centre in Red Deer will close to the public this weekend, as the Catalina Swim Club hosts their annual "Freeze or Fry" swim meet. Read More.
For more local news, click here!
10:22 am – The City of Red Deer held it's annual Mayor's Recognition Awards at the Sheraton Hotel Thursday night. The award recipients joined the ranks of the nearly one thousand outstanding citizens who have crossed the stage between 1990 and today. Read More.
10:16 am – Your chance to part with your no longer needed but still useful items happens this weekend. Kick it to the Curb in Red Deer runs Saturday, June 10th and Sunday, June 11th. Read More.
10:10 am – Ross Street Patio Parties are back today and Red Deerians are invited to celebrate at the official kick-off event at 5 p.m. Friday, June 9, featuring St. James Gate. Read More.
For more local news, click here!
10:05 am – Some road closures from Red Deer motorists to make note of over the next few days. Find out where.
9:54 am – The Town of Sylvan Lake has partnered with the Sylvan Lake Chamber of Commerce, and Days Inn – Sylvan Lake to host approximately 25 travel agents from Alberta, for a weekend of enjoying all that Sylvan Lake has to offer. The Familiarization Tour runs Saturday, June 10th and Sunday, June 11th.
9:47 am – It's Aboriginal Day at Ecole Mother Teresa School in Sylvan Lake. The event will kick-off with an Aboriginal dance performance by a family from the school, and will honour First Nations, Inuit, and Métis cultures by participating in Aboriginal games, learning about Aboriginal art, making bannock and participating in a variety of hands-on activities related to our Aboriginal peoples.
For more local news, click here!
9:41 am – They're striking up the band at St. Elizabeth Seton School in Red Deer today. The Grade 5 students will present what they've learned in band class in a performance to the school community today (June 9).
9:35 am – It's track and Fun Day at St. Teresa of Avila School in Red Deer today (June 9). Students and staff will gather as a community and take part in this fun-filled day. It includes outdoor activities and a hot dog BBQ provided by the parent council. In case of inclement weather, Tuesday, June 13 will be the alternate day.
9:10 am – Ecole Secondaire Lindsay Thurber Comprehensive High School in Red Deer is hosting a Spring Handball Tournament tomorrow on Saturday, June 10th. The event runs from 9:00 am – 6:30 pm.
For more local news, click here!
NewsAlert: CFL players turn down new collective bargaining agreement with league
TORONTO — CFL players have rejected the new collective bargaining agreement with the league.
According to the source, CFL players voted against ratifying the tentative deal reached Wednesday between the league and CFL Players' Association.

More to come
The Canadian Press
Biden: US would intervene with military to defend Taiwan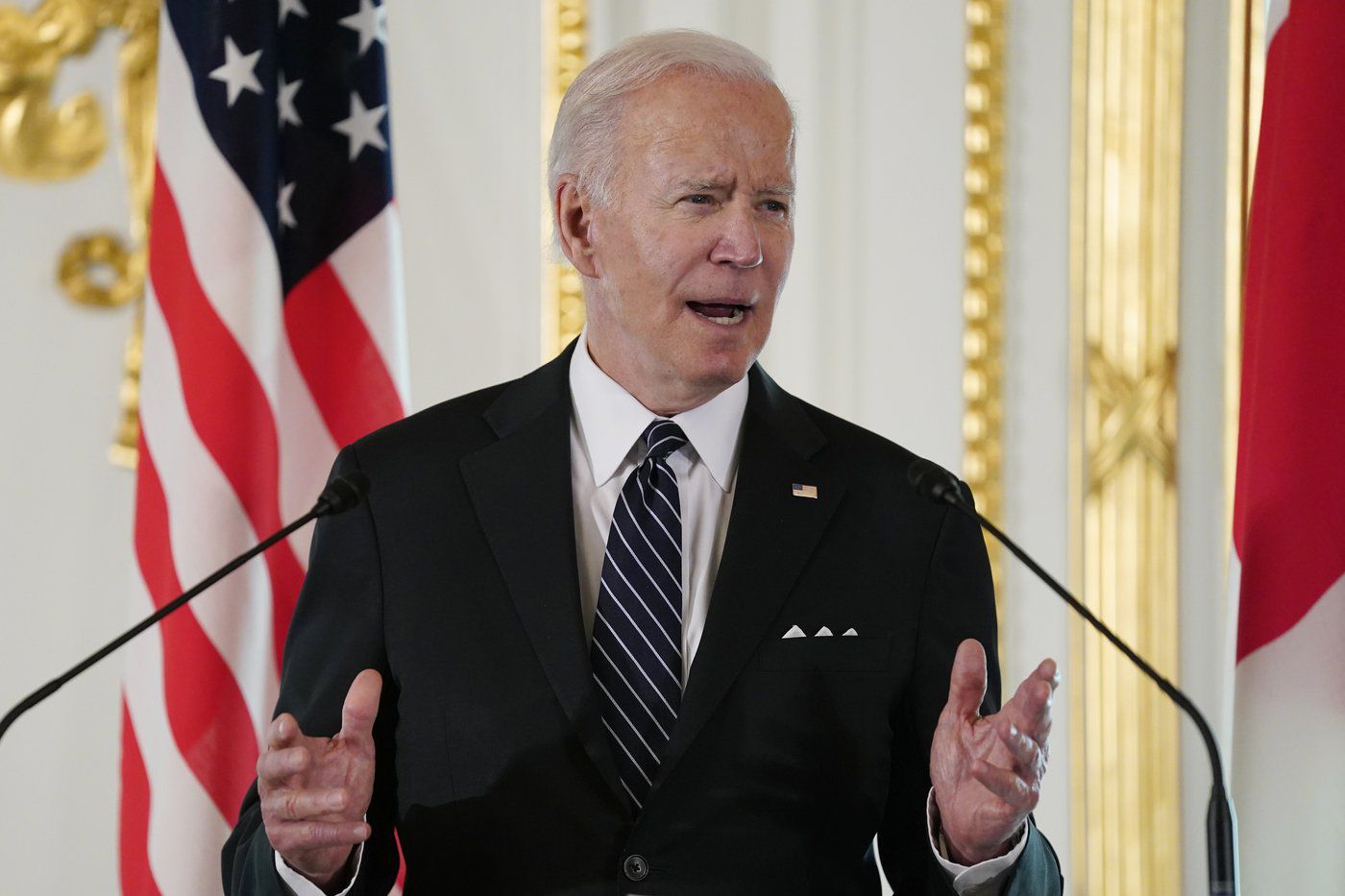 TOKYO (AP) — President Joe Biden said Monday that the U.S. would intervene militarily if China were to invade Taiwan, saying the burden to protect Taiwan is "even stronger' after Russia's invasion of Ukraine. It was one of the most forceful presidential statements in support of self-governing in decades.
Biden, at a news conference in Tokyo, said "yes" when asked if he was willing to get involved militarily to defend Taiwan if China invaded. "That's the commitment we made," he added.
The U.S. traditionally has avoided making such an explicit security guarantee to Taiwan, with which it no longer has a mutual defense treaty, instead maintaining a policy of "strategic ambiguity" about how far it would be willing to go if China invaded. The 1979 Taiwan Relations Act, which has governed U.S. relations with the island, does not require the U.S. to step in militarily to defend Taiwan if China invades, but makes it American policy to ensure Taiwan has the resources to defend itself and to prevent any unilateral change of status in Taiwan by Beijing.
Biden's comments drew a sharp response from the mainland, which has claimed Taiwan to be a rogue province.
Chinese Foreign Ministry spokesperson Wang Wenbin expressed "strong dissatisfaction and resolute opposition" to Biden's comments. "China has no room for compromise or concessions on issues involving China's core interests such as sovereignty and territorial integrity."
He added, "China will take firm action to safeguard its sovereignty and security interests, and we will do what we say."
A White House official said Biden's comments did not reflect a policy shift.
Speaking alongside Japanese Prime Minister Fumio Kishida, Biden said any effort by China to use force against Taiwan would "just not be appropriate," adding that it "will dislocate the entire region and be another action similar to what happened in Ukraine."
China has stepped up its military provocations against democratic Taiwan in recent years aimed at intimidating it into accepting Beijing's demands to unify with the communist mainland.
"They're already flirting with danger right now by flying so close and all the maneuvers that are undertaken," Biden said of China.
Under the "one China" policy, the U.S. recognizes Beijing as the government of China and doesn't have diplomatic relations with Taiwan. However, the U.S. maintains unofficial contacts including a de facto embassy in Taipei, the capital, and supplies military equipment for the island's defense.
Biden said it is his "expectation" that China would not try to seize Taiwan by force, but he said that assessment "depends upon just how strong the world makes clear that that kind of action is going to result in long-term disapprobation by the rest of the community."
He added that deterring China from attacking Taiwan was one reason why it's important that Russian President Vladimir Putin "pay a dear price for his barbarism in Ukraine," lest China and other nations get the idea that such action is acceptable.
Fearing escalation with nuclear-armed Russia, Biden quickly ruled out putting U.S. forces into direct conflict with Russia, but he has shipped billions of dollars in U.S. military assistance that has helped Ukraine put up a stiffer-than-expected resistance to Russia's onslaught.
Taipei cheered Biden's remarks, with Ministry of Foreign Affairs spokesperson Joanne Ou expressing "sincere welcome and gratitude" for the comments.
"The challenge posed by China to the security of the Taiwan Strait has drawn great concern in the international community," said Ou. "Taiwan will continue to improve its self-defense capabilities, and deepen cooperation with the United States and Japan and other like-minded countries to jointly defend the security of the Taiwan Strait and the rules-based international order, while promoting peace, stability and prosperity in the Indo-Pacific region."
It's not the first time Biden has pledged to defend Taiwan against a Chinese attack, only for administration officials to later claim there had been no change to American policy. In a CNN town hall in October, Biden was asked about using the U.S. military to defend Taiwan and replied, "Yes, we have a commitment to do that."
Biden's comments came just before he formally launched a long-anticipated Indo-Pacific trade pact that excludes Taiwan.
White House national security adviser Jake Sullivan confirmed Sunday that Taiwan isn't among the governments signed up for the Indo-Pacific Economic Framework, which is meant to allow the U.S. to work more closely with key Asian economies on issues like supply chains, digital trade, clean energy and anticorruption.
Inclusion of Taiwan would have irked China.
Sullivan said the U.S. wants to deepen its economic partnership with Taiwan on a one-to-one basis.
___
Miller reported from Washington. Associated Press writer Darlene Superville in Washington contributed to this report.