Apply for Canada Emergency Response Benefit (CERB) with CRA
The Government of Canada is issuing payments to workers residing in Canada who have lost income or self-employment income for reasons related to COVID-19.
You can apply for this benefit through either the Canada Revenue Agency (CRA) or Service Canada, but not both.
By applying, you are giving consent to the CRA to use your tax information for the purposes of administering and enforcing the CERB, and are agreeing that your information, including tax information, may be shared with Employment and Social Development Canada.A.
Click here to start your CERB application. If you haven't already, you may be asked to setup your direct deposit with CRA https://www.canada.ca/en/revenue-agency/services/benefits/apply-for-cerb-with-cra.html
Copied off of the CRA website.
Who can apply
To be eligible, you must meet the following requirements:
You reside in Canada
You are 15 years old or more when you apply
For your first CERB application:

You have stopped or will stop working due to reasons related to COVID-19
For at least 14 days in a row for the period you are applying for, you will not receive:

employment income
self-employment income
provincial or federal benefits related to maternity or paternity leave

For your subsequent CERB applications:

You continue to not work due to reasons related to COVID-19
For the 4 week period you are applying for, you will not receive:

employment income;
self-employment income; or
provincial or federal benefits related to maternity or paternity leave.

You have not quit your job voluntarily
You did not apply for, nor receive, CERB or EI benefits from Service Canada for the same eligibility period
You earned a minimum of $5,000 income in the last 12 months or in 2019 from one or more of the following sources:

employment income
self-employment income
provincial or federal benefits related to maternity or paternity leave
Raoul Bhatt
https://instagram.com/raoul
The masks are coming off in Red Deer!
Municipal mask bylaws to expire July 1, some provincial mask restrictions to remain in place
All three of Red Deer's face covering bylaws will expire on July 1, in line with the lifting of the provincial mask mandate.

On June 18, the Government of Alberta announced that the general indoor provincial mask mandate would be lifted on July 1, with masking still required in some specific circumstances, including public transit.

At their meeting on May 25, Red Deer City Council made the decision to expire the local face covering bylaws when the provincial mandate was lifted. As such, the following bylaws will expire on July 1:
Face Coverings in Indoor Public Places and Public Vehicles Bylaw 3656/B-2021 (enacted on November 23, 2020)
Face Coverings in City Civic Facilities 3657/B-2021 (enacted on November 23, 2020)
Transit Face Covering Bylaw 3654/B-2021(enacted on August 17, 2020)
While the municipal face covering bylaws will expire, there will still be masking requirements as per provincial restrictions. Masks will still be Provincially mandated under in the following situations:
On public transit
In public ride shares and taxis
In specific continuing care and acute healthcare care settings
Additionally, there may be occupational and business masking requirements, so Red Deerians may still see people wearing masks outside of the Provincially mandated mask requirements.
For full details on the provincial mask mandates still in place after July 1, visit www.alberta.ca.
As restrictions are set to be lifted, citizens are reminded to get vaccinated and continue following public health restrictions in place, including the use of masks, physical distancing and staying home when sick.
For more information, please visit reddeer.ca/covid
Michener North lands selected as location for future multi-use aquatic facility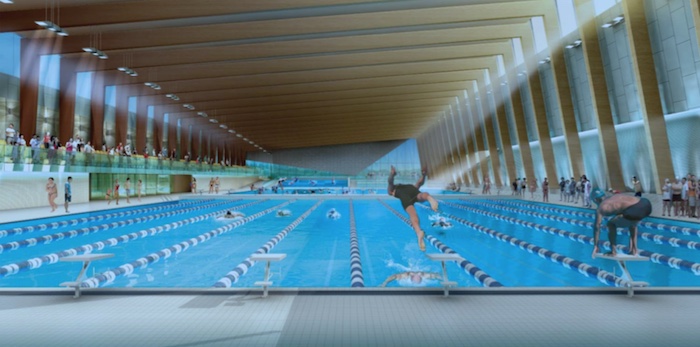 Monday, Red Deer City Council approved Michener North lands as the site for a future multi-use aquatic facility in Red Deer.
"Confirming the location for the future multi-use aquatic centre is an important milestone in bringing the vision for a new aquatics centre to life for our community," said Mayor Tara Veer. "Both Rotary Recreation Park and Michener North lands were viable options for the facility; however, selecting Michener North lands offers us the opportunity to re-imagine a future for this significant piece of Red Deer's history and create a legacy for future generations. Today's decision also signals Council's desire to move forward with this long anticipated project when economic conditions are more favourable in the future, as well as our commitment to re-purpose Michener North for public purposes and park expansion. One of the challenges for funding a new aquatic centre was the many pragmatic financial uncertainties of the project. We have now determined location and scope, which will help us to plan more definitively for funding of future construction."

In December, Council directed administration to consider two possible locations for the multi-use aquatic facility: Michener North lands and Rotary Recreation Park. In addition to an in-depth evaluation of both sites, several factors were considered in selecting Michener North lands:
The City is purchasing the Michener North lands from the Province, with funds approved in the 2021 Capital Budget.
Solidifying this location allows the multi-use aquatic facility to be included in the visioning for Michener North. This visioning will help develop ideas around what this site could for the community and will begin in early 2022.
The multi-use aquatic facility serves as an anchor to this future major park node.
Scoping, design and cost were also determined in December as part of Phase 1 of this project. At this time, the facility includes a 53M x 25M pool with 10 lanes, ranging in depth from 2.5M to 3.8M with diving platforms at the deep end and two 1.5M movable bulkheads. This competition pool is compliant with FINA standards and Swim Alberta recommendations. The facility also includes a 25M x 20.6M pool with eight lanes, ranging in depth from 1.2M to 2.2M to accommodate swim competitions, warm up for aquatic sport competitions, and floor based depths serving local community programming needs. Two hot tubs, steam and sauna amenities, universal change rooms, spectator seating for up to 750 people, storage, sport group dryland training area, and staff supports are accounted for in the design.
The facility construction costs are estimated at $51,600,000, and by selecting Michener, The City is in a better position to quantify the variable site development costs as plans are solidified to place the item in the capital plan.
We now know that Michener North lands will be used for municipal purposes and become a major park node for community use," said Sarah Tittemore, Community Services General Manager. "Major park nodes need indoor facilities to serve the needs of park users, and deciding on the multi-use aquatic facility at this site allows the visioning for the Michener North lands to include this anchor and the community. We look forward to working with the community to enrich the vision through planned future consultation."