Amazon delivers hundreds of jobs to Calgary region
October 26, 2017 Media inquiries
The Alberta government is supporting 750 new full-time, permanent jobs in the province as Amazon opens a new fulfilment centre near Calgary.
Premier Rachel Notley unveils future Amazon Fulfilment Centre site.
Amazon fulfilment centres are the hubs where online orders are picked, packed and shipped to individual postal addresses. The 600,000-square-foot centre will be built in Balzac.
The new facility is one of several important expansions international businesses have made in Alberta this year, including RocketSpace and Swoop in Calgary, Champion Petfoods and Pinnacle in Parkland County, Google in Edmonton and Cavendish Farms in Lethbridge.
"Amazon's expansion is more proof that Alberta is the best place in Canada to invest and do business. We pay billions less tax than any province, and have no payroll tax, health-care premiums or sales tax. Creating hundreds of good-paying, stable and long-term jobs is making life better for Alberta families."
Rachel Notley, Premier
Amazon selected Alberta for its new customer fulfilment centre following trade missions from Economic Development and Trade (EDT) Minister Deron Bilous and Calgary Economic Development, most recently to Seattle. The company was also assisted on the ground by Invest Alberta, an investment attraction service run by EDT.
"The Calgary Region is the major transportation and logistics hub and the leading inland port in Western Canada so it is a natural fit for Amazon to locate one of its fulfilment centres here. The ability for companies to efficiently connect regional and global customers is increasingly important to business and the Calgary Region provides significant advantages, from geographic location to top-quality human resources."
Mary Moran, president & Chief Executive Officer for Calgary Economic Development
The new facility will join Amazon's network of current fulfilment centres in Brampton, Mississauga and Milton, in Ontario, and Delta and New Westminster in B.C.
"We are excited to continue our growth in Canada and especially in the greater Calgary community where we've already received great community support. Our ability to create more than 750 good-paying jobs with great benefits is the result of our dedicated workforce across the country who continue to raise the bar on operational excellence and customer obsession. Customers have seen the great work they do and we couldn't be prouder of our ability to grow in Canada."
Glenn Sommerville, Director of Amazon Operations in Canada
"When our government commits to job creation for the middle class, this is what it looks like! We know that global companies see Canada as a strong place to invest because of our talented and skilled workforce. We're working with businesses to leverage strong investments and create well-paying, middle-class jobs. Congratulations to Amazon on this exciting new expansion and the creation of 750 jobs in Calgary."
Navdeep Bains, federal Minister of Innovation, Science and Economic Development
Quick facts
Amazon is partnering with QuadReal Property Group on the development and management of the fulfilment centre. For more information about QuadReal, visit

quadreal.com

.

Amazon currently has 2,000-plus full-time fulfilment employees across the country.

In total, Amazon employs more than 4,400 employees throughout Canada working at corporate offices, development centers and other facilities.
Stossel explains why private property beats the "tragedy of the commons"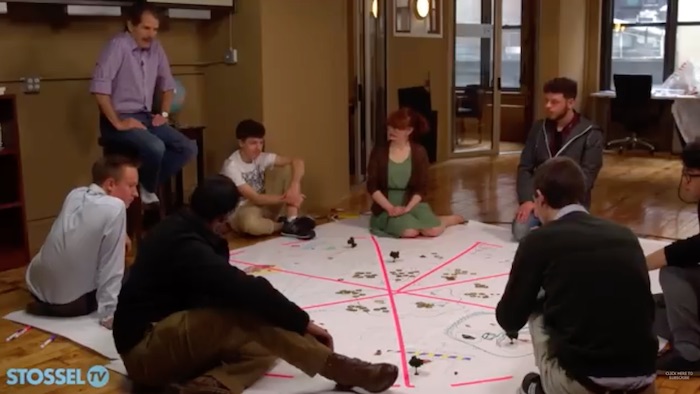 This Thanksgiving, Say Thank You to "Private Property"
Did you know that the pilgrims almost starved after they arrived at Plymouth Rock? That's because they were forced to farm "collectively." The corporation that funded the expedition said, "grow food together. Divide the harvest equally."
This is a terrible idea. It creates what economists call the "tragedy of the commons." When you share property and the results of your work, people farm until the land is barren, don't work as hard, or steal food from others.
Young people from Students For Liberty take part in an experiment to demonstrate this "tragedy of the commons." It shows the solution is private property, which is what saved the pilgrims.
Governor William Bradford finally decided to "assign each family a parcel of land." Once the pilgrims had property rights, they became much more productive and brought in huge harvests — which they were then able to share with the Indians.
So this Thanksgiving feast, don't forget to say "thanks, private property!"
—— Don't miss a single video from Stossel TV. Sign up here: www.johnstossel.com/#subscribe-form ——
John Stossel created Stossel TV to explain liberty and free markets to young people. Prior to Stossel TV he hosted a show on Fox Business and co-anchored ABC's primetime newsmagazine show, 20/20.
Stossel's economic programs have been adapted into teaching kits by a non-profit organization, "Stossel in the Classroom." High school teachers in American public schools now use the videos to help educate their students on economics and economic freedom. They are seen by more than 12 million students every year.
Stossel has received 19 Emmy Awards and has been honored five times for excellence in consumer reporting by the National Press Club. Other honors include the George Polk Award for Outstanding Local Reporting and the George Foster Peabody Award.
Saskatchewan government deciding what to do with new revenue from carbon pricing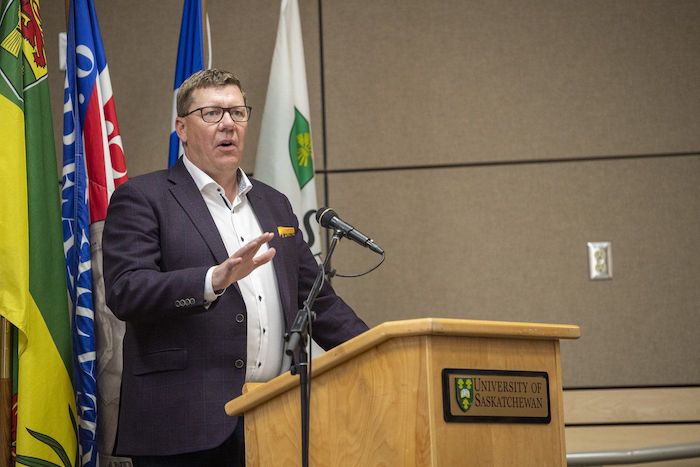 By Mickey Djuric in Regina
Saskatchewan is to soon gain control of the carbon pricing charge that shows up on residents' power bills.
However, Premier Scott Moe and his Saskatchewan Party government are still mulling over how that new revenue should be spent.
Since 2019, a carbon backstop has been placed on Saskatchewan Power Corporation bills to account for its greenhouse gas emissions.
The money has been going to the federal government, but starting in January the money will be staying in the province.
This comes after Saskatchewan successfully applied to have natural gas pipelines and power plants regulated through its own carbon-pricing system, and will take full regulatory control over all large greenhouse gas emitters in the province.
Under the program, Saskatchewan will still have to comply with the federal carbon pricing schedule.
Moe has said his government hasn't made a decision whether it will return some of that money collected through power bills back to residents.
"It's fair to say we haven't made that decision yet," Moe said Wednesday.
He said a priority for the government is to invest in Saskatchewan's transition to cleaner power generation.
Moe said he'd like to see some money go toward producing nuclear energy.
Federal government policy aims to reach a net-zero grid by 2035. This is putting pressure on Saskatchewan to transition away from coal and natural gas — power generation it mainly relies on to keep the lights on in the province.
To support a transition to cleaner energy, the modernization of Saskatchewan's electrical grid will be essential, SaskPower, the province's Crown electrical utility, said in its 2021-22 report.
"We need to make responsible decisions of how we are making those investments, but we also want to do everything we can to keep power affordable for Saskatchewan residents," Moe said.
The Opposition New Democrats have taken a similar viewpoint.
NDP Leader Carla Beck said Thursday that she wants to see a plan for the money that involves reliable energy that reduces emissions and doesn't stick Saskatchewan people with power sources they can't afford.
"These are huge investments, huge considerations for the future of this province," she said.
This report by The Canadian Press was first published Nov. 24, 2022.