Alberta's financial update one for the ages – Historical investments in savings and debt reduction on the way
Q1 update: Paying down debt and saving for the future
Strong economic activity this year will see Alberta make historic investments in savings and debt reduction.
High revenue forecast for bitumen royalties, other resource revenue and corporate income taxes have increased the province's forecast surplus to $13.2 billion for 2022-23.
This year's surplus enables the government to make the largest single-year debt repayment in Alberta's history, repaying $13.4 billion in debt that comes due this fiscal year. The government will also allocate $5.2 billion to debt coming due in 2023-24.
The government will make the largest ever single-year investment in the Heritage Fund, retaining the fund's remaining 2021-22 net investment income of $1.2 billion and allocating $1.7 billion, for a total investment of $2.9 billion. This is over and above the $705 million retained for inflation-proofing last year.
"Alberta's commitment to fiscal discipline and our unrelenting focus on economic growth has helped bring about an extraordinary turnaround in our financial situation. We promised Albertans we would get our fiscal house in order and that's exactly what we've done. Now, we're paying down debt so future generations won't have to, saving more for a rainy day, and putting more money in Albertans' pockets."
"For too long, governments in Alberta refused to exercise fiscal discipline during boom times. Those days are over. Alberta's government is making the prudent decision to save and invest surplus revenues so future generations can benefit from the prosperity of today."
Indexing personal income taxes
The province is fulfilling a commitment made in 2019 to index personal income taxes to inflation, retroactive to the 2022 tax year. The basic personal tax amount is rising to $19,814 and will rise again in 2023.
An additional 80,000 to 95,000 Albertans will pay no provincial personal income tax by 2023, on top of the approximately 1.3 million tax filers who already pay no provincial personal income tax.
Many Albertans will first see the benefit of indexation through lower tax withholdings on their first paycheques of 2023. In addition, since indexation will resume for 2022, Albertans will receive larger refunds or owe less tax when they file their 2022 tax returns in spring 2023. In total, resuming indexation for 2022 and subsequent years will save Albertans an estimated $304 million in 2022-23, $680 million in 2023-24 and $980 million in 2024-25.
Indexing personal income taxes to inflation will contribute further to Alberta's strong tax advantage: Albertans already pay less in overall taxes, with no PST, no payroll tax and no health premiums.
Alberta's government has already introduced some of the most generous measures to keep more money in the pockets of Albertans, committing $2.4 billion in relief for rising prices, inflation and cost of living, including:
Providing $300 in relief for 1.9 million homeowners, business operators and farmers over six months through the Electricity Rebate Program.
Eliminating the 13-cent-per-litre provincial fuel tax until at least the end of September.
Helping school authorities cover high fuel costs for buses under the Fuel Price Contingency Program.
Providing natural gas rebates from October 2022 to March 2023 to shield consumers from natural gas price spikes.
Maintaining Alberta senior benefits for those over 75 years of age, exempting them from the Federal Old Age Security increase.
Other economic growth indicators
Momentum has picked up in Alberta's labour market. The province has added 68,200 jobs since the beginning of the year and most industries have surpassed employment levels from early 2020, before the pandemic first took hold of the province. Alberta's unemployment rate fell to 4.8 per cent, the lowest since early 2015. In response to these positive developments, the province has revised its forecast for employment growth to 5.3 per cent, up from 4.1 per cent at budget. The unemployment rate has also been revised down to 5.9 per cent in 2022 from the budget forecast of 6.6 per cent.
Business output has surged in the province on the back of higher demand and prices. While energy products have led the increase, there have been gains across most industries including chemical and forestry products, food manufacturing and machinery. Merchandise exports have risen more than 60 per cent so far this year, while manufacturing shipments are up over 30 per cent.
Higher energy prices are boosting revenues and spending in the oil and gas sector. Strong drilling activity has lifted crude oil production to 3.6 million barrels per day so far this year and is expected to reach a record high this year. Outside the oil and gas sector, companies are proceeding with investment plans, buoyed by solid corporate profits.
Real gross domestic product (GDP) is expected to grow by 4.9 per cent in 2022. This is down slightly from the budget forecast of 5.4 per cent, reflecting softer expectations for growth in consumer spending and residential investment as a result of higher inflation and interest rates. Even so, real GDP is expected to fully recover from the COVID-19 downturn and surpass the 2014 peak for the first time this year. Private sector forecasters are expecting Alberta to have among the highest economic growth in the country this year and in 2023.
Quick facts
The surplus for 2022-23 is forecast at $13.2 billion, $12.6 billion more than what was estimated in Budget 2022.
The revenue forecast for 2022-23 is $75.9 billion, $13.3 billion higher than reported in the budget.

Non-renewable resource revenue is forecast at $28.4 billion in 2022-23, up $14.6 billion from budget's $13.8 billion forecast.
Corporate income taxes are up $2 billion from the budget, with a new forecast of $6.1 billion for 2022-23.
Revenue from personal income taxes is forecast to be $13.3 billion in 2022-23, down $116 million from budget. Indexation of the personal income tax system, retroactive to Jan. 1, 2022, is forecast to lower revenue by $304 million. This is partially offset by increased revenue from rising primary household income.

Total expense is forecast at $62.7 billion, up slightly from the $62.1 billion estimated at budget.

Education is receiving an extra $52 million to support the new teachers agreement and to help school authorities pay for bus fuel.
$279 million the province received from the federal government for the Site Rehabilitation Program is being spent this year instead of next year.
$277 million is needed to cover the cost of selling oil due to higher prices and volumes.

The Capital Plan in 2022-23 has increased by $389 million mainly due to carry-over of unspent funds from last fiscal year and an increase of $78 million for highway expansion.
Taxpayer-supported debt is forecast at $79.8 billion on March 31, 2023, which is $10.4 billion lower than estimated in the budget.
The net debt-to-GDP ratio is estimated at 10.3 per cent for the end of the fiscal year.
Flames bounce back with 5-1 victory over Ducks
Calgary Flames right wing Tyler Toffoli (73) celebrates with goaltender Dan Vladar (80) after the Flames defeated the Anaheim Ducks in an NHL hockey game in Anaheim, Calif., Tuesday, March 21, 2023. (AP Photo/Alex Gallardo)
By Joe Reedy in Anaheim
ANAHEIM, Calif. (AP) — Tyler Toffoli had three assists, Calgary scored twice on the power play and the Flames bounced back from a six-goal loss one night earlier with a 5-1 victory over the Anaheim Ducks on Tuesday.
Toffoli has nine points in the past four games, including six assists.
Nick Ritchie, Troy Stecher, Rasmus Andersson, Elias Lindholm and Andrew Mangiapane scored Calgary's goals. Mikael Backlund had a pair of assists and Dan Vladar stopped 19 shots for the Flames, who rebounded from an 8-2 defeat Monday night in Los Angeles.
"We just wanted to put that game behind us. And there's no better way to put it behind you than to just go out there and play right away," said Mangiapane, who scored on a breakaway with less than five minutes remaining for his 12th of the season. "I think the first period set the tone for us. We wanted to come out strong and hard and just keep building off of that."
The win kept Calgary four points behind Winnipeg for the final wild-card berth in the Western Conference with 10 games remaining after the Jets beat Arizona 2-1.
"As a coach it is really simple: I just want to keep every game meaningful," Flames coach Darryl Sutter said.
Frank Vatrano scored Anaheim's lone goal. John Gibson made 38 saves, facing more than 40 shots for the 20th time this season.
"We knew that they were going to be a little ornery after their game last night against L.A., and other than a few spurts in the second period, maybe for about six minutes in the second, we couldn't sustain much. Every time we turned, they were in our face," Ducks coach Dallas Eakins said.
Calgary has 12 goals with the man advantage over the past month, which is fifth best in the NHL.
Andersson put Calgary up 3-0 less than three minutes into the third period on a one-timer off Toffoli's pass. It was Andersson's 11th goal and his third in the past six games.
The Flames grabbed the lead 37 seconds into the game when Ritchie put in the rebound after Gibson made a pad save on Noah Hanifin's shot from the point. Ritchie's 12th of the season marked the sixth time Calgary has scored in the opening minute.
Stecher broke a 90-game goal drought at 16:50 of the first with a snap shot from the right faceoff circle to the high side of the far post. Stecher — whose last goal was on Feb. 17, 2022 — has three points (one goal, two assists) since being acquired from Arizona at the trade deadline.
Anaheim got on the board five minutes later when Vatrano lifted a wrist shot over Vladar's shoulder on his glove side. Vatrano's 17th marked only the second goal in Anaheim's last 15 power-play opportunities.
Lindholm scored his 21st and gave Calgary a 4-1 lead 46 seconds into the third on a one-timer.
NOTES
Hanifin extended his point streak to six games with the first assist on Ritchie's goal. He has six points (two goals, four assists) during that span. … Calgary defenceman Chris Tanev was scratched an hour before the game due to an upper-body injury. … Anaheim forward Nikita Nesterenko made his NHL debut. Nesterenko was acquired from Minnesota in the John Klingberg trade at the deadline. Nesterenko played three seasons at Boston College and signed a two-year, entry-level contract last Wednesday.
UP NEXT
Flames: Open a three-game homestand against the Vegas Golden Knights on Thursday.
Ducks: Host the Winnipeg Jets on Thursday.
2022 World Senior Men's gold medalist rink and Cheryl Bernard among teams at Senior Curling Championships at Red Deer's Pidherney Centre this week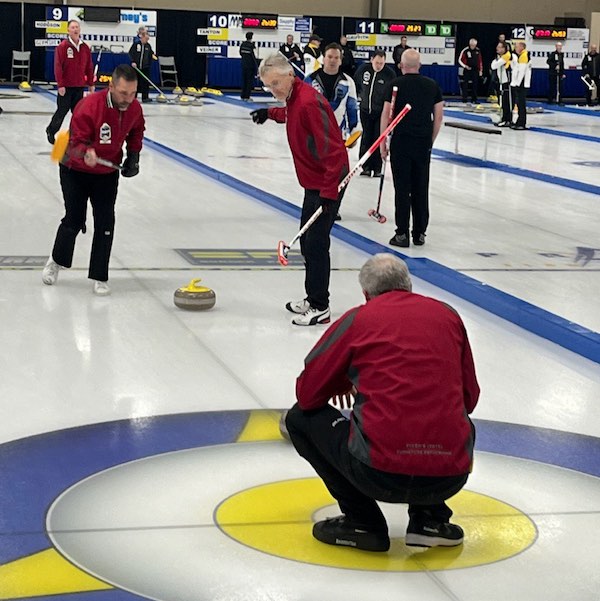 The 2023 Alberta Servus Credit Union Senior Men's and Women's Championships will take place at Red Deer's Pidherney Centre on March 21 to 26.
Thirty-three rinks are on hand to vie for the right to represent Alberta at the Men's and Women's Canadian Championships next fall.
The 2022 World Senior's gold medalists, Team Wade White looks to add yet another championship title to his name alongside teammates, third Barry Chwedoruk, second Dan Holowaychuk and lead George White. While defending Alberta champion, Team Pahl will keep the pressure on to represent Alberta once again.
Other noteworthy names on the men's side include, Mickey Pendergast; Master's Provincial Champion and former teammate of local legend, Rob Armitage, and 2017 Senior's Champion, Glen Hansen.
The talent continues on the women's side with nine of the top senior women's teams in the province.
The star studded line-ups include Olympians, Cheryl Bernard, Carolyn McRorie, Sandra Jenkins and Shannon Kleibrink forming a team under Bernard, and Glenys Bakker and Atina Ford-Johnston skipping their own rinks, with Cory Morris joining Ford-Johnston as lead.
With defending champion, Diane Foster, out of the race, it truly is anyone's title to claim.
Draws run throughout the week with the semi-finals of both the women and men at 9 am on Sunday March 26 followed by the finals at 2 pm.
Admission is free thanks to support from Servus Credit Union.