Alberta's financial update one for the ages – Historical investments in savings and debt reduction on the way
Q1 update: Paying down debt and saving for the future
Strong economic activity this year will see Alberta make historic investments in savings and debt reduction.
High revenue forecast for bitumen royalties, other resource revenue and corporate income taxes have increased the province's forecast surplus to $13.2 billion for 2022-23.
This year's surplus enables the government to make the largest single-year debt repayment in Alberta's history, repaying $13.4 billion in debt that comes due this fiscal year. The government will also allocate $5.2 billion to debt coming due in 2023-24.
The government will make the largest ever single-year investment in the Heritage Fund, retaining the fund's remaining 2021-22 net investment income of $1.2 billion and allocating $1.7 billion, for a total investment of $2.9 billion. This is over and above the $705 million retained for inflation-proofing last year.
"Alberta's commitment to fiscal discipline and our unrelenting focus on economic growth has helped bring about an extraordinary turnaround in our financial situation. We promised Albertans we would get our fiscal house in order and that's exactly what we've done. Now, we're paying down debt so future generations won't have to, saving more for a rainy day, and putting more money in Albertans' pockets."
"For too long, governments in Alberta refused to exercise fiscal discipline during boom times. Those days are over. Alberta's government is making the prudent decision to save and invest surplus revenues so future generations can benefit from the prosperity of today."
Indexing personal income taxes
The province is fulfilling a commitment made in 2019 to index personal income taxes to inflation, retroactive to the 2022 tax year. The basic personal tax amount is rising to $19,814 and will rise again in 2023.
An additional 80,000 to 95,000 Albertans will pay no provincial personal income tax by 2023, on top of the approximately 1.3 million tax filers who already pay no provincial personal income tax.
Many Albertans will first see the benefit of indexation through lower tax withholdings on their first paycheques of 2023. In addition, since indexation will resume for 2022, Albertans will receive larger refunds or owe less tax when they file their 2022 tax returns in spring 2023. In total, resuming indexation for 2022 and subsequent years will save Albertans an estimated $304 million in 2022-23, $680 million in 2023-24 and $980 million in 2024-25.
Indexing personal income taxes to inflation will contribute further to Alberta's strong tax advantage: Albertans already pay less in overall taxes, with no PST, no payroll tax and no health premiums.
Alberta's government has already introduced some of the most generous measures to keep more money in the pockets of Albertans, committing $2.4 billion in relief for rising prices, inflation and cost of living, including:
Providing $300 in relief for 1.9 million homeowners, business operators and farmers over six months through the Electricity Rebate Program.
Eliminating the 13-cent-per-litre provincial fuel tax until at least the end of September.
Helping school authorities cover high fuel costs for buses under the Fuel Price Contingency Program.
Providing natural gas rebates from October 2022 to March 2023 to shield consumers from natural gas price spikes.
Maintaining Alberta senior benefits for those over 75 years of age, exempting them from the Federal Old Age Security increase.
Other economic growth indicators
Momentum has picked up in Alberta's labour market. The province has added 68,200 jobs since the beginning of the year and most industries have surpassed employment levels from early 2020, before the pandemic first took hold of the province. Alberta's unemployment rate fell to 4.8 per cent, the lowest since early 2015. In response to these positive developments, the province has revised its forecast for employment growth to 5.3 per cent, up from 4.1 per cent at budget. The unemployment rate has also been revised down to 5.9 per cent in 2022 from the budget forecast of 6.6 per cent.
Business output has surged in the province on the back of higher demand and prices. While energy products have led the increase, there have been gains across most industries including chemical and forestry products, food manufacturing and machinery. Merchandise exports have risen more than 60 per cent so far this year, while manufacturing shipments are up over 30 per cent.
Higher energy prices are boosting revenues and spending in the oil and gas sector. Strong drilling activity has lifted crude oil production to 3.6 million barrels per day so far this year and is expected to reach a record high this year. Outside the oil and gas sector, companies are proceeding with investment plans, buoyed by solid corporate profits.
Real gross domestic product (GDP) is expected to grow by 4.9 per cent in 2022. This is down slightly from the budget forecast of 5.4 per cent, reflecting softer expectations for growth in consumer spending and residential investment as a result of higher inflation and interest rates. Even so, real GDP is expected to fully recover from the COVID-19 downturn and surpass the 2014 peak for the first time this year. Private sector forecasters are expecting Alberta to have among the highest economic growth in the country this year and in 2023.
Quick facts
The surplus for 2022-23 is forecast at $13.2 billion, $12.6 billion more than what was estimated in Budget 2022.
The revenue forecast for 2022-23 is $75.9 billion, $13.3 billion higher than reported in the budget.

Non-renewable resource revenue is forecast at $28.4 billion in 2022-23, up $14.6 billion from budget's $13.8 billion forecast.
Corporate income taxes are up $2 billion from the budget, with a new forecast of $6.1 billion for 2022-23.
Revenue from personal income taxes is forecast to be $13.3 billion in 2022-23, down $116 million from budget. Indexation of the personal income tax system, retroactive to Jan. 1, 2022, is forecast to lower revenue by $304 million. This is partially offset by increased revenue from rising primary household income.

Total expense is forecast at $62.7 billion, up slightly from the $62.1 billion estimated at budget.

Education is receiving an extra $52 million to support the new teachers agreement and to help school authorities pay for bus fuel.
$279 million the province received from the federal government for the Site Rehabilitation Program is being spent this year instead of next year.
$277 million is needed to cover the cost of selling oil due to higher prices and volumes.

The Capital Plan in 2022-23 has increased by $389 million mainly due to carry-over of unspent funds from last fiscal year and an increase of $78 million for highway expansion.
Taxpayer-supported debt is forecast at $79.8 billion on March 31, 2023, which is $10.4 billion lower than estimated in the budget.
The net debt-to-GDP ratio is estimated at 10.3 per cent for the end of the fiscal year.
Alberta premier defends new rules on in-person learning, no mask mandates in schools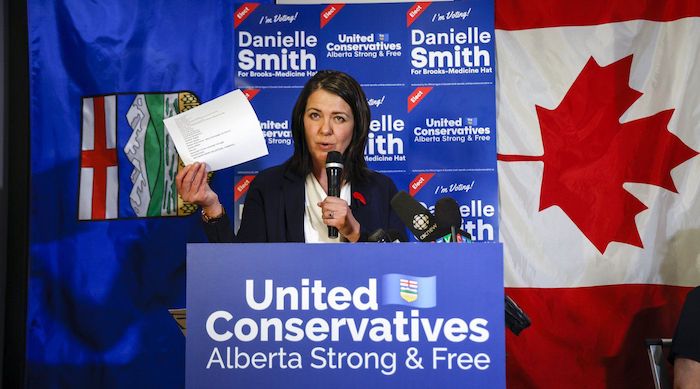 By Dean Bennett and Colette Derworiz
Alberta Premier Danielle Smith is defending new rules ordering schools to provide in-person learning during the current wave of viral illnesses, saying a clear, measured response is crucial for students and parents.
"We need a normal school environment for our children, and we need to make sure that the classrooms stay open to be able to support our parents," Smith said at a news conference in Medicine Hat on Friday.
"That's why we made the decision that we did — to give that clear direction."
Her comments came a day after she announced regulatory changes saying school boards must provide in-person learning. Schools also can't require students to wear masks in school or be forced to take classes online.
The changes take effect immediately.
"Anyone is welcome to wear a mask if they feel that that is the right choice for them, but we should not be forcing parents to mask their kids, and we shouldn't be denying education to kids who turn up without a mask," Smith said.
She has said mask rules and toggling from online to in-person learning adversely affected the mental health, development and education of students during the COVID-19 pandemic and strained parents scrambling to make child-care arrangements when schools shut down.
That's over, Smith said.
"We're just not going to normalize these kind of extreme measures every single respiratory virus season," she said.
School boards have been asking for more direction as a slew of seasonal respiratory and gastrointestinal illnesses, along with some COVID-19 cases, have led to high classroom absentee rates and have jammed children's hospitals.
In Edmonton, Trisha Estabrooks, board chair for Edmonton Public Schools, said the decision provided the clarity that the board was seeking.
"All Albertans now understand that it's not within the jurisdiction, and nor should it ever have been within the jurisdiction of individual school boards, to make decisions that belong to health officials," said Estabrooks.
She said the province has made it clear that any future public health order would supersede the new rules.
The in-person learning change applies to grades 1-12 in all school settings, including public, separate, francophone, public charter and independent schools.
The masking change applies to those same grades and schools, but also to early childhood services.
The Opposition NDP criticized the new rules, saying it's unrealistic to force schools to be all things to all students while also handling a wave of viral illnesses and not providing additional supports to do it.
Jason Schilling, head of the Alberta Teachers' Association, said the government needs to work with school boards to figure out how to make this work.
"You have schools that are struggling to staff the building, (they) can't get substitute teachers, teachers are sick, they're covering each other's classes, principals are covering the classes," Schilling said in an interview.
"And then to say if you go online, you are to still offer the same programming in person — we just don't have the people to do that."
Wing Li, communications director for public education advocacy organization, Support our Students, said it will be difficult for schools to offer hybrid learning without any additional resources.
"There are no teachers," Li said in an interview. "Pivoting online was mostly due to staffing shortages, which is worse now three years in."
Li said online learning is challenging for students but, when temporary and supported, can keep schools and communities safe from spreading illness.
"This is a quite aggressive use of the Education Act to enshrine an ideology," she said.
This report by The Canadian Press was first published Nov. 25, 2022
Don't have a cow: Senator's legen-dairy speech draws metaphor from bovine caper
OTTAWA — Haven't you herd? A dramatic tale of 20 escaped cows, nine cowboys and a drone recently unfolded in St-Sévère, Que., and it behooved a Canadian senator to milk it for all it was worth.
Prompting priceless reactions of surprise from her colleagues, Sen. Julie Miville-Dechêne recounted the story of the bovine fugitives in the Senate chamber this week — and attempted to make a moo-ving point about politics.
"Honourable senators, usually, when we do tributes here, it is to recognize the achievements of our fellow citizens," Miville-Dechêne began in French, having chosen to wear a white blouse with black spots for the occasion.
"However, today, I want to express my amused admiration for a remarkably determined herd of cows."
On a day when senators paid tribute to a late Alberta pastor, the crash of a luxury steamer off the coast of Newfoundland in 1918 and environmental negotiators at the recent climate talks in Egypt, senators seated near Miville-Dechêne seemed udderly taken aback by the lighter fare — but there are no reports that they had beef with what she was saying.
Miville-Dechêne's storytelling touched on the highlights of the cows' evasion of authorities after a summer jailbreak — from their wont to jump fences like deer to a local official's entreaty that she would not go running after cattle in a dress and high heels.
The climax of her narrative came as nine cowboys — eight on horseback, one with a drone — arrived from the western festival in nearby St-Tite, Que., north of Trois-Rivières, and nearly nabbed the vagabonds before they fled through a cornfield.
"They are still on the run, hiding in the woods by day and grazing by night," said Miville-Dechêne, with a note of pride and perhaps a hint of fromage.
She neglected to mention the reported costs of the twilight vandalism, which locals say has cost at least $20,000.
But Miville-Dechêne did save some of her praise for the humans in the story, congratulating the municipal general manager, Marie-Andrée Cadorette, for her "dogged determination," and commending the would-be wranglers for stepping up when every government department and police force in Quebec said there was nothing they could do.
"There is a political lesson in there somewhere," said the former journalist.
Miville-Dechêne ended on what could perhaps be interpreted as a butchered metaphor about non-partisanship: "Finally, I would like to confess my unbridled admiration for these cows that have found freedom and are still out there, frolicking about. While we overcomplicate things, these cows are learning to jump fences."
This report by The Canadian Press was first published Nov. 26, 2022.
Marie-Danielle Smith, The Canadian Press