Alberta supports the development of Small Modular Nuclear Reactors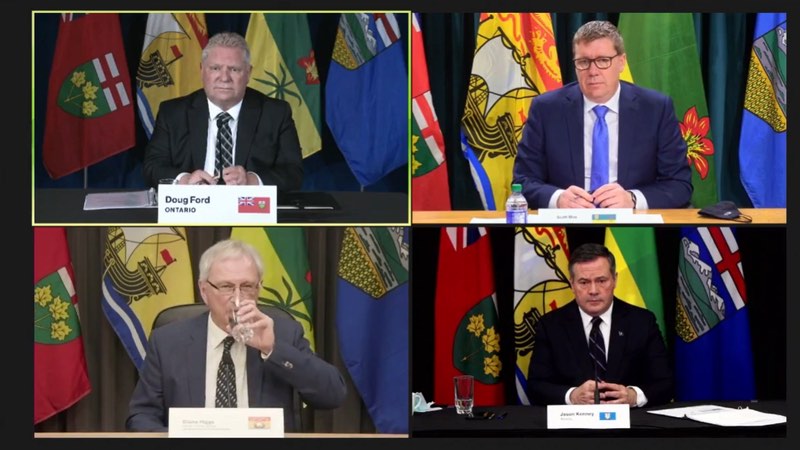 Alberta signs small modular nuclear reactor MOU
Alberta has signed a memorandum of understanding (MOU) with New Brunswick, Ontario and Saskatchewan to support the development of small modular nuclear reactors (SMRs).
Premier Jason Kenney signed the MOU, previously signed by the three other provinces, on April 14. He joined New Brunswick Premier Blaine Higgs, Ontario Premier Doug Ford and Saskatchewan Premier Scott Moe at a virtual event where the premiers shared the findings of a study that examined the feasibility of SMRs in Canada.
"Alberta has always been committed to clean, affordable energy. Small modular reactors are an exciting new technology that could be used in the future to significantly cut greenhouse gas emissions, for example by generating power for Canadian oilsands producers. Nuclear is the cleanest form of electricity production, and with SMRs is now more affordable and scalable for industrial use. We are excited to be part of this group that will help develop Canadian SMR technology."
"Today's announcement confirms the commitment of our provinces to advancing SMRs as a clean energy option, leveraging the strength and knowledge of each of our jurisdictions. This study confirms the feasibility of small modular reactors in Canada and outlines a path forward to deploy this new clean, safe, reliable and competitively priced power. This new technology will help attract investment, create high-skilled jobs and contribute to our growing economy."
"Our government believes the best way to ensure that Canada becomes a leader in advanced small modular reactor development and deployment is through continued engagement and partnerships. New Brunswick has already attracted two tremendous vendors in ARC Clean Energy Canada and Moltex Energy who are now developing their capacity and generating local economic development in the province. New Brunswick is well-positioned to be a world leader in the SMR field."
"It is important that our provinces take these next steps together to continue leading the development of cutting-edge small modular reactors for the benefit of future generations. Ontario is home to a world-class nuclear industry, which we will leverage as we continue our critical work on this innovative technology in order to provide affordable, reliable, safe and clean energy while unlocking tremendous economic potential across the country."
With the addition of Alberta to the MOU, all provinces involved have agreed to collaborate on the advancement of SMRs as a clean energy option to address climate change and regional energy demands while supporting economic growth and innovation.
The SMR Feasibility Study, formally requested as part of the MOU in December 2019, concludes that the development of SMRs would support domestic energy needs, curb greenhouse gas emissions and position Canada as a global leader in this emerging technology. SMRs are nuclear reactors that produce 300 megawatts of electricity or less. They can support large established grids, small grids, remote off-grid communities and resource projects.
The study, conducted by Ontario Power Generation, Bruce Power, NB Power and SaskPower, identifies three streams of SMR project proposals for consideration by the governments of Ontario, New Brunswick and Saskatchewan.
Stream 1 proposes a first grid-scale SMR project of approximately 300 megawatts constructed at the Darlington nuclear site in Ontario by 2028. Subsequent units in Saskatchewan would follow, with the first SMR projected to be in service in 2032.
Stream 2 involves two fourth generation advanced small modular reactors that would be developed in New Brunswick through the construction of demonstration units at the Point Lepreau Nuclear Generating Station. By fostering collaboration among the various research, manufacturing, federal and provincial agencies, an initial ARC Clean Energy demonstration unit plans to be ready by 2030.
Moltex Energy Inc.'s waste recycling facility and reactor is preparing to be ready by the early 2030s. Through ongoing support and collaborations, these advanced technologies could start being deployed as early as 2030 in support of the industrial needs in areas like Saskatchewan, Alberta and around the globe.
Stream 3 proposes a new class of micro-SMRs designed primarily to replace the use of diesel in remote communities and mines. A five-megawatt gas-cooled demonstration project is underway at Chalk River, Ont., with plans to be in service by 2026.
The report identifies the potential for all three streams to create employment and economic growth benefits for Canada, as well as opportunities to export technology and expertise to address global issues such as climate change and energy reliability.
The next action identified in the MOU is the development of a joint strategic plan, to be drafted by the governments of Alberta, New Brunswick, Ontario and Saskatchewan. The plan is expected to be completed this spring.
The partner provinces will continue to work together and across the nuclear industry to help ensure Canada remains at the forefront of nuclear innovation while creating new opportunities for jobs, economic growth, innovation and a lower-carbon future.
Pastor, candidate under restraining order arrested for allegedly breaking COVID laws
CALGARY — A Calgary mayoral candidate who is under a restraining order and a pastor both face charges for allegedly violating COVID-19 laws over the weekend.
The Calgary Police Service alleges Kevin J. Johnston was in violation of a court order when he attended an illegal gathering Saturday morning.
The injunction, obtained by the province's health delivery agency on May 6, mandates that event organizers comply with public health restrictions, including masking, physical distancing and attendance limits.
Police also say Pastor Tim Stephens was arrested Sunday afternoon for organizing a church service that was held earlier in the day at Fairview Baptist Church, which police allege did not comply with public health orders.
Police say they received repeated calls from concerned citizens about services at Fairview Baptist Church in recent weeks, and that Stephens was proactively served a copy of the May 6 order last weekend.
On Friday, Alberta Health Services said the Court of Queen's Bench imposed a restraining order on Johnston, requiring that he stay at least 100 metres away from health officers and must not publish any threats or hate speech directed at them.
Johnston is running in this fall's municipal election and has been a vocal supporter of anti-lockdown protests.
"We are at a critical point in our province's response to the pandemic and citizens must comply with public health orders in order to ensure everyone's safety and well-being," police said in a news release announcing Johnston's arrest.
They didn't say what event he allegedly attended.
Alberta Health Services has said Johnston has been aggressive and threatening towards two particular health workers as well as to the general AHS workforce.
Johnston appears regularly online, promoting far-right ideology.
Premier Jason Kenney tweeted Saturday that he was glad the restraining order was issued, calling Johnston a "nutbar."
Police, meanwhile, said they did not enter Fairview Baptist Church during Sunday morning's service, and that Stephens was arrested in the afternoon.
"The Pastor acknowledged the injunction, but chose to move forward with today's service, ignoring requirements for social distancing, mask wearing and reduced capacity limits for attendees," police stated in a news release.
This report by The Canadian Press was first published May 16, 2021.
The Canadian Press
Big third period lifts Vancouver Canucks to 4-1 victory over Edmonton Oilers
EDMONTON — Matthew Highmore scored twice in the third period Saturday as the Vancouver Canucks topped the Edmonton Oilers 4-1. 
Travis Boyd and Bo Horvat also had goals for the Canucks (22-28-3), and J.T. Miller registered a pair of assists.
Oilers defenceman Adam Larsson opened the scoring with his fourth goal of the season midway through the first period.  
Thatcher Demko had a big performance for Vancouver, stopping 31 shots, including a breakaway chance by Connor McDavid. Mikko Koskinen had 37 saves for Edmonton (35-19-2). 
The result ended a two-game losing skid for the Canucks, who linger at the bottom of the North Division standings with three games left to play. 
With their final playoff tune-up complete, the Oilers will turn their attention to Wednesday's first-round playoff series opener against the visiting Winnipeg Jets.
The Canucks broke the game open midway through the third period.
Highmore's second goal of the afternoon came with 6:33 left to play. He sent a backhand shot towards the Edmonton net from the top of the slot and Koskinen fumbled with the puck before it dribbled over the goal line.
The goal, the Vancouver forward's third of the season, sealed the score at 4-1. 
An odd-man rush saw Highmore blast a shot up and over Koskinen's glove 9:13 into the period. Just 16 seconds later, Boyd snapped a shot past the Edmonton netminder from the middle of the slot to make it 3-1.
The Canucks outshot the Oilers 17-5 in the final frame on Saturday. 
McDavid had a prime chance to add to his NHL-leading 105 points in the third period when he picked up a Canucks turnover in the neutral zone and sped away for a breakaway. 
The Oilers captain attempted to put a wrist shot in from the top of the crease but Demko made a blocker save.
The Canucks netminder kept the score tied at 1-1 with a stellar stop midway through the second period. 
The Oilers were awarded their second power play of the game when Zack MacEwen hauled down Joakim Nygard. Alex Chiasson's snapshot from the bottom of the slot nearly restored Edmonton's lead, but Demko swept it off the goal line with his right pad. 
Edmonton's first power play of the afternoon didn't go as planned. Vancouver's J.T. Miller was called for holding 1:12 into the second period and 15 seconds later, the puck was in the back of the Edmonton net. 
A shot by Leon Draisaitl went wide and was picked up by Tanner Pearson. He streaked up the ice and sent a backhanded pass across the top of the crease to Horvat, who popped it in to tie the game at 1-1. 
It was the Canucks' fifth short-handed goal of the season and Horvat's 18th goal of the year. 
Still stationed in the penalty box, Miller tapped his stick against the glass in appreciation. 
Edmonton was 0 for 3 on the power play and Vancouver went 0 for 2. 
Larsson opened the scoring 12:45 into the opening frame, blasting a slapshot past Demko from above the right faceoff circle. 
McDavid and Draisaitl had assists to extend their point streaks to eight games. McDavid has 21 points (five goals, 16 assists) over the stretch and Draisaitl has 17 points (7-10).  
Edmonton still won the 10-game season series with six victories over Vancouver. 
The Canucks will host the Calgary Flames on Sunday, kicking off a three-game series that will close out the season for both sides. 
Notes: Slater Koekkoek returned to the Oilers lineup after missing 20 games with a broken collarbone. … Canucks defenceman Jalen Chatfield turned 25 on Saturday. 
This report by The Canadian Press was first published May 15, 2021. 
The Canadian Press