Whistle Stop Cafe owner challenging lockdown and authorities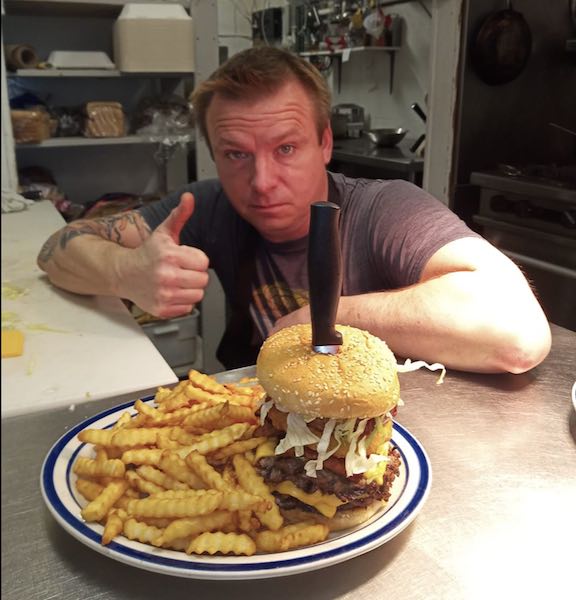 Just a few months ago Mirror, Alberta might have been referred to as UCP heartland.  But things seem to be changing quickly.  One of the hottest spots in the area is Chris Scott's Whistle Stop Cafe.  The owner, Chris Scott opened The Whistle Stop in the middle of Alberta's second lockdown back in January.  Still facing legal action from that lockdown, Chris didn't hesitate to announce he would also be defying Alberta's third lockdown of indoor dining as soon as that was announced.  Hundreds of supporters showed up on the weekend.  They were treated to music, a beer garden, as well as both outdoor patio, and indoor dining options.
As expected The Whistle Stop was visited by an AHS inspector and RCMP members who noted the violations and informed Mr. Scott of impending legal actions against The Whistle Stop Cafe.  All this hasn't slowed Scott down one bit.  As of Tuesday morning, the cafe is open and serving customers (who are warned by staff they could be charged for violating indoor dining restrictions) and Chris Scott is planning for another busy weekend.  Scott addresses his massive social media following daily.  His Tuesday morning address shows just how committed he remains despite the obvious impending showdown sure to take place in the coming days between Scott and AHS as well as the RCMP.
In his facebook post, the owner of The Whistle Stop Cafe almost seems to be daring Premier Jason Kenney to make a move:
Good morning everyone! It's been a busy, stressful couple days for us here. I'm not going into details as they're irrelevant to our vision of serving delicious food, to beautiful people
today could be a very big day for us here at the Whistle Stop Cafe in Mirror, Alberta. We've got a lot on the go including planning this coming weekends festivities here. Live music, karaoke, and wonderful food prepared with care and attention to detail. All of us here believe strongly in taking every precaution with the way we handle food. As a food "service," provider our number one priority is ensuring that what we serve its fresh and safe. We also believe in your choice to either venture out in this dangerous world or stay home and limit your exposure to the thousands of risks we encounter every day. Nobody here will ever judge you for making your own choice. As most of you know, Alberta Health Services suspended our food handling permit yesterday, via EMAIL. Now I could have ignored the email and said I didn't recieved it and made them come out here and deliver themselves, but I didn't. AHS inspectors are not well received these days. And I'm happy to consider them as human beings and keep them out of situations where they may be subject to abusive language and threats. So I accepted the email as it was written and acknowledge the suspension of my permit. However, as a man and a human being I have the right to engage in commerce. I have the right to Life, Liberty and security. These rights are not conditional on any agency "permitting," them. We continue to follow best practices in regards to purchase, storage, and preparation of our food. And we continue to maintain a clean environment in which to serve or consume said food. We will not continue to be bullied into submitting to garbage, harmful, baseless restrictions forced on the people of Alberta by those who will never suffer the consequences of their own actions. We are OPEN for business. And we have some great specials today!
Breakfast- Eggs Kenney served with a side of disobedience. 2 eggs poached one way, then changed to whatever we feel like making up at the time. We will give you ham, sausage, and bacon with your eggs Kenney but then we're going to take back half of it and tell you is for your own good. Comes with hashbrowns on the side, but only if you submit to our stupid rule of clapping three times and saying the word, "knee," (as in the Knights who say, knee. Because it's ridiculous and changes nothing.) $5.00 plus a fee of $7.95 for the permit to eat.
Lunch special today is a UCP burger. Our delicious classic burger! But like our government it will be served open and two-faced with an egg on its face. Comes with delicious freedom fries! $11.95
Soup today is Hinshaw chicken noodle. Chicken soup is good for you! And since Dr. Hinshaw seems to think she's the only person who knows what's good for us I figured it was an appropriate name.
Supper special is whatever you want. We will prepare you anything you like! Because what you put in your body, and where you choose to eat and do business is YOUR CHOICE!!! Keep in mind our kitchen is small so please don't go crazy
our supper special is FREE! And if you feel like donating to our cause we would be very happy to accept it. I heard something about "plague rats," so all donations will go towards cleaning supplies and a consultation with an exterminator because we want ALBERTA TO REMAIN RAT FREE!!!
We're looking forward to seeing you today!! We NEED YOU HERE. We need your support! We need to push back as hard as we can, knowing that we may get sick but doing OF OUR OWN ACCORD!!
Sending love and freedom from the Whistle Stop Cafe in Mirror
Three Canadian teams to play in women's hockey Dream Gap Tour in Calgary
CALGARY — Canada's top players in women's hockey will finally get to play real games later this month in Calgary.
The Professional Women's Hockey Players' Association (PWHPA) is holding Canada's first Dream Gap Tour event in over a year May 24-30 at a Calgary venue yet to be announced.
Sixty players from the PWHPA's three Canadian hubs in Toronto, Montreal and Calgary will play to determine the Canadian Secret Cup champion.
Secret, which announced a $1-million sponsorship of the PWHPA earlier this year, and the NHL's Calgary Flames are the financial partners in the event.
Similar COVID-19 quarantine and testing protocols established by Hockey Canada for the world junior men's hockey championship and national women's and para hockey camps in Alberta will be incorporated.
Alberta tightened restrictions this week in the face of rising COVID cases, but Alberta Health has approved plans for the women's tournament, PWHPA operations consultant Jayna Hefford said. 
"They believe the protocols, the quote-unquote bubble that's been put in place, will secure the safety of our group and Albertans," the Hockey Hall of Famer told The Canadian Press. "There will be no interaction with the public."
While the PWHPA's Calgary plans were in the works before Nova Scotia's premier pulled the plug on this month's women's world championship, the Dream Gap Tour now offers an oasis in what's been a pandemic hockey desert for the majority of players in the national women's team pool.
The last real games many of them played came in a PWHPA tournament March 6-8, 2020 in Arizona. The last PWHPA event in Canada was Jan. 11-12, 2020 in Toronto.
The PWHPA's American chapter has played a handful of games in the United States in recent weeks, although a two-day tournament in St. Louis was postponed from early April to May 16-17.
Canada's mandatory 14-day quarantine upon return from outside the country kept Canadian players from participating in the U.S. games.
Stricter health regulations across Canada also made skating together in groups impossible at times and planning actual games in the country a non-starter.
"It's been so challenging," Hefford said. "We had to try to encourage our players to be patient early on in the season, and even in early 2021 we continued to reiterate we would only host events if we could feel really comfortable about the safety of everyone involved."
The PWHPA, which includes Canadian and U.S. national team players, rose from the ashes of the Canadian Women's Hockey League that folded in 2019. 
The goal of the roughly 150 players is a sustainable league that offers the competitive supports and training environments the male pros get, and wages that allow them to be professional athletes.
They've so far refused to join the six-team National Women's Hockey League, which recently announced a doubling of each team's salary cap to US$300,000 for next season. The Toronto Six is the lone Canadian club in that league.
The PWHPA held a series of Dream Gap Tour tournaments and events across North America in 2019-20 before the global pandemic brought the sporting world to its knees.
The pandemic continued to impede women's hockey internationally and domestically.
The women's world championship in Nova Scotia was cancelled a second straight year, although Hockey Canada is committed to hosting the tournament in August in a location yet to be named.
January's world under-18 women's championship in Sweden was called off, while a men's under-20 champion was crowned in Edmonton that month.
The men's world under-18 championship in Texas concludes Thursday. The men's world championship is scheduled to open in just over two weeks on May 21 in Riga, Latvia.
The NHL, men's minor pro leagues and major junior's Western Hockey League and Quebec Major Junior Hockey League all operated in some form this winter.
Calgary's Scotiabank, Toronto's Sonnet and Montreal's Bauer squaring off for a trophy and prize money can help revive the visibility of women's hockey in Canada, Hefford said.
"We represent the players and we want to see them out there," she stated.
"We have partners that have been so loyal and committed, so helpful in this process to move this forward, get the women back on the ice. 
"It seems like men's hockey has gone on and we continue to hit these hurdles. 
"I hope this is a great opportunity for the women to play, but also for people to see the best of women's hockey on the ice again."
This report by The Canadian Press was first published May 6, 2021.
Donna Spencer, The Canadian Press
Canadian Natural reports $1.38B Q1 profit, record quarterly production
CALGARY — Canadian Natural Resources Ltd. reported a first-quarter profit of nearly $1.38 billion compared with a loss a year ago.
The oilsands producer says the profit amounted to $1.16 per diluted share for the quarter ended March 31.
The result compared with a loss of $1.28 billion or $1.08 per diluted share a year ago.
Revenue totalled $6.6 billion, up from $4.5 billion in the first three months of 2020, helped by higher oil and natural gas prices.
Production in the quarter was a record 1,245,703 barrels of oil equivalent per day, up from 1,178,752 barrels of oil equivalent per day in the first quarter of 2020.
On an adjusted basis, Canadian Natural says it earned $1.03 per diluted share compared with an adjusted loss of 25 cents per share last year.
This report by The Canadian Press was first published May 6, 2021.
Companies in this story: (TSX:CNQ)
The Canadian Press