Alberta supports the development of Small Modular Nuclear Reactors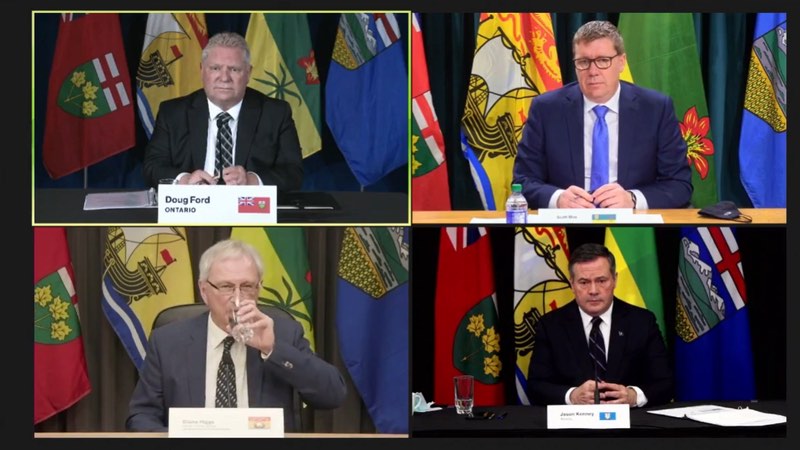 Alberta signs small modular nuclear reactor MOU
Alberta has signed a memorandum of understanding (MOU) with New Brunswick, Ontario and Saskatchewan to support the development of small modular nuclear reactors (SMRs).
Premier Jason Kenney signed the MOU, previously signed by the three other provinces, on April 14. He joined New Brunswick Premier Blaine Higgs, Ontario Premier Doug Ford and Saskatchewan Premier Scott Moe at a virtual event where the premiers shared the findings of a study that examined the feasibility of SMRs in Canada.
"Alberta has always been committed to clean, affordable energy. Small modular reactors are an exciting new technology that could be used in the future to significantly cut greenhouse gas emissions, for example by generating power for Canadian oilsands producers. Nuclear is the cleanest form of electricity production, and with SMRs is now more affordable and scalable for industrial use. We are excited to be part of this group that will help develop Canadian SMR technology."
"Today's announcement confirms the commitment of our provinces to advancing SMRs as a clean energy option, leveraging the strength and knowledge of each of our jurisdictions. This study confirms the feasibility of small modular reactors in Canada and outlines a path forward to deploy this new clean, safe, reliable and competitively priced power. This new technology will help attract investment, create high-skilled jobs and contribute to our growing economy."
"Our government believes the best way to ensure that Canada becomes a leader in advanced small modular reactor development and deployment is through continued engagement and partnerships. New Brunswick has already attracted two tremendous vendors in ARC Clean Energy Canada and Moltex Energy who are now developing their capacity and generating local economic development in the province. New Brunswick is well-positioned to be a world leader in the SMR field."
"It is important that our provinces take these next steps together to continue leading the development of cutting-edge small modular reactors for the benefit of future generations. Ontario is home to a world-class nuclear industry, which we will leverage as we continue our critical work on this innovative technology in order to provide affordable, reliable, safe and clean energy while unlocking tremendous economic potential across the country."
With the addition of Alberta to the MOU, all provinces involved have agreed to collaborate on the advancement of SMRs as a clean energy option to address climate change and regional energy demands while supporting economic growth and innovation.
The SMR Feasibility Study, formally requested as part of the MOU in December 2019, concludes that the development of SMRs would support domestic energy needs, curb greenhouse gas emissions and position Canada as a global leader in this emerging technology. SMRs are nuclear reactors that produce 300 megawatts of electricity or less. They can support large established grids, small grids, remote off-grid communities and resource projects.
The study, conducted by Ontario Power Generation, Bruce Power, NB Power and SaskPower, identifies three streams of SMR project proposals for consideration by the governments of Ontario, New Brunswick and Saskatchewan.
Stream 1 proposes a first grid-scale SMR project of approximately 300 megawatts constructed at the Darlington nuclear site in Ontario by 2028. Subsequent units in Saskatchewan would follow, with the first SMR projected to be in service in 2032.
Stream 2 involves two fourth generation advanced small modular reactors that would be developed in New Brunswick through the construction of demonstration units at the Point Lepreau Nuclear Generating Station. By fostering collaboration among the various research, manufacturing, federal and provincial agencies, an initial ARC Clean Energy demonstration unit plans to be ready by 2030.
Moltex Energy Inc.'s waste recycling facility and reactor is preparing to be ready by the early 2030s. Through ongoing support and collaborations, these advanced technologies could start being deployed as early as 2030 in support of the industrial needs in areas like Saskatchewan, Alberta and around the globe.
Stream 3 proposes a new class of micro-SMRs designed primarily to replace the use of diesel in remote communities and mines. A five-megawatt gas-cooled demonstration project is underway at Chalk River, Ont., with plans to be in service by 2026.
The report identifies the potential for all three streams to create employment and economic growth benefits for Canada, as well as opportunities to export technology and expertise to address global issues such as climate change and energy reliability.
The next action identified in the MOU is the development of a joint strategic plan, to be drafted by the governments of Alberta, New Brunswick, Ontario and Saskatchewan. The plan is expected to be completed this spring.
The partner provinces will continue to work together and across the nuclear industry to help ensure Canada remains at the forefront of nuclear innovation while creating new opportunities for jobs, economic growth, innovation and a lower-carbon future.
Three Canadian teams to play in women's hockey Dream Gap Tour in Calgary
CALGARY — Canada's top players in women's hockey will finally get to play real games later this month in Calgary.
The Professional Women's Hockey Players' Association (PWHPA) is holding Canada's first Dream Gap Tour event in over a year May 24-30 at a Calgary venue yet to be announced.
Sixty players from the PWHPA's three Canadian hubs in Toronto, Montreal and Calgary will play to determine the Canadian Secret Cup champion.
Secret, which announced a $1-million sponsorship of the PWHPA earlier this year, and the NHL's Calgary Flames are the financial partners in the event.
Similar COVID-19 quarantine and testing protocols established by Hockey Canada for the world junior men's hockey championship and national women's and para hockey camps in Alberta will be incorporated.
Alberta tightened restrictions this week in the face of rising COVID cases, but Alberta Health has approved plans for the women's tournament, PWHPA operations consultant Jayna Hefford said. 
"They believe the protocols, the quote-unquote bubble that's been put in place, will secure the safety of our group and Albertans," the Hockey Hall of Famer told The Canadian Press. "There will be no interaction with the public."
While the PWHPA's Calgary plans were in the works before Nova Scotia's premier pulled the plug on this month's women's world championship, the Dream Gap Tour now offers an oasis in what's been a pandemic hockey desert for the majority of players in the national women's team pool.
The last real games many of them played came in a PWHPA tournament March 6-8, 2020 in Arizona. The last PWHPA event in Canada was Jan. 11-12, 2020 in Toronto.
The PWHPA's American chapter has played a handful of games in the United States in recent weeks, although a two-day tournament in St. Louis was postponed from early April to May 16-17.
Canada's mandatory 14-day quarantine upon return from outside the country kept Canadian players from participating in the U.S. games.
Stricter health regulations across Canada also made skating together in groups impossible at times and planning actual games in the country a non-starter.
"It's been so challenging," Hefford said. "We had to try to encourage our players to be patient early on in the season, and even in early 2021 we continued to reiterate we would only host events if we could feel really comfortable about the safety of everyone involved."
The PWHPA, which includes Canadian and U.S. national team players, rose from the ashes of the Canadian Women's Hockey League that folded in 2019. 
The goal of the roughly 150 players is a sustainable league that offers the competitive supports and training environments the male pros get, and wages that allow them to be professional athletes.
They've so far refused to join the six-team National Women's Hockey League, which recently announced a doubling of each team's salary cap to US$300,000 for next season. The Toronto Six is the lone Canadian club in that league.
The PWHPA held a series of Dream Gap Tour tournaments and events across North America in 2019-20 before the global pandemic brought the sporting world to its knees.
The pandemic continued to impede women's hockey internationally and domestically.
The women's world championship in Nova Scotia was cancelled a second straight year, although Hockey Canada is committed to hosting the tournament in August in a location yet to be named.
January's world under-18 women's championship in Sweden was called off, while a men's under-20 champion was crowned in Edmonton that month.
The men's world under-18 championship in Texas concludes Thursday. The men's world championship is scheduled to open in just over two weeks on May 21 in Riga, Latvia.
The NHL, men's minor pro leagues and major junior's Western Hockey League and Quebec Major Junior Hockey League all operated in some form this winter.
Calgary's Scotiabank, Toronto's Sonnet and Montreal's Bauer squaring off for a trophy and prize money can help revive the visibility of women's hockey in Canada, Hefford said.
"We represent the players and we want to see them out there," she stated.
"We have partners that have been so loyal and committed, so helpful in this process to move this forward, get the women back on the ice. 
"It seems like men's hockey has gone on and we continue to hit these hurdles. 
"I hope this is a great opportunity for the women to play, but also for people to see the best of women's hockey on the ice again."
This report by The Canadian Press was first published May 6, 2021.
Donna Spencer, The Canadian Press
Canadian Natural reports $1.38B Q1 profit, record quarterly production
CALGARY — Canadian Natural Resources Ltd. reported a first-quarter profit of nearly $1.38 billion compared with a loss a year ago.
The oilsands producer says the profit amounted to $1.16 per diluted share for the quarter ended March 31.
The result compared with a loss of $1.28 billion or $1.08 per diluted share a year ago.
Revenue totalled $6.6 billion, up from $4.5 billion in the first three months of 2020, helped by higher oil and natural gas prices.
Production in the quarter was a record 1,245,703 barrels of oil equivalent per day, up from 1,178,752 barrels of oil equivalent per day in the first quarter of 2020.
On an adjusted basis, Canadian Natural says it earned $1.03 per diluted share compared with an adjusted loss of 25 cents per share last year.
This report by The Canadian Press was first published May 6, 2021.
Companies in this story: (TSX:CNQ)
The Canadian Press