Alberta justice minister hikes fines, promises renewed effort on COVID-19 scofflaws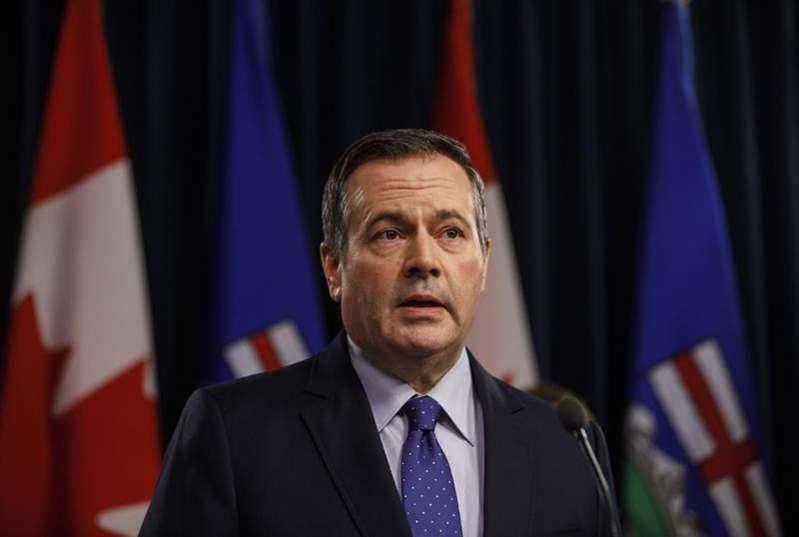 EDMONTON — Alberta has doubled fines for disobeying public health measures meant to fight COVID-19 and Justice Minister Kaycee Madu is promising a renewed effort to stop public health scofflaws will succeed.
"Enforcement will be done, and Albertans will see it being done," Madu told a news conference Wednesday.
"It has become clear that there are a small few who refuse to comply with reasonable and legitimate public health orders"
The United Conservative government passed an order in council Wednesday that doubles fines for public health violations to $2,000.
Madu said there is also a new protocol for health officials, police and government to co-ordinate and target repeat individuals and groups that flout the law.
He said he discussed with police chiefs this week what further tools and resources they need to step up enforcement.
Premier Jason Kenney on Tuesday announced stronger measures to reverse soaring COVID-19 cases that threaten to overwhelm hospitals by month's end and to force doctors to decide which patients get life-saving care.
Kenney's government has been criticized for being a paper tiger on lawbreakers. In January, it allowed some restaurants to flout dine-in restrictions. GraceLife church, in Spruce Grove, Alta., west of Edmonton, was able to hold Sunday services for months that officials have said ignored rules on masks, capacity limits and physical distancing. Police physically blocked off the church just a month ago.
The enforcement issue made headlines again on this weekend when hundreds of people gathered near Bowden in central Alberta for a pre-advertised maskless "No More Lockdowns" protest rodeo.
Edmonton and Calgary have also seen maskless mass protests against health restrictions.
Action was taken Wednesday against one accused repeat offender. Alberta Health Services announced the Whistle Stop Café in Mirror, Alta., had been physically closed and access barred. The café had been flagged for repeatedly breaking COVID-19 health restrictions by staying open and serving customers.
Opposition NDP Leader Rachel Notley said Kenney's government set its enforcement policy up for failure from the get-go by stressing education first and enforcement as a last resort.
Referring to the protocol Madu outlined, Notley said: "The fact there is a protocol to tell them to talk to each other is not new. It is a policy dressed up to look like action, but it is not significant, and that's why we're calling on them to do more."
She criticized the plan to target only repeat offenders: "(That) says to me their plan is to give everybody their first rodeo free, which is in effect what they did with the Bowden rodeo.
"This has to stop because that Bowden rodeo will turn out to be a super-spreader. People will get sick from that rodeo. People will get seriously ill."
Kenney announced tighter rules Tuesday, some of which came in effect Wednesday. Outdoor gatherings, which had been limited to 10 people, are now capped at five. Worship services, which were allowed at 15 per cent capacity, have been reduced to 15 people maximum.
Retailers, which had been open at 15 per cent customer capacity, are restricted to 10 per cent.
On Friday, all kindergarten to Grade 12 students will learn from home. On Sunday, restaurants must close their patios and offer takeout service only. Personal wellness services, including hair salons and barber shops, will have to close.
Indoor social gatherings remain banned. Entertainment venues, including movie theatres and casinos, also remain closed.
As of Wednesday, Alberta had 24,156 active cases of COVID-19, with 666 people in hospital. It has experienced the highest infection rates in North America in recent weeks.
There are almost 1.7 million Albertans who have received at least one dose of vaccine. About one in three adults have had a shot.
Kenney said the vaccination rollout will be expanded drastically, with everyone in the province 12 and older to soon be eligible.
Every Albertan born in 1991 or earlier will be able to book vaccinations starting Friday. On Monday, appointments will be offered to anyone born between 2009 and 1992.
Earlier Wednesday, Health Canada approved the Pfizer-BioNTech vaccine for children as young as 12.
This report by The Canadian Press was first published May 5, 2021.
Dean Bennett, The Canadian Press
THE HALFTIME REPORT News from the Alberta Sports Hall of Fame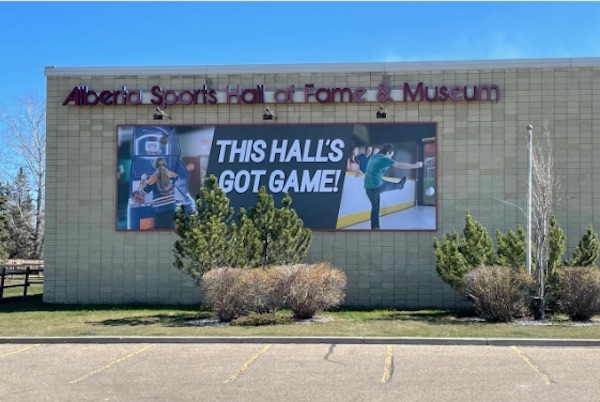 ASHFM Staff Supporting Their Favourite Alberta Teams
The Battle of Alberta was fantastic. Let's do this again soon! This is the first time the Edmonton Oilers and the Calgary Flames have met during the NHL Playoffs since 1991. The Alberta Sports Hall of Fame had a ton of fun creating a number of different ways for Albertans to learn about and participate in the rivalry.
We created a poll where visitors to the museum placed a sticker on our board to indicate which Albertan NHL team they cheer for. Those unable to stop in were encouraged to comment on our social media posts, telling us their team, so we could place the sticker for them. Both teams had over 200 votes, with the total climbing higher each day.
We also highlighted some of our honoured members who have played for, or been associated with either of these teams, such as Wayne Gretzky, Michael Vernon, Glen Sather, and Peter Maher.
Other initiatives include Jersey Day, where visitors who come in on a Battle of Alberta game day wearing a Flames or Oilers jersey get 50% off of their admission into the museum, highlighting iconic BoA moments through Youtube, and more!
This newsletter is sponsored by the RBC Foundation.
Honoured Member in Focus: Wayne Bowes and Bob Daku
Wayne Bowes and Bob Daku began playing racquetball together in 1969, after meeting at the Lethbridge YMCA. They dominated the Canadian Open Men's Doubles in racquetball from 1974 to 1982. Together, they won nine consecutive national titles.
Besides their national titles, this team won numerous Alberta crowns and competed at the 1974 World Amateur Racquetball Championships. They won two more titles, in 1984 and 1985, and then retired from competitive racquetball with eleven of thirteen national titles.
For more information about this team, please see their Honoured Member Profile, linked below.
Provincial Sport Organization: Alberta Racquetball Association
The Alberta Racquetball Association's vision is to make racquetball accessible to all Albertans and to be a national leader in programming, athlete development, and good governance.Its mission is to facilitate the participation and enjoyment of racquetball through the delivery of programs, access to resources, the development of coaches and officials, and support to clubs and affiliates.
They strive to build a strong future and legacy for racquetball by supporting competitive athletes, fostering lifelong participants and aim to increase involvement and accessibility at all levels through promotion, advocacy, and funding.
Artifact in Focus!

The artifact that we are highlighting is a racquetball racquet. The cover is made of faux, brown, leather.
Next time you're driving down the QEII you will notice the new billboard on our building! Our new billboard reads "This Hall's Got Game," and is visible from Highway 2.
Honoured Member Theo Fleury Visits ASHFM
Honoured Member Theo Fleury stopped by the Alberta Sports Hall of Fame recently to film a promotional video.
To learn more about Theo Fleury, please click on the link to his profile below.
Leave a legacy​
The Alberta Sports Hall of Fame needs your support to continue the ongoing preservation of Alberta's sports history and the development of museum exhibits. We are grateful and appreciative of the generosity of our supporters and friends. We would be happy to assist you in choosing how your personal legacy will be fulfilled and the many options available. Here is some information on donating shares to ASHFM and the benefits to you as a donor.
Copyright © 2021 The Alberta Sports Hall of Fame, All rights reserved.
Our mailing address is:
Alberta Sports Hall of Fame
#102 – 4200 Highway 2
Red Deer, AB T4N 1E3
(403) 341- 8614
[email protected]
Aurora Cannabis shares fall 40% after share sale amendment
EDMONTON — Aurora Cannabis Inc.'s share price fell by about 40 per cent, after the company announced it sold US$150 million worth of shares.
The Edmonton marijuana company's share price was $3.47 when trading ended Thursday, but by mid-morning Friday, had fallen to $2.07 and closed at $2.14.
The sale of shares was part of an amendment Aurora made to a previously announced bought deal financing.
The amendment made it possible for a syndicate of underwriters led by Canaccord Genuity and BMO Capital Markets to purchase 61.2 million Aurora units for US$2.45 each.
Each unit is comprised of one common share in Aurora and one common share purchase warrant, which can be used to acquire one common share for US$3.20 each in the next 36 months.
Aurora has yet to record a profit and in recent years has been trying to drive revenues by better aligning supply with demand, laying off staff and closing facilities.
This report by The Canadian Press was first published May 27, 2022.
The Canadian Press