Alberta Fish & Wildlife Officers now responding to police emergencies upon request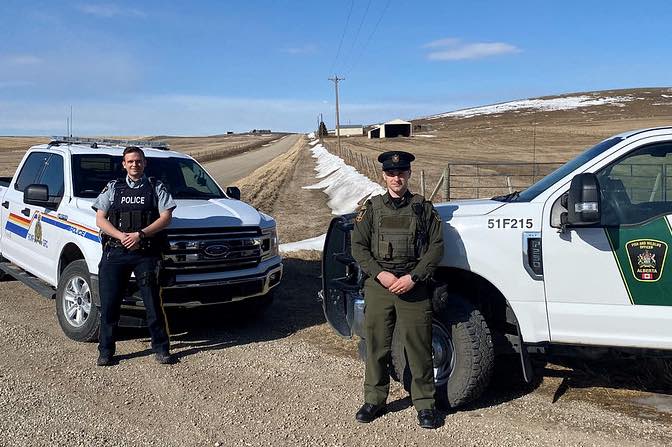 From the Province of Alberta
RAPID Response protects rural Albertans
The launch of RAPID Response on April 1 puts 140 more peace officers on guard for rural Albertans when they need help from law enforcement.
As part of the provincial government's Rural Alberta Provincial Integrated Defence (RAPID) Response initiative, Alberta's fish and wildlife officers are now available to help the RCMP answer emergency and high-priority calls when requested.
RAPID Response will help authorities arrive at the scene of an emergency more quickly by giving peace officers in the Alberta Sheriffs, which includes Fish and Wildlife Enforcement Services, the ability to respond to a wider range of calls.
"Rural Albertans told us loud and clear that it can take too long for help to arrive in their communities. With RAPID Response, highly trained and professional peace officers will work across rural Alberta to answer the call when police need help to save precious minutes in an emergency."
Under RAPID Response, fish and wildlife officers are able to respond to requests from the RCMP to be first at the scene of an emergency in cases where they are closer than the police. Fish and wildlife officers will also respond to RCMP requests for backup, which could involve helping the police locate suspects or preserve a crime scene.
Communications officers at the Alberta Sheriffs dispatch centre will also play a vital role in RAPID Response, by ensuring a reliable link with the RCMP when the two agencies respond to an incident together.
Preparations are also underway for members of the Sheriff Highway Patrol to perform RAPID Response functions later this year. Approximately 260 traffic sheriffs are being trained to investigate a wider range of calls, including impaired driving.
Giving traffic sheriffs the authority to handle more incidents on provincial highways will allow the RCMP to leave more officers on patrol and available to respond to higher-priority criminal matters.
RAPID Response currently covers most areas of rural Alberta policed by the RCMP. The provincial government is also holding a series of meetings with First Nations and Métis leaders to determine their interest and earn their support before expanding RAPID Response to their communities.
'It was a going concern': Remaining bar and hotel in Alberta coal ghost town for sale
WAYNE, Alta. — Built during the First World War, it survived the Great Depression, the Second World War and the closure of coal mines in the 1950s. Now the historic Last Chance Saloon in the ghost town of Wayne in southern Alberta is up for sale. 
There are a century's worth of memories in the three-storey wooden hotel, including photos of the community in its heyday, mining equipment and three bullet holes — framed on one wall of the bar — dating back to the 1970s when a trigger-happy bartender wanted to encourage some patrons to pay their tab. 
The hotel, about 15 kilometres southeast of Drumheller, Alta., was built by the Rosedeer Coal Co. to house its workers and opened in 1913. The saloon was added a few years later so employees being paid in company scrip could buy a meal or a beer. 
"It originally was built for the coal miners when Wayne was starting to boom with 2,500 residents in the early 1920s. Now we're down to 29 residents and this is one of the few remaining structures from that time," explains current owner Dave Arsenault, who has to sell the hotel as part of a divorce settlement.
"It was a going concern. There was more than one hotel out here. There were 12 coal mines and it was a bustling place. Of course, there's almost nothing left but there's lots of photos around depicting what it was like in the day.
"That's really the charm of this place."
The last working mine in the area, Sovereign Coal, closed in 1957. 
A University of Calgary history professor says many people don't realize how big an effect the coal industry had in early 20th-century Alberta.
Georg Colpitts says the Drumheller area was one of the "ground centrals of early coal-mining" in the province. Many early explorers to Western Canada not only looked at the agricultural potential, but considered the vast amounts of coal that could be used to support the British Empire.
"Wherever these individuals found large coal deposits it was factored into the thinking of London investors, to the colonial office. Coal was in the backdrop of a lot of the thinking of empiring."
Colpitts said not only did the area have coal deposits, CN decided to develop a railhead.
"Those were the two magic combinations to tap Drumheller into the international demand and supply of coal. It became the lifeblood of that valley and continued to be so up until about the '70s."
The hotel is listed for $925,000. Arsenault says there's already been some interest from prospective buyers.
"It's unfortunate because I think the timing is great for a nice rebound in the hospitality game, but I guess that's a selling feature, too," he says. 
"As far as I'm concerned, we're conducting business as usual. We've got weddings booked. We've got some groups coming in, lots of recurring old friends that have called and made reservations. Camping is open this year."
WayneStock, a three-day annual music festival with acts on three stages in and around the saloon, posted a record attendance of about 2,000 in 2019, but has been cancelled since due to the pandemic.
Some think the third floor of the hotel, which is locked up and used only for storage, is haunted. The hotel was featured in Season 3 of the Canadian ghost-hunting TV show, "The Other Side." 
It has also hit the big screen.
The 1983 movie "Running Brave," starring Robby Benson, was filmed in part at the hotel as well as the 2000 martial arts western comedy "Shanghai Noon" which starred Jackie Chan, Owen Wilson and Lucy Liu. 
This report by The Canadian Press was first published May 15, 2021.
— By Bill Graveland in Calgary. Follow @BillGraveland on Twitter
The Canadian Press
Fire investigators can't pin cause of fire at Edmonton-area seniors complex
ST. ALBERT, Alta. — Fire investigators say they have been unable to figure out what caused a fire at an Edmonton-area retirement and long-term care complex last week.
Residents were forced to leave when the fire at the Citadel Mews West Continuing Care Facility in St. Albert broke out on May 6.
It destroyed part of the complex and three residents suffered smoke inhalation.
Investigators say the fire started on a ground-floor patio.
They say it spread from patio furniture to the underside of the deck above and from there up the siding into the building's attic.
A damage estimate has yet to be made and investigators are still trying to determine what caused the blaze.
"This was a large and devastating fire where thankfully no one was seriously hurt," St. Albert acting fire Chief Scott Wilde said Friday in a news release.
"If you live in a multi-family building, be aware of your building's fire safety plan and practise your escape."
This report by The Canadian Press was first published May 14, 2021.
The Canadian Press