Podcasters doing their part to promote Alberta film industry
Did you know that the film industry in our province generates north of 0 million each year? Many wouldn't know because it's a quiet industry. It doesn't pollute, and it generates a significant ROI when productions shot here are shown in other parts of the world. The industry is a key strategic contributor to our economy and our image.
This podcast is a great example of industry pros working tirelessly to promote their industry. At Todayville we are big believers in the opportunity strong cultural industries in our province can bring and certainly applaud their efforts. The Alberta Filmmakers podcast has three main goals; the exploration of the Alberta film community and the people within it, promoting the content that is created by that community, and archiving the stories and knowledge of the older generation in hopes of saving some of their wisdom and distributing it to the next generation.
"The latest episode
is called The Feature Film Files where we have a long discussion all about the making of an Alberta film." said Matt Watterworth, one of the creators. "In this case, it's "To The Mountain", a very tiny budget film that is getting distribution which is amazing for a $10,000 budget."
This episode's guest is Producer of "To The Mountain", Paige K. Boudreau. It's hosted by Matt Watterworth and Scott Westby, produced by Calgary's Full Swing Productions, and now in its second season.
Here's what Matt Watterworth says about the Filmakers Podast:
"The podcast came about because Scott (Westby) and I are very much about legacy. We're still relatively new or young in our careers, but we recognized that there are a few problems in our industry that the podcast can help combat. The first is that filmmakers in Alberta aren't very good at promoting or celebrating themselves. Another is that the industry and community is very silo-ed, there's not enough communication happening between each clique, section of the industry, community group, government body, or collective."
"Another challenge our community faces is internal competition. Many in our community are protective and competitive when it comes to their accomplishments, and there's nothing wrong with that if that's their decision. But Scott and I have decided that it's more effective for us to share the knowledge, tips, tricks and the really hard data like grant applications, production budgets and financing structures."
The team believes these are the kind of things that can really make a difference for a new filmmaker. Sharing ideas that can help unlock money or introduce them to a film festival is very important.
"One example is a group of great filmmakers who heard about a 48 Hour Film Competition put on by The Calgary Underground Film Festival and The Calgary Expo on our podcast, said Watterworth. "So they submitted, created a film and won first place. They said they wouldn't have even known about the event if it wasn't for our show so that's a big deal for us and is hopefully demonstrative of a larger impact we're having."
Connect here to the Alberta Podcast Network for more excellent podcasts.
Share a special night with Great Big Sea's Sean McCann this Saturday for the Child Advocacy Centre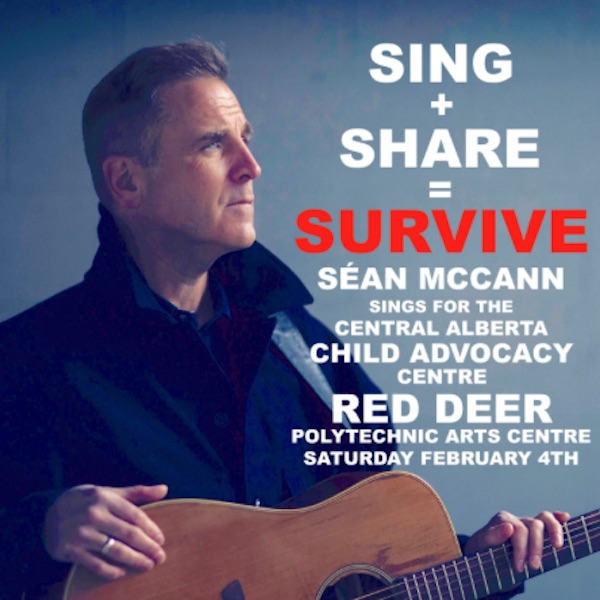 Tickets selling fast for Séan McCann – Sing, Share, Survive
In support of the CACAC
Séan McCann from Great Big Sea will be performing in support of the Central Alberta Child Advocacy Centre this Saturday, February 4th!

Tickets are selling fast! In this powerful live music and storytelling event, you'll learn the meaning of resiliency. Séan will be joined by special guest Sheldon Kennedy for this special performance!
Tickets are $50 each through Red Deer Polytechnic ticket office.
About Séan McCann –
A survivor of sexual abuse as a teenager, Séan has spent the last ten years touring North America as a musical keynote speaker, singing and sharing his story with theatre audiences, front line workers, teachers, students, patients, inmates, veterans, and anyone who has struggled with their mental health. Séan believes that music is medicine and a song is never more powerful than when it is sung with a friend.
As part of this event, the CACAC is benefiting from an
online silent art auction, operated by JRADCLIFFE Auctioneering.

These artworks were created and curated by Kathryn Fellowsand donated to this auction in her memory by her daughter Sharon Moffat.

Watch on social media for a link to this auction, which opens on February 4th.
We're building a path forward for victims of child abuse, neglect, and sexual exploitation. The Centre of Excellence will house many partners in one building, including teams from Alberta Health Services, RCMP, and the Central Alberta Sexual Assault Support Centre.

We've created a strategic partnership with Red Deer Polytechnic to build this innovative centre right here in the heart of Central Alberta on RDP land.
Consider becoming a monthly donor today!
Your monthly contribution will help us #BuildtheFuture of healing, advocacy, and prevention. Click the button below, and select "recurring" to set up your monthly contribution to the Centre of Excellence.

Help us build the future…so every child can have a bright one.
Empowered, Happy and Healthy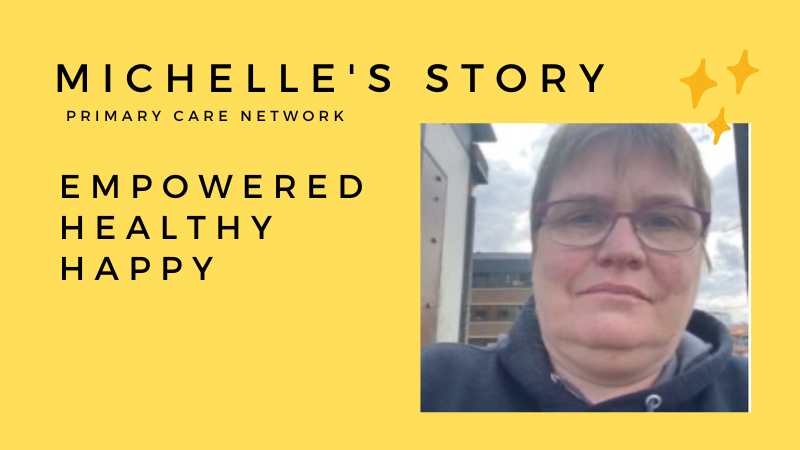 Michelle lost a kidney to cancer 20 years ago. Her blood pressure has been challenging to keep in a healthy range since. A busy life with little focus on healthy got her in trouble. In late December 2020, she ended up in emergency with extremely high blood pressure in the 200/150 range and a blood sugar of 25. She was very sick. She had a second similar episode in January. At that time, she was let go from her job. This turned out to be the best thing that happened as she now had time to focus on her health.
The RDPCN family nurse recommended she attend Diabetes the Basics as well as providing her with ongoing one-to-one support for several months. She also got connected to a weight management program, supervised exercise and Heartwise.
Fast forward to 18 months, she has decreased her clothing size from 20 to 14. Her blood sugar is now 7 and her blood pressure is in the range of 138/95. Great improvements!
She is back to work. She walks about an hour per day and she feels amazing! She has used the portion control plate to help improve her eating habits. She is eating way better and enjoying it. One thing she could not give up was Pepsi. She used to have at least 3 cans per day. Now she uses Diet Pepsi in much smaller volumes, but she cannot get by without some Pepsi. Long-lasting insulin and using the Libre sensor have been great tools to help her live healthily. She feels very empowered, happy and healthy!!
Learn more about the Red Deer Primary Care Network. Click here.