Podcasters doing their part to promote Alberta film industry
Did you know that the film industry in our province generates north of 0 million each year? Many wouldn't know because it's a quiet industry. It doesn't pollute, and it generates a significant ROI when productions shot here are shown in other parts of the world. The industry is a key strategic contributor to our economy and our image.
This podcast is a great example of industry pros working tirelessly to promote their industry. At Todayville we are big believers in the opportunity strong cultural industries in our province can bring and certainly applaud their efforts. The Alberta Filmmakers podcast has three main goals; the exploration of the Alberta film community and the people within it, promoting the content that is created by that community, and archiving the stories and knowledge of the older generation in hopes of saving some of their wisdom and distributing it to the next generation.
"The latest episode
is called The Feature Film Files where we have a long discussion all about the making of an Alberta film." said Matt Watterworth, one of the creators. "In this case, it's "To The Mountain", a very tiny budget film that is getting distribution which is amazing for a $10,000 budget."
This episode's guest is Producer of "To The Mountain", Paige K. Boudreau. It's hosted by Matt Watterworth and Scott Westby, produced by Calgary's Full Swing Productions, and now in its second season.
Here's what Matt Watterworth says about the Filmakers Podast:
"The podcast came about because Scott (Westby) and I are very much about legacy. We're still relatively new or young in our careers, but we recognized that there are a few problems in our industry that the podcast can help combat. The first is that filmmakers in Alberta aren't very good at promoting or celebrating themselves. Another is that the industry and community is very silo-ed, there's not enough communication happening between each clique, section of the industry, community group, government body, or collective."
"Another challenge our community faces is internal competition. Many in our community are protective and competitive when it comes to their accomplishments, and there's nothing wrong with that if that's their decision. But Scott and I have decided that it's more effective for us to share the knowledge, tips, tricks and the really hard data like grant applications, production budgets and financing structures."
The team believes these are the kind of things that can really make a difference for a new filmmaker. Sharing ideas that can help unlock money or introduce them to a film festival is very important.
"One example is a group of great filmmakers who heard about a 48 Hour Film Competition put on by The Calgary Underground Film Festival and The Calgary Expo on our podcast, said Watterworth. "So they submitted, created a film and won first place. They said they wouldn't have even known about the event if it wasn't for our show so that's a big deal for us and is hopefully demonstrative of a larger impact we're having."
Connect here to the Alberta Podcast Network for more excellent podcasts.
Today is the day! Someone supporting the Child Advocacy Centre is going to win a huge jackpot!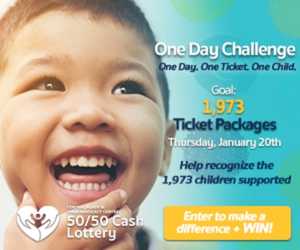 Or Call 587-272-2233
Phone lines will be open from 9:00AM – 7:30PM MTN
#CACACOneDayChallenge UPDATE
We are currently at
603
ticket packages
Goal: 1,973
We're almost half way there! Will you help us reach our goal!? Let's make a big push this afternoon to meet the challenge for these kiddos!
Thank you to those who took the Challenge and have already purchased!
Phone lines have been busy, so feel free to leave a voicemail with your details and we'll get back to you as soon as we can!
Visit our lottery website for more information, an updated list of winning numbers, and the full list of lottery rules! Or call 587-272-2233.
*Please Note: Phone lines are operated by CAC Staff. Open from 9AM – 4PM Monday – Friday. Please leave a voicemail with a detailed message & we will return your call as soon as possible.
Lottery License #578482
Skills that maintain healthy relationships
Learn ways to improve your relationship skills using the acronym DEARMAN and GIVE, from the DBT therapy perspective, presented by a PCN Mental Health Counselor, Lana.
Interpersonal Effectiveness Skills
Learning to get along with others while also asserting your own needs is essential to healthy relationships. It can be difficult to balance your own needs and the needs of others. How can you get what you need without being aggressive or neglecting of the needs of others? There are three sets of skills you will learn to help achieve this goal: objective effectiveness, relationship effectiveness, and self-respect effectiveness.