Podcasters doing their part to promote Alberta film industry
Did you know that the film industry in our province generates north of 0 million each year?  Many wouldn't know because it's a quiet industry. It doesn't pollute, and it generates a significant ROI when productions shot here are shown in other parts of the world. The industry is a key strategic contributor to our economy and our image. 
This podcast is a great example of industry pros working tirelessly to promote their industry.  At Todayville we are big believers in the opportunity strong cultural industries in our province can bring and certainly applaud their efforts. The Alberta Filmmakers podcast has three main goals; the exploration of the Alberta film community and the people within it, promoting the content that is created by that community, and archiving the stories and knowledge of the older generation in hopes of saving some of their wisdom and distributing it to the next generation.  
"The latest episode
 is called The Feature Film Files where we have a long discussion all about the making of an Alberta film." said Matt Watterworth, one of the creators. "In this case, it's "To The Mountain", a very tiny budget film that is getting distribution which is amazing for a $10,000 budget." 
This episode's guest is Producer of "To The Mountain", Paige K. Boudreau. It's hosted by Matt Watterworth and Scott Westby, produced by Calgary's  Full Swing Productions, and now in its second season.
Here's what Matt Watterworth says about the Filmakers Podast:  
"The podcast came about because Scott (Westby) and I are very much about legacy. We're still relatively new or young in our careers, but we recognized that there are a few problems in our industry that the podcast can help combat. The first is that filmmakers in Alberta aren't very good at promoting or celebrating themselves. Another is that the industry and community is very silo-ed, there's not enough communication happening between each clique, section of the industry, community group, government body, or collective."
"Another challenge our community faces is internal competition. Many in our community are protective and competitive when it comes to their accomplishments, and there's nothing wrong with that if that's their decision. But Scott and I have decided that it's more effective for us to share the knowledge, tips, tricks and the really hard data like grant applications, production budgets and financing structures."
The team believes these are the kind of things that can really make a difference for a new filmmaker.  Sharing ideas that can help unlock money or introduce them to a film festival is very important.
"One example is a group of great filmmakers who heard about a 48 Hour Film Competition put on by The Calgary Underground Film Festival and The Calgary Expo on our podcast, said Watterworth. "So they submitted, created a film and won first place. They said they wouldn't have even known about the event if it wasn't for our show so that's a big deal for us and is hopefully demonstrative of a larger impact we're having."
Connect here to the Alberta Podcast Network for more excellent podcasts.
Judy's story: I'm on the healthy road!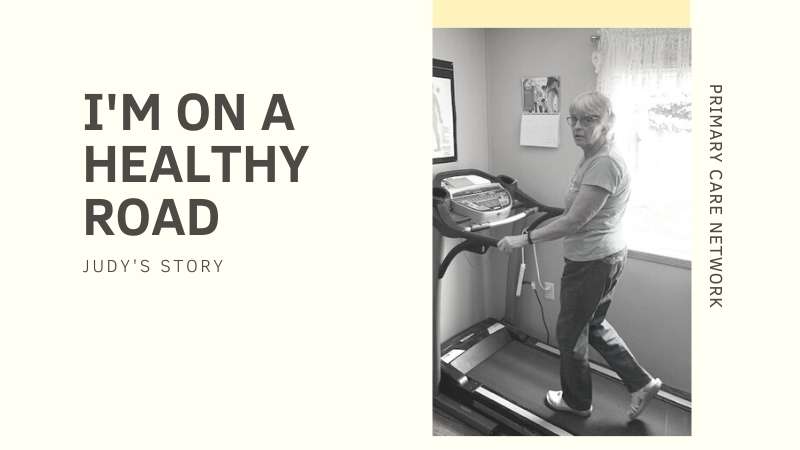 On the Healthy Road!
My journey to better health starting when my doctor told me my blood sugar was at pre-diabetes levels, my blood pressure continued to require medication and I had weight to lose.  He sent me to see the RDPCN nurse. After some appointments there, the nurse referred me to the Health Basics program.
Exercise was my downfall. Working from home, I always found something else to do rather than exercise.  Health Basics increased my awareness. I tracked what I was eating and became more aware of what I ate, when I ate and why I ate. I also realized things that would make me healthier that I wasn't doing.  I realized being healthy is a process and I took one healthy step at a time. I also became aware of the wider variety of options for healthy lifestyle.
My husband and I visited friends over the summer and noted they had lost weight.  This stimulated us to pay even more attention to our food intake. As a result of our overall efforts, I have lost about 32 pounds and my husband has lost 37. My blood sugar is now in the normal range. I have had significant decrease in my blood pressure medication. I have more energy. I enjoy exercising more as it is easier to move around and I have less arthritis pain. Health Basics is an excellent class- it started me on the healthy road. I also have much more confidence in my future health.
Click to learn more about the Red Deer Primary Care Network.
Read more success stories from the Primary Care Network.
Smiles Thru Lindsey reaching out with a new video message and urging Albertans to look out for each other at this challenging time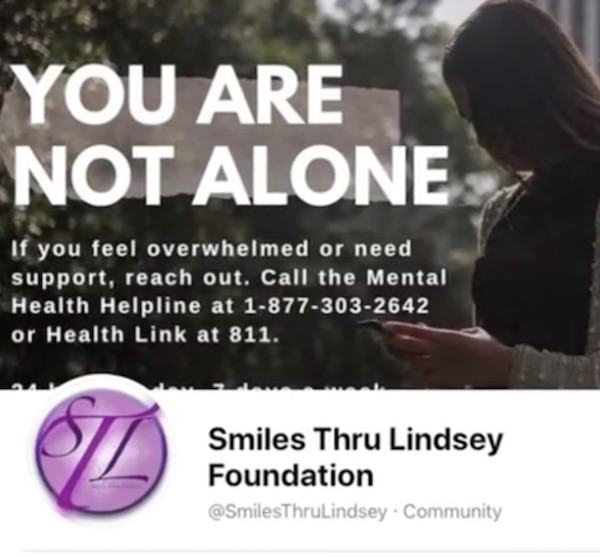 The holiday season is well behind us, we're heading into the coldest part of the winter, and although the days are starting to grow longer there's still a definite lack of daylight in our lives.  The winter blues are a real thing and this year we have COVID, a whole new serious problem to add to our mental health issues.
COVID is also the reason the Smiles Thru Lindsey team has not been able do public events for many months.  Unable to reach out physically through school visits and fund raisers, Smiles Thru Lindsey is reminding Central Albertans to check in on each other.  Also, please follow the Smiles Thru Lindsey Facebook page .  They'll lead you to the resources you or your loved ones need right away.
Meet Lindsey and the Smiles Thru Lindsey team in this powerful video.  …And remember to check in on the people in your life.
If you'd like to help Smiles Thru Lindsey with a donation please click here.