Highlights from Lacombe Council
HIGHLIGHTS OF THE REGULAR COUNCIL MEETING JANUARY 11, 2018
POLICY AD(20) SUDIVISION & ROAD NAMING
Council approved Policy AD(20) Subdivision and Road Naming. The policy has been amended to remove the ability to name newly created internal subdivision roads and to reinforce the usage of rural addressing as the primary location.
SYLVAN LAKE INTERMUNICIPAL DEVELOPMENT PLAN
A resolution that Lacombe County host an application to Municipal Affairs for an Alberta Community Partnership Program grant that is being requested to develop the Sylvan Lake Intermunicipal Development Plan (IDP) received Council approval.
The grant will provide for the development of an IDP in partnership with the municipalities around Sylvan Lake, which include Red Deer County, the Town of Sylvan Lake, and the Summer Villages of Birchcliff, Halfmoon Bay, Jarvis Bay, Norglenwold and Sunbreaker Cove.
BYLAW NO. 1266/18
Bylaw No. 1266/18, a bylaw of Lacombe County to amend the Lacombe County Land Use Bylaw No.1237/17 to rezone approximately 64 hectares (160 acres) on the SW 07-41-26 W4M from Agricultural 'A' to Recreation 'PR' District received first reading. A public hearing regarding Bylaw No. 1266/18 will be held on February 22, 2018 commencing at 7:00 p.m.
BYLAW NO. 1267/18
Bylaw No. 1267/18, a bylaw of Lacombe County to amend the Lacombe County Land Use Bylaw No.1237/17 to rezone approximately 64.47 hectares (159.31 acres) on the Pt. NW 14-41-28 W4M from Agricultural 'A' to Recreation 'PR' District, Residential Conservation Cluster "R-RCC" District, and High Density Residential "R-HDR" District received first reading. A public hearing regarding Bylaw No. 1267/18 will be held on February 8, 2018 commencing at 9:00 a.m.
WEST SIDE COUNTRY ESTATES GATE INSTALLATION
As per a Notice of Motion from the December 14, 2017 meeting, Council approved a resolution to reconsider resolution #C/837/17 concerning the investigation of allowing gates to block off road allowances; and further, consider a pilot project with the gate at the entrance of the lakeshore residential area of Westside Country Estates that was defeated at the November 23, 2017 meeting. Resolution #C/837/17 did not receive Council approval.
A resolution authorizing the County Manager to develop guidelines and enter into an agreement with the residents of Westside Country Estates for a two-year pilot project to allow for gating of the community received Council approval.
ALIX FIRE DEPARTMENT LIFEPAK AED
Council approved a contribution of $ 5,000 towards the cost of the Alix Fire Department Lifepak AED for use in the department's Medical First Response (MFR) service; and further, this contribution will be funded from the Protective Services Reserve.
SYLVAN LAKE REGIONAL WASTEWATER COMMISSION (SLRWC)
Council was presented with Lacombe County's comments provided to the SLRWC regarding their 2018 Business Plan. The County has concluded that given the significant divergence of views with respect to the Plan that consideration be given to engaging an independent third party to assist in mediation to settle the member municipalities' differences and find common ground. The presentation was received for information by Council.
COMMUNITY CRIME PREVENTION INFORMATION FAIR
A resolution that Lacombe County co-sponsor the January 25, 2018 Community Crime Prevention Information Fair at the Eckville Community Hall with the Town of Eckville received the approval of Council.
EAST 4-H BEEF CLUB FUNDING REQUEST
Council approved $ 300 in funding to the East Lacombe Beef 4-H Club for their 2018 bonspiel; and further, this contribution will be funded through the 2018 Agricultural Operations budget.
AGRICULTURE PLASTICS RECYLING PROGRAM
By resolution of Council, the County Manager was directed to research the implementation of an Agricultural Plastics Recycling Program in Lacombe County and provide those findings to Council at a future meeting.
ASPELUND INDUSTRIAL PARK UTILITY RATES
Council moved first, second and third readings of Bylaw No. 1272/18, a bylaw of Lacombe County respecting the 2018 utility rates for the Aspelund Industrial Park.
SYLVAN LAKE QUIET ENJOYMENT INITIATIVE
Kent Lyle, Chairman, Sylvan Lake Watershed Stewardship Society spoke to the request from the Society for $ 2,000 in funding for the Sylvan Lake Quiet Enjoyment Initiative and a resolution from Council stating their support for this initiative.
The request from the Sylvan Lake Watershed Stewardship Society regarding their Quiet Enjoyment Initiative was received for information; and further, it was referred back to the County Manager for the preparation of a report regarding this matter to be presented at a future Council meeting.
MEETING THE RCMP COMMANDING OFFICER OF "K" DIVISION
Council will meet with the RCMP Commanding Officer of "K" at the upcoming AAMDC Spring Convention. Council agreed that the following issues will be discussed:
• Best utilization of Lacombe County resources for the RCMP (i.e. What is the most beneficial way for County dollars to assist the RCMP organization?)
• How does the RCMP see their policing mandate
• Communication Apps – more effective communication with the RCMP is needed
LAND DONATION
By resolution of Council, the County Manager was authorized to enter into a donation agreement for the acquisition of land within the NE 18-41-22 W4M.
2017 ASSESSMENT YEAR MODIFIERS (AYMs)
By resolution of Council, a letter will be forwarded to the Minister of Municipal Affairs regarding the 2017 Assessment Year Modifiers. The AYMs differ from those proposed earlier in the fall of 2017 and will affect the County's 2018 final budget.
Next Regular Council Meeting is Thursday, January 25, 2018 – 9:00 a.m.
Next Committee of the Whole Meeting is
Tuesday, February 2, 2018 – 9:00 a.m.
Lacombe County Administration Building
RR 3, Lacombe, AB T4L 2N3 (Tel) 403.782.6601 (Fax) 403.782.3820 www.lacombecounty.com
Run/Hike for Red Deer Hospice Takes Place This Sunday at Bower Ponds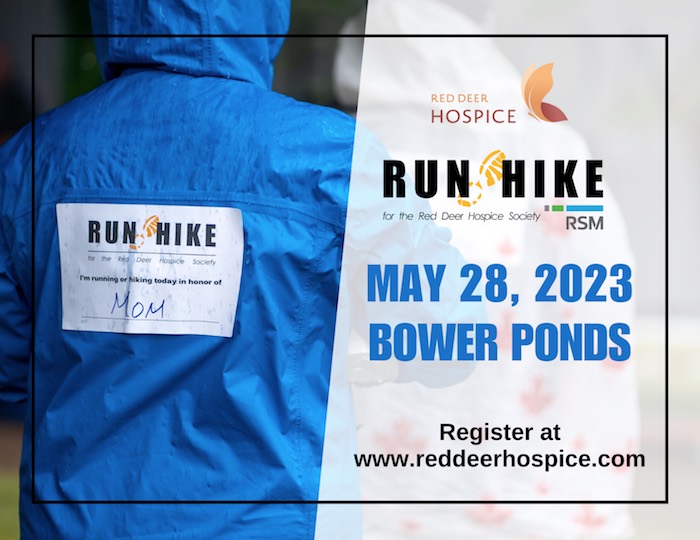 News release from Red Deer Hospice
Red Deer Hospice's 16th Annual Run/Hike event, presented by RSM Red Deer, will take place at Bower Ponds this Sunday.
Registration will open at 9:00am and those wishing to run, walk or stroll the 1km, 3kms or 5 kms will start at 10:00am. A light breakfast and hot, post-race lunch, provided by Mr. Mikes, will be available to participants and live entertainment will be provided by the band Fun House in the amphitheater.
"This will be a day to remember and reflect, while taking in the natural beauty of the trails in and around Bower Ponds," said Jerri Taylor, Executive Director of Red Deer Hospice. "As our main fundraiser for the year, our goal is to raise $38,000." Proceeds and donations will go towards Red Deer Hospice's mission of supporting a peaceful and compassionate end-of-life journey.
Online registration on the Red Deer Hospice website will close at 3:00pm on Friday, May 26, 2023. Those interested in participating in this year's Run/Hike event who have not registered can do so in person on Sunday morning at Bower Ponds.
For more information, visit www.reddeerhospice.com.
Glendale Skatepark now includes on-site mentors from the YMCA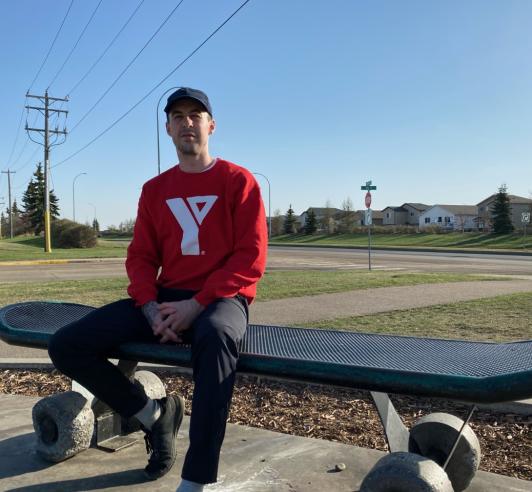 With consistent fair weather and summer right around the corner, skateboarders, BMXers and scooter-riders are excited to return to Red Deer's skateparks. Glendale Skatepark in Red Deer's north side is a popular choice, and has the added benefit of being staffed by Northside Community Centre YMCA's skatepark mentors.
The Y's skatepark mentors are experienced skaters and BMX bikers who want to help make sure the skatepark remains a safe and inclusive space for kids and youth of all skill levels and backgrounds to enjoy. They hang out at the park every day after school and on weekends, offering encouragement, teaching skills and providing water and snacks to anyone who wants it.
"The biggest part [for me] is just creating community engagement and connections," one skatepark mentor explained in a video on the YMCA's social media channels, adding, "engaging with the kids, teaching what you love to do… just being a positive influence on everyone and trying to make this place a better community."
The YMCA Skatepark Mentorship program was piloted in 2021, and after a successful season Border Paving Ltd. stepped up with a generous donation to make it possible for the Y to staff the park all summer long in 2022 and 2023. The Y has since expanded the program, and will have skatepark mentors and youth workers at the Red Deer Skatepark downtown in addition to Glendale, starting in July.
Youth can find YMCA skatepark mentors at the Glendale Skatepark Monday to Friday from 2:30 to 7:30pm, and noon–4pm on Saturdays and Sundays until the end of June. Starting in July, their weekday hours will expand to 12:30 to 8:30pm and they can be found at the Red Deer Skatepark downtown from 10am to 1pm every Tuesday, Wednesday and Thursday.
Visit ymcanab.ca/skatepark to meet Northside Community Centre YMCA's skatepark mentors for 2023 and learn more about youth programs at the Y.