A simple question from a daughter. A special connection to a horse. Another chance to defeat the demons.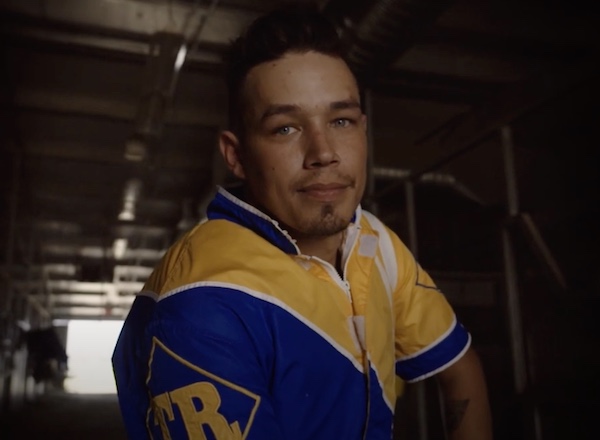 If you know the racetracks in Saskatchewan and Alberta there's a very good chance you've run into the name Tyler Redwood.  Tyler has been racing Standardbreds his entire adult life.  Driver of the year in Saskatchewan in 2009, 2011, and 2012, he was on top of his game until addictions knocked him off his horse so to speak.  One late fall night in September 2012, Redwood drove an ATV into a tractor, shattering his jaw and threatening his career.   He was losing his battle with alcohol and drugs.  He was falling into depression. He tried to take his own life.
Fortunately, Tyler Redwood kept coming back to his horses.  There was something in the relationship with an animal who needed love and a horse lover who had something to give.  Shoeing a horse,  brushing a horse, just spending time with an animal, especially the ones others are giving up on. Redwood has always enjoyed sharing a little love with the majestic animals.  On his toughest days he admits horses give him something special in return.
One after another the tracks closed in Saskatchewan and Redwood was faced with a life changing decision.  Would he move onto a different pursuit?  Or would he pursue his passion somewhere else?  In the end it was his passion that would save him.  Tyler moved his family to Central Alberta and became a bit of a fixture at Century Downs and The Track on 2.  But moving his loved ones away from their family members was a struggle, especially considering his demons followed him.  As Redwood tried to establish himself in Alberta, depression was sometimes getting the better of him.   Suicidal and dependent, spending all his free time isolated from his family in the garage,  it was a question from his daughter that sparked the much-needed change in Tyler's life.
In the clear way only children speak in she asked her father why he was spending all his time in the garage and not with her and her 2 siblings.  The question cut Redwood to the bone.  The next day he pursued the help he would need to put him on a path to recovery.   Other than one setback on August 11, 2018, Tyler has been strong.
One of his great loves now is his relationship with his horse Star Flight.  Star Flight was struggling on the track just like Redwood when he got a chance to ride her.  He felt something in her and a conversation with the owner turned into an eventual purchase.  The two troubled souls bonded and the relationship sparkled on the track. The struggling horse started to win.  Six victories later Star Flight was a finalist for Claiming Filly / Mare of the Year at the 2021 Alberta Standardbred Horse Association Awards.
With a new love in his life, his children nearby, and horses to spend time with Tyler Redwood has come to recognize a new strength. Now he feels strong enough to share his story with others who are struggling.  In the following video he shares a beautiful message on behalf of The Canada Suicide Prevention Service.  Here's "Redwood Redemption" an inspirational testament to the day to day struggles of an Alberta horseman.
If you're thinking about suicide, are worried about a friend or loved one, the Canada Suicide Prevention Service is available 24/7 for voice and 4pm to 12am ET for text.
The Canada Suicide Prevention Service
Need help? Call and connect with our responders now at 1-833-456-4566.  
Between 2 pm and 10 pm (Alberta time) you can send a text to 45645
Alberta government says jobs, economy, COVID to be focus of fall legislature sitting
EDMONTON — The Alberta government plans a busy fall legislature sitting aimed at adding jobs and diversifying the economy while focusing on tamping down the renewed surge of COVID-19.
Government house leader Jason Nixon says this will include proposed legislation on recognizing professional credentials to address labour shortages. The bill will be introduced by Premier Jason Kenney.
"Our focus will be on Alberta's workforce, a couple of bills around diversifying the economy, a big focus on building infrastructure for our future, (and) growing our resources, particularly on the energy side," Nixon said in an interview Friday.
There will also be new initiatives on environmental protection and conservation.
Nixon said there will be 18 to 20 bills for the sitting, which begins Monday and is scheduled to run to the first week of December. 
"It's a very robust fall agenda," he said.
Nixon said the government will continue to take steps to reduce COVID-19 cases, which have severely stressed the health system.
No COVID-19-specific bills are planned, he said, noting they were passed in previous sittings. 
"There's certainly other stuff to be done to manage the pandemic … but we'll stand ready if Alberta Health needs us to pass any legislation to deal with the pandemic."
He said debate in the chamber is expected to return to some semblance of normalcy.
In the spring sitting, both the United Conservative government and the Opposition NDP reduced their numbers in the chamber to prevent the spread of the virus. 
This time, with all NDP members and all but one on the UCP side vaccinated, all will be allowed back in for debate.
The lone UCP member has a medical exemption and will be tested regularly, said Nixon.
He said there are still masking rules and members will try to maintain distancing where possible.
The NDP said it plans to hold the government accountable for what went disastrously wrong on COVID-19.
"This fall sitting of the legislature will be laser-focused on getting answers from the UCP on why they've failed Albertans so miserably in managing the devastating fourth wave of the COVID-19 pandemic," said Christina Gray, the NDP house leader.
"Since July 15, more than 85,000 additional Albertans have been infected with the virus and 700 have died."
Gray said the NDP will call for an all-party inquiry into the government's handling of the pandemic with the power to compel documents and testimony.
Nixon said the government will not agree to such a motion. He said it would be wrong to redeploy vital health resources right now and that Kenney has promised an eventual review of how the province handled the pandemic.
Kenney has also promised to bring forward a motion to ratify and act on the results of Monday's provincewide referendum on Canada's equalization program.
Final results aren't in from Edmonton, but figures from Calgary and other cities suggest the referendum will pass with about 60 per cent in support of urging the federal government to remove the principle of equalization from the Constitution.
Kenney has said the issue is not about removing equalization, something no province can do unilaterally, but about getting leverage to negotiate other issues surrounding federal transfers to attain a better deal with Ottawa.
Political scientist Jared Wesley said Kenney will likely continue to focus on initiatives such as the equalization referendum, if only to change the narrative on his low popularity ratings.
"The premier will be spending most of his time, if he has anything to say about it, outside the province, stumping for this fair deal," said Wesley, with the University of Alberta.
COVID-19 numbers have been trending down in recent weeks. But Kenney and Dr. Deena Hinshaw, the province's chief medical officer of health, say the situation remains precarious.
On Friday, there were just over 10,000 active COVID-19 cases in Alberta. And there were 191 COVID-19 patients in intensive care. 
Alberta's fourth wave troubles began after Kenney lifted almost all COVID-19 related health restrictions as of July 1, boasting that the pandemic had moved to the "endemic" phase and there was no need to plan for a renewed case surge.
This report by The Canadian Press was first published Oct. 22, 2021.
Dean Bennett, The Canadian Press
'You're looking at it:' Undercover officer says suspect led them to burial site
CALGARY — A Calgary man who killed his girlfriend and is on trial for the murder of her young daughter took undercover officers in the middle of the night to a remote, snow-covered area where they were buried.
Robert Leeming, who is 36, has pleaded guilty to second-degree murder in the death of Jasmine Lovett and not guilty to second-degree murder in the death of 22-month-old Aliyah Sanderson. 
The mother and toddler were reported missing in April of 2019 after they didn't show up for a family dinner.
Court heard this week that Leeming was befriended by two undercover officers, who told him they had retrieved a bag of evidence from a nosy neighbour. 
They offered to help him with his problems — including removing the bodies of Lovett and her daughter, who were in a shallow grave under a pile of mulch and branches in a day-use area west of Calgary.
One of the officers testified that Leeming knew exactly where the bodies were.
The officer said they went to the area in the early morning of May 6, 2019, and walked a short distance on foot.
"I said, 'OK, where to?' And (Leeming) goes, 'You're looking at it.' And he points down. And underneath and against my left foot were branches and a pile," said the officer.
"(Leeming) goes and he grabs a branch and lifts it up as if to prove what's underneath all these branches. As he does that, I see a small bit of blue that I believe to be the moving blankets."
Investigators previously testified that the mother and child were doused in gasoline and wrapped in blue blankets before they were covered in dirt, mulch and branches.
The trial also heard that Lovett had skull fractures and was shot in the head. Aliyah died of blunt force head trauma.
The officer said Leeming boasted about steps he had taken to hinder a possible police investigation — including hiding wads of raw bacon around his house to throw off cadaver dogs and filling the back of his car with mulch.
"Well, mulch is death, right? So it smells like death," Leeming told the officers in a tape recording played in court.
"You cleaned that car up good?" asked the undercover officer. 
"Oh, yeah," he replied.
The officer said Leeming also expressed relief that his 2014 Mercedes seized by police was an older model.
"It's funny 'cause they were telling me the Mercedes, they pretty much can hook up to the computer in the car and know exactly where I've been," Leeming said with a laugh. 
"It's too old a car. If it was an '18, then I'd be in jail."
The prosecution was expected to wrap up its case Friday.
This report by The Canadian Press was first published Oct. 22, 2021.
Bill Graveland, The Canadian Press