Kings Soccer club hunting for another trip to Nationals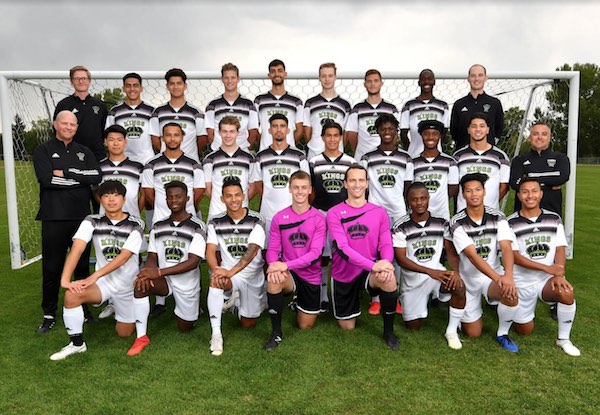 Red Deer Polytechnic Kings Soccer team on quest to return to nationals
Face division rivals at home to start new campaign
There's a quiet confidence surrounding the Red Deer Polytechnic Kings Soccer team as they prepare for the Alberta Colleges Athletic Conference (ACAC) 2021/2022 season, and for good reason.
When the Kings last played in November 2019, they placed sixth at the Canadian Collegiate Athletic Association (CCAA) Men's Soccer National Championship, which was the highest ranking of the two ACAC teams. The Lethbridge College Kodiaks finished eighth in Ontario.
The Red Deer Polytechnic Kings, who won an ACAC 2019 silver medal, are believed to be equally as talented this year, and some may argue that they have more skill.
With months of practicing and training, and two exhibition games under their belt, the RDP Kings are enthusiastic and looking to put all the pieces together as they hit the field for a shortened six game schedule after nearly a two-year absence of ACAC games due to COVID-19.
"It is absolutely outstanding to be back on the pitch," says Gerald Grobmeier, Kings Soccer Head Coach. "This year is a sprint. From the moment we hear the first whistle we must be on our game. We want to build on our accomplishments from 2019 and return to nationals."
With a large contingent of student-athletes around central Alberta this past summer, the Kings were able to start training sooner.
"We had a large core of players here, so we were able to start practicing in early June just as the COVID- 19 public health measures were aligned," says Grobmeier. "We are very fortunate because much of this team is made up of Red Deer Renegades alumni. Then we had more players show up in July, so we've had a good month and half of practices with the team all together."
Renegades alumni Kristofer Grobmeier, defender Hayden Jacobs, midfielders Kaidri Bornyi, Gabriel Martins Fonseca and All-Conference selection Pedro Humberto Mourao Neto, along with forward Gabriel Fleury de Queiroz are returning this year from the 2019/2020 Kings. This group will be counted on for their contributions on and off the field.
"One of our leaders this year is my son Kristofer, who is a third-year centre back, so we look towards him," says Grobmeier. "We also look towards the student-athletes from Brazil to show the others what it takes to compete in the ACAC."
Third-years Gabriel Martins Fonseca and Gabriel Fleury de Queiroz, both Bachelor of Business Administration General Management students, and Pedro Humberto Mourao Neto, who is enrolled in Kinesiology Fitness and Health, comprise the trio of gifted Brazilians.
"We also rely on some of the newer guys for leadership like Ajdin [Sarcevic], Kirkland [Moody] and Jared [St. Thomas]," explains Grobmeier. "Although they are new to the program, they come with a lot of experience. Ajdin played in the Bosnia, Kirkland has competed internationally, and Jared played at a very high level in Ontario."
Sarcevic, who is Renegades alumni, competed as a midfielder for NK Prodgrmec Sanski in the Bosnian Division II league. Red Deer's Moody played professional soccer in Jamaica. Lacombe's St. Thomas has experience as a goalkeeper with Ottawa South United, which is a semi-professional soccer team.
Along with Sarcevic, Moody, and St. Thomas, the RDP Kings have added some key players for 2021/2022. Musa Abedi, Isaiah Albright, Jesus Amaris, Carson Coady, Brian Grantham, Nicholas Min, Wataru Oguchi, Adan Sanchez-Pimental, Sheku Sesay, Emmanuel Siaw, Wakuto Tamura, Garrett Thompson and Thomson Wellie will wear the Kings uniform this season.
Two familiar student-athletes will return to the team after an absence. Renegades alumni Osvaldo Aguilar, who last competed at the Polytechnic in 2018/2019, and Masoum Zaher, who played in 2016/2017, are back on the Kings roster.
In a pair of exhibition games, the RDP Kings tied the Keyano College Huskies 1-1 and then they shutout The King's University Eagles 5-0. Those experiences provided the student-athletes and coaches with a range of learning opportunities.
"Those two days of exhibition games were extremely helpful for us," says Grobmeier. "In the first half against the Eagles, we created a lot of chances, but we couldn't put the ball in the net. It started to come to us in the second half, but it still needs to be cleaned up."
At half-time, the Kings and Eagles were knotted 0-0. Then Red Deer Polytechnic exploded for five goals in the second half.
"In those games we learned a lot about the players, lineup combinations, and what works and what doesn't work for us," says Grobmeier. "In both games, for about 20 minutes into the first half we lost our way, but we got back on track and it showed our players that if we stick to our system, it really works. These boys are extremely dedicated. They all have an extremely high soccer IQ and are very coachable which makes my job easier."
The 2021/2022 Kings roster is diverse, with players from around the world.
"We have a lot of different nationalities on the team, so it is fun," says Grobmeier. "Different nationalities play the game in different ways, so we are melding that all together into one cohesive system."
Along with Canada, the student-athletes have identified their hometowns in Brazil, Iran, Japan, and the United States.
The Red Deer Polytechnic Kings have one more non-conference game against the Olds College Broncos at home on September 12 as a final tune up before the regular season begins against the defending ACAC Champions, the Lethbridge College Kodiaks, five days later.
"It'll be a great test for us, and it'll show us where we are at. I know the Kodiaks will be well coached and ready to go with high profile players," says Grobmeier. "We've had good battles with them over the past few years and I expect it to be a one goal game, in our favour."
In 2019, the Lethbridge College Kodiaks (8-1-3) finished second in the ACAC Men's Soccer South Division. The Kings (7-3-2) were third.
On Friday, September 17, the Kings will host the Kodiaks at the Red Deer Polytechnic Main Field at 4 pm to begin the new campaign.
"Training is fine, but we do this to be on the pitch and battle. I love it," says Grobmeier. "All the boys love it, and this is why we play soccer."
Queens Soccer squad building a culture of success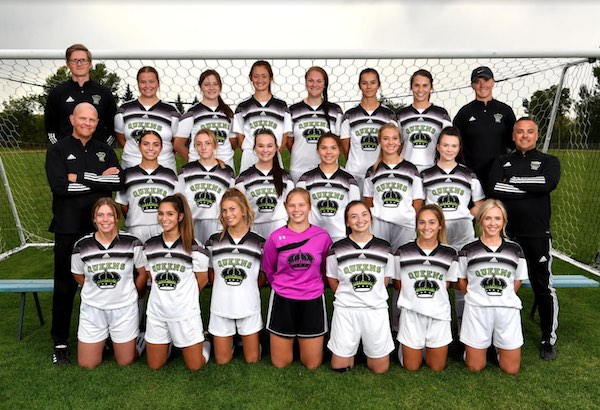 Red Deer Polytechnic Queens Soccer team adds strong 2021/2022 recruiting class
Four returning student-athletes add skill and leadership
"We started a lot of our pre-season training in June, which is sooner than our typical training schedule, but we wanted to shake the dust off," says Mahziar Peyrow, Red Deer Polytechnic Soccer General Manager and Queens Soccer Head Coach. "We entered the girls into a U19 Soccer league, the Renegades league, so about 10 of the Queens were eligible for that. It worked out well to get their fitness and touch back by playing in that division."
Peyrow has prioritized the need for the student-athletes to be in peak physical condition for the upcoming campaign, and the Queens have responded well.
"It has been tough mentally and physically to prepare for this season because the student-athletes have been out of game shape for so long," says Peyrow. "As a result, we have been conducting two training sessions a day during the week to get our fitness up. One session is at 6:30 am and the second one is in the evening."
The ability to play this year is significant for Peyrow and the team.
"I am very excited for the season. It means a lot to be back on the pitch. It is important for the Queens as well as Red Deer Polytechnic," says Peyrow. "It is crucial for me that the team plays meaningful games after COVID-19 took that away last year."
From the Queens 2019/2020 Soccer team, All-Conference forward Alisha Coules, midfielder Abbi Galloway, and defenders Lexi Kowalchuk and Rebecca McBride are back this season. Coules, a Bachelor of Science Nursing student, is an offensive dynamo and led the team in scoring two years ago, with nine goals and three assists in 12 games. Three of those goals were game winners.
"It is important to have those veteran student-athletes returning because they are the ones that help positively shape the culture of the Queens," says Peyrow, who previously was an assistant coach with Kings Soccer team. "Tradition is so important for this team and the returning players want to carry that forward and pass that on to the rookies. Alisha does that extremely well and remains as team captain. We also have Rebecca as one of our assistant captains."
Jaden Humphrey and Kayla Yeo, who last played for the Queens in 2018/2019, are back this season. Midfielder Reesa Garez also returns to the Red Deer Polytechnic Soccer program after a four-year hiatus.
The tremendous season that the RDP Kings Soccer team had in 2019, when they earned ACAC silver and qualified for nationals, has had a ripple effect on the Queens.
"What we accomplished under the leadership of Wade [Groenewegen] in 2019, when the Kings placed sixth in Canada, was a big moment for our institution and for recruiting," says Peyrow. "Potential student- athletes and current Queens saw the culture that we had with the Kings and they want to be a part of that."
Partly due to that winning culture, the Queens have added a wealth of first-year talent, including Edmonton's Sofia Quinteros, a midfielder.
"Sofia is our junior captain," says Peyrow. "She plays as a defensive midfielder and is learning the ropes as a captain. Hopefully over the next couple of seasons she will take over that spot."
Quinteros' talent resulted in several offers to play post-secondary soccer around North America, including Division 1 in the United States, but she chose Red Deer Polytechnic because of its reputable Nursing program and to remain close to family.
Quinteros is accompanied by her sister Estel Quinteros, who plays wing. Also joining the Queens this season are strikers Paige Fleischman and Corbynn Fuijimoto, defenders Fernanda Giuntini Bella and Tristen Clubine, and winger Jenica Swartz, who is also a member of the Red Deer Polytechnic Cross Country Running team.
Danyelle Bouvier, Selena Delahunty, Tamera Ferris, Sein Furuyama, Dominique Jackson, Jaiden Radics, Grace Smith and Natassia Wright round out the talented RDP Queens Soccer roster.
Peyrow has been impressed with what he has seen from these student-athletes.
"The new recruits have brought a lot of pace to the team. In an exhibition game against The King's University Eagles, we were able to play a certain formation that I was happy with," he says. "The new student-athletes adjusted well to that formation and were able to bring a different level to the game."
Over two exhibition games, the Queens went 1-1, dropping a 5-0 decision to the Keyano College Huskies and then blanking The King's University Eagles 7-0.
"It is good for us to play these non-conference games. Against the Huskies, we rolled the bench quite a bit and the outcome depicted that," says Peyrow. "We adjusted and mentally prepared ourselves more for the game against the Eagles and we achieved a more desirable result."
The ACAC 2021/2022 Soccer season is condensed to six games, down from 12 in 2019/2020.
"With a shortened season, every game counts which is why we are using the exhibition games to try to figure out what works," says Peyrow. "Then we have to stick with it."
The Queens have one final non-conference game against the Olds College Broncos on September 12 before the regular season kicks off.
On Friday, September 17, the Red Deer Polytechnic Queens will begin the season against the Lethbridge College Kodiaks at the RDP Main Field at 2 pm.
"The Kodiaks coach, Sean Carey, is a good guy and he does a great job. The Kings have been in some battles with the Kodiaks, including at the ACAC 2019 Championship, and I'm sure those battles will continue with the Queens," says Peyrow. "I expect that the game will be fun and intense, but we will give it our best and hopefully we will finish the job."
In 2019/2020, the Kodiaks (9-1-2) led the ACAC Women's Soccer South Division with 29 points. The Queens (4-8-0) finished sixth in the south, but they have their sights on an improved record.
"I am proud of these girls. They have worked hard to get to where they are at," says Peyrow. "I am proud of where they are now and where they are going to be at the end of the season."