50 Ways to Lose Your Leader….
(with apologies to Paul Simon)
I loved the Michele Rempel commentary on why she has 8 reasons that there will be a Fall election in Canada and agree whole heartedly (https://www.todayville.com/8-reasons-an-alberta-mp-says-there-will-be-a-federal-election-this-fall/) , but want to add a few more reasons WHY a Trudeau-less (and Conservative ) Canadian government is far better for Canada.
Morals:  Trudeau has been brought before the ethics commissioner.  In the most recent case (WE), he prorogued parliament in order to stop any further investigation into Liberal corruption!
Corporate protectionism: While another case of ethics and political favoritism, SNC Lavalin has a long history of international bribery (convicted), support of prostitution, and insider influence, their support of the Liberal Party and Justin Trudeau cries graft the manner of which the Green Hornet would cringe at!
Ignoring of our veterans: Not so many years ago, Mr. Trudeau told a veteran that there was not enough money to increase pensions and benefits while the irregular immigrants streamed across the border with full benefits and hotel stays.   When CERB was introduced, a small additional amount was approved for the disabled.
Ignoring Pensioners: Mismanagement of seniors pensions and benefits over the last 5 years.
Creating a 2-tier media system with the buyout of the main stream media while denying access to press conferences and information to those who ask tough questions.
Refusing to answer a meaningful question in the House of Parliament-accountability is the strength of a leader.
Shutting down the House of Parliament during a so-called-crisis to avoid debate and monitoring of Covid 19 measures
The incredible national deficit incurred since 'sunny days' have come to Canada
The failed effort to win a seat at the United Nations-and the expenses incurred that did nothing for the citizens of Canada.
The dismissal of Canada's senior aboriginal elected official and her subsequent treatment by our Prime Minister
The sacrifice of Bill Morneau in an effort to save his own reputation and the method by which Trudeau and company managed the affair.
Canada Student Employment Grants: The inclusion of sexual orientation and abortion support as a condition of funding is disgraceful and the long-term cost of NOT having students work and gain experience is monumental.
Trudeau's continual funding of Reproductive Choices (I e Planned Parenthood) around the world. It is clear from the Conservative Party leader election that pro-life is a strong Canadian element and we as a country should not support abortion worldwide as a choice.
Irregular immigration and the long-term cost and damage to Canadian society.
Weak leadership
Insignificant efforts to bring home our captive reporters in China.
Lack of decisiveness during the pipeline blockade across Canada.
The minimization of the oil industry across Canada in order to promote the UN policy of green energy at the cost of thousands of jobs in Alberta and Saskatchewan and the collapse of the Alberta Economy.
Continued support of the World Health Organization and politically driven agenda surrounding the Covid 19 Virus with funds and supplies.
Ignoring the reality of the statistics surrounding the Covid 19 virus and adjusting official responses to the decreasing threat with reduced measures. Poor leadership-a failing grade in statistical analysis.
Not acting on the BLM and Antifa Movements across Canada and treating them as domestic terrorists by allowing the military to remove protests.
Canada's falling international reputation due to Trudeau's lack of leadership and integrity.
Trudeau's pending criminal charges on ethics, pedophilia (Norm Traversy) and corruption. No criminal should lead our country.
His lack of leadership credentials and experience were not sufficient to prepare him for his present role and he should not have been allowed to be PM, NEVER! Drama classes prepare you for drama, not leadership.
Merely scolding those responsible for destruction of historic statues across Canada and not charging them for Vandalism is not leadership but rather permission by tongue lashing. Enable our police to find and force them to be accountable for their actions.
His insistence that Canada has NO culture is a sign that despite his residency in Canada, his family history in Canada has no part in his future. Being leader of any country requires your loyalty TO that country first and foremost!
With suspected ties to globalist groups, Trudeau and his acting Prime Minisiter (Freeland) both clearly dance to a different tune, the UN and their declarations being just one of them.   Canada first.  FIRST.
During this last year, the failure of the Canadian Government to back the CFL, our premier sports league, with guarantees and potential grants so they can build community and develop athletes across Canada was very disappointing. It is sad that the NHL and other leagues have been able to operate.  Shame on you!
This is only a partial list, but along with many other circumstances and experiences, it is time to remove Justin Trudeau and the Liberal party from leadership of Canada.  I firmly believe that his time as Prime Minister will be seen by the future as our worst moment and he will be seen as our worst Prime Minister.
While there are not 50 items here, we have seen Prime Ministers fall for as little as one minor senate scandal, yet we continue to see our present government stumble, fall, collapse and then wake up to start over again seemingly like nothing has happened.
Democracy is people in action.  Voting, running, thinking and more importantly being accountable for our actions.
Let us pray that we are granted a leader with morals and the strength to stand up for the truth to every global movement, elite led or not!
How the Railroads Shaped Red Deer
Rivers, creeks and streams have shaped the land for eons, slowly carving away earth to reveal the terrain we know today. Much of the same can be said for the impact and influence that railways had in shaping the size and shape and even the very location of what is now the City of Red Deer. 
Prior to the construction of the Calgary and Edmonton railway, which started heading north from Calgary in 1890, what we now recognize as the bustling city of Red Deer was unbroken and forested land. The nearest significant settlement was the crossing for the C&E Trail of the Red Deer River, very close to where the historic Fort Normandeau replica stands today. 
Navigating how to handle crossing the Red Deer River would be a significant challenge for construction of the railway route. Initially, the route was planned to take the tried-and-true path that had served animals, first nations people and fur traders for centuries, past the Red Deer River settlement. Yet just as the mighty river powerfully shaped the contours and dimensions of the land, the future site of Red Deer would be singlehandedly determined by Reverend Leonard Gaetz.
Rev. Gaetz offered James Ross, President of the Calgary and Edmonton Railway company,  land from his personal farmlands for the river crossing and the townsite for Red Deer.  Ross accepted and history was forever shaped by the decision, as what is now home to more than 100,000 people grew steadily outward starting at the C&E Railway train station. 
The rails finally reached the Red Deer area in November of 1890 and trains soon began running south to Calgary. By 1891, the Calgary and Edmonton railway was completed north to Strathcona. Alberta gained one of its most vital transportation corridors and the province would thrive from this ribbon of steel rails.
Over time, the C&E railyards grew and expanded to accommodate the demand for moving more and more commodities like grain, coal, lumber and business and household items along with passengers. Those passengers were the pioneer settlers who would make Red Deer the commercial hub that it remains to this day.
For nearly 100 years, the downtown was intimately connected with the railway in the form of hotels built to welcome travelers, grain elevators, warehouses, factories and the facilities required to service the locomotives and equipment that operated the trains. Tracks and spurs dominated the downtown area, especially after the advent of the Alberta Central Railway and the arrival of the Canadian Northern Western Railway (later absorbed into Canadian National railways).
By the 1980s, the ever-present tracks and downtown railyard were seen as an industrial blight in the heart of the city that the railway created so funding was sought and plans were made to relocate the now Canadian Pacific rails from their historical home to a new modern yard northwest of the city. 
This was actually the second relocation of tracks from downtown as the Canadian National railway tracks were removed in 1960 which permitted the development along 47th Avenue south of the Red Deer River.
This massive project opened up the Riverlands district downtown to new developments which included condominiums, grocery stores, restaurants and professional buildings. Taylor Drive was built following the old rail line corridor and removal of the tracks in Lower Fairview meant residents wouldn't hear the rumble of trains in their community anymore. 
Just as the waters gradually shaped the places we know now, the railways definitely forged Red Deer into the vibrant economic hub of central Alberta that it remains today. 
We hope you enjoyed this story about our local history.  Click here to read more history stories on Todayville.
Visit the City of Red Deer Archives to browse through the written, photographic and audio history of Red Deer. Read about the city and surrounding community and learn about the people who make Red Deer special.
"Winter Escape" Family Day Celebration will go on for 2 weeks!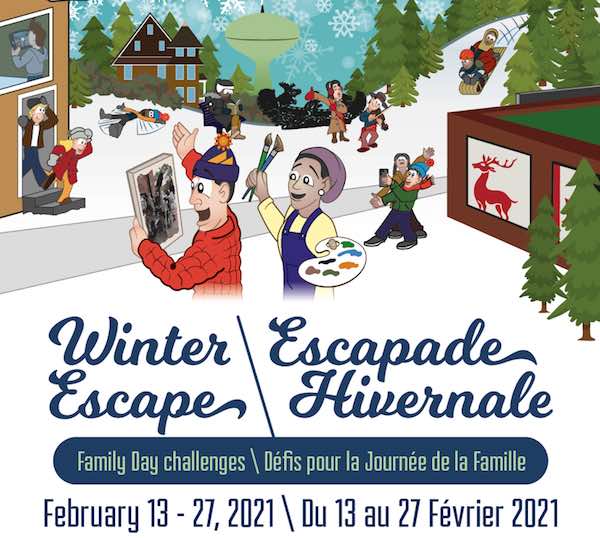 Submitted by Red Deer MAG (Museum and Art Gallery)
Extending Family Day: MAG to participate in 14-day cultural challenge
The Winter Escape Family Day Challenge arrives in Red Deer on February 13
Nine cultural organizations in the Red Deer Community are collaborating to create a Family Day celebration, Winter Escape/Escapade Hivernale, comprised of various activities, both outdoors and virtual, that participants can complete anytime between Feb. 13 and Feb. 27.  Despite the COVID-19 pandemic, local arts and cultural organizations are still finding ways to celebrate one of the most popular holidays: Family Day. Register yourself or a team at www.winterescapereddeer.ca  starting February 5th.
"We are trying to make the Winter Escape Challenge as family friendly, senior friendly, and accessible as possible," says Lynn LeCorre, Education Coordinator at the Red Deer Museum + Art Gallery (MAG). "We want people to explore culture and heritage in Red Deer, and recent circumstances have pushed us to think of new ways to make that happen."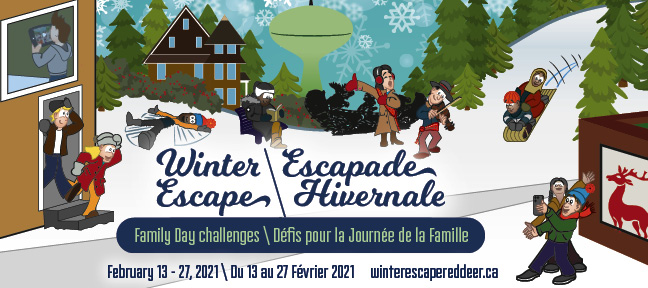 Challenge activities are designed to allow for safe social distancing while bringing participants together. Work individually or with a team to answer trivia questions and complete photo and video challenges. Activities include snapping a selfie in front of some of Red Deer's murals, learning simple powwow dance moves, and the MAG Virtual escape room. Teams can register online and join in on the challenge for free, and completion of challenges will allow participants to earn entries into a draw to win one of three gift baskets – one per team category. This event is offered in partnership by the Alberta Sports Hall of Fame & Museum, Association canadienne-française de l'Alberta, Norwegian Laft Hus, Red Deer Aboriginal Dance Troupe, Red Deer Arts Council, Red Deer Cultural Heritage Society, Red Deer Public Library, Red Deer Museum + Art Gallery (MAG), and Sunnybrook Farm Museum. In times of uncertainty, these organizations are excited to help bring culture to the people of Red Deer.
The Red Deer Museum + Art Gallery works to be Central Alberta's leading establishment for the research, collection and presentation of visual art and material culture that is related to this region. The MAG is a vibrant and inclusive gathering place for our community and its exhibitions and programs promote the enjoyment of art, culture and the history of Central Alberta.