30th LEGISLATURE- SPEAKER ELECTION AND SPEECH FROM THE THRONE
May 15, 2019
Members of the Legislative Assembly of Alberta will meet on Tuesday, May 21, 2019, at 1:30 p.m. to elect the presiding officers for Alberta's 30th Legislative Assembly.
Presiding officers include the Speaker, Deputy Speaker and Chair of Committees and Deputy Chair of Committees. All elections are conducted by secret ballot in the Chamber.
The First Session of the 30th Legislature will open at 3 p.m. on May 22, 2019, with the Speech from the Throne by Her Honour the Honourable Lois E. Mitchell, CM, AOE, LLD, Lieutenant Governor of Alberta. The ceremony begins with a 15-gun salute on the South Legislature Grounds, followed by an inspection of a quarter guard in the Legislature rotunda. The event will also feature performances by soprano Cara Lianne McLeod and the Royal Canadian Artillery Band.
Media MUST register via e-mail for each event separately to [email protected] before Friday, May 17 at noon. Upon registration media will receive a confirmation e-mail with details regarding the collection of press passes. While in the Chamber media must wear business attire. Media wearing jeans or sneakers will not be permitted entry. Space is limited in the Chamber, so media will be given access on a first-come, first-served basis and must be in place 15 minutes prior to the ceremony. Video and still photography are allowed, but flash photography is prohibited.
The Chamber ceremonies will be broadcast on Assembly Online at assembly.ab.ca and on Alberta Assembly TV on Telus channel 843, Shaw Cable channel 930 and Shaw BlueSky channel 263 to give access to all Albertans. Photos of the ceremony will be available on Flickr (legassemblyofab) and the video will be posted on YouTube (AlbertaLegislature).
Premier Smith urges PM Trudeau to talk Ethical Energy Security in meeting with US President Biden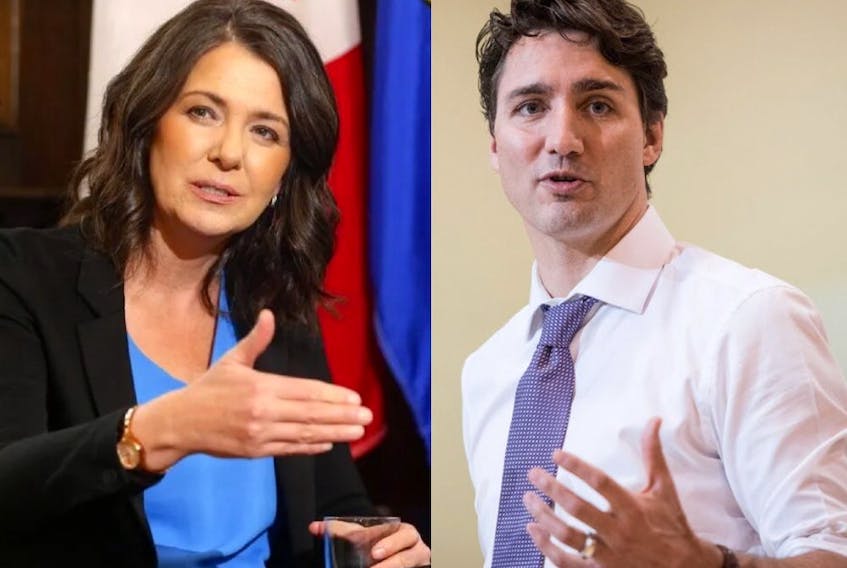 Dear Prime Minister Trudeau:
The arrival of President Joe Biden presents our nation with an opportunity of great significance. It is my request that the federal government uses its platform to focus on collaboration between the U.S. and Canada, highlighting the critical need for North American energy security.
We have a deep, long-standing relationship with the U.S. at both the federal and state levels, which is only growing in importance. In 2022, Alberta surpassed Ontario and Quebec as the largest provincial exporter of goods to the U.S. at $182.5 billion, with energy making up 85 per cent of exports to the United States. Alberta, by far, remains the single largest source of U.S. energy imports.
This economic reality, along with Russia's invasion of Ukraine, has highlighted that North American energy security must be a top priority for the Government of Canada. I urge you to raise the need for better collaboration between Canada and the U.S. to ensure the continued and enhanced supply of sustainable, affordable, and reliable energy to the U.S.
I recommend that the two governments work to fast-track energy projects in the name of economic security for our democratic partners, as committed to by Deputy Prime Minister Chrystia Freeland. A similar effort is needed in critical minerals as the world shifts to lower emitting sources of energy.
Alberta, through both government policy and industry action, is leading the way on reducing emissions and driving the transition to new sources of energy. New investments in the province are global flagships in clean energy and emissions reductions technology. For example, Pennsylvania's Air Products will create a world-scale net-zero hydrogen energy complex in Alberta, and Dow is advancing the world's first net-zero carbon emission integrated polyethylene complex at its existing site near Edmonton. It is also worth noting that Canada's oil sands operators have announced plans to spend $24 billion on emission-reduction projects by 2030 as part of their commitment to reach net zero by 2050. All of this amounts to a herculean effort undertaken by industry partners, and Alberta's government, to position ourselves as the foremost leader in emissions reduction and responsible energy production.
As you know, management of oil and gas methane emissions is one of this country's greatest climate success stories. Collaboration with the U.S. on methane emissions would both advance climate action, and address regulatory inconsistencies between the two countries. As of 2020, methane emissions from the upstream oil and gas sector in Western Canada have decreased by around 44 per cent from the 2014 baseline – ahead of our schedule of 45 percent by 2025. More evidence of Canada, and Alberta, leading the way.
Alberta is home to vast geological potential, an experienced, skilled, workforce, and has the necessary processing and transportation infrastructure in place to support a growing critical minerals sector. For example, technological advances to extract minerals from underground brine solutions are found throughout Alberta. These extraction technologies could result in a low emission, sustainable source of lithium to meet the demand of our emerging battery value-chain. We would encourage your government to work with the provinces, especially Alberta, on critical minerals and seize the opportunity to collaborate with the U.S. on enhancing North American supply chains.
As the owners and stewards of our world-class natural resources, any discussions involving energy security, natural resources, and trade must fully involve the provinces. I would be pleased to help assist you, and the federal government in advancing the work on North American energy security as well as developing the business cases to increase exports of clean Alberta energy, critical minerals and technologies to the U.S. As is only appropriate when discussing natural resources, and areas of exclusive provincial jurisdiction, I would also request that Premiers be invited to participate in a meeting with the President and his delegation.
I look forward to your response and welcome an opportunity to collaborate. We both agree that the world needs more Canada. It's imperative that in a time of such uncertainty, and unaffordability, that Alberta, and Canada profile ourselves as the preferred supplier of responsibly produced, ethical energy to the U.S., North America, and the world.
With new $6,000 grant and $4,000 tax credit, Province making adoption far more affordable for Alberta families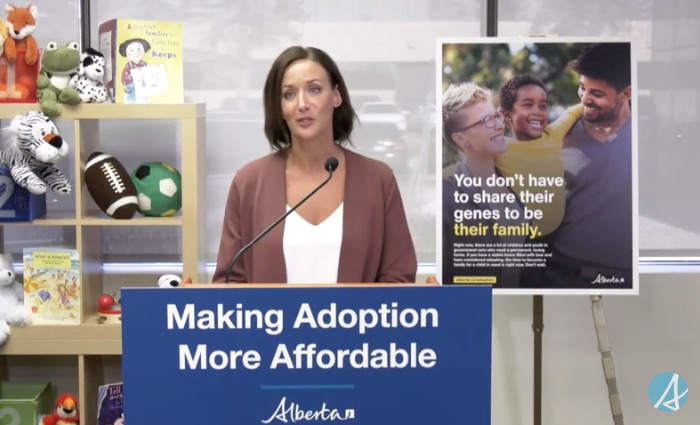 Making adoption more affordable
Alberta's government is increasing subsidies, tax breaks and benefits so that more children can find their forever homes.
Budget 2023 includes $4 million per year in new funding over the next three years to make adoption more affordable. These new initiatives follow up on the commitment by Premier Danielle Smith to make adoption less arduous for Alberta families.
If the Financial Statutes Amendment Act, 2023 passes, the new $4-million package to make adoption more affordable for Albertans will cover the cost of dental, vision and other supplemental health benefits for children adopted in Alberta – regardless of whether they were adopted from the government system or through a private, licensed agency in the province. Alberta will become the first and only province to do this.
This funding support, which would take effect this fall, will help remove medical cost barriers to adoption, especially for children with specialized medical needs.
"We are following through on our commitment to make adoption more affordable for Albertans who are starting or growing their families. If a child can find a loving and stable home sooner – that's good news for everyone, and most importantly, for the child. That is why we want to help reduce adoption expenses, so that more children can find their forever families."
In addition to covering the costs of supplementary health benefits, the provincial adoption expenses tax credit amount would be increased by almost $4,000, to $18,210 from $14,365, to help cover the costs of adoption, matching the federal tax credit. This can be claimed by families adopting locally or internationally, and will be retroactive to Jan 1. The increased credit will be available to Albertans when they file their 2023 taxes in spring 2024.
"Adoption shouldn't create a financial burden for parents starting or growing their families. These new measures will make it easier for a child who needs a home to become part of a family."
About 5,000 adopted children in Alberta who have already found their forever family and future adopted children will be eligible for these benefits.
If the legislation passes, the cost of private adoption through licensed adoption agencies in Alberta will be subsidized by $6,000 for families that earn less than $180,000. The subsidy would help reduce the cost of adoption by 40 to 50 per cent.
"We are very pleased to see these additional supports for adoptive families through licensed adoption agencies. These new supports mean there is one less barrier for couples experiencing fertility loss and hoping to form a family through adoption. It also means less financial stress for families looking to adopt a child with medical or complex needs."
"I think it's fantastic for adoptive families and children to be supported this way. This initiative shows government is behind families and wants to help children in government care find permanent loving homes."
"As an adoptive parent myself, I know first-hand the expenses and red tape and long processes that prospective parents face when considering adoption. These new supports mean more Albertans can welcome a child into their home, and together, they can build their forever family."
Budget 2023 secures Alberta's future by transforming the health-care system to meet people's needs, supporting Albertans with the high cost of living, keeping our communities safe and driving the economy with more jobs, quality education and continued diversification.
Quick facts
The number of approved adoptive families for children in government care has dropped by more than half – the lowest number of adoptive families in decades.

Typically, there are about 100 approved families at any given time but there are only about 30 now.
Currently, 27 children and youth are waiting to be matched with a loving, permanent home. Most of these children are over the age of seven, have special needs or are part of a sibling group.

The government covers the costs associated with adopting a child in government care but fees to adopt a child internationally can range between $10,000 and $40,000, while fees through an agency can range between $11,000 and $15,000.
Children's Services launched an adoption recruitment campaign in early March focused on adopting children in government care.