#RedDeerStrong – Your Safety is our Highest Priority!

COVID-19-
Kipp Scott GMC is taking measures to help curb the spread.
We understand buying, trading, repairing, or maintaining a car is likely not high on everyone's priority right now. However, if you need assistance, we are still here to accommodate you as effectively as possible while maintaining safety. We have made many arrangements to keep our team and customers safe and properly distanced to avoid spread to the best of our ability.
HEALTH AND SAFETY
Staffing has been reduced to focus on proper distancing.
Cleanliness and sanitation procedures on all surfaces, and high contact areas have been dramatically increased.
EFFECTS ON OUR CUSTOMERS
Likely very little, as we all have more important things to deal with.
Repair and Maintenance capacity will still exist to get your vehicle needs looked after, especially urgent needs.
Sanitary pick-up and delivery can be arranged, so customers who choose to remain indoors can.
Test Drives or new vehicle pick-ups can be arranged so minimal contact with the dealership is necessary, we can come to you.
Best ways to communicate with us include
a. Phone – 403-343-6633
b. Facebook Messenger
c. Google Messenger
d. Dealership Website – www.kippscott.ca
NEW HOURS OF OPERATION BEGINNING WEDNESDAY MARCH 18, 2020 UNTIL FURTHER NOTICE:
MONDAY – FRIDAY 8:00 AM 5:00 PM
SATURDAY 9:00 AM 5:00 PM
SUNDAY CLOSED
Southside Dodge donates new van to Ronald McDonald House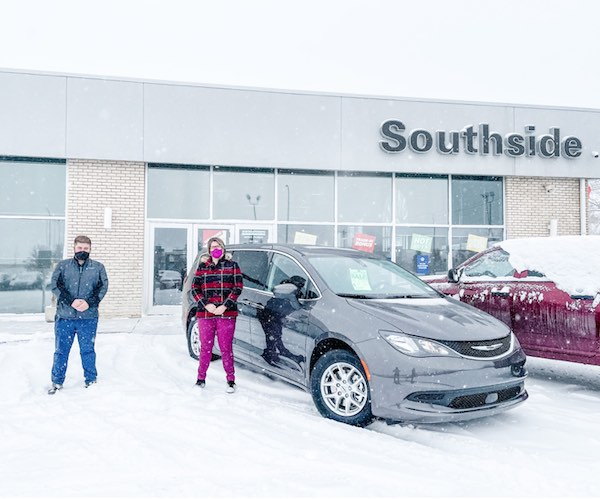 Matt Swainson (Vice President & General Manager, Southside Dodge Chrysler Jeep Ram) -left , Lori Rechlo (General Manager, Ronald McDonald House Charities Alberta – Red Deer House) – right
Submitted by

Sarah Heibein,

Stakeholder Relations Manager, Central Alberta Ronald McDonald House

We've received a donation of use of a Dodge Caravan from Southside Dodge- they've been an incredible support of us over the years. Attached is the photo we took at the dealership when we picked up the keys on Friday.
Ronald McDonald House Charities Alberta, Red Deer House is truly grateful to Matt Swainson and his entire team at Southside Dodge for their steadfast support of our work to keep families together during the unimaginable hardship of the need to travel for medical treatment for their sick or injured child. Our House is not a nice to have, but a need to have, and we are honoured to work with such an amazing community partner in Southside. The use of the 2021 Dodge Caravan will help us to keep our operating costs down so that we can focus on our work to keep families close.
We have operated in the city for over 8 years, ensuring there is a safe and comfortable place for families to rest while they focus on the recovery of their child(ren).
We are grateful to everyone in Red Deer who supports us! 😊
Smiles Thru Lindsey reaching out with a new video message and urging Albertans to look out for each other at this challenging time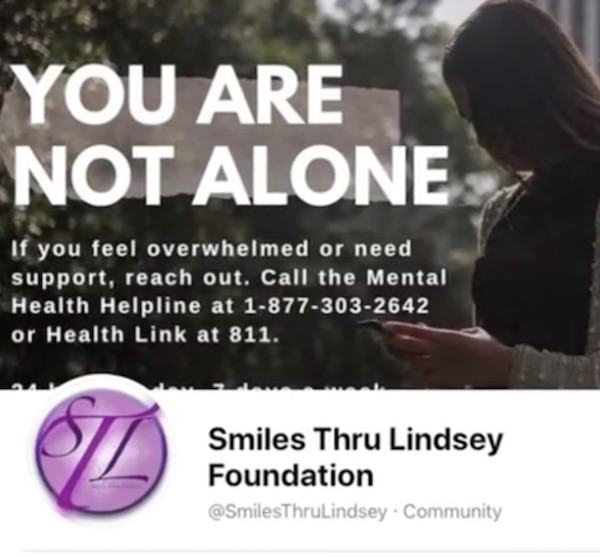 The holiday season is well behind us, we're heading into the coldest part of the winter, and although the days are starting to grow longer there's still a definite lack of daylight in our lives. The winter blues are a real thing and this year we have COVID, a whole new serious problem to add to our mental health issues.
COVID is also the reason the Smiles Thru Lindsey team has not been able do public events for many months. Unable to reach out physically through school visits and fund raisers, Smiles Thru Lindsey is reminding Central Albertans to check in on each other. Also, please follow the Smiles Thru Lindsey Facebook page . They'll lead you to the resources you or your loved ones need right away.
Meet Lindsey and the Smiles Thru Lindsey team in this powerful video. …And remember to check in on the people in your life.
If you'd like to help Smiles Thru Lindsey with a donation please click here.