Your chance to tell the City of Red Deer what you think of all those E-scooters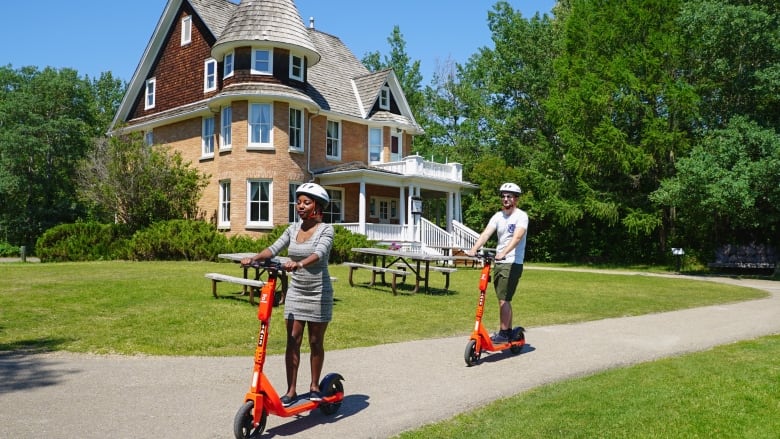 E-scooter pilot program wraps up for the summer
E-scooters are rolling out of Red Deer, after a very successful first summer of a three summer pilot project in Red Deer. While The City has heard from residents informally, and via social media channels about e-scooters,
we want to formally collect resident feedback about e-scooters.
The City wants to know what residents thought about e-scooters in Red Deer. A survey is available online now through November 15, which may lead to modifications for the second season and will help form the final report back to City Council after the full pilot program has wrapped. This feedback will help determine if e-scooters will remain a permanent part of our summer transportation options after the pilot program.
Residents can visit reddeer.ca/escooter to take the short survey and ensure their thoughts and ideas are included in our research.
E-scooters are officially on Red Deer streets until October 31, and are set to return March 15, 2022 – or later, depending on when spring arrives, for the second summer pilot. Through public feedback and data collection, The City will determine whether and under what circumstances e-scooters will be permitted to continue operating after the pilot ends.
Downtown shoppers could win $1,000.00 a week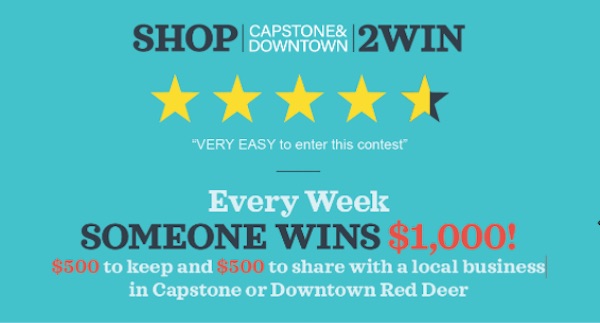 Support local
businesses in
Capstone &
Downtown Red Deer
Save receipts of $25 or more
(including taxes)
Upload photos of all
your receipts weekly
Digital receipts, third party delivery app receipts and Google reviews are all acceptable entries.
City Council to hear arguments for and against extending homeless shelter at Cannery Row for 2 more years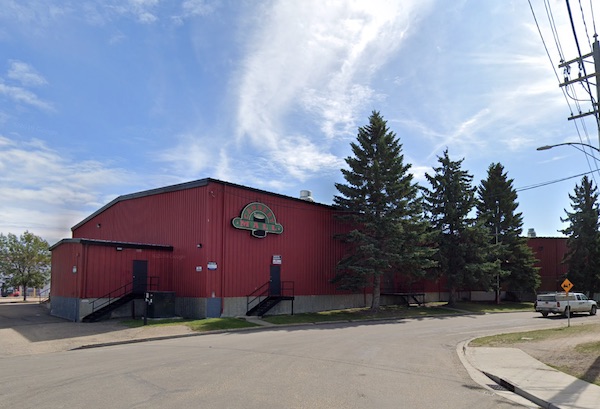 Public Hearing set for Land Use Bylaw amendment for temporary emergency housing
A Public Hearing is now set for January 17, 2022 at 4 p.m. following Council's approval of first reading of a Land Use Bylaw (LUB) amendment today. The amendment being considered is to allow for continued operations of the temporary emergency housing site at Cannery Row (5239 53 Avenue) until February 1, 2024.

The existing site exception for the temporary emergency housing site expired on September 30, 2021, and it is now operational through an executive order following the declaration of a State of Local Emergency (SOLE) in place up until February 15, 2022.

As part of the Public Hearing process, neighbours within 100 meters of the site will receive a letter from the administration inviting them to submit feedback on the amendment. The general public is also invited to provide feedback in advance or during the Public Hearing. Those wishing to provide feedback during the Public Hearing on January 17, 2022 are invited to attend the online Council meeting at 4 p.m.. Full details on the Public Hearing and how to provide feedback will be uploaded to The City's site in the coming weeks. Details will be available at www.reddeer.ca/publichearing.
Council received an update on the current emergency housing status in the community on December 1, 2021. Administration had explored all opportunities for relocating the temporary site, but no viable solutions were available. The report outlined the need for full spectrum housing in the city, the goal is to have a permanent purpose-built emergency housing site in Red Deer operational within two years. Funding is in place and steps are underway with the province to make this a reality for the community. A location for the permanent site has not been decided. This Land Use Bylaw amendment would facilitate a temporary emergency housing solution at the current location until the permanent site is operational.
For background information on the temporary emergency housing site, visit www.reddeer.ca/emergencyhousing.