Stories of Red Deer's earliest Halloween celebrations
Editor's Note: This article was written in 2018, long before Covid.
Stories of Red Deer's earliest Halloween celebrations
By Michael Dawe
Another Halloween will soon be upon us. It is one of the most popular of the annual celebrations. While door-to-door trick or treating by young children has become somewhat less common over the last few years, more and more people seem to be decorating their homes and their yards for the evening. Dressing up in costume remains as popular as ever, as are social get-togethers with all kinds of food and drink to share.
Halloween is a very old celebration, with some of the traditions dating back to the ancient Celtic rituals and festivities, marking what was then considered the start of the Celtic New Year. Later, there were strong Christian influences, as the night became connected with commemorations of All Hallows Eve (the origin of the name "Halloween) and All Saints Day on November 1st. All Saints Day is still a public holiday in parts of Europe.
Celebration of Halloween was not common in North American until the arrival of large numbers of Celtic immigrants from Ireland and Scotland during the 19th century. However, the tradition of children going door-to-door for trick or treating did not begin until the early part of the last century. It did not become a practice in Red Deer until the latter part of the 1920s.
History of Halloween in Canada.
Some of the earliest celebrations of Halloween in Red Deer took place in the early 1900s. Usually, a local group would organize a party at a local hall with all sorts of fun and games. Apples were a staple of these early socials. The wearing of costumes was strongly encouraged.
One group that organized annual Halloween events was the Alexandra Club. This was a group of young women dedicated to raising funds for the Red Deer Memorial Hospital. Hence, the annual Halloween gathering was as much a fundraiser as a social occasion. Other popular fundraisers staged by the Alexandra Club were women's hockey games at the rink on Morrison (52) Street.
In 1913, the main Halloween event was a dance at the new Parish Hall on Gaetz Avenue, just north of St. Luke's Anglican Church. This large new public hall had been officially opened on the eve of Red Deer being incorporated as a city on March 25, 1913. The Halloween music was provided by the Orpheus Orchestra. The evening was such a success that plans were made to have Halloween dances at the Parish Hall as annual events.
Tragically, the First World War broke out in August 1914. The community focused on the war effort and little was done to mark such "frivolous" occasions as Halloween. However, after the War, a new tradition started. The local 78th Battery of the Royal Canadian Artillery organized Halloween Balls at the Armouries on First Street South (now the location of the Children's Library).
The annual militia balls were quite lavish events and extremely popular. People were not even bothered when, at the first ball in 1921, the outside of the main exit was blocked with a pile of piano boxes. A threat by the attending officers of a week's short rations ensured that the young artillery men quickly cleared away the obstacles so that the guests could depart for home.
Halloween pranks have been one of the most enduring of the evening's traditions. In 1921, in addition to the piling of the piano boxes at the 78th Battery's ball, the local newspapers reported that Police Chief Anderson probably had as much fun the day after Halloween as anyone else. He rounded up all the likely suspects from the previous evening's pranks. He made sure that these "young enthusiasts" spent the day putting things back in place and removing the soap that they had applied to various store-front windows.
Unfortunately, a small group had gotten carried away with their pranks at the High School building on the Central School grounds. In order to drive home the point that there were limits to the number and type of activities that would be tolerated on Halloween Night, Principal C.D. Locke imposed a "two-day enforced holiday" on the perpetuators as a warning to rein in their "youthful exuberance" during next year's Halloween activities.
Michael Dawe – October 31, 2018
A fifth generation Central Albertan with roots in Red Deer and Pine Lake, Michael Dawe serves on Red Deer City Council. In 1979, he became the city's first full-time archivist with the Red Deer and District Archives. In May 2009, he was seconded to become the curator of history in preparation for the City of Red Deer Centennial in 2013.
Michael has won a number of awards including the Queen's Golden Jubilee, Queen's Diamond Jubilee and Alberta Centennial medals. He was named Alberta Citizen of the Year by the Council on School Administration of the Alberta Teachers Association for his work with local schools. He received the Minister of Veterans' Affairs Commendation for his work with veterans. He was twice voted Red Deer's Most Beloved Citizen by the readers of the Red Deer Express newspaper.
Sweet February Bake Sale for CA Humane Society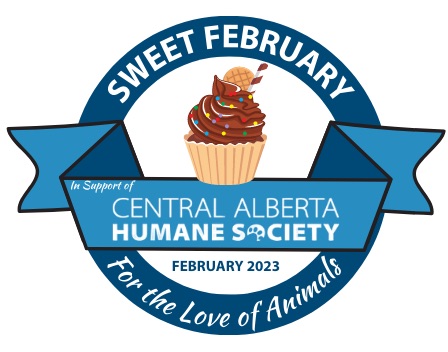 Issue: 2023-2 February

Newsletter
We are here for you!
Tuesday – Saturday
10 am to 6 pm
Cat cuddling, Dog License renewal, Retail store and Bunny cuddles!
Dog viewing is by appointment only,
we do this to reduce the stress on the dogs.
Cats

Altered Adult $125
Altered Kitten $175
Senior +8 yrs $60

Dogs

Altered Adult $375
Altered Puppy $475
Senior +8 yrs $250
Cat & Dog Adoption prices include:
Initial Vaccinations & De-Worming
Complete Health Examination
Any procedures required for the health and wellness of the animal.
(Dental, treatments etc.)
Microchip Implant (pet identification device)
Spay/neuter
Complimentary Vet Exam within 3 weeks of adoption
Initial de-worming
Some medications (if necessary)
Starter food kit provided
We feed our pets Hills Science Diet!
Morti Dog of the Month February!
Just in time for Valentine's Day Morti may be the love you are looking for!!
No more eating alone, he could keep you warm at night, and you could go on adventures together! He is just over 1 year old and is a Shepherd/Border Collie Cross and is extra handsome with 1 bright blue eye! If you're looking for an active buddy to take hiking or swimming and then come home to snuggle with on the couch, he may be your perfect match! Morti has lots of energy but he's also just the sweetest boy! He would just love to meet you! If it sounds like he could be a good fit for your life, please call and book an appointment. Who knows, it could be love at first sight!
For the coming months, Energy Effects & One Smart Cookie K9 Services Inc. are offering a lucky adopter ONE COMPLEMENTARY session of K9 Training and ONE COMPLEMENTARY session of Jin Shin Jyjitsu ~ PLUS discounts on more sessions!! Their goal, as well as ours, is to help new fur families have all the tools to create successful live-long relationships.
If you are interested in meeting Morti, please contact us at
403-342-7722 ext 0
This program is a collaborative effort between Central Alberta Humane Society, Energy Effects & One Smart Cookie K9 Services Inc. to promote one adoptable dog each month.
If you'd like to make a big impact on homeless animals in Central Alberta, consider becoming a foster family.
The ability to provide a temporary home to a shelter
animal in need is an immensely rewarding experience!
We are looking for dog fosters that are interested in having weekend sleepovers with one of our shelter dogs. Specifically, homes with no other pets and children for our long-timers in our care.
Please send in your application to be a part of our Foster Team!
Telisha ~ Animal Care Assistant Manager & Foster Coordinator
403-342-7722 ext 212 E: [email protected]
Volunteers are an important part of the Central Alberta Humane Society. We need volunteers to assist with everyday operations.
Shelter Helpers – We are always in need more volunteers for shelter support. We have various roles that are always needed. Cat Cuddling, Kennel Care, Laundry and some administrative support. Training privided!
Bingo – CA Humane needs more volunteers for our monthly Bingos. The Central Alberta Humane Society is a charity and not-for-profit so it is important for us to do community events and fundraising to make the funds that will keep our shelter running throughout the year. Each bingo requires 4-8 volunteers and has various roles.
Dog Walking/Enrichment – Would you like to help our shelter dogs get out of their kennels, all while enjoying some canine bonding time and sharing some great exercise endorphins? We need dog walkers to help our shelter kids get some much-needed outdoor enrichment time.
Amber ~ Volunteer Coordinator
403.342.7722 ext. 216 E: [email protected]
CA Humane is the perfect place to host a birthday party!
2 hours of 'Pawty' fun!
$175 Includes
room set up and clean up
space for up to 15 children
lightly decorated room with your choice of tablecloth colour
children's craft
mini tour/presentation of the CA Humane Society.
Animal visits
One hour for your food, cake, and presents.
Book your party now to be assured of your chosen date!!
Contact Lindsay for more information!
Upcoming dates:
4-day camp February 21-24 (Tuesday-Friday)
Single days also available
CA Humane offers camps for children aged 6-10 on pd days and school breaks that coincide with both the Red Deer public school board and the Red Deer regional catholic school board!
Register early to ensure your spot!
Contact Lindsay for more information!
January Volunteer of the Month!
Nicole is the CA Humane Volunteer for the month of January!

Nicole is a cat cuddler volunteer and helps our CA Humane team by doing laundry and dishes. She loves animals, caring for them, and of course cat cuddling! She began volunteering to gain experience as she would like to work in the animal field someday. Nicole loves to help organizations that care for animals by doing anything she can do. In 2022 Nicole made 15 blankets for our animals in care! Nicole is a bright light to have around the shelter and is a huge help to our staff every time she is in. Thank you, Nicole, for your service within CA Humane and our community!
Red Deer Mayor Shares Message on Mentoring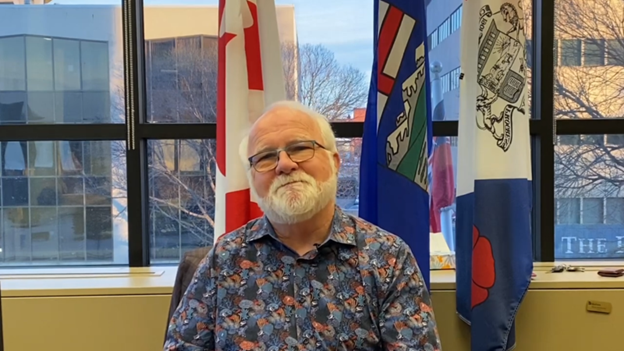 In an effort to help Youth HQ and Big Brothers Big Sisters recruit more mentors for the kids on their waitlist, Red Deer Mayor Ken Johnston took a moment to record a video and speak on the matter:
There are currently over 70 kids in Red Deer on a waiting list, hoping for a mentor.
Anyone looking to become a mentor can visit the Youth HQ website, or reach out directly to Volunteer Resources Coordinator, Janessa McCormack via email at [email protected]
Big Brothers Big Sisters has been active for over 100 years. The organization came to the Red Deer & District region in 1976 and has been at work in this community ever since. Several programs and services are available to young persons and their families, including in-school mentoring.