Yogis Set To Take Over City Hall Park This Saturday
This Saturday, August 19, 2017, a small army of yogis are set to take over Red Deer City Hall Park.
The Stantec Central Alberta Yogathon will run from 10am- 2pm, raising funds and awareness for youth impacted by mental illness in our community. The 4-hour long yoga session will be facilitated by local yoga teachers, with pledgers raising money to participate. All proceeds will be donated to the Smiles Thru Lindsey Foundation, a local endowment initiated to carry on the legacy of a young local woman who took her life due to mental illness.
The goal is to raise $15,000.00 for the Smiles Thru Lindsey Foundation, an endowment that funds local programs meant to educate youth and help prevent similar tragedies from occurring.  The Central Alberta Yogathon is a heartfelt event, which has brought over 50 participants together yearly to raise money and awareness for mental illness. Last year, the event raised $2,500 but this year, we anticipate over 100 yogis will participate.
It is family friendly, open to all ages and experience levels, and is a great way to connect with like-minded individuals within our community that care about the general well-being of our residents.
Brochures and pledge forms are readily available at local businesses including Stantec, local yoga studios, BIG 105 and 106.7 The Drive, and the Red Deer Library.
Participants can participate without fundraising by paying a small $35 registration fee, which includes the 4 hour yoga session, refreshments, and a participant gift.  Registration fees will be waived for any participants who raise $200.00 or more.
Raffle tickets are also available for purchase for those supporters unable to make it to the Yogathon. A $500 cash prize is up for grabs; tickets cost $5 each or 3 for $10 and are available at Stantec or by contacting [email protected].
We hope you will join us for this fun community event on Saturday!
Copy and print a pledge form!
Grant's story: Amazing Improvement with Hard Work & Support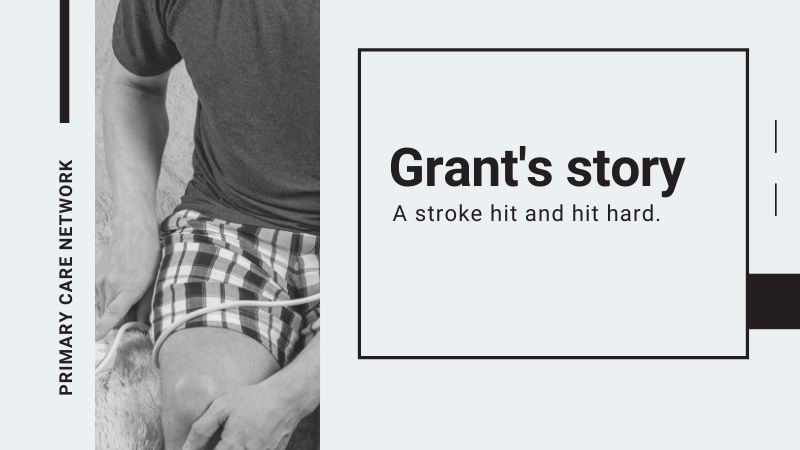 Grant was in his mid-fifties – maybe a bit overweight but with no other cardiovascular risk factors. However, a stroke hit and hit hard. His right side was very compromised, he had little use of his hands, he was unable to walk or lift his right arm. He was hospitalized in Red Deer for 4 months and then went to the Centennial Centre in Ponoka for rehab for 6 months. His doctor had told him that he would be bound to a wheelchair for the rest of his life and would never walk again or be able to recover from this stroke. This made Grant angry as he didn't want this prognosis.
Since that time, he has put a lot of work and effort into getting better. The physios and rehab team helped him make progress, but he kept asking them how he could get more training. They were able to refer him to Recreation Therapy at RDPCN. His therapist arranged to work with him at the Gary W Harris Canada Games Centre three times per week. He is doing a lot better now. He can walk with a cane and he can lift 30 pounds on the machines at the gym. He can now clap hands. He has gained strength and control, his gait has improved along with his endurance, and he has an increased range of motion and strength in his upper extremities. He can now do many more tasks of daily living such as carry groceries, cook and barbeque.
Grant states that his doctor can't believe his progress. Other people he knows have said very similar things. Working with the Rec Therapist has been very encouraging and supportive. The Rec Therapist has really helped me to stay motivated. Having a plan for myself also helps the attendants at the Gary Harris Centre to work with me to move forward. I have highly recommended this program to others I know who have had a stroke.
My work is not done but I am proud of the progress I have made and thankful for everything I can do for myself.
To learn more about the RDPCN programs, visit www.reddeerpcn.com
Keep cool with the firefighters this Thursday!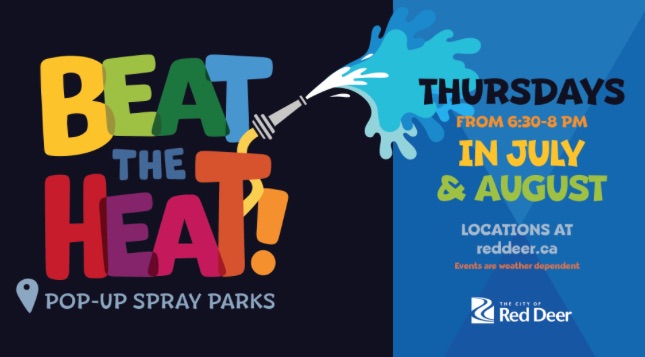 Pop-up Spray Parks
Members of Red Deer Emergency Services, RCMP and Municipal Enforcement blasted the hoses to keep you cool Thursdays in July and August.
Pop-up spray parks are popping up across Red Deer this summer. Beat the heat with Red Deer Emergency Services, Municipal Policing Services and RCMP in a neighbourhood near you.
Participants are reminded to not attend if they are feeling unwell or are currently required to quarantine.
Thursdays from 6:30 – 8 p.m.
| Date | Location | Address |
| --- | --- | --- |
| | | |
| July 22 | Highland Green Community Centre | 65 Halladay Avenue |
| July 29 | Deer Park Community Association | 181 Dowler Street |
| August 5 | To Be Confirmed | —– |
| August 12 | Riverside Meadows Community Centre | 6021 57 Avenue |
| August 19 | Joseph Welsh Elementary School | 4401 37 Avenue |
*Events are weather dependent.