National level volleyball talent – Notre Dame Cougars' Shynelle Woroniuk is ASDC Central Athlete of the Month
The Alberta Sport Development Centre – Central (ASDC-C) is pleased to announce that the ASDC-Central Athlete of the Month for April 2020 is Shynelle Woroniuk. Shynelle Woroniuk is a 16 year old Red Deer, AB resident, Grade 11 student at Ecole Notre Dame High School and a competitive multi-sport athlete.
Shynelle has had a great deal of success in a variety of sports, including fastball, basketball, badminton, athletics and volleyball. In the past year, Shynelle won an ASAA Gold Medal in Mixed Doubles Badminton, a ASAA Bronze Medal in High Jump, an Aggregate 3rd at ASAA Athletic Provincials, and a Silver medal in Badminton Mixed Doubles at the 2020 Alberta Winter Games. Last summer Shynelle was named to Volleyball Alberta's Provincial 16U Women's Team for the 2nd year in a row and competed at Volleyball Canada's Cup in Halifax, Nova Scotia. During her HS volleyball season Shynelle was named to the All-Star Team at four different tournaments and was named to the League All-Star team.
Most recently, Shynelle was selected by Volleyball Canada as one of 16 athletes from across Canada to join the National Excellence Program at the Team Canada Women's Volleyball training centre in Richmond, BC for the fall semester. The National Excellence Program (NEP) is designed to prepare athletes to perform at the highest level of our sport and to continue their development towards the National Senior Team Program and/or playing professional volleyball. NEP athletes, through training, competition, and tours are introduced to leading international volleyball programs and clubs. Shynelle is one of three Alberta athletes selected to the program.
In the classroom, Shynelle is an Honours student at Notre Dame. Shynelle's goals include playing volleyball at a post-secondary level in either USport in Canada or NCAA D1 in the United States, and is currently considering several scholarship offers.
With Shynelle's strong work ethic, her undeniable athletic abilities and her training experiences with ASDC-Central, she will surely continue to grow, develop and succeed in her volleyball career!
ASDC-Central thanks Tom Bast Sports for celebrating the ASDC-Central Athlete of the Month recipients by the provision of commemorative apparel for each recipient.
ASDC-Central Athlete of the Month – Shynelle Woroniuk
The CACAC Breaks Ground on the Centre of Excellence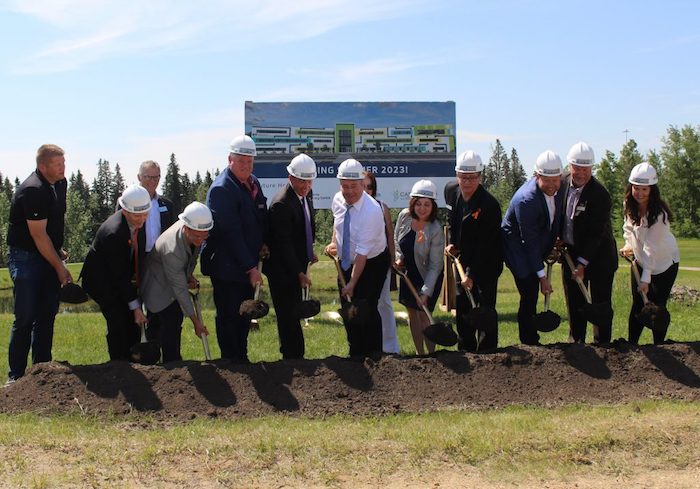 Tuesday, June 21 marked a significant milestone for the Central Alberta Child Advocacy Centre in the construction of the innovative Centre of Excellence.
With the building officially underway, CACAC and its dedicated partners can continue their efforts in creating a safer, healthier future for the children of Central Alberta. The new build is underway as of today, with construction beginning immediately. The projected 66,566 sq. ft. structure will be the new home of the Central Alberta Child Advocacy Centre, Central Alberta Sexual Assault Support Centre, Alberta Health Services: Red Deer Child and Youth Addiction and Mental Health Outpatient Clinic, and the Step Up Step Down youth live-in addiction and mental health program.
"Alberta Health Services is grateful for the CACAC project. This collaboration will offer many services under one roof for youth experiencing trauma, substance use disorder and mental health concerns. Front line teams can consult seamlessly and develop relationships that simply would not exist outside the shared space of the CACAC. The ability to offer multidisciplinary care will support positive outcomes for youth and families and a shared vision for the community," says Amy Klimosko, Director, AHS Red Deer Child, Youth, & Family Addiction & Mental Health.
The Centre of Excellence, a one-of-a-kind building in Canada, is an industry leading, evidence-based model strategically located on the Red Deer Polytechnic (RDP) Campus – built to strengthen integration for all partners involved. This is a proven model to reduce long-term impacts of abuse on children, youth and families, cut back on systemic costs of child abuse and, ultimately, save more lives. Thanks to the partnership with RDP, the location creates not only a safe place for children and families in Central Alberta to seek and receive support, but a place of innovation and research – to not only aid in the intervention of child abuse and mental health, but for prevention of these societal issues. Education is a key factor in the role of child abuse prevention, and the RDP partnership is a main component to building this foundation.
"On behalf of everyone at Red Deer Polytechnic, I am pleased to welcome the Central Alberta Child Advocacy Centre to our beautiful campus overlooking the forest reserve and next to the Gary W. Harris Canada Games Centre," says Jim Brinkhurst, Interim President. "We look forward to this collaboration that will serve Central Albertans and present tremendous learning and applied research opportunities for students and staff for years to come."
The building, constructed by Eagle Builders, is projected to be completed by Summer 2023. The 3-story, contemporary design, will be built with intentional common and shared spaces to cultivate collaboration between allied partners, and create an environment that children, youths and families feel comfortable and safe in.
"Today has been a shared vision since day one by our coalition, and I am beyond grateful that, because of our community, we are able to stand here and break-ground on this critical building. We look forward to sharing space with our integrated partners who share the same purpose: helping our children and our families. Thank you to all who have helped us pave our path towards our new home." – Mark Jones, CACAC CEO
The CACAC looks forward to updating the community on the progress of the build and sharing more details on the Partners involvement and impact their commitment and programs will have on our community.
Hundreds "Walk a Mile in Her Shoes" in Sylvan Lake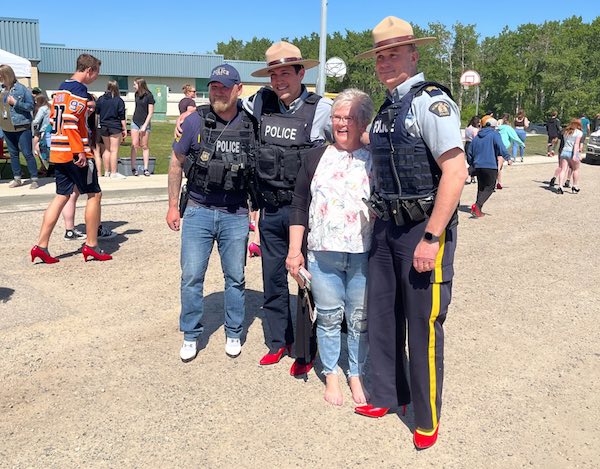 Over $7000 raised for the programs and services offered to clients at The Outreach Centre
On June 2, students, staff and community members of all ages walked in the Walk a Mile in Her Shoes event in Sylvan Lake. Presented by the HJ Cody Interact Club, the fifth annual event raised funds for The Outreach Centre and brought attention and awareness to gender-based and domestic violence issues in the community.
"Walk a Mile in Her Shoes events emphasize the necessity of speaking up and taking steps to end gender-based and domestic violence," says Ian Wheeliker, Executive Director at The Outreach Centre. "These events start difficult yet necessary conversations about gender relations and violence against both women and men."
Starting at H.J. Cody Highschool, participants walked one mile, some in a pair of high heeled shoes.
There was also a community-sponsored BBQ lunch, and a presentation with speakers and prizes. Author and town councillor Teresa Rilling told her own powerful story of overcoming emotional and sexual abuse, encouraging anyone who is suffering to reach out for help and support.
With about 600 people walking and over $7000 raised, Walk a Mile in Her Shoes Sylvan Lake was once again a huge success.
"We are so grateful for the ongoing support of the H.J. Cody Interact Club and the entire school community," says Wheeliker. "These students are truly making a difference and they should feel proud knowing that their efforts will go towards improving the lives of the clients we serve at The Outreach Centre."
To stay up to date with The Outreach Centre, visit theoutreachcentre.org or go to our Facebook or Twitter pages.