Women Who Make Things Happen
"There are three types of people in this world. Firstly, there are people who make things happen. Then there are people who watch things happen. Lastly, there are people who ask, what happened?" says author Steve Backley.
Two Red Deer authors, Jenna Butler and Sandra Butler Ladwig, are women who make things happen. At the Tuesday, January 29th "Meet the Author – A Fireside Chat", a group of about 30 Red Deerians had the pleasure of finding out about Jenna Butler's trip to Norway in her book Magnetic North, Sea Voyage to Svalbard. After the coffee, tea and snack break, they heard from Sandra Butler Ladwig as she shared from The Tiger of Your Dreams, 14 stories of adoptees reuniting with family members.
What a wonderful opportunity! Both authors vibrated with enthusiasm as they described the stories behind their books and their writing, as well as sharing interesting snippets from within each published edition.
Time was allotted for questions, the purchase of the books, and author signing–and all for the admission fee of two dollars.
Thanks to the Golden Circle and Joyce Scott, coordinator for the "Meet the Author – A Fireside Chat" series, these gatherings have been ongoing for the last three years. Local, published authors present four times a year: January, April, September and November.
The next "chat" will be held on April 9 at 1:30 p.m. at the Golden Circle and will showcase authors Fran Kimmel and Joyce Middlestead.
*** Magnetic North is available through the University of Alberta Press, Amazon, Chapters, or via Jenna Butler's website, www.jennabutler.com.
To get The Tigers in Your Dreams, call Sandra Butler Ladwig at 403-343-7712 or email her at [email protected]
Jenna Butler is an author and scholar whose research into endangered environments has taken her from America's deep south to Ireland's ring of Kerry, and from Tenerife to the Arctic Circle, exploring the ways in which we navigate the landscapes we call home. Butler is the author of three critically acclaimed books of poetry. Her award-winning collection of ecological essays will be released in Autumn 2018. A professor of creative writing and ecocriticism at Red Deer College, Butler lives with three resident moose and a den of coyotes on an off-grid organic farm in Alberta's north Country.
Sandra (Butler) Ladwig was a Parent Finder in Alberta for 49 years. She has located well over 500 missing persons and has assisted over 1000 people who just needed support and direction. She has a twin brother George, who is a Private Investigator. George has been a great help with some of the searches Sandra has completed over the years. Sandra worked as a legal secretary for 20 years and was able to assist the lawyers in her firm by locating the whereabouts of defendants so that they could be served with legal documents. Sandra received the Bob Stollings Award from The City of Red Deer for going the extra mile. For 11 years she worked as a Volunteer in the Emergency Department of her local hospital. She received the First Lady of the Year Award from Beta Sigma Phi for her volunteer efforts. She is hoping that her true stories will provide ideas and direction for adoptees who are up against a brick wall in their own searches.
Bull Skit, Red Deer's beloved improv group is back for season 15!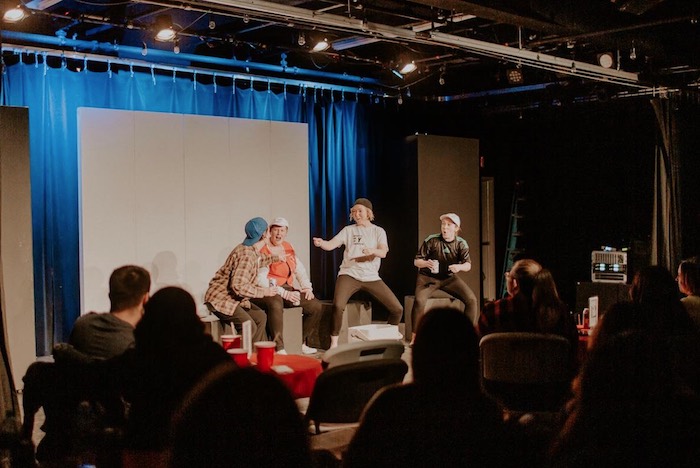 From Bull Skit Comedy
Bull Skit Comedy – Celebrating Season Fifteen!

"We're as surprised as you we've survived this long!"-Anonymous Cast Member
Bull Skit Comedy is proud to announce our fifteenth anniversary! Join us as we kick off Season 15 with the Lab: Featuring Lindsay Thurber, and Hunting Hills Improv teams January 20th at 8 PM. As we move into 15th we are here to celebrate community, and create a community at PLAY! Proceeds from the Lab will go directly to these High School teams to support them going to the Canadian Improv Games, and Wildfire in Edmonton. It's important to us to support initiatives close to us, give back to this art form, and support individuals wishing to develop themselves through play.
2023 has a full slate of shows, January features The Lab, and Maestro. February the month of Love will have An Improvised Love Actually, Gays of our Lives (Show featuring only LGBTQ2+ Performers), and Maestro. March we are back with Sketch & Music with Big Lip Energy, and Maestro. April we welcome spring with an Improvised Musical, Gays of our Lives, and Maestro. Then May we are back again with the OG Sketch Show that started it all, and Maestro. June is
for the families with Improvised Fairy Tales in the park with Calf Skit, and wrapping up our season 15 will be our Dark Carnival in July at Bo's Bar and Stage.
Each month you will see the show Maestro, this show is a way to open our stage up to improvisers across Central Alberta, and bring us all together. We will have anywhere from 8-13 performers hitting the stage to battle for the coveted $5 bill, the audience votes on their favourite scenes and performers throughout the evening. This show has been performed in more than 20 countries, and was created by Keith Johnstone (Loose Moose, Godfather of Improv.)
We can't wait to see people back at our shows. The Season will also offer workshops that will get you PLAYING, connecting, and learning something new about yourself. All information, to purchase tickets, or to read up about our awesome-ness please visit www.bullskitcomedy.com.
Top 5 reasons to celebrate the New Year together at the Alberta Sports Hall of Fame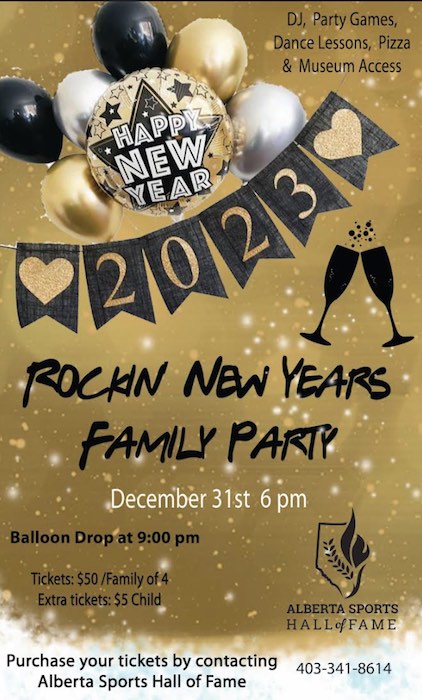 The Rockin' New Year's Family Party is on once again at the Alberta Sports Hall of Fame and Museum.
If you've been to the Hall of Fame you'll know why this is such a great idea for some beautiful quality family time. If you've never been, don't miss this chance to show a really great time to your children while you enjoy yourself thoroughly as well. You'll be floored by all the activities for the kids. In fact, we can guarantee you're going to be joining them on the downhill ski game, throwing hoops, shooting pucks and throwing balls.. because it's too much fun to resist!
You will want to step away for a few minutes of quiet though, while you enjoy the Hall of Fame Gallery. It's a treat to discover and rediscover the best athletes in the history of this sports crazy province!
OK. Here are the top 5 reasons to bring your family to the Alberta Sports Hall of Fame and Museum on New Year's Eve!
1) We're bringing in loads of pizza!
2) We've got organized party games to keep the kids busy!
3) We've got a DJ! That's right. This is a real party with dancing and everything.. The kids are going to love groovin' to Rock and Roll with you!
4) There's unlimited access to all the interactive games and exhibits in the Alberta Sports Hall of Fame.
5) We're dropping the balloons at 9 PM! That means there's time to get the young ones home and safe in bed while mom and dad bring in 2023 with the adults.
and a bonus!!!
6) Did we mention the cost? It's just $50 per family of four, plus $5 for each additional child.
Don't miss this chance to experience the Alberta Sports Hall of Fame and Museum. Make a ton of fantastic, fun, affordable family memories!
Join us at the Hall from 6 pm – 10 pm on December 31st.
$50/family (up to 2 adults & 2 kids. $5 per additional child).
Please call us at 403-341-8614 to book your spot before it's too late.