4 year old caber-tosser proves the Highland Games are in his blood!
Courtesy of Todayville Contributor Jock Mackenzie
Jamie Arthur is only four years old and he loves tossing the caber. His mom says, "All he talks about is the Highland Games." Jamie started "giving a toss" when he was three and now his dad, Ben, has cut and peeled Jamie's second caber. The first caber is now tossed with ease; the second one (shorter but heavier) is still a challenge.
For everyone who's a Scot, for those who wish they were, and for anyone who appreciates great value for their dollar, the 72nd Red Deer Highland Games will be held at the Westerner on Saturday, July 22. See https://www.reddeerhighlandgames.com/ for everything you need to know.
Curtain set to open on Lindsay Thurber production, Head Over Heels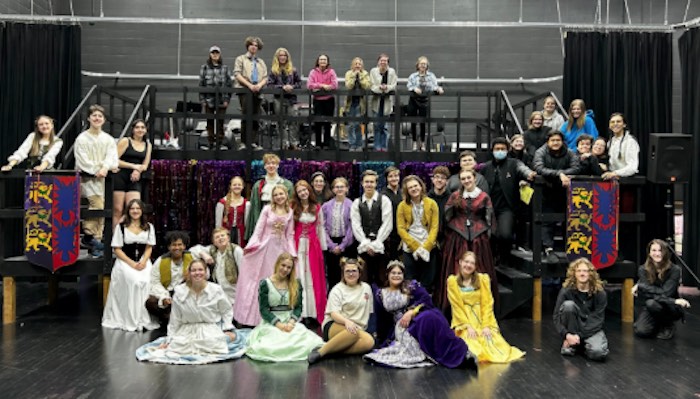 Get ready to laugh, party, witness exciting fight choreography, and groove to the music of The Go-Gos in Lindsay Thurber Comprehensive High School's production of Head Over Heels The Musical, High School Edition. Performances run March 17 – 25 in Studio A at the school.
A mash-up of posh and punk, Head Over Heels is an Elizabethan romp about a royal family that must prevent an oracle's prophecy of doom. In order to save their beloved kingdom of Arcadia, the family embarks on a madcap journey wrought with mistaken identities, prophetic riddles, scandal and self-discovery. Set to the exuberant beats of the 80s pop music of The Go-Gos, Head Over Heels is a heartfelt show where love is celebrated and the beat is divine!
About 50 students from Grades 9-12 are involved in the production. This includes three classes of Musical Theatre, Technical Theatre and Pit Band, who make up the show's actors, production crew, and pit band musicians.
"Head Over Heels is a show that is relatively new," said Tara Koett, Director. "I suspect that not a lot of the audience is familiar with it as it premiered on Broadway in 2018. It is a Renaissance comedy and the dialogue is written in verse. In tandem with this Renaissance comedy, it's also a jukebox musical of the music of The Go-Gos. It's very, very fun and it's a sweet and clever script that captures the modern sensibilities of what a lot of us go through on our journeys to find love."
Koett said one of her favourite aspects of the show is that while with many jukebox musicals, the songs can feel shoehorned in, in Head Over Heels, the songs are placed in the production in a way that feels organic. "For people who don't know The Go-Gos, like many of our high school students before beginning this course, it truly feels like those songs and those lyrics belong in the story or are from the characters themselves, so I think it's really well done for a jukebox musical."
Koett added she encourages students, family and friends as well as the general community to take in the production and see the exceptional skills of the high school students involved.
"This show is so much fun. It's such a beautiful celebration of all different types of love. It has such catchy, high energy music, relatable characters and representation, themes relevant to 2023, and it's a mishmash of posh and punk that is different from what a lot of people associate with musical theatre," she said. "It's a great opportunity for people to be back in live theatre again and to laugh together, maybe even cry together, to take in a beautiful story told with some really incredible music."
To purchase tickets, click here.
Wildlife Festival Returns to Red Deer's Westerner Park February 3 – 5!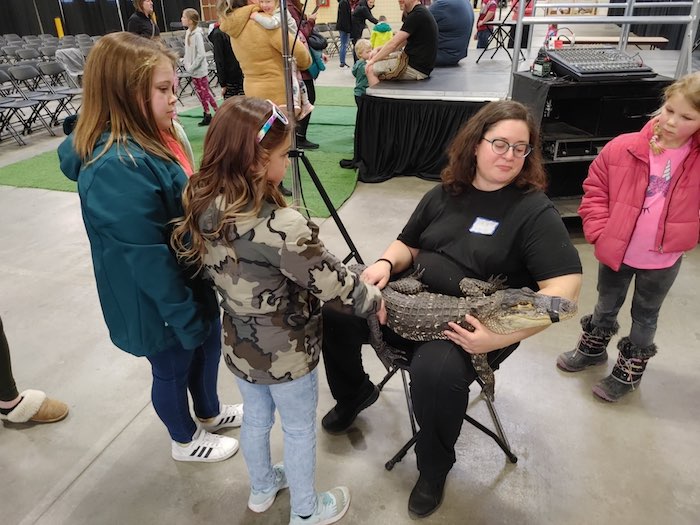 RED DEER WILDLIFE FESTIVAL
See a Sloth! Pet a Kangaroo! Meet a Tegu!
Hang with an Iguana! And many more amazing animals.
The YYC Nature Centre, Cobb's Adventure Park, & Cobb's Exotic Animal Rescue are bringing you a not to be missed event in Red Deer Feb 3rd – Feb 5th
3 ALL NEW EXHIBITS
Diversity of Living Things
What is the difference between frogs and toads? How do animals adapt? Learn about different species and life on earth.
Journey to the Amazon
See & interact with some of the incredible animals that call the Amazon home. The worlds largest rainforest comes to life!
This is Africa
Learn about the planet's 2nd largest continent.
---
Admission
$17.00 in Advance
$21.00 at the door
Kids 3 and under Free.
Jan 20, 7-9pm – Adults Only Admission
$26.00 in Advance
$31.00 at the door
VIP EXPERIENCE – *BEST VALUE!*
A small group guided experience with many of our animals! VIP Experiences are VERY LIMITED per day. One at the beginning of the day and one at the end of the day. Choose either the Parrot and Mammal Experience or the Reptile experience. $150/person in advance including admission, $175/person at the door.
ADD ON ANIMAL EXPERIENCES
Pet/feed a wallaby. Feed a porcupine. Hug a boa. Includes photo opportunity with your camera. $20 – $60 per person, per experience.
---
Educational Program
COLD BLOODED AMAZON
Learn about some of the largest reptiles on earth that call the Amazon home!
Educational Program
DIVERSITY OF LIVING THINGS: MAMMALS
Learn about Sloths, Sugar Gliders, Kangaroos and much more!
---
What Is The Wildlife Festival?
The Wildlife Festival is an annual interactive experience that highlights animals and their habitats. Our mission is to inspire and educate people of all ages by connecting with animals. Our entertaining stage shows, educational displays and interactive experiences with the animals will teach, entertain and delight all who attend.

Who we are
Cobb's Exotic Animal Rescue is a non-profit division of Cobb's Adventure Park. Cobb's is home to hundreds of animals including Kangaroos, Wallabies, Wallaroos, Llamas, Emus, Porcupines and more. Their mission is to give all exotic animals a safe and healthy life. Their current goal is to build an education center as a place to house and a place to educate the public on what it means to be involved with exotic animals. Far too often people buy exotic animals without thinking of the consequences long term. Many of these animals outgrow their spaces and even sometimes outlive their owners. As a result, exotic animals are frequently sold and resold many times, and sadly many become inhumanely disposed of. Cobb's Exotic Animal Rescue aims to be a link to the solution. Cobbs is able to provide the appropriate care and nurturing of many of these species and gives them the unique attention that they require.
Click below to donate, and be a part of building an education center in Alberta for exotic animals in need.
Reptile Parties INC is the parent company of Calgary Reptile Parties and the YYC Nature & Education Centre. Calgary Reptile Parties launched in 2008, became incorporated in 2012, and opened the YYC Nature & Education Centre in 2021. Their focus is on programs that promote conservation, responsible pet ownership, and connecting people to animals. The center is home to 300 animals including snakes, lizards, spiders, exotic mammals, and birds. Reptile Parties INC was featured on Animal Planet's SCALED – seen in 195 countries in 2018.
http://www.calgaryreptileparties.com http://www.yycnaturecentre.com
Our History
The Wildlife Festival arrived in western Canada in 2015, produced by Little Ray's Nature Centre & The Canadian Raptor Conservancy in Ontario. In 2017 Jason Clevett of Reptile Parties INC joined the team and returned again in 2019.
In 2022 Reptile Parties INC and Calgary based YYC Nature Centre teamed up with Cobb's Exotic Animal Rescue and Cobb's Adventure Park to lead the re-opening of The Wildlife Festival in Western Canada. The Wildlife Festival appeared at multiple fairs and exhibitions in Alberta and Saskatchewan in 2022 drawing thousands of visitors from all across Western Canada.
FAQ
Do we get to pet animals with a regular ticket?
Some animals are available for petting and hands on opportunities. We offer paid photo & interaction opportunities with select animals as well as VIP experiences behind the scenes.
What comes with the VIP Experience ticket?
Spend quality private time with the animals. An exclusive hands on experience with the animals, you can take photos and ask questions behind the scenes and meet the animals trainers too! VIP experiences are VERY limited, so purchase in advance is recommended.
Is this event for all ages?
Yes! Except for our ADULTS ONLY exclusive which is on Friday evening from 7-9pm.
What if I am afraid of snakes or spiders, but want to see the other animals?
Don't worry, you can still get a chance to spend time with the other animals. We have several educational exhibits in place and the stage shows present an opportunity to learn about the animals from a comfortable distance.
Which animals will be at The Wildlife Festival?
Kangaroo, Snake, Tortoise, Tegu, Toad, Wallaby, Sugar Glider, Sloth and more! Although we have many animals attending the show, we cannot guarantee that all of them will make an appearance due to many circumstances, sensitivities, and personalities these animals can have.
Where did the animals come from?
Many of the animals under our care are rescues from homes that could no longer care for them. Others have been obtained by ethical breeders for education.
Are these animals from the wild?
None of the animals at The Wildlife Festival are from the wild. They are commonly available pets that have primarily been born/hatched under human care. Since they have been raised in captivity entirely, they are not candidates to be released into the wild.
Where Does The Money Go?
100% of the proceeds goes towards the care and support of these animals.