Witnesses detain woman driver after reckless driving incident
From Red Deer RCMP: Red Deer RCMP arrest woman after vehicles damaged in southeast Red Deer    
A Red Deer women is facing multiple charges after vehicles and property were damaged in the Lancaster and Vanier area of Red Deer last week.    
On June 27, 2019, Red Deer RCMP received multiple complaints regarding a black truck driving recklessly, crashing into parked vehicles and a bus stop.
Members of Traffic Services, the Crime Reduction Team and General Duty responded, and through updates provided by witnesses, the vehicle was located at the intersection of Lindman Avenue and Lancaster Drive. The vehicle sustained significant damage and was missing its front passenger wheel.
When police arrived on scene, witnesses were attempting to detain the suspect who was attempting to flee.
A 46-year old woman from Red Deer was arrested and is facing numerous Criminal Code and Traffic Safety Act charges, including: impaired operation of a motor vehicle, operation of a motor vehicle with a blood alcohol concentration of over 80 mg%, failing to remain at the scene of a collision, driving while unauthorized and driving an uninsured motor vehicle.
There were no reported injuries as a result of any of the collisions.
Red Deer RCMP would like to thank the members of the public for their assistance in this incident. Many witnesses called police to report this dangerous driver, and the updates provided to police ensured the driver was quickly located. Additionally, the quick thinking actions of the witnesses on scene prevented the driver from fleeing and causing further damage.
Red Deer: Alberta RCMP Major Crimes Unit investigate homicide of 2-year-old  
Oct. 15, 2021
from Alberta RCMP
Alberta RCMP Major Crimes Unit investigate homicide of 2-year-old
Red Deer, Alta. – On Oct. 10, 2021, at approximately 9:30 a.m., Red Deer RCMP received a request to attend a residence in the City of Red Deer to assist Emergency Medical Services, as a 2-year-old child had sustained critical injuries. The child was transported to a local hospital where they died as a result of their injuries.
As a result of further investigation, Red Deer RCMP arrested an adult female at the residence. The Alberta RCMP Major Crimes Unit took over carriage of the investigation.
On Oct. 11, 2021, the Alberta RCMP Major Crimes Unit charged a 30-year-old adult female from Red Deer with First Degree Murder in relation to the death of the 2-year-old child.
Alberta RCMP Major Crimes' investigation indicates the individuals were known to each other and the general public was not at risk. The Alberta RCMP Major Crimes Unit are not looking for any other suspects involved in the incident.
Due to a publication ban, the identity of the adult female charged and the victim cannot be released.
As this matter is now before the courts, no further information will be provided.
RCMP say 29 year old Red Deer suspect shot by officer was carrying this weapon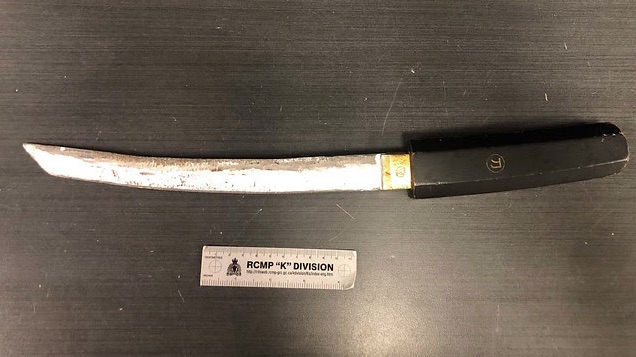 News release from Alberta Serious Incident Response Team (ASIRT)
Investigation into RCMP officer-involved shooting causing injury continues
On Sept. 21, the Alberta Serious Incident Response Team (ASIRT) was directed to investigate a Royal Canadian Mounted Police (RCMP) officer's discharge of his service weapon during an encounter with a 29-year-old man that day.
At about 6:08 p.m., Red Deer RCMP received a 911 call reporting a break and enter in progress at a residence in the Maxwell Avenue area by a 29-year-old man known to the homeowner. At approximately 6:10 p.m., Red Deer RCMP officers arrived on the scene and entered the residence.
Shortly thereafter, the officers confronted the man inside the residence. During the encounter, an officer discharged his service weapon, injuring the man who was able to retreat into another room. Not long after, the man surrendered and was taken into custody without further incident.
Officers on scene provided emergency first aid to the man until Emergency Medical Services (EMS) arrived and took over care before transporting the man to hospital. The man was assessed, treated and discharged from hospital back into police custody.
The civilian reporter has confirmed that he heard commands to drop a weapon prior to shots being fired. A bladed weapon was recovered at the scene. The injured man has confirmed that at the time of the officer-involved shooting, he was in possession of this weapon, which he referred to in the interview as either a "knife" or a "sword." While this evidence provides some context for the event, there is considerably more work to be done. It remains to be established what, if anything, the man may have done with the weapon; what the officers, including the officer who discharged his firearm, observed; and what prompted the use of potentially lethal force.
ASIRT's investigation will examine the circumstances surrounding the police officer's discharge of his firearm. The RCMP retains responsibility for the investigation into the man's conduct. No additional information will be released.
ASIRT's mandate is to effectively, independently and objectively investigate incidents involving Alberta's police that have resulted in serious injury or death to any person, as well as serious or sensitive allegations of police misconduct.
—————————————————-
News release from Red Deer RCMP
Red Deer RCMP officer involved shooting – Update #1
The Red Deer RCMP have laid charges in relation to the Sept. 21, 2021, officer involved shooting incident that took place at a residence in the area of Maxwell Avenue in Red Deer.
 Scott Bruno (29) of Red Deer is charged with: 
·       Assault peace officer with a weapon
·       Enter dwelling house without lawful excuse and commit indictable offence
·       Fail to comply with probation
Following a judicial hearing on Sept. 22, 2021, Bruno was released on cash bail; however, was remanded pending payment of bail.
He is scheduled to attend Red Deer Provincial Court on Sept. 24, 2021.
As this matter is now before the courts, no further details can be provided by the RCMP.
All media inquiries about the officer involved shooting incident should continue to be directed to ASIRT at 780-641-9099.