Wild week for Rocky Mountain House RCMP on the Sunchild and O'Chiese First Nations
From the Rocky Mountain House RCMP
Rocky Mountain House RCMP respond to incidents on Sunchild and O'Chiese First Nations
Over a period of three days, Rocky Mountain House RCMP responded to three different incidents involving guns, a pursuit and threats. Two of the incidents have been cleared with charges and one remains under active investigation.
Dec. 17 at 12:30 p.m. the RCMP were dispatched to a disturbance in progress at the O'Chiese First Nation. A male was alleged to be smashing up a residence and threatening to kill neighbours.
Responding members contained the residence and negotiated with the suspect male to exit. The male came out armed with a knife and began walking towards and threatening the RCMP members. He alternated between being outside and inside, and threatening to shoot the police. At one point he exited the residence with an object wrapped in a blanket, which he pointed at police. Eventually, he complied with directions, dropped the object, which turned out to be a cane, and after a brief struggle, was taken into custody.
Rodney Wayne Strawberry (31) is facing eight criminal charges as a result of this incident, including assault police officer with a weapon.
Dec. 18 at 7:00 p.m., the RCMP responded to a complaint of a shot fired outside a residence on the Sunchild First Nation. No one was injured, and the suspects fled in a vehicle which was known to the RCMP.
Several responding units contained the area and located the suspect vehicle. A traffic stop was attempted but the vehicle failed to stop and a pursuit was initiated. Police Dog Services (PDS) and the Emergency Response Team (ERT) were both deployed. Drayton Valley RCMP provided resources to assist. During the pursuit, a firearm was discharged towards the police. A tire deflation device was successful in stopping the vehicle. Multiple occupants of the vehicle fled on foot into the woods. The area was contained for the arrival of PDS and ERT. Three suspects surrendered to the RCMP prior to ERT arrival, and following a PDS/ERT track – two males were located and arrested. Firearms were recovered and seized by the RCMP.
Elliott John Lagrelle (38), Evan Redcalf (26), Sonya Lynn Chipaway (20), Livia Eaglestar Goodrunning (26) and Seth Lagrelle (18) are jointly facing six criminal charges. Elliott Lagrelle is facing a further seven charges including fail to comply with conditions of an undertaking and assault with a weapon against a police officer. Evan Redcalf is facing four further charges, and Sonya Chipaway charged with uttering death threats.
It is very fortunate that no one involved; neither the original complainant, the police nor the accused, was injured throughout these events.
Dec. 19 at 4:55 a.m., Rocky Mountain House responded to assist with a male at a residence on the Sunchild First Nation. The male, who was outside of the residence and suffering from a gunshot wound was transported to the hospital. An investigation was launched, with assistance from the General Investigation Section (GIS).
The male remains in hospital and the RCMP continue to investigate this occurrence. Active soliciting of witness information is underway.
"The Rocky Mountain House RCMP is striving to work with O'Chiese and Sunchild First Nations in an effort to restore community safety" says Staff Sergeant Carl Dinsdale of Rocky Mountain House RCMP. "I recognize that these incidents are wearing on the spirit of both the communities and our Members. The leaders and Elders from both Sunchild and O'Chiese First Nations, as well as the Rocky Mountain House RCMP, are extremely concerned about the rise in violent crime. We intend to remain diligent in our escalated efforts to suppress the crime that has been happening. It is vitally important that the communities support and assist the police with these investigations by coming forward with any information they might have."
If you have information about the above investigations, or any other crimes or suspicious activities, please contact the Rocky Mountain RCMP at 403-845-2881.
Putin accuses the West of sabotaging Baltic Sea pipelines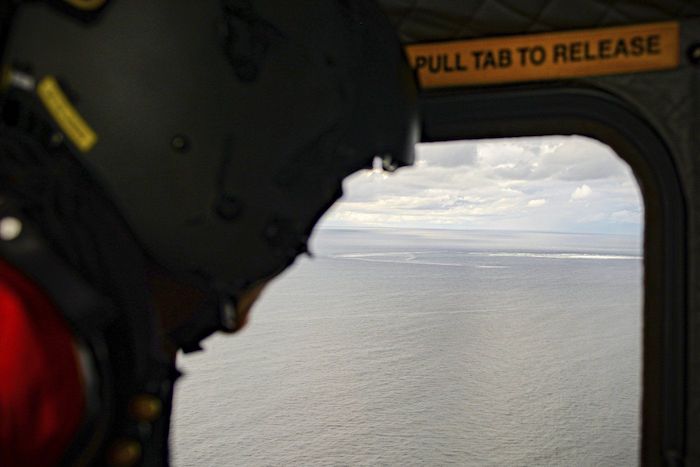 By Jan M. Olsen in Copenhagen
COPENHAGEN, Denmark (AP) — Russian President Vladimir Putin has accused the West of sabotaging the Russia-built gas pipelines under the Baltic Sea to Germany.
Speaking Friday in Moscow at a ceremony to annex four regions of Ukraine into Russia, Putin said the "Anglo-Saxons" in the West have turned from sanctions to "terror attacks," sabotaging the Nord Stream 1 and 2 pipelines in what he described as an attempt to "destroy the European energy infrastructure."
He added that "those who profit from it have done it," without naming a specific country.
European nations, which have been reeling under soaring energy prices caused by Russia's invasion of Ukraine, have noted that it is Russia, not Europe, that benefits from chaos in the energy markets and spiking prices for energy.
THIS IS A BREAKING NEWS UPDATE. AP's earlier story follows below.
COPENHAGEN, Denmark (AP) — The explosions that rocked natural gas pipelines under the Baltic Sea ahead of huge methane leaks "probably corresponded to an explosive load of several hundred kilos (pounds)," Denmark and Sweden wrote Friday in a letter to the United Nations.
Norwegian researchers published a map Friday projecting a huge plume of methane released by the damaged Nord Stream 1 and 2 pipelines will travel over large swaths of the Nordic region.
"We assume the wind on the leak area blew the methane emissions north until the Finnish archipelago, then bends toward Sweden and Norway," Stephen Platt, a professor with the Norwegian Institute for Air Research, said.
The independent institution is part of the Integrated Carbon Observation System, a European research alliance, which said was confirmed by ICOS ground-based observations from several stations in Sweden, Norway, and Finland." the "enormous amount of methane gas" emission
These methane levels aren't dangerous to public health but the gas is a potential source of global warming.
Moscow has requested an emergency meeting at the U.N. Security Council to discuss the pipelines and called for a thorough international probe to assess the damage to the pipelines, which carry natural gas from Russia to Europe. Russia says "it looks like a terror attack, probably conducted on a state level."
The suspected sabotage this week on the Nord Stream 1 and 2 pipelines have produced two methane leaks off Sweden, including a large one above North Stream 1 and a smaller one above North Stream 2, and two leaks off Denmark.
Following the suspected sabotage this week of the Nord Stream 1 and 2 pipelines that carry Russian natural gas to Europe, there were two leaks off Sweden, including a large one above North Stream 1, and a smaller one above North Stream 2, and two leaks off Denmark.
The North Stream 2 leak "has diminished, but is still on-going," the Swedish coast guard said. However, navigational warnings for ships were slightly increased to 7 nautical miles (13 kilometers or 8 miles) from 5 nautical miles from the incident areas, the coast guard said in a statement.
The Danish and Swedish governments have described the ruptures as the result of "deliberate actions."
Russia also has said the leaks resulted from deliberate acts, saying "it looks like a terror attack, probably conducted on a state level."
Moscow requested an emergency meeting at the U.N. Security Council to discuss the pipelines and called for a thorough international probe to assess the damage to the pipelines. Kremlin spokesman Dmitry Peskov said a study would only be possible once gas stops leaking from them.
Nordic seismologists recorded explosions preceding the leaks. A first explosion was recorded early Monday southeast of the Danish island of Bornholm. A second, stronger blast northeast of the island that night was equivalent to a magnitude-2.3 earthquake.
NATO warned Thursday it would retaliate for any attacks on the critical infrastructure of its 30 member countries and joined other Western officials in citing sabotage as the likely cause of damage to the natural gas pipelines. Denmark is a NATO member and Sweden is in the process of joining the military alliance.
The first leaks in the pipelines that extend from Russia to Germany were reported on Tuesday, prompting energy companies and European governments to beef up security.
Energy infrastructure security has increased across the Nordic region.
The fear of further damage to Europe's energy infrastructure has added pressure on natural gas prices, which had already been soaring. Russia, a major supplier to Europe, cut off deliveries earlier this year in retaliation for sanctions imposed after its invasion of Ukraine. That has caused widespread economic pain across the continent.
Authorities in Norway, a major oil and gas producer, have reported at least six incidents of drone sightings near offshore installations in the North Sea. It prompted the Petroleum Safety Authority Norway — the Scandinavian country's oil safety regulator — on Monday to "urge increased vigilance by all operators and vessel owners." On Wednesday, Norwegian Prime Minister Jonas Gahr Støre said that there was no concrete threat against Norwegian oil and gas off-shore installations.
Danish daily newspaper Ekstra Bladet said a drone was spotted Wednesday near a Danish offshore oil and gas installation in the North Sea.
Sweden stepped up security around its three nuclear power plants.
Sweden's public power transmission network operator Svenska kraftnat, said that it doesn't not yet know if an undersea power cable that runs between southern Sweden and Poland was damaged when the Nord Stream gas pipelines some 500 meters (547 yards) away ruptured from what Western and Russian officials both claimed was intentional tampering.
"Since the cable is not in service, it can't be determined if the cable is damaged in some way," Per Kvarnefalk, a spokesman for Svenska kraftnat, said late Thursday. "We will therefore perform tests on the cable using special measurement equipment early next week with the aim to determine if the cable is fully functional."
Svenska kraftnat partly owns the more than 250-kilometer-long high-voltage cable that transmits electricity through the Baltic Sea.
Hurricane Ian heads for Carolinas after pounding Florida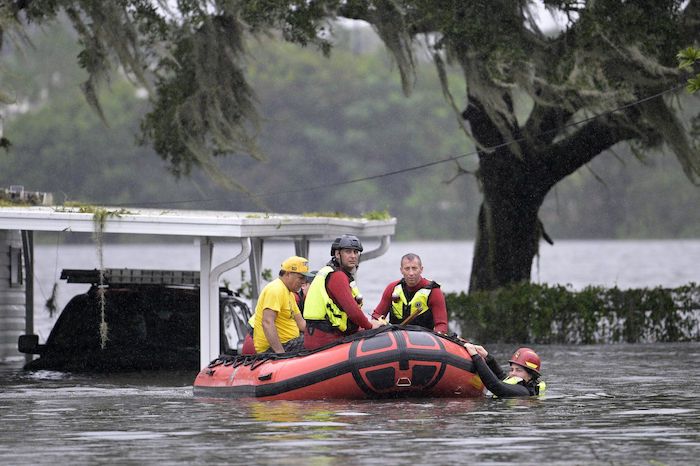 By Meg Kinnard And Adriana Gomez Licon in Charleston
CHARLESTON, S.C. (AP) — A revived Hurricane Ian set its sights on South Carolina's coast Friday and the historic city of Charleston, with forecasters predicting a storm surge and floods after the megastorm caused catastrophic damage in Florida and left people trapped in their homes.
With all of South Carolina's coast under a hurricane warning, a steady stream of vehicles left Charleston on Thursday, many likely heeding officials' warnings to seek higher ground. Storefronts were sandbagged to ward off high water levels in an area prone to inundation.
On Friday morning in Charleston, powerful wind gusts bent tree branches and sent sprays of steadily falling rain sideways. Streets in the 350-year-old city were largely empty, an ordinarily packed morning commute silenced by the advancing storm.
With winds holding at 85 mph (140 kph), the National Hurricane Center's update at 8 a.m. Friday placed Ian about 105 miles (175 km) southeast of Charleston and forecast a "life-threatening storm surge" and hurricane conditions along the Carolina coastal area later Friday.
The hurricane warning stretched from the Savannah River to Cape Fear, with flooding likely across the Carolinas and southwestern Virginia, the center said. The forecast predicted a storm surge of up to 7 feet (2.1 meters) into coastal areas of the Carolinas, and rainfall of up to 8 inches (20 centimeters).
In Florida, rescue crews piloted boats and waded through riverine streets Thursday to save thousands of Floridians trapped amid flooded homes and buildings shattered by Hurricane Ian.
Florida Gov. Ron DeSantis said at least 700 rescues, mostly by air, were conducted on Thursday involving the U.S. Coast Guard, the National Guard and urban search-and-rescue teams.
Ian had come ashore Wednesday on Florida's Gulf Coast as a monstrous Category 4 hurricane, one of the strongest storms ever to hit the U.S. It flooded homes on both the state's coasts, cut off the only road access to a barrier island, destroyed a historic waterfront pier and knocked out electricity to 2.6 million Florida homes and businesses — nearly a quarter of utility customers. Some 2.1 million of those customers remained in the dark days afterward.
At least six people were confirmed dead in Florida, including two who died Thursday afternoon when their car hydroplaned and overturned in a water-filled ditch in north Florida's Putnam County, while three other people were reported killed in Cuba after the hurricane struck there on Tuesday.
In the Fort Myers area, the hurricane ripped homes from their slabs and deposited them among shredded wreckage. Businesses near the beach were completely razed, leaving twisted debris. Broken docks floated at odd angles beside damaged boats. Fires smoldered on lots where houses once stood.
"I don't know how anyone could have survived in there," William Goodison said amid the wreckage of a mobile home park in Fort Myers Beach where he'd lived for 11 years. Goodison said he was alive only because he rode out the storm at his son's house inland.
The hurricane tore through the park of about 60 homes, leaving many destroyed or mangled beyond repair, including Goodison's single-wide home. Wading through waist-deep water, Goodison and his son wheeled two trash cans containing what little he could salvage — a portable air conditioner, some tools and a baseball bat.
The road into Fort Myers was littered with broken trees, boat trailers and other debris. Cars were left abandoned in the road, having stalled when the storm surge flooded their engines.
Lee County Sheriff Carmine Marceno said his office was scrambling to respond to thousands of 911 calls in the Fort Myers area, but many roads and bridges were impassable.
Emergency crews sawed through toppled trees to reach stranded people. Many in the hardest-hit areas were unable to call for help because of electrical and cellular outages.
A chunk of the Sanibel Causeway fell into the sea, cutting off access to the barrier island where 6,300 people live.
Hours after weakening to a tropical storm while crossing the Florida peninsula, Ian regained hurricane strength Thursday evening over the Atlantic. The National Hurricane Center predicted it would hit South Carolina as a Category 1 hurricane Friday.
National Guard troops were being positioned in South Carolina to help with the aftermath, including any water rescues. And in Washington, President Joe Biden approved an emergency declaration for the state, a needed step to speed federal assist for recovery once Ian passes.
The storm was on track to later hit North Carolina, forecasters said. North Carolina Gov. Roy Cooper urged residents to prepare for torrents of rain, high winds and potential power outages.
Visiting the state's emergency operations center Thursday, Cooper said that up to 7 inches (17.8 centimeters) of rain could fall in some areas, with the potential for mountain landslides and tornadoes statewide.
___
Gomez Licon reported from Punta Gorda, Florida; Associated Press contributors include Terry Spencer and Tim Reynolds in Fort Myers, Florida; Cody Jackson in Tampa, Florida; Freida Frisaro in Miami; Mike Schneider in Orlando, Florida; Seth Borenstein in Washington; and Bobby Caina Calvan in New York.