Why the financial theft of the Ukraine war may finally be coming to an end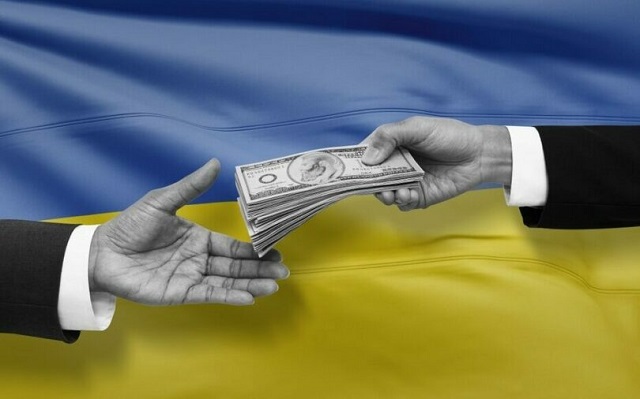 Ukraine has suffered so many losses that military conscription law has been altered to allow women to be called in to service.
STORY AT-A-GLANCE
For years, Ukraine was recognized as one of the most, if not "the" most, corrupt nation in Europe. The country is now struggling to rein in corruption as that is becoming a key hurdle to obtain more financial support.
According to official aid trackers, the U.S. had sent $76.8 billion in military, financial, and humanitarian aid to Ukraine as of the end of July 2023. The European Union contributed another $85.1 billion in that same timeframe. In mid-October 2023, Biden proposed yet another $105 billion foreign aid package, $61 billion of which will go to Ukraine.
According to U.S. officials, at least 70,000 of Ukraine's 500,000 troops had been killed by mid-August 2023, and another 100,000 to 120,000 wounded. Another 9,614 Ukrainian civilians had also been killed as of September 10, 2023.
The supply of cannon fodder is running so low that Ukraine recently updated its conscription law to include women. Women between the ages of 18 and 60 with medical backgrounds must register for military service as of October 1, 2023.
Corruption may be a primary driver of this war. The American public being robbed and Ukraine drained of its youths while a relatively small number of corrupt individuals stuff their pockets with cash. American and European taxpayers are paying for the destruction of Ukraine and the elimination of huge numbers of its inhabitants, so that technocrat globalists and central bankers can then profit from the privatization and rebuilding of Ukraine into a "smart country" model for the rest of the world.
(Mercola) — For years, Ukraine was recognized as one of the most, if not "the" most, corrupt nation in Europe. It held on to that reputation all the way up to the day Russia invaded in late February 2022, at which point media worldwide suddenly started rewriting history.
As noted by Ted Galen Carpenter, a senior fellow for defense and foreign policy studies at the Cato Institute, in a sober and clear-eyed article, published in April 2022:
Statements from U.S. and other Western officials, as well as pervasive accounts in the news media, have created a stunningly misleading image of Ukraine. There has been a concerted effort to portray the country… as a plucky and noble bulwark of freedom and democracy…

The notion that Ukraine was such an appealing democratic model in Eastern Europe that the country's mere existence terrified Putin… is a myth… Even before the war erupted, there were ugly examples of authoritarianism in Ukraine's political governance …

The neo-Nazi Azov Battalion was an integral part of President Petro Poroshenko's military and security apparatus, and it has retained that role during Zelensky's presidency…

The country is not a symbol of freedom and liberal democracy, and the war is not an existential struggle between democracy and authoritarianism. At best, Ukraine is a corrupt, quasi‐democratic entity with troubling repressive policies.

Given that sobering reality, calls for Americans to 'stand with Ukraine' are misplaced. Preserving Ukraine's independence and territorial integrity most certainly are not worth the United States risking war with a nuclear-armed Russia.
Indeed, while President Joe Biden kept sending tens of billions of American taxpayer dollars to Ukraine in the name of "defending democracy," Zelensky banned all opposition parties in the country and blacklisted American politicians and journalists who questioned the U.S. involvement in the conflict. So much for democracy and democratic values.
Is Ukraine aid part of a money laundering scheme?
According to the Panama Papers released in 2016, which have been described as "a giant leak of more than 11.5 million financial and legal records [which] exposes a system that enables crime, corruption and wrongdoing," Zelensky is likely just as corrupt as his predecessors, as he, his wife and several associates all own "hidden offshore assets."
With that in mind, why is the U.S. sending billions of dollars to Ukraine without requiring any kind of accounting for where all this money is going? According to official aid trackers, the U.S. had sent $76.8 billion in military, financial, and humanitarian aid to Ukraine as of the end of July 2023.
The European Union contributed another $85.1 billion in that same timeframe. And, in mid-October 2023, Biden proposed yet another $105 billion foreign aid package, $61 billion of which will go to Ukraine.
The lack of oversight combined with the lack of Ukrainian progress in the conflict and the refusal to enter into peace negotiations raises suspicions that these aid packages may simply be another money laundering scheme like we saw with FTX. At least $178 million sent to Ukraine through the now-defunct FTX crypto exchange may have been laundered back to the Democratic Party in the U.S.
Ukraine still rife with corruption
Lately, mainstream media have started to revisit the issue of corruption in Ukraine, probably because public perception of corruption may undermine the entire operation.
For example, October 2, 2023, Politico reported receiving a "sensitive but unclassified" strategy paper in which Biden administration officials warn that "Perceptions of high-level corruption" could "undermine the Ukrainian public's and foreign leaders' confidence in the war-time government." According to Politico:
The administration wants to press Ukraine to cut graft… But being too loud about the issue could embolden opponents of U.S. aid to Ukraine, many of them Republican lawmakers who are trying to block such assistance. Any perception of weakened American support for Kyiv also could cause more European countries to think twice about their role.

Ukrainian graft has long been a concern of U.S. officials… But the topic was deemphasized in the wake of Russia's February 2022 full-scale invasion…

More than a year into the full-scale war, U.S. officials are pressing the matter more in public and private. National security adviser Jake Sullivan, for instance, met in early September with a delegation from Ukrainian anti-corruption institutions.

A second U.S. official familiar with the discussions confirmed to POLITICO reports that the Biden administration is talking to Ukrainian leaders about potentially conditioning future economic aid on 'reforms to tackle corruption and make Ukraine a more attractive place for private investment.'
No such conditions have been proposed for military aid, however, which makes up the bulk of the money spent on Ukraine. Similarly, in mid-September 2023, Reuters reported that "billions of dollars of aid earmarked for Zelensky's government as well as ambitions to join the European Union ride on Ukraine proving that it is serious about fighting corruption and embracing good governance."
Zelensky, for his part, has increasingly tried to portray himself as a staunch corruption fighter, firing more than a dozen senior officials on corruption charges in January 2023.
In August he also fired all the heads of the draft offices across the country, after it became known that men were bribing their way out of military service by paying for medical exemptions. In September he also fired his minister of defense over allegations of corruption within the ministry. A Ukrainian Supreme Court justice was also arrested this past summer for taking bribes.
Yet, such mass firings and arrests of high-level individuals have done little to quell rumors and accusations that Zelensky still tolerates corruption within his inner circle, perhaps because it's true. According to a top adviser to Zelensky, who spoke to a Time journalist off the record, "People are stealing like there's no tomorrow."
An expensive, unwinnable war
In a September 2023 meeting with U.S. senators, Zelensky pleaded for more funds saying "You're giving money. We're giving our lives." Indeed, according to U.S. officials, at least 70,000 of Ukraine's 500,000 troops had been killed by mid-August 2023, and another 100,000 to 120,000 wounded.
Another 9,614 Ukrainian civilians had also been killed as of September 10, 2023. So many Ukrainian youths have been thrown into the meat grinder that the average age of Ukrainian soldiers is now 43. Men up to the age of 60 face the risk of being drafted at any time.
The supply of cannon fodder is running so low that Ukraine recently updated its conscription law to include women. Women between the ages of 18 and 60 with medical backgrounds, including doctors, nurses, midwives, dentists and pharmacists, must register for military service as of October 1, 2023.
However, unlike their male counterparts, women are not barred from leaving the country unless they're called in for active duty. Ukraine is also trying to get as many Ukrainians back from other countries as well. To that end, Norway recently announced it will pay EUR 1,500 in cash to any Ukrainian willing to go home.
Yet despite the enormous sums of money being poured into Ukraine, the weapons sent, the conscription of women and aged civilians, Ukraine is making no headway and have no conceivable way of winning. Even some of Zelensky's closest aides are now saying he's "deluding himself" thinking he can still somehow win.
NATO countries are running out of ammunition and warn of shortages, while Russia has ramped up its military hardware production more than tenfold. And, even if we continue to supply the weapons, Ukraine is running out of able-bodied fighters to use them.
Preplanned post-war profiteering
In the final analysis, one wonders whether corruption might actually be a primary driver of this war. Is the American public being robbed and Ukraine drained of its youths while a relatively small number of corrupt individuals stuff their pockets with cash?
It looks that way, especially in light of the news that BlackRock, which already owns most of the private assets in the world, is positioning itself to profit from a post-war Ukraine. As reported by Business Today in early May 2023:
President of Ukraine, Volodymyr Zelensky, recently met with the management team of BlackRock, the world's largest asset management company, to discuss the creation of an investment fund aimed at restoring the country's economy through public and private capital. Netzines have not taken well to the news with many criticizing Zelensky over the meeting.

A Twitter user said, 'Taxpayers pay the war bills, private firms get the profits.' 'Ukraine being privatized and sold off to companies like Blackrock,' another said.

According to the press service of the Office of the President, the parties discussed the details of the investment fund's creation and implementation of large-scale business projects in Ukraine.
The U.S. is also keen on Ukraine privatizing its banks, which will open the door for central bankers to take over. And let's not forget that the big picture plan for Ukraine's post-war reconstruction is to turn the whole country into smart cities with "smart governments" run by artificial intelligence.
It's also a testing ground for warfare-related AI technologies said to be "paving the way for AI warfare in the future," although it doesn't appear to provide them with much advantage at the moment.
In short, it appears American and European taxpayers are paying for the destruction of Ukraine and the elimination of huge numbers of its inhabitants, so that technocrat globalists and central bankers can then profit from the privatization and rebuilding of Ukraine into a "smart country" model for the rest of the world.
Reprinted with permission from Mercola.
Note from LifeSiteNews co-founder Steve Jalsevac: Cost, death, and injury estimates quoted from U.S. government sources in this article are not reliable since the Biden administration cannot fully admit the political disaster of their proxy war using Russia to bring about regime change in Russia, break up the world's largest nation, and take control of its vast natural resources. Many alternative news sources have indicated Ukrainian deaths to be far higher, up to possibly 400-500,000, and U.S. and EU financial costs to also be far higher than admitted.
No one knows the real costs because audits of U.S. military expenses have proven to be impossible, Ukraine is the most corrupt, money-laundering European nation, and there are additional, multi-billion-dollar intelligence gathering/CIA costs related to the conflict never provided to the public. The conflict has also cost the West massive direct and indirect expenses, such as devastating economic fallout from the U.S.-directed blowing up of the Nord Stream pipelines for which a current U.S. propaganda campaign is attempting to assign blame for that disaster on Ukraine operatives as the U.S. is engaging in a withdrawal of support for the failed war.
As well, the unprecedented level of failed Western sanctions against Russia have backfired on the West with the EU suffering the most to the tune of many billions of dollars and to an extent that is threatening the economic stability of the EU. Many other, especially poor developing nations, have also greatly suffered from the war and sanctions. Ukraine/NATO destruction of Russia's main ammonia pipeline has deprived those nations of critically needed fertilizer and advanced the globalist 'climate change' campaign against fertilizer use.
The war, sanctions, and disastrous U.S./NATO killing of the very reasonable diplomatic peace settlement agreed to between Ukraine and Russia in March 2022, have resulted in far more harm to Ukraine and the West than to Russia. The formerly communist nation has astonishingly managed to benefit in many ways from having to resist NATO actions against it related to the conflict.
Russia has astonishingly maintained a healthy economy and gained numerous new nation-state allies representing a majority of the world's population because of this terrible war conspiracy to increase Western economic hegemony and force the globalist UN/WEF/ Blackrock/Vanguard/State Street/Great Reset/New World Order agenda. LifeSiteNews, from the very beginning of the conflict, sensed this agenda and has been strongly encouraging peace negotiations in order to save Ukrainian lives.
We have never supported the Russian Special Military Operation. However, we have acknowledged that Russia has legitimate fears over broken U.S. promises related to the constant, unnecessary expansion of NATO along its borders. And there has been understandable, grave Russian concern over the horrific shelling and unprovoked killing of 14,000 Russian-speaking Ukrainian civilians by the Ukraine military since the U.S.-assisted violent, Ukraine regime change coup in 2014. We are simply uncompromisingly pro-life, pro-peace, and anti-globalist tyranny.
Things worth fighting for: Paul Wells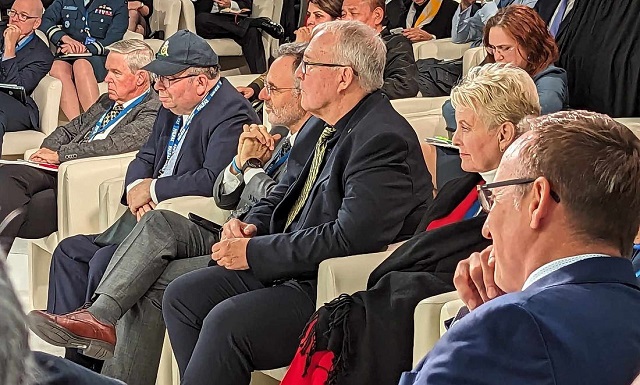 US ambassador David Cohen, Israeli ambassador Iddo Moed, Bill Blair, Cindy McCain, Peter MacKay. Photo: PW
Click here to subscribe to The Paul Wells Newsletter.
Of course people disagree. That's what we're trying to protect
"You really like going to those things," an acquaintance remarked at Pearson Airport when I told him I was heading to the Halifax International Security Forum. Fair enough, I guess. I was just in Warsaw for their annual gathering of generals, defence ministers, think tankers and diplomats. I was in Halifax a year ago, and occasionally in previous years. I've been to security conferences in Herzliyah and Munich, long ago. The world is always on the brink of war, and lately has taken to spilling over several brinks at once. So there is always much to discuss.
Unfortunately much of what there is to discuss is horrible. On Saturday a panel moderator slumped into a plush chair, in front of the assembled cabinet ministers, diplomats, generals and think tankers, and introduced himself as Jason Rezaian from the Washington Post. He looked like any newspaperman from Central Casting, which means, approximately, like me. He reminded the audience that in 2014 he was taken prisoner by the Iranian regime and held in a Tehran penitentiary for over 500 days.
On Saturday at dinner I was reminded that Huseyin Celil, a Canadian citizen, has been in a Chinese prison for 17 years. Vladimir Kara-Murza, who spoke at Halifax in 2021, has been in a Russian prison for close to two years.
Prison is not even close to the worst fate that can befall a journalist, a dissident or a population. Halifax this year was preoccupied with continuing slaughter: in Ukraine, where the optimism of last year's conference has been displaced by mounting concern; and in Israel and Gaza.
This newsletter is my full-time job. To support my work, consider becoming a free or paid subscriber.
I'd been at the conference venue, a Westin hotel at the end of Hollis St., for perhaps ten minutes when a visiting soldier who knows Ukraine well told me that pushing the Russians all the way out of Ukraine — that is, out of Crimea and the eastern Donbas region — would take twice as many weapons and equipment as the West has sent Ukraine to date. This was the soldier's way of engaging a debate opened by former NATO secretary-general Anders Fogh Rasmussen, who's suggested bringing Ukraine into NATO without the regions currently occupied by Russia. This sounds easier, but as former Estonian president Toomas Ilves told me in an interview that will soon be on my podcast, a Russian Crimea and Donbas would essentially be permanent bases from which to harass the rump Ukraine.
So much for the heady optimism of a year ago, when fighting the Russians to a standstill still felt like some kind of triumph. Joe Biden's promise to back Ukraine "for as long as it takes" is starting to sound ominously like a promise to keep up the West's end of a stalemate. Several commentators at Halifax said that if all the weapons that were sent to Ukraine in 2023 had arrived in 2022, 2023 might have gone better. As for 2024, if it features mounting Ukraine fatigue in Western populations and ends with Donald Trump's re-election, this year might look rosy in retrospect.
Of course the big complicating factor in any discussion of today's world is Israel's response to Hamas's Oct. 7 attack. The conference agenda had plainly undergone substantial surgery to accommodate a discussion of the Gaza violence and its repercussions. A crowd of local pro-Palestinian protesters appeared at intervals across the street from the conference hotel, although they were loudest on Friday night when just about everybody attending the conference was at a dinner several blocks away.
My own sense is that the establishment and perpetual defence of a Jewish state of Israel is very partial payment toward the heavy debt humanity owes the Jewish people. I note that there was a robust and enduring ceasefire in Gaza as late as October 6, and that Hamas brought that ceasefire to a monstrous end. Hamas having opened hostilities, it falls to Israel to end them, by destroying Hamas's ability to contemplate or deliver any similar attack in the future. Carrying out that task is inevitably an enterprise of horrifying violence.
Too much, say the protesters. "You support GENOCIDE," they shouted outside the Westin Nova Scotian. I guess that's going to depend on definitions. I had dinner on Saturday with Dolkun Isa, the president of the World Uyghur Congress, and I got the distinct impression he's against genocide. Yet I have a hard time dismissing those protesters outright just because they weigh horrors differently from me. I have friends who seem to have spent the last six week gleefully looking for reasons to write off people who disagree with them. I've often thought moral clarity was overrated. Shouldn't these questions be morally tormenting? And in a world where such lesser matters as vaccine mandates and carbon taxes become the stuff of furiously polarized elections, should we really be so surprised that life and death on a vast scale produces divisions too?
I was nervous when I heard, late on Friday, that the Halifax Forum organizers were going to give their highest honour, a prize in the name of the late U.S. Senator John McCain, to "the people of Israel." That sure wouldn't go over well with the protesters outside the Westin. As it happened, by Saturday morning it was raining and the protesters were nowhere to be seen. More to the point, the prize went, not just to any people of Israel, but to Brothers and Sisters In Arms, an organization that spent much of 2023 protesting against Benjamin Netanyahu's autocratic judicial "reforms," but pivoted to assisting recovery efforts after the Oct. 7 attack. A neat way of emphasizing that Israel is a stubbornly pluralistic democracy, and that the Israeli state is not always the best steward of the Israeli people's interest.
The conference, and the individual participants even more so, found other ways to express a diversity of opinion that might have surprised outsiders. (It's easy enough to see for yourself: streaming archives of most of the sessions are on Youtube.) A panel with the title "Victory in Ukraine = Example For Israel" featured panelists politely disagreeing with the premise of the title. For starters, Ukraine had no settlements on occupied Russian territory, as one questioner in the audience pointed out.
Mouaz Moustafa, executive director of the Syrian Emergency Task Force, was one of several people at the forum who argued that the Israeli government's heavy and deadly bombardment of Gaza is counterproductive at best. "Such a campaign, where there are thousands and thousands more children being killed than Hamas fighters, is not something that makes, frankly, Israel or the West safer," he said.
This sentiment — that even when brutally wronged, Israel is not automatically right — was reinforced Saturday afternoon by the publication in the Washington Post of a long essay on Israel-Gaza by Joe Biden. Biden moved early to support Israel and ward off Iranian escalation, moving two aircraft carriers to the Mediterranean and himself to Israel. Now he was signaling — hell, saying in so many words — that his support had limits:
"There must be no forcible displacement of Palestinians from Gaza, no reoccupation, no siege or blockade, and no reduction in territory. And after this war is over, the voices of Palestinian people and their aspirations must be at the center of post-crisis governance in Gaza.

As we strive for peace, Gaza and the West Bank should be reunited under a single governance structure, ultimately under a revitalized Palestinian Authority, as we all work toward a two-state solution. I have been emphatic with Israel's leaders that extremist violence against Palestinians in the West Bank must stop and that those committing the violence must be held accountable. The United States is prepared to take our own steps, including issuing visa bans against extremists attacking civilians in the West Bank."
If Ukraine and Israel were the conference's main themes, another repeated refrain was that bad things often come in threes, and war in Europe and the Middle East could become even grimmer if they were joined by conflict in the Asia-Pacific. Several speakers referred to China as the West's "pacing threat," which essentially means only China has the means and desire to compete with the West in shaping the world.
It was in this context — of a world growing constantly more dangerous in constantly more complex ways — that so many hallway conversations in Halifax featured variations of the observation that Canada is increasingly close to being a failed state. It sure would be great if Canada could contribute reliably to dissuading Chinese ambitions in the Asia-Pacific, but that would require a working navy, and Wayne Eyre told the conference we're fresh out. Bill Blair, Justin Trudeau's latest defence minister, met the large U.S. congressional delegation that always flies up to Halifax from Washington, and I'm told most of the questions had to do with his department's annual Performance Report, which says that over the past year, "the growing demands for CAF responses challenged the already unstable foundation of operational readiness given personnel shortfalls, equipment deficiencies, and insufficient sustainment including critical stores of ammunition."
Blair said at the conference that Canada needs to make "significant new investments" in defence; he was also heard to say, in private meetings, that in delivering this message within the government he faces "headwinds from the centre." The headwinds will be portrayed on Tuesday, in a closely-watched speech, by Chrystia Freeland, who was said to be so displeased with Anita Anand's constant push for more defence spending that soon both Anand and Blair had new jobs. Nearly every ambassador in Ottawa begins nearly every conversation by asking whether the Trudeau government or any potential successor will take the burdens of a troubled world more seriously anytime soon. Of course, Canada being a sovereign country, these decisions are not made by ambassadors. But they get to ask, and notice.
I suspect Freeland's delivery of her economic and fiscal update will be one of the most important political moments of the last five years. Nobody really has any idea what the minister's statement will say. She is the champion of activist government on odd-numbered days and of mighty fiscal restraint on even. She will be sure of some new direction on Tuesday, and I suppose it's a toss-up whether she will even remember by Friday what that direction was supposed to be. The good news, as we were reminded in Halifax, is that Canada is close to being the least of the world's problems. The bad news is that it also seems determined to become the least of the world's remedies.
Paul Wells has written for the Toronto Star, the National Post, and the Montreal Gazette. Perhaps most Canadians know him best for the 19 years he spend writing long form journalism with Maclean's magazine and for his regular appearances on CBC's The National.
Trudeau should know that Hamas is to blame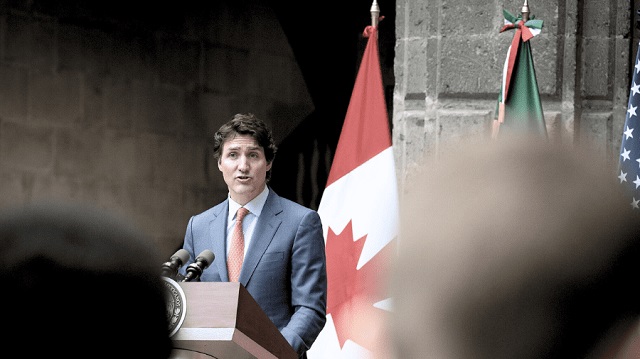 By Johanna Blom
Israelis know the 'world is watching' and they too want Palestinian children to live in peace
On Thursday, November 9, an aging Right Honourable Brian Mulroney stood before the World Jewish Congress in New York to accept the organization's highest honour, the Theodor Herzl Award, in recognition of his efforts to combat antisemitism and his unwavering support for Israel and the Jewish people. A shadow of his former prime ministerial self, he spoke with humility and wisdom but also the conviction of experience when he said, "The prime minister sets both the agenda and the tone in Ottawa."
Five days later his current successor stood behind a microphone in Vancouver and, scarcely capable of concealing his contempt, lectured the Israeli government on its conduct in the current war in Gaza. Which of course is the same war in Gaza that has simmered on and off for the last sixteen (or really thirty-five) years whenever Hamas decided they were strong enough to violate the latest ceasefire and continue their relentless effort to push the Jews into the sea.
"Even wars have rules," the Right Honourable Justin Trudeau patronized, emphasizing every word. "I urge the government of Israel to exercise maximum restraint. Because the world is watching… The world is witnessing this. Killing of women, children, of babies. This has to stop."
Two years ago, I came to Israel to fulfill a childhood dream. I had always wanted to study here – in the land where the desert blooms and King David and Jesus walked and every event ends with singing Hevenu shalom aleichem ("We bring peace to you"). Yet the time never seemed quite right, I didn't have a good study-plan, and I didn't have Hebrew. So instead of studying in Israel I obtained a law degree and wound up advocating for the rights of religious minorities around the world, doing a stint in counter-terrorism and human rights after 9/11, visiting Israel several times and never fully losing sight of my dream to study there. Then Covid happened. I realized it was now or never and so I enrolled in an M.A. in counter-terrorism, focusing on human rights, in Israel.
My first visit to Israel had been at the height of the Second Intifadah in 2002 and I didn't realize how significantly that experience coloured my perspective until I was acquainted with the statistics in my classes. Over the years I was baffled by complaints about how difficult life was in Israel. After all, my introduction to Israel had been two-and-a-half weeks of dodging bus-bombs and the relative calm since then seemed downright peaceful. Now I know that the number of "successful" suicide bombings the month I had been here was more than double the next highest month at any point before or after.
As Prime Minister Mulroney said on accepting his award, "The most sacred duty of any government is to provide for the security of its citizens." Israel did that in the spring of 2002 and what I had failed to realize was that the attacks slowed by more than half the week after I left. That did not mean the terrorists had stopped trying. It just meant Israel had become more successful at foiling their attempts.
On October 7, I was outside of Israel visiting an ill family member. Observing the signs, I had been expecting something to happen and when it did I knew I needed to return as planned. On arrival, I found a country and a people shell-shocked but filled with resolve. I also saw a unity of purpose that would have seemed impossible when I left the country amid protests over the government's judicial reform policy only four weeks earlier.
Over the years I've learned that not every event in Israel ends with Hevenu shalom aleichem, but the sentiment is still there. I've learned it's not all desert flowers and that most people here don't really care so much about King David or Jesus. Is Israel perfect? No. Is there discrimination, even racism, and other problems? Yes. Is it an apartheid state? No. Does it, as Trudeau's comments seem to imply, intentionally target Palestinian 'women, children, and babies'? Most certainly not.
That is why Prime Minister Trudeau's words are so dangerous. Israel wants nothing more than to live in peace. Israelis, whether Jewish or Arab, Muslim or Christian, also want Palestinian children to live in peace and thrive.
Canada needs to understand that Israel is incredibly conscious of abiding by international law. It knows that 'the world is watching'. In fact, it counts in days, if not hours, the window it has in which to operate before the world's confused moral outrage once again forces it to leave the job undone, frozen until the next time Israelis lose their lives. It follows international law because it cares about innocent Palestinians, apparently more than their own leaders do.
As human rights lawyers Sarah Teich and David Matas wrote recently, "There are two groups that Hamas has victimized: Jews and Palestinians." If we as Canadians care about Palestinians, then we must allow Israel to do what it needs to do to finally root out Hamas. Yes, innocent Palestinian lives will be lost, but more will be lost if Israel is forced to stop before completing the job. Because it is not Israel who is responsible but Hamas. It is Hamas who puts Palestinians in harm's way and prevents them from leaving.
Hamas is to blame. We must state this clearly and unflinchingly. As long as the Prime Minister makes misleading comments that make it seem like Israel is intentionally killing innocent civilians, rather than doing everything in its power to minimize civilian casualties, Canadians will continue to misunderstand the fundamental nature of this conflict. For as long as the West misunderstands this conflict, it will encourage Hamas to put Palestinian lives at risk and embolden antisemitic attacks at home in Canada.
Johanna Blom is a Toronto-based lawyer and human rights advocate. She has recently obtained an M.A. (summa cum laude) in Counter-Terrorism and Homeland Security from Reichman University in Israel where she is pursuing research on the intersection of counter-terrorism and human rights.