Why Democrats Make Energy Expensive (And Dirty)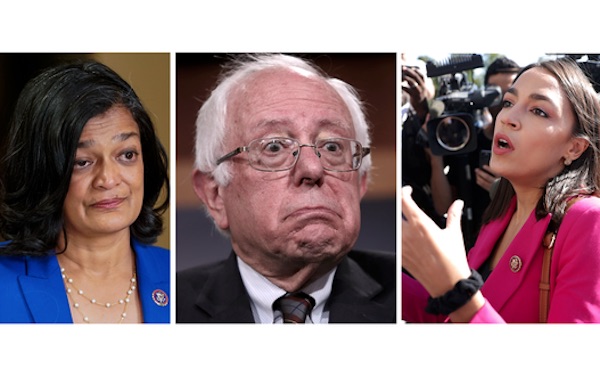 Progressives say they care more about working people and climate change than Republicans and moderate Democrats. Why, then, do they advocate policies that make energy expensive and dirty?
Progressive Democrats including Sen. Bernie Sanders and Rep. Pramila Jayapal, the head of the House progressive caucus, have sent a letter demanding the Federal Energy Regulatory Commission (FERC) investigate whether "market manipulation" is causing natural gas prices to rise 30 percent on average for consumers over last winter, an astonishing $746 per household.
But the main reason natural gas prices are rising is because progressives have been so successful in restricting natural gas production. Sanders, Jayapal, and Rep. Alexandria Ocasio-Cortez (AOC), as individuals and as part of the Congressional Progressive Caucus, have successful fought to restrict natural gas production through fracking and to block natural gas pipelines, including the Atlantic Coast pipeline.
In 2020, Sanders celebrated efforts by progressives to cancel the Atlantic Coast pipeline. Today, New England is facing rolling blackouts and importing natural gas from Russia. "Getting [natural] gas to [progressive Senators Ed] Markey and [Elizabeth] Warren's Massachusetts is so difficult," reports The Wall Street Journal, "that sometimes it comes into Boston Harbor on a tanker from Russia."
Democrats aren't the only reason the United States isn't producing enough natural gas to keep prices at the same low levels they've been at for the past decade. There is higher demand as the economy emerges from covid. There is greater demand for natural gas internationally due to a bad year for wind energy in Europe. And President Joe Biden, for his part, has resisted many progressive demands to restrict oil and gas production.
But the main reason there isn't enough natural gas production is because of successful progressive Democratic efforts to restrict natural gas production in the United States, Europe, and other parts of the world in the name of fighting climate change, as I was one of the first to report last fall. Sanders and Jayapal talk about "market manipulation" and "profiteering" but to the extent there is any of either it's because of inadequate supplies of natural gas and the pipelines to transport it.
Successful shareholder activism, known in the industry as "ESG" for environmental, social, and governance issues, resulted in less investment in oil and gas production, and more weather-dependent renewables, which result in higher prices everywhere they are deployed at scale. Even ESG champions including Financial Times, Goldman Sachs, and Bloomberg all now acknowledge that it was climate activist shareholder efforts that restricted oil and gas investment.
Such efforts also directly led to increasing carbon emissions. Last year saw a whopping 17 percent increase in coal-fired electricity, which resulted in a six percent increase in greenhouse gas emissions. It was the first annual increase in coal use since 2014. The reason for it was because of the scarcity and higher price of natural gas, coal's direct replacement, not just in the U.S. but globally, since the US exports a significant quantity of natural gas.
The other reason the U.S. used more coal in 2021 is because progressive Democrats are shutting down nuclear plants. "When a nuclear plant is closed, it's closed forever," noted Mark Nelson of Radiant Energy Fund, an energy analytics firm, "whereas coal plants can afford to operate at relatively low levels of capacity, like just 30 to 50 percent operation, and thus wait for natural gas prices, and thus demand for coal, to rise."
Progressives like Sanders, Jayapal, and AOC claim to care more about poor people, working people, and climate change than either Republicans or moderate Democrats, who they defeat in Democratic primary elections. Why, then, do they advocate policies that make energy expensive and dirty?
Strategic Ignorance
A big part of the reason progressives make energy expensive appears to be that they just don't know very much about energy. The fact that they are demanding that FERC investigate higher prices suggests they want to keep energy prices low. But it could also mean that their letter is just public relations cover so they are not blamed for raising energy prices.
Indeed, it would be naive to think that Sanders and other progressives didn't realize that blocking pipelines, opposing fracking, and subsidizing renewables would make energy expensive, given that making energy expensive has been the highest goal of their main climate advisor, Bill McKibben, who subscribes to the Malthusian view that there are too many humans and we must restrict energy and development.
If renewables were cheaper than the status quo then the policies they advocate — no permitting of pipelines, restrictions on fracking, and subsidies for renewables — would not be necessary. Besides, mainstream energy experts and journalists today admit that weather-dependent renewables make electricity expensive…
Subscribe to Michael Shellenberger to read the rest.
Become a paying subscriber of Michael Shellenberger to get access to this post and other subscriber-only content.
A subscription gets you:
| | |
| --- | --- |
| | Subscriber-only posts and full archive |
| | Post comments and join the community |
Congressional Budget Office says inflation to last into 2023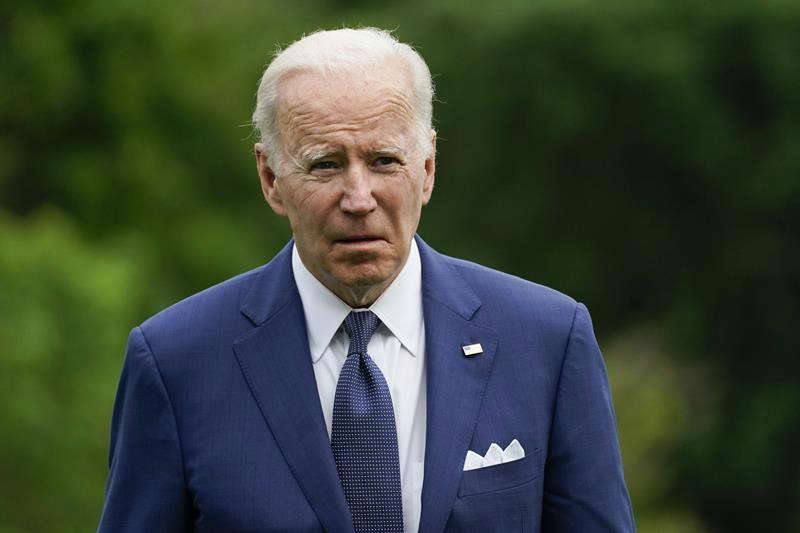 The 10-year estimates do contain positive news as this year's annual budget deficit will be $118 billion lower than forecast last year. That's a byproduct of the end of pandemic-related spending and the solid job growth it helped to spur. As a share of the total economy, publicly held debt will drop through 2023. Still, the accumulated federal debt will likely continue to grow over the next decade to be equal to roughly 110% of U.S. gross domestic product.
The Federal Reserve has been trying to reduce inflation by raising its benchmark interest rates, causing the interest charged on 10-year U.S. Treasury notes to increase substantially in recent months. One consequence is that the government will be spending more money this year to service its debt. By 2032, the yearly interest payments will nearly be $1.2 trillion, or more than what the federal government spends on defense.
Still, the CBO cautions that its numbers "are subject to considerable uncertainty, in part because of the ongoing pandemic and other world events," including Russia's ongoing war in Ukraine. The report accounts at least for the first few months of the war, according to CBO.
Economists have said coronavirus relief programs issued by both the Biden and Trump administrations have contributed to higher inflation levels. But high prices have also been fueled by a delay in action by the Fed, supply chain disruptions and the tumult produced after Russia invaded Ukraine in February.
Ben Harris, the Treasury Department's assistant secretary for economic policy, tweeted on Tuesday that the factors driving inflation also include soaring corporate profits, driven by a lack of business competition — as well as business not being fully prepared for the reopening of the economy as pandemic restrictions were lifted. The administration has emphasized that its plan put the U.S. economy into a stronger place relative to the rest of the world because unemployment is a low 3.6%.
"The American Rescue Plan has fostered an extraordinarily fast recovery and leaves us in a strong position to address the global challenges posed from supply chains and the economic fallout from Russia's invasion of Ukraine," he tweeted.
The report says beyond 2032, "if current laws remained generally unchanged, deficits would continue to grow relative to the size of the economy over the following 20 years, keeping debt measured as a percentage of GDP on an upward trajectory throughout that period."
Maya MacGuineas, president of the Committee for a Responsible Federal Budget, told The Associated Press ahead of the release that the pandemic, war in Ukraine and other factors point to the importance of reducing the annual deficit.
"Unfortunately, the underlying story here is one of fiscally unsustainable positions and on top of that, we have this added challenge of inflation and a reminder that external shocks continue to come at us," she said.
Fatima Hussein, The Associated Press
GOP directs culture war fury toward green investing trend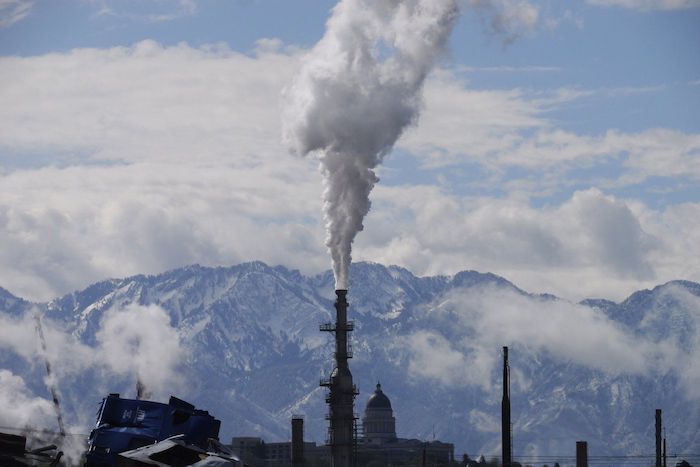 By Sam Metz in Salt Lake City
SALT LAKE CITY (AP) — Republicans are coming out swinging against Wall Street's growing efforts to consider factors like long-term environmental risk in investment decisions, the latest indication that the GOP is willing to damage its relationship with big business to score culture war points.
Many are targeting a concept known as ESG — which stands for environmental, social and governance — a sustainable investment trend sweeping the financial world. Red state officials deride it as politically correct and woke and are trying to stop investors who contract with states from adopting it on any level.
For right-wing activists who previously brought criticisms of critical race theory (CRT), diversity, equity and inclusion (DEI) and social emotional learning (SEL) to the forefront, it's the latest acronym-based source of outrage to find a home at rallies, in conservative media and in legislatures.
ESG has yet to take hold as mainstream political messaging, but backlash against it is gaining steam. Last week, former Vice President Mike Pence attacked the concept during a speech in Houston. And on Wednesday, the same day he said on Twitter he planned to vote Republican, Elon Musk attacked it after Tesla lost its place on the S&P 500′s ESG Index. He called it a scam "weaponized by phony social justice warriors."
The concept calls on investors to consider criteria such as environmental risk, pay equity or how transparent companies are in their accounting practices. Aided by recently proposed disclosure requirements and analysis from ratings agencies, they have adopted the principles to such an extent that those who use them control $16.6 trillion in investments held in the U.S.
In response, Republicans — historically known for supporting fewer regulations — are in many places attempting to impose new rules on investors. Their efforts reflect how members of the party are willing to distance themselves from big business to push back against those they see as ideological foes.
"I don't think we're the party of big business anymore. We're the party of people — more specifically, we're the party of working people. And the problem that we have is with big banks and corporations right now trying to dictate how we're going to live our lives," West Virginia Treasurer Riley Moore said.
Opponents criticize ESG as politicized and a potentially costly diversion from purely financial investment principles, while advocates say considering the criteria more accurately accounts for risk and promises steadier returns.
"We focus on sustainability not because we're environmentalists, but because we are capitalists and fiduciaries to our clients," Larry Fink, CEO of investment firm BlackRock and a leading proponent, told clients in a letter this year.
But Moore and others including Utah's Republican state treasurer Marlo Oaks argue favoring green investment over fossil fuels denies key industries access to the financial system and capital. They have targeted S&P Global Ratings for appending ESG scores to their traditional state credit ratings. They worry that without changes, their scores could make borrowing for projects like schools or roads costlier.
In an April letter, Oaks demanded S&P retract analysis that rated Utah as "moderately negative" in terms of environmental risk due to "long-term challenges regarding water supply, which could remain a constraint for its economy … given pervasive drought conditions in the western U.S."
The letter was co-signed by the governor, legislative leaders and the state's congressional delegation, including Sen. Mitt Romney, whose former firm Bain Capital calls ESG factors "strategic, fact-based and diligence-driven." It said ratings system "attempts to legitimize a dubious and unproven exercise" and attacks the "unreliability and inherently political nature of ESG factors in investment decisions."
Though he likened ESG to critical race theory, Oaks said he was mostly concerned with capital markets and what he called attempts by fossil fuel opponents to manipulate them by pressuring investors to pick businesses with high ESG scores.
"DEI, CRT, SEL. It can be hard to keep up with the acronyms," he wrote on an economics blog last month, "but there's a relatively new one you need to know: ESG."
Investors making carbon neutral or net zero criteria common were, in effect, Oaks said, limiting access to capital for oil and gas businesses, hurting their returns and potentially contributing to gas price spikes.
In more than a dozen red states, officials dispute the idea that the energy transition underway could make fossil fuel-related investments riskier in the long term. They argue employing asset managers with a preference for green investments uses state funds to further agendas out of sync with constituents.
In statehouses, anti-green investing efforts are backed by conservative groups such as the American Legislative Exchange Council and the Heartland Institute, a think-tank skeptical of scientific consensus on human-caused climate change that has backed bills that either divest state funds from financial institutions that use ESG or forbid them from using it to score businesses or individuals.
In Texas, West Virginia and Kentucky, lawmakers have passed bills requiring state funds limit transactions with companies that shun fossil fuels. Wyoming considered banning "social credit scores" that evaluate businesses using criteria that differ from accounting and other financial metrics, like ESG
After conservative talk show host Glenn Beck visited the Idaho Statehouse and referred to ESG as critical race theory "on steroids," the Legislature passed a law in March prohibiting investment of state funds in companies that prioritize commitments to ESG over returns.
The American Legislative Exchange Council recently published model policy that would subject banks managing state pensions to new regulations limiting investments driven by what it calls "social, political and ideological" goals.
Though the policy doesn't mention it outright, Jonathan Williams, the group's chief economist, said ESG's mainstreaming amid broader trends of political correctness was a driving force. He said his research shows that incorporating factors beyond traditional financial metrics can lower the rate of return for already underfunded state pensions.
Sustainable investing advocates deny that charge and say considering the risks and realities of climate change amounts to responsible investing.
West Virginia and Arkansas recently divested their pension funds from BlackRock in response to the asset manager adding businesses with smaller carbon footprints to its portfolios. Moore, West Virginia's treasurer, hopes more will follow.
Though it's drawing enthusiasm, the green investment discourse differs from recurring debates over gender and sexuality or how history is taught. Both proponents and detractors acknowledged they're surprised pensions, credit ratings and investment decisions have become campaign rally fodder.
Last month at the Utah state party's convention, thousands of Republicans roared when Sen. Mike Lee described green investment in similar terms to critical race theory — another acronym-based foil: "Between CRT and ESG and MSNBC, we get way too much B.S.," Lee said.
Bryan McGannon, a lobbyist with US SIF: The Forum for Sustainable and Responsible Investment, said opponents were wrong in framing sustainable investing trends as political. If states refuse to reckon with how the future will likely rely less on fossil fuels and limit how environmental risk can be considered, he said, they're making decisions with incomplete information.
"If a state's not considering those risks, it may be a signal to an investor that this might not be a wise government to be putting our money with," McGannon said. "Investors use a huge swath of information, and ESG is a piece of that mosaic."
___
Associated Press writers Stan Choe in New York and Lindsay Whitehurst in Salt Lake City contributed to this report.