When RDC becomes RDU, sports teams will drop Kings and Queens for gender neutral name
From Red Deer College
RDC will engage community in Athletics rebrand
RDC has a proud Athletics legacy and, as it transitions to Red Deer University, the College has decided to take the opportunity to rebrand and rename the Kings and Queens teams.
"As RDC undertakes the exciting process of rebranding to become Red Deer University, we began to look at the names of our Kings and Queens Athletic teams. While these names have served us well, this is the ideal time for us to evolve and adopt names that are not gender based," says Dr. Peter Nunoda, RDC President. "Red Deer University Athletics needs a new team name that is common for men's teams, women's teams and mixed teams. This forward- thinking approach will reflect the values of the institution and RDU Athletics."
The rebranding and renaming will involve several steps. As with the rebranding process that occurred for RDC's university transition, there will be an opportunity for community members, along with those from the College, to provide feedback at two focus group sessions that will be held on February 11.
"Community members have always been huge supporters of RDC and RDC Athletics teams," says Nunoda. "During this time of transformational change within our organization, we are excited to engage with the community and those from across the College to help us bring a refreshed identity for Athletics to life."
RDU Athletics rebranding focus groups
February 11, 2020 | 11 am to 1 pm OR 5 to 7 pm
Cenovus Energy Learning Common | RDC main campus
Register at rdc.ab.ca/communitysession
Participation is limited, so people who are interested are encouraged to register for a session soon.
Those who are unable to attend one of the sessions will still have the opportunity to provide feedback by completing an online survey, which will be available atrdc.ab.ca/athleticsurvey from January 8 to February 14.
Once all of the feedback has been collected, then work will begin to determine the new brand and name that is a best fit for the future RDU Athletics. A common team name will be used beginning in the 2021/2022 season.
"While we're looking to the future as RDU Athletics, the history of the RDC Kings and Queens will still be remembered and celebrated," says Nunoda. "For 56 years our student-athletes, coaches and teams have been successful at all levels of competition, and they've also been recognized for their academic excellence, fundraising and volunteering. All of these qualities will carry into the new RDU Athletics brand, which will be an important part of Red Deer University moving forward."
The History of RDC Athletics: Red Deer College has an impressive athletics tradition, as the Kings and Queens teams were established in 1964 when Red Deer Junior College first opened in its temporary location in Lindsay Thurber Composite High School. Since then, RDC Athletic teams and individual student-athletes have won 25 National Canadian Collegiate Athletic Association (CCAA) titles, 171 Alberta Colleges Athletic Conference (ACAC) team and individual titles. Our student-athletes and coaches have received countless individual honours both for academic and sporting achievement. This year, the College has more than 180 student-athletes competing in seven sports on 15 teams.
For more information on RDC Athletics, please visit: rdcathletics.ca | twitter | facebook | instagram
Today: Come meet Red Deer's Silver Medalist Rebecca Smith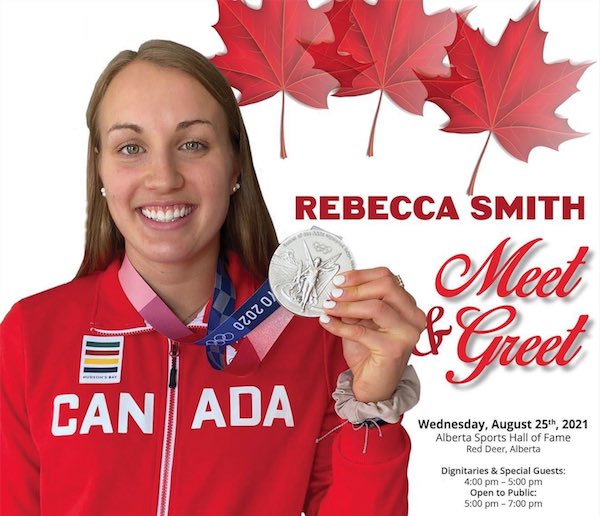 Submitted by Tourism Red Deer
Come celebrate with us and congratulate Red Deer's own Rebecca Smith.
Alberta Sports Hall of Fame and Tourism Red Deer invite you to meet Red Deer's Summer Olympic Silver Medalist Rebecca Smith!
Rebecca was a part of Team Canada's 4 x 100-meter freestyle relay swim team at the 2021 Tokyo Olympics. She'll be here to meet, greet, and show off her hardware.
Where: Alberta Sports Hall of Fame, 102-4200 Highway 2, Red Deer
When: Wednesday, August 25, 5:00 pm – 7:00 pm
Access to Dawe Centre pool and community centre affected by expansion project – Details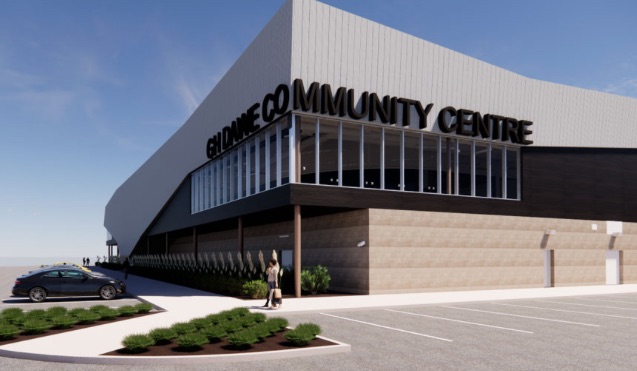 Limited access to G.H. Dawe Community Centre this summer due to construction
Due to construction, access to the G.H. Dawe Community Centre will be limited this summer, with a full closure planned for August.

As announced yesterday, City recreation centres are opening fully to the public as of July 1. With construction underway at the G.H. Dawe Community Centre, only limited services and areas will be available.

Here's what you need to know:
Starting July 2, fitness and gym areas will open from 10 a.m. – 8 p.m., daily. In July, summer day camps that normally operate from the Dawe will operate from other facilities.
The pool will remain closed until September.
To accommodate interior heating and ventilation construction, the facility will fully close from July 26 to August 31. Some registered preschool and summer camp programming may proceed, but no rental or general admission options will be available.
On September 1, we anticipate the pool will be open, but some other amenities, like the gym, may not be available. More information will be provided as construction progresses.
Playing surfaces in the arena will not be available until construction is complete, which is expected to be early 2023.
We are currently offering a discounted monthly Value Pass for $27 for adults ($24.50 for seniors; $21.90 for students; $19.30 for youth; $14.20 for children, and $60.50 for a family. It provides unlimited access to all facilities. As of August the Value Pass will only provide access to the Recreation Centre and Michener Aquatic Centre; however, access to the Dawe will be included in the Value pass until the pool, gym and fitness areas are open.
About the G.H. Dawe Community Centre Project
Work is underway now on the G.H. Dawe Community Centre Project and some exciting changes are in store. We expect to welcome visitors to the transformed space in early 2023. Here's just some of what you can expect:
Two NHL standard playing surfaces
Expanded fitness areas, including a running track
Outdoor spray park with washroom facilities
Improved accessibility
Additional north entrance + site access from 67 Street
Additional parking
During construction, there will be some changes and impacts to existing amenities and programs, and we'll do you best to share this information in advance. Thanks for your patience as we complete this work.
For more information about the project, please visit reddeer.ca/DaweProject.