Great entertainment options for the whole crew at Westerner Park this month!
A brand new year means brand new experiences! Westerner Park is committed to bringing world-class events to Central Alberta in 2020 and beyond. As we ring in the new year, we look forward to creating new memories with our community.

Here's a look at what's coming up this month at the Park!
What's Happening at Westerner Park?
Looking for commercial hockey ice time that's closer to home? For the remainder of the 2019/2020 season, it's only $275 for 90 minutes on the Westerner Park Centrium ice after 10:30 pm!

Weeknight and weekend slots are available! Please note this offer is not applicable to existing bookings. For more information, call 403.343.7800 or email [email protected].
Rebel Energy Xtreme Bullriding
Saturday, January 11
You don't want to miss out! Rebel Energy Xtreme Bullriding is back with an-action packed night where 30 of the best bull riders will vie for the Championship title at Westerner Park Centrium.
Showcasing the young, talented up-and-coming superstars of novice bullriding, and we will top it off with thrill seeking freestyle bullfighting. A night of action and excitement – join us for the best show on dirt!
WE WILL ROCK YOU
Friday, January 24
WE WILL ROCK YOU is a quirky, eccentric and heartfelt story of outsiders. It is also a creative cautionary tale for the cyberage. With the Oscar-winning film, Bohemian Rhapsody, the music of Queen is more popular than ever. WE WILL ROCK YOU follows two revolutionaries, Galileo and Scaramouche, on a quest to save rock n' roll in a post-apocalyptic world where there are no musical instruments and rock n' roll has died.
WE WILL ROCK YOU reflects the scale and spectacle that marked Queen's live performances and earned the band its pinnacle position in rock history. With Queen's Brian May and Roger Taylor as music supervisors and "a band without parallel in the theater" behind the cast, the audience can expect WE WILL ROCK YOU to rock as fiercely as the best of Queen's concerts.
The Harlem Globetrotters
Sunday, January 26
The world-famous Harlem Globetrotters, featuring larger than life entertainers, will bring their ALL-NEW show, "Pushing the Limits" to Red Deer's Westerner Park Centrium! The show features a blend of hilarious hijinks and incredible basketball skills including ball handling, high flying dunks, and a new record-breaking attempt.
The Harlem Globetrotters are a one-of-a kind experience, putting a new spin on family time. You won't want to miss these memories worth repeating, so get your ticket today!
With This Ring…Bridal Gala
Sunday, February 2
Brides and their guests will be welcomed to Westerner Park's NEW Exhibition Hall for With This Ring Bridal Gala's Spring Show! Complete with swag for the first 100 brides at 10:00 am and 100 brides at 1:00 pm, professional fashion shows, photo ops, industry-leading exhibitors, over $20,000 dollars in prize packages, and so much more!
With This Ring.. Bridal Gala is known as a staple event for Central Alberta brides, serving as a one-stop-show for local couples in the wedding planning process for the past 16 years and counting.
Lauded fashion designer Paco Rabanne dies at age 88
PARIS (AP) — Paco Rabanne, the Spanish-born pace-setting designer known for perfumes sold worldwide and his metallic, space-age fashions, has died, the group that owns his fashion house announced on its website Friday. He was 88.
"The House of Paco Rabanne wishes to honor our visionary designer and founder who passed away today at the age of 88. Among the most seminal fashion figures of the 20th century, his legacy will remain," the statement from Puig said.
Rabanne's fashion house shows its collections in Paris, and is scheduled to unveil the brand's latest ready-to-wear designs during fashion week from Feb. 27-March 3.
The Associated Press
Wildlife Festival Returns to Red Deer's Westerner Park February 3 – 5!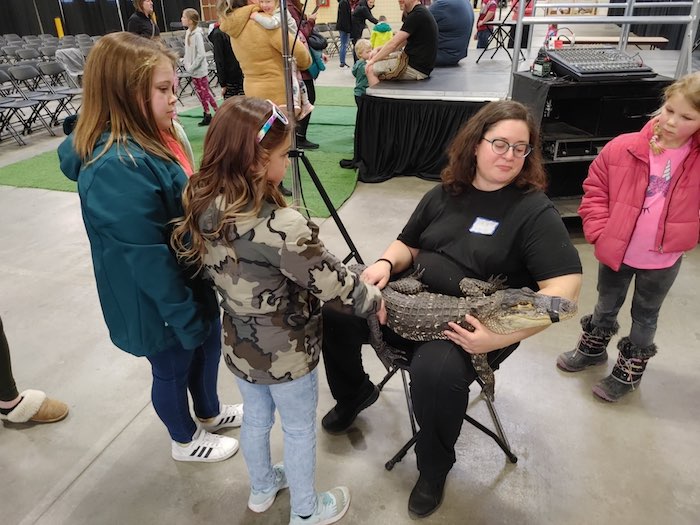 RED DEER WILDLIFE FESTIVAL
See a Sloth! Pet a Kangaroo! Meet a Tegu!
Hang with an Iguana! And many more amazing animals.
The YYC Nature Centre, Cobb's Adventure Park, & Cobb's Exotic Animal Rescue are bringing you a not to be missed event in Red Deer Feb 3rd – Feb 5th
3 ALL NEW EXHIBITS
Diversity of Living Things
What is the difference between frogs and toads? How do animals adapt? Learn about different species and life on earth.
Journey to the Amazon
See & interact with some of the incredible animals that call the Amazon home. The worlds largest rainforest comes to life!
This is Africa
Learn about the planet's 2nd largest continent.
---
Admission
$17.00 in Advance
$21.00 at the door
Kids 3 and under Free.
Jan 20, 7-9pm – Adults Only Admission
$26.00 in Advance
$31.00 at the door
VIP EXPERIENCE – *BEST VALUE!*
A small group guided experience with many of our animals! VIP Experiences are VERY LIMITED per day. One at the beginning of the day and one at the end of the day. Choose either the Parrot and Mammal Experience or the Reptile experience. $150/person in advance including admission, $175/person at the door.
ADD ON ANIMAL EXPERIENCES
Pet/feed a wallaby. Feed a porcupine. Hug a boa. Includes photo opportunity with your camera. $20 – $60 per person, per experience.
---
Educational Program
COLD BLOODED AMAZON
Learn about some of the largest reptiles on earth that call the Amazon home!
Educational Program
DIVERSITY OF LIVING THINGS: MAMMALS
Learn about Sloths, Sugar Gliders, Kangaroos and much more!
---
What Is The Wildlife Festival?
The Wildlife Festival is an annual interactive experience that highlights animals and their habitats. Our mission is to inspire and educate people of all ages by connecting with animals. Our entertaining stage shows, educational displays and interactive experiences with the animals will teach, entertain and delight all who attend.

Who we are
Cobb's Exotic Animal Rescue is a non-profit division of Cobb's Adventure Park. Cobb's is home to hundreds of animals including Kangaroos, Wallabies, Wallaroos, Llamas, Emus, Porcupines and more. Their mission is to give all exotic animals a safe and healthy life. Their current goal is to build an education center as a place to house and a place to educate the public on what it means to be involved with exotic animals. Far too often people buy exotic animals without thinking of the consequences long term. Many of these animals outgrow their spaces and even sometimes outlive their owners. As a result, exotic animals are frequently sold and resold many times, and sadly many become inhumanely disposed of. Cobb's Exotic Animal Rescue aims to be a link to the solution. Cobbs is able to provide the appropriate care and nurturing of many of these species and gives them the unique attention that they require.
Click below to donate, and be a part of building an education center in Alberta for exotic animals in need.
Reptile Parties INC is the parent company of Calgary Reptile Parties and the YYC Nature & Education Centre. Calgary Reptile Parties launched in 2008, became incorporated in 2012, and opened the YYC Nature & Education Centre in 2021. Their focus is on programs that promote conservation, responsible pet ownership, and connecting people to animals. The center is home to 300 animals including snakes, lizards, spiders, exotic mammals, and birds. Reptile Parties INC was featured on Animal Planet's SCALED – seen in 195 countries in 2018.
http://www.calgaryreptileparties.com http://www.yycnaturecentre.com
Our History
The Wildlife Festival arrived in western Canada in 2015, produced by Little Ray's Nature Centre & The Canadian Raptor Conservancy in Ontario. In 2017 Jason Clevett of Reptile Parties INC joined the team and returned again in 2019.
In 2022 Reptile Parties INC and Calgary based YYC Nature Centre teamed up with Cobb's Exotic Animal Rescue and Cobb's Adventure Park to lead the re-opening of The Wildlife Festival in Western Canada. The Wildlife Festival appeared at multiple fairs and exhibitions in Alberta and Saskatchewan in 2022 drawing thousands of visitors from all across Western Canada.
FAQ
Do we get to pet animals with a regular ticket?
Some animals are available for petting and hands on opportunities. We offer paid photo & interaction opportunities with select animals as well as VIP experiences behind the scenes.
What comes with the VIP Experience ticket?
Spend quality private time with the animals. An exclusive hands on experience with the animals, you can take photos and ask questions behind the scenes and meet the animals trainers too! VIP experiences are VERY limited, so purchase in advance is recommended.
Is this event for all ages?
Yes! Except for our ADULTS ONLY exclusive which is on Friday evening from 7-9pm.
What if I am afraid of snakes or spiders, but want to see the other animals?
Don't worry, you can still get a chance to spend time with the other animals. We have several educational exhibits in place and the stage shows present an opportunity to learn about the animals from a comfortable distance.
Which animals will be at The Wildlife Festival?
Kangaroo, Snake, Tortoise, Tegu, Toad, Wallaby, Sugar Glider, Sloth and more! Although we have many animals attending the show, we cannot guarantee that all of them will make an appearance due to many circumstances, sensitivities, and personalities these animals can have.
Where did the animals come from?
Many of the animals under our care are rescues from homes that could no longer care for them. Others have been obtained by ethical breeders for education.
Are these animals from the wild?
None of the animals at The Wildlife Festival are from the wild. They are commonly available pets that have primarily been born/hatched under human care. Since they have been raised in captivity entirely, they are not candidates to be released into the wild.
Where Does The Money Go?
100% of the proceeds goes towards the care and support of these animals.