What do you do if you find this?
A Red Deer Resident was shocked and saddened to find a mess of needle debris on a popular walking trail Thursday afternoon. Laura Anderson came upon this scene on the path system in her Bower neighbourhood about 2:30 Thursday. She took a couple of photos so she could show her son what to look for and educate him on how dangerous needles are. Laura says her 8 year old son uses this path virtually everyday.
If you find needles, there is a correct protocol to follow. You can find this information posted on the City of Red Deer website….
Found Needles
Discarded needles are a problem for many cities, and Red Deer is no exception. The City acknowledges the work of community agencies who provide needles to intravenous drug users, but the collection of those used needles is a challenge. The City and a number of agencies are working on the issue.
City crews regularly clean up needles to keep public places safe, and a process has been developed to help members of the public know what to do if they find a needle or other drug paraphernalia.
I found a needle. What do I do?
Always treat each needle as contaminated. You have a couple of options if you find one:
I'm too nervous to pick it up or I am unequipped to pick it up.

Cover or mark the needle with an object.
Call 403-342-8238 for disposal.

I'm willing and equipped to pick it up.

I have gloves, tongs or pliers, and a hard sharps container (or plastic bottle with lid).

Needle pickup kits are available at your nearest fire hall.

Put on latex, rubber or leather gloves. Use tongs or pliers to carefully pick up needle with tip pointed away from you.
Put sharps container on stable surface (do not hold it while putting needle inside). Put needle point down into the container and close lid.
Do NOT place container in garbage. Dispose of at nearest needle disposal location:

Fire stations 1 (4941 46 Street), 2 (5839 67 Street) & Headquarters (4340 32 Street) have 24-hour drop boxes
Many pharmacies accept needles
Turning Point (4611 50 Avenue)
Brown needle drop boxes located through parks and trails

Wash your hands and/or use hand sanitizer once you're done
If you get pricked by a needle:
Flush the area with flowing water.
Wash the wound well with soap and warm water.
Seek medical attention for an assessment of the risk of infection and appropriate treatment.
Red Deer is Canada's most active community. Celebrate with free activities at the Collicutt Centre!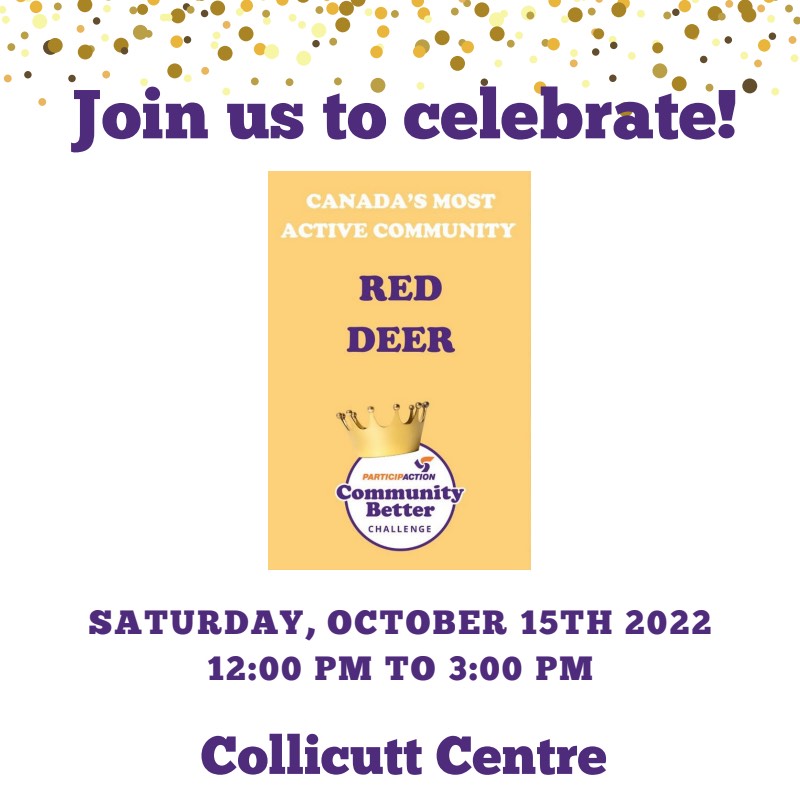 News release from the Red Deer Primary Care Network
Residents are invited to celebrate Red Deer winning the Community Better ParticipACTION Challenge and the title of the "Most Active Community" in Canada.
October 15, 2022, Collicutt Centre
In June, Red Deer Residents participated in the ParticipACTION Community Better Challenge.
This challenge saw our citizens and community organizations tracking over 19 million minutes of physical activity. We had over 700 community members and 35 community organizations showing a total of 153,010 people participating in organized community events and tracking their activity on the ParticipACTION app or website.
This support by our community helped Red Deer WIN the title of Canada's Most Active Community. Along with the title we received the $100,000 grand prize to be put back into our community to stay active and healthy.
As recognition and to thank everyone for their efforts and celebrate this victory, we welcome all Red Deer citizens to join us at that the Collicutt Centre on October 15th, 2022, from 12:00- 3:00pm.
There will be a warm welcome address by Mayor Johnston between 12:00-12:15pm followed by FREE Swimming, Skating and activities in the Field House for everyone to participate in. There will also be the opportunity to connect with community organizations showcasing their services on mainstreet in the Collicutt.
City still working out details of homeless shelter site with Province of Alberta
City and Province of Alberta continue discussion about potential site for future shelter in Red Deer
A future shelter site for Red Deer continues to be a priority for the Province of Alberta and City of Red Deer following a meeting between Mayor Johnston, members of City Council and Provincial Ministers in Calgary on Tuesday.

While The City had hoped to be in a position to release its recommended site today, further considerations pertaining to the recommended site are being jointly explored by the Province and City to ensure its suitability prior to publicly disclosing any information about a potential site.

"We know our community has been patiently waiting for us to identify the potential future shelter site in our city; this is a big decision, and we must ensure that we are making the best decision possible for our community – and that we are making that decision in good faith and partnership with our provincial colleagues," said Mayor Johnston. "We are continuing to move forward with our provincial partners, and we want to have a decision for our community very soon."

The narrowing of potential sites comes on the heels of an extensive site selection process that initially included 96 sites. The selection process also involved intensive public participation with more than 820 participants engaging with The City about the project. These participants included residents, businesses, social agencies, and people with lived or living experience of homelessness.

"I am proud to be working closely with the City of Red Deer to ensure that we are aligned on a shelter model and location that is best for Red Deer. We will continue to work closely together in collaboration to improve the support we offer homeless people in Red Deer and make the community safer as a whole," said Jason Luan, Minister of Community and Social Services

"Alberta's government remains committed to providing $7 million in capital funding to support the Red Deer integrated emergency shelter. We will continue to plan and work with community partners and the city to address the need for a larger, more functional space to meet demand. Our shared objective is to ensure Red Deer residents in need have access to a safe, accessible overnight shelter," said Josephine Pon, Minister of Seniors and Housing

"Selecting the right site for Red Deer requires pragmatic innovation that meets our joint vision for an integrated shelter in our community, and we will continue to work alongside the province, social support agencies and citizens throughout the entire process to re-envision the future shelter as a place that provides the support our vulnerable population requires on their journey to being housed," said Johnston.

During a closed meeting on September 12, 2022, Red Deer City Council selected a potential site for the future shelter; upon presenting the site to the province as part of the site selection process, it was identified that further analysis is needed prior to public disclosure of the site.

As more information is publicly available, it will be shared through The City's website at www.reddeer.ca/shelter.