Westerner Days, Phony Lawyer Charged & Live Entertainment!
1:21 pm – Officials with Catholic Social Services and the Central Alberta Refugee Effort (C.A.R.E.) in Red Deer, are hoping you can help them find a missing man. 22 year old Heri Lumwanga has only been in Red Deer for one month and speaks no English, only Swahili and a little French. He has a medical condition that requires daily medication and he hasn't been seen since July 18th. He's 5'6, 140-150 lbs. If you see him, contact Lusambiya at 403-598-3625, Elisabeth at 403-598-0194 or Red Deer City RCMP at 403-304-7764.
10:09 am – On July 11, 2017, Blackfalds RCMP located and recovered a stolen mini excavator, a stolen John Deere tractor and an outboard boat motor from a rural location near Blackfalds. The John Deere tractor and mini excavator have been returned to their owners. Police have not been able to identify the owner of the boat motor and are seeking the public's assistance to locate the owner. Investigators are asking anyone who may have information regarding this occurrence to contact Blackfalds RCMP at (403) 885-3300.
For more local news, click here!
10:01 am – From Live Theatre, to Rappelling down a Red Deer high rise, to a mobile escape room, there's lots to do in and around Red Deer this weekend. Check it out Here!
9:54 am – Swing Dancing at "Cool Beans" tonight from 7:00 – 9:30 pm, hosted by the Red Aces Dance Club! Details Here.
9:43 am – It's the Bard on Bower tonight with a live theatrical performance of "Two Gentlemen of Verona" on the Bower Ponds stage,  7:00 – 9:30 pm. Read More.
For more local news, click here!
9:39 am – A BBQ and live music at the Bower Branch of ATB today from 11 – 3 in support of their Financial Literacy program! Read More.
9:12 am – Check out the festive atmosphere with some live music on the Alexander Way Parklet today from 11:30 am – 1:00 pm. Read More.
9:02 am – Going to be out and about today and over the weekend? Know where the road and trail closures are, so you don't encounter any traffic delays! Details Here.
For more local news, click here!
8:50 am – Red Deer RCMP worked with Sylvan Lake RCMP to arrest and charge a woman after a stabbing on July 13, while a number of other recent arrests by Red Deer RCMP involved crimes in progress that were reported by citizens, including frauds, the recovery of several stolen vehicles and a break and enter in progress. Read More.
8:42 am – A Red Deer man faces 12 Criminal Code charges after a months-long RCMP investigation in which the suspect is alleged to have defrauded a number of victims between December 2016 and April 2017 while representing himself as a lawyer. Read More.
8:32 am – It's day three today of Westerner Days at Red Deer's Westerner Park. The gates open at 12 noon with tonight's musical entertainment including Jamie Woodfin, Ken Stead and Tom Cochrane with Red Rider. The shows start at 8 pm on the Enmax Centrium Main Stage. Read More.
Mohawk Council of Kahnawake 'repulsed' by politicization of Habs' land acknowledgment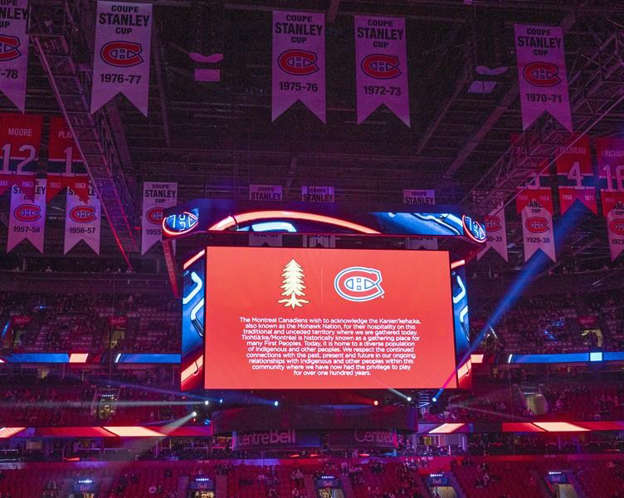 MONTREAL — The Mohawk Council of Kahnawake is blasting the Quebec government for questioning a land acknowledgment by the Montreal Canadiens that refers to the unceded territory of the Mohawk Nation.
The statement, which has been read before the NHL team's home games this season, acknowledges the hospitality of the Mohawk Nation "on this traditional and unceded territory where we are gathered today."
Quebec Indigenous Affairs Minister Ian Lafrenière told reporters on Wednesday the acknowledgment may be an error.
In a statement Thursday, the elected council for the First Nations reserve across the river from Montreal commended the hockey club's gesture as an example of true reconciliation and added it was "repulsed" by the province's attempt to politicize the effort, which it said undermines the Mohawk presence in the Montreal region.
On Wednesday, Lafrenière told reporters that referring to a specific nation may be a mistake as historians differ on which nation was the first to live in Montreal, while adding it was important to recognize that First Nations were the first occupants.
Grand Chief Kahsennenhawe Sky-Deer said in a statement that land is an essential part of Mohawk identity.
"It holds the knowledge of our ancestors, our history and our presence, now and for the future," Sky-Deer said. "Opinionated commentary that challenge and discredit our presence are not only insulting, they are taken as displaced attacks on our existence."
This report by The Canadian Press was first published Oct. 21, 2021.
The Canadian Press
Supreme Court of Canada sides with injured woman in snow-clearing squabble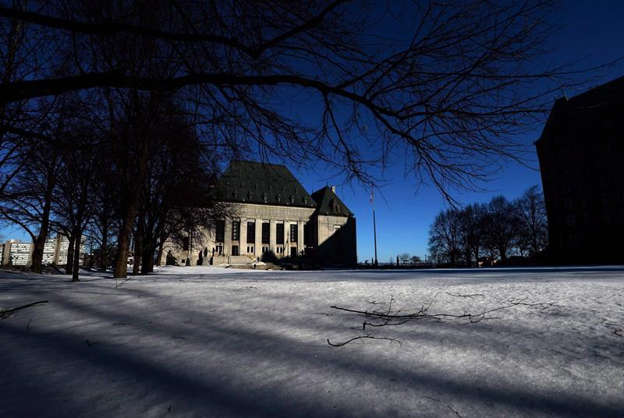 OTTAWA — A woman will get another chance to sue for damages over a leg injury she suffered while climbing through snow piled by a city's plow, the Supreme Court of Canada has ruled.
Taryn Joy Marchi alleged the City of Nelson, B.C., created a hazard when it cleared snow from downtown streets after a storm in early January 2015.
The removal effort left snow piles at the edge of the street along the sidewalk early in the morning of Jan. 5.
Late in the afternoon of Jan. 6, Marchi — then a 28-year-old nurse — parked in an angled spot on the street and, wearing running shoes with a good tread, tried to cross a snow pile to get on to the sidewalk.
Her right foot dropped through the snow and she fell forward, seriously injuring her leg.
Marchi contended the city should have left openings in the snowbank to allow safe passage to the sidewalk.
She pointed to the neighbouring municipalities of Castlegar, Rossland and Penticton in arguing there were preferable ways to clear the streets so as to ensure safe access for pedestrians.
However, the trial judge dismissed her case, saying the city was immune from liability because it made legitimate policy decisions about snow clearing based on the availability of personnel and resources.
In any event, the judge concluded, Marchi assumed the risk of crossing the snow pile and was "the author of her own misfortune."
The B.C. Court of Appeal overturned the decision and ordered a new trial, saying the judge erred in addressing the city's duty of care and the question of Marchi's negligence.
The ruling prompted the City of Nelson to seek a hearing in the Supreme Court.
In a written submission to the high court, the city said its actions amount to "a clear example of a core policy decision" that should be immune from liability.
In her filing with the court, Marchi said city employees made a number of operational decisions that fell below the expected standard of care of a municipality — decisions not required by the written policy.
In its 7-0 ruling Thursday, the Supreme Court said a fresh trial should take place because the city has not proved that its decision on how to clear the snow was "a core policy decision" immune from liability.
While there is no suggestion the city made an irrational or "bad faith decision," the city's core policy defence fails and it owed Ms. Marchi a duty of care, justices Sheilah Martin and Andromache Karakatsanis wrote on behalf of the court.
"The regular principles of negligence law apply in determining whether the City breached the duty of care and, if so, whether it should be liable for Ms. Marchi's damages."
This report by The Canadian Press was first published Oct. 21, 2021.
Jim Bronskill, The Canadian Press