Westerner Days Attendance Off To A Great Start!
The 2017 Westerner Days Fair & Exposition started Wednesday, July 19 with over 13,500 people in attendance. People crowded the streets of downtown Red Deer to watch the Westerner Days Parade, presented by Holiday Inn & Suites, and thousands of fans attended the Jess Moskaluke Main Stage show in the ENMAX Centrium with Nice Horse and Hey Romeo, presented by Real Country 95.5 and Real Country 93.3.
The Parade, which is the annual event that kicks off Westerner Days, had 136 entries participate this year. The winner of the Grand Award, sponsored by Etek Office Supplies, was Blue Grass Nursery, Sod & Garden Centre with their princess themed float, complete with an enchanted forest and Cinderella carriage. They also took home the 1st place award for a Commercial Entry. For a complete list of winners, visit the Westerner Days website under Community Events.
New this year, the 2017 Westerner Days Pony Steeplechase Championship Series saw the smallest horses with the biggest hearts take centre stage on the Race Track prior to the Red Deer Motors North American Pony Chuckwagon Championships. You still have a chance to see these little animals in action; races are at 4:30 pm daily, except for Sunday when they show at 12:30 pm.
Fair attendees can win Grub Hub cash by participating in the Openhwy "Come Together and Get Social" contest, sponsored by Plato's Closet. Use free access areas to Shaw Go WiFi and post your stories on social media. Fair-goers should use #WesternerDays and #TicketsAlberta to win daily prizes! If they are a winner, they will be notified day of and can pick up their prize at the Guest Services booth.
Speaking of the Grub Hub, over 25 food vendors are available on site. With everything from mini donuts to mac n' cheese and elephant ears, there's something sure to please the taste buds of everyone in attendance.
Fans of Jess Moskaluke were thrilled to see her perform, including Jr Reporter Hayden Brilz (age 7) who was able to interview the Canadian songwriter for Shaw TV. You can catch that interview on The Community Producers: Westerner Days Edition.
Tonight, Thursday, July 20, the ENMAX Centrium Main Stage will be taken over by Chilliwack and Kim Mitchell. The show begins at 8:00 pm, but fans can receive reserved floor seating tickets (free with gate admission) by going to the Tickets Alberta Box Office at 4:00 pm.
For a full list of events and other Fair information, click here.
Fair Attendance
Wednesday, July 19, 2017 – 13,583
Record – 15,410 set in 2010
Red Deer Motors North American Pony Chuckwagon Championships
Top Four Wagons from Wednesday, July 19, 2017
1st – Louie Johner – Wei's Westerner Wear, Red Deer 1:15:82
2/3 Split – Lee Anderson – A1 Rentals, Camrose/Wetaskiwin 1:17:10
2/3 Split – John Stott – K. Jochem Contracting Ltd, Innisfail 1:17:10
4th – Jack Stott – Alberta Milk, Edmonton 1:17:49
Parade Winners
Grand Award (Etek Office Supplies) – Blue Grass Nursery, Sod & Garden Centre
Grand Award Honourable Mention (Pivotal Chartered Professional Accountants) – Alberta Motor Association (AMA)
Adult Community Organization (Red Deer Overdoor) – Parkland Class/Relax Crew
Big People/Little People (Prairie Office Plus) – Ashley & Friends Playschool
Civic Organization (ProVerus LLP) – Stettler Board of Trade
Collector Vehicles (Fas Gas Plus) – Renny & Shannon Ceccato
Comic and/and Novelty (Peters' Drive-In) – Curves
Commercial Float (Nymans Trophies Awards Promotionals) – Blue Grass Nursery, Sod & Garden Centre
Decorated Vehicle (Copper Kettle Fudge Co.) – Red Deer Child Care
Professionally Decorated (Doctors EyeCare) – Alberta Motor Association (AMA)
Horse Hitch (Triple A Electric Ltd) – Double Tree Village & Museum
Riding Group (Raven Printing) – Electric Strides Drill Team
Canadian sprinter Andre De Grasse wins bronze in men's 100 metres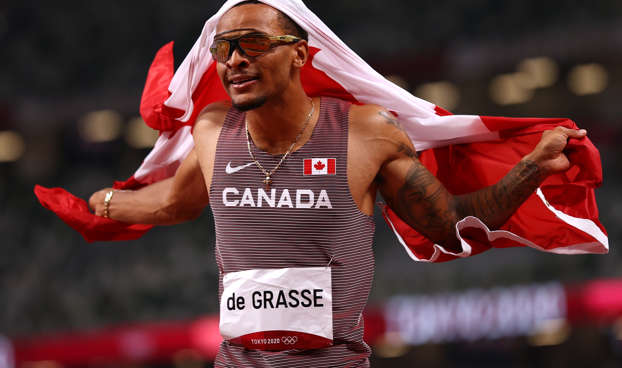 TOKYO — Canada's Andre De Grasse has claimed the bronze medal in the men's 100 metres for the second straight Olympics.
The 26-year-old from Markham, Ont., overcame a rough start and raced to third in a personal-best time of 9.89 seconds.
Italy's Lamont Jacobs took the gold in 9.80 seconds, followed by American Fred Kerley in 9.84 seconds. All three medallists ran personal bests.
It's Canada's first track and field medal at the Tokyo Olympics. It's also the latest piece of hardware in the event for De Grasse, who won bronze in the 100 in both the 2016 Olympics and 2019 world championships.
Two hours earlier, De Grasse ran 9.98 to finish second in his semifinal and seventh overall.
De Grasse is the first Canadian male to climb the medal podium in Tokyo. Led by swimming superstar Penny Oleksiak, women had captured all of Canada's 13 previous medals.
De Grasse will have a day off before he's back on the track for the 200 heats and semifinal on Tuesday. He captured silver in the 200 at both the 2016 Olympics and 2019 world championships.
There was no clear-cut favourite in the men's 100 this year with the retirement of Usain Bolt. The Jamaican superstar and world record-holder (9.58) captured gold and silver in the 100 and 200 in the Beijing, London and Rio, and what the media dubbed his "bromance" with fellow Puma athlete De Grasse was an entertaining storyline in Rio.
American Christian Coleman, the reigning world 100-metre champion and the sprinter considered De Grasse's biggest challenge in Tokyo, is serving a doping suspension through May of next year.
This report by The Canadian Press was first published Aug. 1, 2021.
The Canadian Press
Penny Oleksiak makes history as Canada swims to bronze in medley relay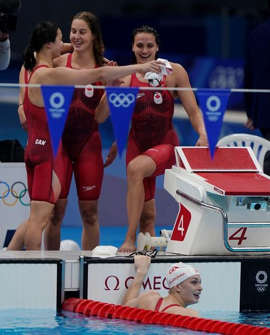 Masse, 25, earned a pair of silver in backstroke. Oleksiak also claimed bronze in the 200-metre freestyle.
The women's swim team amassed six medals in Tokyo to equal its Rio count of five years ago.
Taylor Ruck of Kelowna, B.C., Pickrem, Mac Neil and Toronto's Kayla Sanchez posted the fastest qualification time in Friday's heats to give Canada a middle lane Sunday.
The medley relay medal was Canada's first since 1988 and fourth in the 61-year Olympic history of race. Canadian women were bronze medallists in 1976, 1984 and '88.
Oleksiak won 100-freestyle gold, 100-butterfly silver and anchored Canada to a pair of freestyle relay bronze medals at age 16 in Rio.
Heats, semifinals, finals and relays added up to 10 races over nine days for Oleksiak in Tokyo, where she added a pair of relay medals and the 200 free bronze to her total.
Oleskiak, Mac Neil and Masse claimed their third medals at the Tokyo Aquatic Centre.
This report by The Canadian Press was first published July 31, 2021.
The Canadian Press