We will travel again but in the meantime, enjoy Gerry's 'Buddy Trip to Ireland'
Editor's note: We will travel again. And when we do, it will be with renewed anticipation and appreciation. In the meantime, please enjoy Ireland – A Buddy Trip, by Gerry Feehan.
____________________________________________________________
Despite my bona fide Irish heritage, I never had any burning desire to visit the Emerald Isle. But some years ago when I asked my mom if there were any place she'd like to go, she leapt at the chance to see Ireland, "Your father and I were there in 1970 and I've always wanted to go back." So my brother and I, together with our better halves, took mother Teresa on a grand tour. We stayed at the venerable Gresham Hotel in Dublin, drove the Ring of Kerry, peered over the Cliffs of Moher and visited the multi-purposed Feehan Pub and Funeral Parlour in Tipperary. We even kissed the Blarney Stone.
My mom was astonished by the change the Celtic Tiger had wrought since the '70s. It was 2003 and Ireland was roaring with economic prosperity. What had been drab villages lined with grey terrace houses had evolved into affluent towns filled with bright new homes painted all colours of the rainbow. It was an emotional trip. On what would have been my dad's 80th birthday, the five of us stood on a hill overlooking Galway Bay at sunset and sang his favourite song:
If you ever go across the sea to Ireland — Then maybe at the closing of the day — You will sit and watch the moon rise over Claddagh — And see the sun go down on Galway Bay.
I get a tear in my eye e'en now as I recall that brilliant Irish evening. It sounds corny but I truly felt at home in Ireland. I felt a bond with the peaty earth and a genetic connection to the people, their demeanour, wit – and love for a pint.
I'd been itching for an excuse to return and, as Irish luck would have it, last year the opportunity arose. But just like the first time around, this latest sojourn to Ireland wasn't my idea. It was my school buddy's notion that a bunch of us – eight old friends – should celebrate our 60th year on the planet by gifting ourselves a trip to the golf links of Ireland. I've known this group for a while; five of us attended kindergarten together. Collectively my association with these fellas has spanned 352 years. I did the math.
So in late May we packed our clubs and boarded a jetliner bound for Eire. After a couple of nights wandering the streets of Dublin's fair city, in a state of jet-lag-induced somnambulism, we boarded a private coach bound for the lovely port city of Kinsale. Distances on an Irish map can be deceiving. The 250 km traverse took us almost five hours. Fortunately we had a couple of guitars, some harmonies, plenty of bonhomie and the affable chatter of our driver, Mr. PaeBottle, to shorten the journey. And there's no better way to pass an evening than marvelling at the serenity and bucolic beauty of an Irish country lane.
In the morning we arose to a brilliant sunny day, a rarity in soggy Ireland, and chowed down a modest Irish breakfast of rashers, black pudding, white sausage, runny eggs, fried tomatoes, baked beans, soda bread, butter and preserves – all washed down with fresh-squeezed orange juice and black coffee (I waved away the creamer to avoid the fat).
"Yes, once, briefly," Morris said sheepishly, "no one deserves to be happy all their life."
Sated, we departed for Old Head, our first test of links golf. I have stricken many a golf ball in my day but never have I enjoyed (or endured) a more beautiful (yet painful) experience than my introduction to Irish golf.
It is bittersweet to see a brand-new Titleist sail up over a gorse-laden glen, observe its apex framed by a heather-topped mountain, then watch its descent over a 200-foot cliff en route to a watery Atlantic grave. "Gimme a double," was the oft-used phrase of our Irish experience – both on and off the course.
On the trip with my mom in 2003, the Irish cuisine was noticeably un-notable. Supper invariably consisted of boiled fish, boiled chicken… or some other bland boiled protein substance. And always there was the ubiquitous potato, served in two or three varieties at every sitting: mashed, fried, boiled, etc., stacked grimly on one's plate. One evening, tired of the usual fare, my mother politely asked if she could have a vegetable side with her dinner. The waitress promptly delivered a baked potato. "I asked for a vegetable," said my puzzled madre. "The potato is a vegetable ma'am," deadpanned the waitress, then turned and delivered two plates of over-boiled haddock to an unimpressed American couple at the adjoining table.
This time round the food was amazing. The Irish have upped their cuisinal game dramatically, fusing traditional Gaelic fare with actual flavour. Even the potatoes were tasty (although they are now mainly imported from Cyprus; apparently the Irish countryside is too good for the lowly spud). And the Celtic Tiger is alive and well. The streets are full of fancy imported cars and well-heeled women. The shops are stock-full and pubs overflow with tourists. But Ireland is expensive. Menu prices are similar to Canada but the currency is Euros, so the tab is 60% higher when converted to lowly Canadian dollars.
Which is not to say the Irish look down upon us. Au contraire, they love Canadians. We get it. The Irish are a loquacious bunch, always quick with a quip but also appreciative of a little conversational give-and-take. We Canadians laugh – then give it back.
Our driver Morris PaeBottle was a patient and diplomatic man, his Tralee accent oddly tinged with a Norwegian-like lilt. On the drive from Killarney to Waterville Golf Club we nearly rear-ended a number of cars. After the third incident I asked Morris, "Why do the drivers wait until the last possible moment before signalling a turn?" Unperturbed he explained at length how the Irish had suffered through centuries of poverty, then said, "They're afraid to wear out the bulb."
Mr. PaeBottle overflowed with Gaelic pride but was not full of himself. I asked if he'd ever been married. "Yes, once, briefly," Morris said sheepishly, "no one deserves to be happy all their life."
When we arrived at Waterville the friendly starter hurried out to help Morris unload clubs from the coach's boot. My bunkmate Martin began gushing to them about how pretty were the Irish lasses.
"That barmaid in the pub last night took my breath away," Uncle Marty said. "Surely, that would be a blessing," Morris said, under his breath.
This wasn't just a golf trip. A few of the lads are musical, so it was fitting that we'd join in a late-night ceilidh (traditional music, singing and dance) at the Cornerstone Pub in Lahinch. The boys acquitted themselves nicely and received a thunderous ovation – before being politely asked by the barman to exit the stage and let the truly talented locals reel off a jig or two.
It was a rare treat to join a group of long-time friends on a journey to the old country. It may happen again one day but unfortunately some of the vintage 1957 parts are wearing out. One pal, I'll call him "TD", struggles with his hearing.
At Ballybunion golf links, which is as famous for its fiendish layout as for its long history, he had a particularly bad finishing hole. As we left the 18th green I noticed him exiting in the wrong direction.
"TD," I shouted, "the clubhouse is this way." He looked at me, held up some fingers, and said, "Seven." As always, Morris was standing by at the finish. He looked at me, winked and said, "Those hearing aids are a real eye-opener."
I proceeded briskly toward the 19th hole and, killing two birds with the proverbial one stone, said to my scorekeeping friend Sid, whom I've known for almost six decades and whose turn it was to buy, "Gimme a double."
Gerry Feehan is an award-winning travel writer and photographer. We hope you enjoyed his Irish adventure. He and his wife Florence live in Red Deer, AB and Kimberley, BC.
Thanks to Kennedy Wealth Management for sponsoring this series.
Angling and adventure greet our intrepid traveller on Padre Island
A Necropsy in Friday Harbor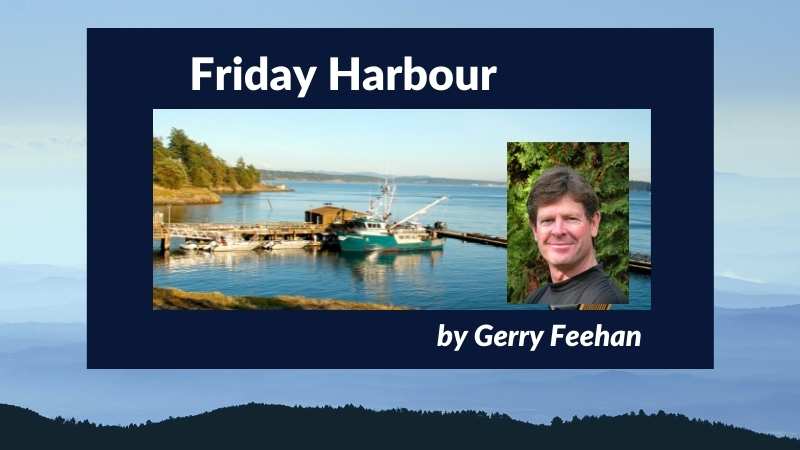 Friday Harbor – by Gerry Feehan
On November 8, 2021 the land border to the USA is open!
I had no idea what a necropsy was until we visited the marine lab institute at Friday Harbor on San Juan Island. It might have been better had my vocabulary been left unimproved, since a necropsy is not for the faint of stomach.
San Juan Island is in the United States but is actually much closer to Victoria, B.C. than it is to the U.S. mainland. British Columbia's capital is just a few kilometers away, across the Juan de Fuca Strait. San Juan can only be reached by small plane or, as in our case, via ferry. We embarked with our motorhome at Anacortes, Washington and, after weaving through and around a multitude of conifer-clad islets, disembarked an hour or so later in Friday Harbor, the quaint town of 2200 people that serves as County seat and is the largest town in the San Juan archipelago.
We had come to visit our daughter who had recently accepted a position as postdoctoral fellow at the University of Washington marine labs in Friday Harbor. Colette's area of expertise is the interaction between sea urchins and kelp—that's what urchins like to eat.
The harbor seal under scrutiny had been floating lifeless for many days and decay had set in.
Friday Harbor Labs is a true scientific research facility. It attracts renowned marine biologists from around the world. Small laboratories hug the shoreline of the lovely grounds. We strolled the shore, peaking in windows, spying pumps, beakers and aquariums full of life. It was exciting and mysterious watching lab coat-clad scientists recording data while carefully poured funny-looking liquids into test tubes.
It is encouraging and reassuring to see real science being performed—and adequately funded. Fortunately a good relationship and camaraderie exists between Canadian and U.S. researchers, particularly in the marine science field. Data is shared and papers co-written, without regard for border fences.
For most of our stay we were "in residence" and treated hospitably by everyone we encountered, from the maintenance people and dining hall staff to the doctoral candidates and tenured professors. Colette's mentor invited us to dinner and served up a tasty dish of coconut curry soup while we watched sunset from the deck of her rustic home high atop a hill overlooking the San Juans.
The islands thrive with wildlife. On our walkabouts we saw river otters, harbor seals, dolphins and orca whales swim, jump and cavort offshore. On shore deer, bald eagles, raccoons and fat native foxes frolicked in the autumn mist.
In the San Juans, there's lots of life—both below and above surface.
One brisk afternoon we hired a local guide for a sea kayaking tour in the cold fecund waters off Lime Kiln Point State Park. Colette and her oceanographer husband Mike pointed through the clear water at colourful sea urchins clinging precariously to rocks in the swell below. Colette gets pretty excited when she spots an urchin—particularly when a healthy bed of bull kelp floats nearby. Our guide reached into the kelp and handed me a raw blade. "Here, try this," she said.
I munched. It was palatable. Nice texture, not too salty, with a kale-like flavour. Our spiny urchin friends have made a good dietary decision.
A necropsy is to an animal what an autopsy is to a human: an examination of a dead body to determine cause of death. Fortunately the procedure we observed took place outdoors—on the quay at the Lab. The harbor seal under scrutiny had been floating lifeless for many days and decay had set in. I was careful to remain upwind from the carcass. The necropsy was performed by a renowned local marine veterinarian, Joe Gaydos. He carefully dissected the entire animal—from flipper to brain. No organ was left unchurned: heart, lungs, stomach, glands, even the tongue, were surgically, skillfully removed and splayed out upon the dock in the crisp salty air for all to see. As he cut, Dr. Gaydos carefully explained each step in the process and what role each body part played in the life—and death—of the animal, in a matter-of-fact, good-humoured fashion.
Apparently the animal died of a chronic lung infection. At least that's what I learned after I was revived by the smelling salts.
Our last night on the island was a stargazer's dream. We checked out of the marine lab residence and into the campground at San Juan County Park on the west side of the island. Across the Juan de Fuca Strait the shimmering lights of Victoria seemed a mere stone's throw away. Florence knit while I lit a roaring campfire. An occasional cloud drifted by to briefly mask the moon and the Milky Way. Camping made perfect.
In the morning back in town Mike and Colette treated us to a hearty farewell breakfast before we caught the ferry back to the mainland. As we sailed away I snapped pictures of Friday Harbor Labs from the ferry deck. A young couple was out on the windy bow taking selfies. I pointed to the cozy buildings lining the shore and said proudly, "My daughter is a scientist over there."
They nodded vaguely but I don't think they heard me.
Thanks to Kennedy Wealth Management for sponsoring this series. Click on the ads and learn more about this long-term local business.
Revisiting the "All-inclusive" in Cozumel – by Gerry Feehan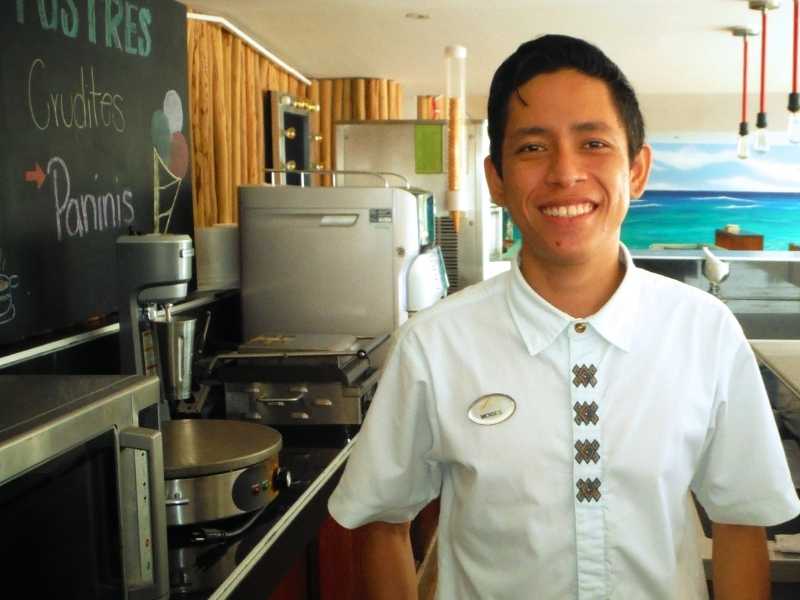 What could be finer than swimming in a warm ocean, peacefully drifting over a colourful coral reef, snorkeling amidst a myriad of tropical fish? In my estimation, not much. And one of earth's finest snorkel sites is the Island of Cozumel, in Mexico's Yucatan Peninsula.
Or at least it was until Hurricane Wilma hit in 2005. The most intense tropical cyclone ever to strike the Atlantic, Wilma pummeled the Yucatan, flattening buildings and killing scores of people. But the death and destruction was not limited to land. The churning storm surge also destroyed life under water.
Cozumel is situated along the world's second largest barrier reef. The Great Mayan Reef stretches from Mexico's Yucatan 1000km south to Belize in Central America.
When Wilma finally passed, resorts that formerly advertised "walk-in" snorkeling were suddenly left with ocean desert—broken chunks of dead coral lying in a watery grave. Until then Cozumel had been high on our bucket list. Wilma moved it down a few notches.
There was a time when a Mexican all-inclusive was our go-to vacation; a cheap week on the Mayan Riviera where food was plentiful (if not particularly appetizing) entertainment was non-stop—and best of all, the Corona flowed freely. But those days passed and we gradually moved on to more exotic—and expensive—vacations. So my expectations were not high when we decided to go retro and check out the Fiesta Americana all-inclusive on Isla de Cozumel's leeward coast. Would the snorkeling be good? Would the resort be serving up Montezuma's Revenge for lunch?
It didn't take long for all-inclusive nostalgia to kick in. The first day at the pool we watched a couple of hefty strangers drink themselves into a stupor and pass out before noon in the searing tropical sun. While I am as big a fan of the swim-up bar as the next guy, we were here primarily for the ocean experience.
Cozumel's currents are notoriously powerful, so that afternoon we walked up the beach half a kilometer, donned our gear and enjoyed a frighteningly quick drift back to the resort. Happily, a decade-and-a-half after Wilma, the reef is showing signs of recovery—tiny colourful fish darted in and out of small but healthy new coral formations.
The following morning I booked a drift dive with a local scuba operator. We motored out to Palancar Reef in Arrecifes de Cozumel National Park, jumped overboard, descended 20 meters and floated through the famed Coral Gardens. It was magical. This deeper reef was unaffected, with pristine red, green, purple and orange coral heads glowing brightly in crystal-clear water. And the sea creatures—sea stars, lobsters, small crustaceans and a multitude of reef fish—were everywhere.
The next day we rented a jeep convertible for the obligatory circumnavigation of the island. We peeked in at some of the fancy resorts on the protected west shore before driving up Cozumel's rugged windward side where rough seas wave in from the open Caribbean, pounding the unpopulated eastern coastline. En route we stopped for a swim at Punta Sur on Cozumel's southern tip. Warm calm waters greeted us. We snorkeled over a shallow sandy bottom, admiring large coral heads and schools of damselfish and wrasses. A puffer fish inflated itself defensively, comically. Then we drifted into a garden of sea fans. Acres of purple, pink and mauve giants swayed softly just below the surface. Miraculously, this tip of Cozumel had avoided Wilma's random fury.
The ocean is not Cozumel's only attraction. When a new ring road was built around the island, local leaders had the wisdom to leave the old highway in place, close it to motorized traffic and convert the road to pedestrian and bicycle use. Now cyclists from around the globe come every November to participate in the annual Cozumel Gran Fondo, nicknamed "the world's most beautiful bike ride."
The Fiesta Americana had a few rusty bicycles available for patron use and, although these old contraptions had been exposed to the briny sea air for years, still it was fun to pedal around the island. We engaged in our own Petit Fondo, from the Fiesta down the coast to Playa Palancar. Our clocking for the twenty-one kilometer return trip was a respectable 60 minutes—excluding the three and a half hours we spent at the Palancar Beach Bar.
The staff at Fiesta Americana was embarrassingly polite and helpful. Early on we became attached to young Moises who manned the coffee and pastry bar in the open-air lobby. By the third morning I had no need to order. While we made poquito talk en Español, he'd whip me up a double café con leche. Moises, eighteen, worked 10 hours a day, six days a week at the resort—for about $20 a day. He didn't live on the island—too expensive. Every day he endured a ferry commute from the mainland. And yet I'm not sure when I last met a happier, more positive person.
One morning I was feeling self-pity over some trivial e-mail I had received. As Moises handed me my coffee, he asked if everything was okay. I felt like going back to our lovely ocean-view suite and giving myself a very hard look in the mirror—but instead I just ordered an extra helping of bacon with my scrambled eggs. The food at the Fiesta was really good—more than palatable.
So our nostalgic all-inclusive experience was a success—and a heck of a lot simpler and cheaper than organizing one's own tropical tour. And the entertainment? Awesome—particularly when the two chubby drunken fellows reappeared bashfully on day two, pale as ivory on one side, red as a Caribbean lobster on the other.
Our visit to Cozumel was pre-Covid—but Mexico is open for business again!
Gerry Feehan is an award-winning travel writer and photographer. He lives in Kimberley, BC.
Thanks to Kennedy Wealth Management for sponsoring this series. Click on the ads and learn more about this long-term local business.