"We can no longer watch our city decay" EPS Chief Dale McFee on province's "zero tolerance for crime" initiative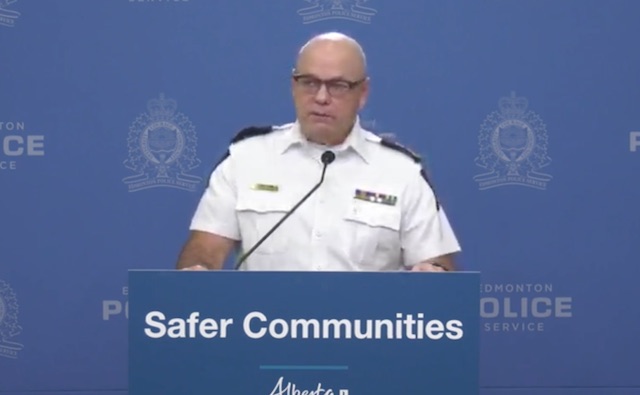 Zero tolerance for crime
New targeted prosecution units and stricter bail protocol will make offenders accountable for their actions and better protect Albertans from violent criminal activity.
Albertans deserve to feel safe and protected from repeat violent offenders, which is why the province is introducing new measures to make sure Albertans feel secure and protected in their communities.
Targeted prosecution units in Alberta's major urban centres will help address deteriorating safety and keep Albertans safe from those who commit violent crimes. The Alberta Crown Prosecution Service (ACPS) will create teams with expertise to focus on the increased level of crime and the prosecution of violent criminals in Edmonton and Calgary. Prosecutors on these teams will work with law enforcement to focus on specific issues affecting these communities, including drug houses and available social supports, and how these factors affect the amount and type of crime occurring.
"The position of the Alberta government is absolutely clear: there is no safe haven in Alberta for criminals. These changes add to our existing efforts to make sure all criminals, especially repeat violent offenders, are held accountable for their actions."
Changes to the bail practice protocol for Crown prosecutors will prioritize public safety and take a tough approach on crime caused by repeat violent offenders and gang activity. The protocol provides guidance to prosecutors to seek to detain any accused who is a threat to public safety, especially repeat violent offenders, unless the risk to public safety can be addressed by bail conditions. Prosecutors must evaluate the risk that the accused will commit another offence if released.
In addition, the attorney general is terminating the triage practice protocol, which has been met with public concern since it came into effect in 2017. Eliminating this protocol will better address violent crimes in the community and ensure all viable charges are prosecuted. This change is possible through government investments in the ACPS, which give the prosecutors resources to fully prosecute all matters involving violence.
"In the absence of needed bail reform from the federal government, Alberta is taking a zero-tolerance approach to ensure citizens are safe and secure in their communities. Violence, social disorder and open-air drug use is unacceptable, and we will do everything in our power to take back our streets and ensure they're safe for Albertans."
These measures build on several actions Alberta's government is taking to improve public safety, including increased investments in the Alberta Sheriffs, additional funding to hire 100 more street-level police officers in Edmonton and Calgary, and a $5-million grant to each city to improve public safety on their transit networks.
"The criminal activity and disorder that is happening on our city streets is truly devastating. I am pleased by the changes being proposed by the minister of justice and the new approach of Edmonton Police Service to keep public spaces safe. These interventions are important to stabilize the situation while we continue to work together on long-term solutions."
"There is no question that Edmontonians are concerned about the condition of their city's public spaces, with open-air drug use and associated crime and violence a top issue. We have many government and community partners we lean on to support those impacted by mental health, addiction and victimization, and will continue to do so, but the EPS is taking a clear stance on the criminality and disorder being directly fed by the drug trade."
Together, these initiatives will help strengthen the Alberta justice system and the ability to prosecute crimes and keep repeat violent offenders off the street.
Quick facts
Investments in the Alberta Crown Prosecution Service include the addition of 50 new trial prosecutor positions since 2017.
Public concern about the triage practice protocol introduced in 2017 resulted in some prosecutions not proceeding even if they were in the public interest and had a reasonable likelihood of conviction.
Alberta is providing funding for 100 new front-line police officers in Calgary and Edmonton – 50 in each city.
The Alberta Transit Cleanup Grant is providing Edmonton and Calgary with $5 million each for initiatives that create a safer, more welcoming environment for transit riders.
In February 2023, the Alberta Sheriffs entered into an agreement with the Edmonton Police Service (EPS) to deploy 12 sheriffs for a 15-week pilot project to address public safety and social disorder in the downtown core. In response to a request from EPS, 10 sheriffs remain deployed with EPS until the end of the year.
"With success comes challenge." Premier Smith to Alberta Municipalities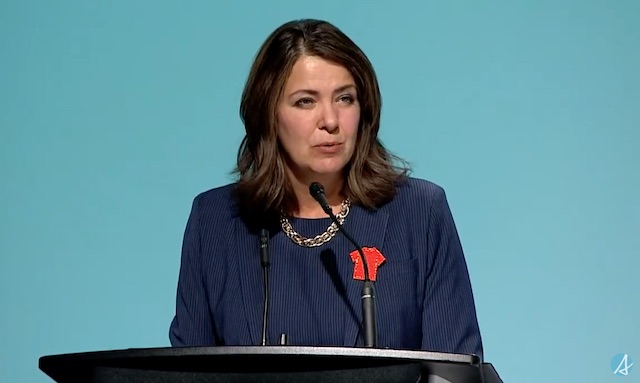 Premier Danielle Smith delivered a keynote address at the 2023 Alberta Municipalities Convention in Edmonton.
Running Reins Ranch in Red Deer County picks up $250,000 grant from province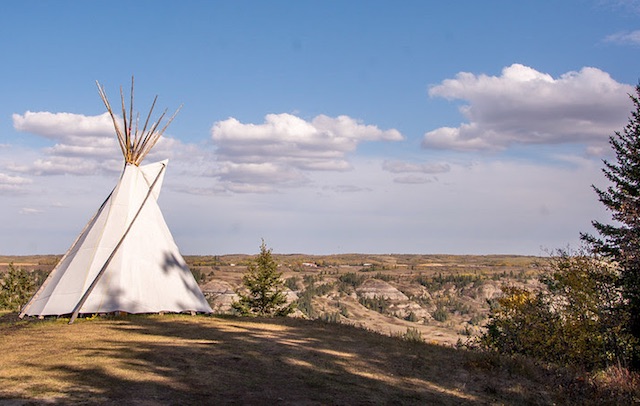 Running Reins Ranch partners with members of the local Indigenous community to set-up teepee accommodations and host regular cultural programming for guests.
Tourism investment fuels growth in rural Alberta
Alberta's government continues to support regional tourism opportunities across the province, generating jobs and new tourism destinations for locals and visitors alike.
Ahead of World Tourism Day 2023, Minister of Tourism and Sport Joseph Schow visited Running Reins Ranch to see first-hand how tourism investment grants are making a difference in the lives of Albertans.
"Alberta's government is proud to invest in growing visitor destinations like Running Reins Ranch that celebrate the richness and diversity of Alberta's rural destinations and provide a sustainable tourism experience for visitors to enjoy."
As part of the Tourism Investment Program, Running Reins Ranch received a $250,000 grant from Travel Alberta.
"Our investment will support the building of additional unique accommodations at the ranch that will triple their capacity, emphasize their year-round offerings and create five new full-time jobs. This investment in Running Reins Ranch is a perfect example of how Travel Alberta is driving tourism growth in rural communities across the province."
Running Reins is located east of Innisfail, offering cabin and teepee accommodations and a wide range of outdoor activities for visitors looking to combine the beauty of the Prairies with farm experiences for a one-of-a-kind getaway.
Right to Left: Minister of Tourism and Sport Joseph Schow, Owners of Running Reins Ranch Terry and Janice Scott, and team member Grace Finlan.
"This funding is a game-changer for us and our business. We are excited to bring our vision to life and provide visitors with unforgettable experiences while supporting the economic growth of the surrounding community."
Tourism is Alberta's No. 1 service export sector. In 2019, Alberta welcomed 34.6 million visitors, generating $10.1 billion in expenditures and supporting more than 80,000 full-time jobs. The Tourism Investment Program is Travel Alberta's commitment to investing $15 million annually with communities and operators to develop the province's tourism sector. Developing Alberta's rural and agri-tourism sector is an essential component of the government's efforts to grow Alberta's tourism economy to more than $20 billion by 2035.
Quick facts
In 2022-23, Travel Alberta funded 166 projects across 73 communities – about 75 per cent of the projects and 70 per cent of the funding were in smaller urban and rural areas of the province.
In December 2022, Alberta's government released its Economic Development in Rural Alberta Plan, with supporting initiatives that demonstrate the government's commitment to building healthy and prosperous communities across rural Alberta and Indigenous communities.