Red Deer RCMP looking for help from public in arson investigation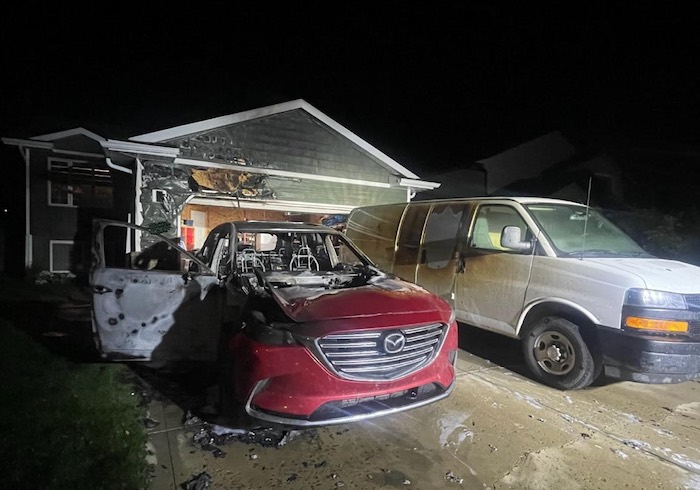 News release from Red Deer RCMP
Red Deer RCMP investigate arson
On Sept. 13, 2023 at 1:26 a.m., Red Deer RCMP were called to a residential structure and vehicle fire on Lancaster Dr.. Red Deer Fire and EMS responded as well. Upon arrival, a vehicle was fully engulfed in flames and the fire was spreading quickly to a second vehicle and the residence.
The owners of the residence were home at the time of the fire. The owners and several neighbours heard a loud bang before the owner exited his home and discovered his vehicle on fire. City of Red Deer Fire department extinguished the flames.
All residents of the house are safe and no injuries were reported.
One vehicle was completely destroyed by the fire. A second vehicle has heat and paint damage. The exterior of the garage has extensive surface damage.
Fire investigators attended the scene and located the source of the fire. The fire is deemed to be suspicious and RCMP are investigating the incident as an arson.
The initial RCMP investigation is on-going and more information will be released once available.
Red Deer RCMP are asking the public's assistance for any information or video surveillance in relation to this incident are asked to contact the Red Deer RCMP at 403-406-2200 or your local police. If you wish to remain anonymous, you can contact Crime Stoppers at 1-800-222-8477 (TIPS), online at www.P3Tips.com or using the "P3 TIPS" app available through the Apple App or Google Play Store.
To report crime online, or for access to RCMP news and information, download the Alberta RCMP app through Apple or Google Play.
Police investigate 22 shootings across city in month of August  
News release from the Edmonton Police Service
The Edmonton Police Service continues to investigate 22 reported shooting occurrences in the month of August.
Of the 22 occurrences, 18 are believed to be targeted offences and not random in nature. Ten of the 22 shootings resulted in injuries, and in 19 of these shooting incidents, there was the potential for innocent bystanders, including children, to be harmed. There were three deaths as a result of shooting occurrences in August, one of which was self-inflicted.
Nine incidents involved shots being fired at a person, four shots were firedat residences, another four shots were fired into the air, two shots were fired at vehicles, two shots were accidentally discharged and one was self-inflicted.
Compared to August 2022, August 2023 shooting occurrences are up by 36%. There have been 152 reported shooting occurrences year to date, a 32% increase from last year at this time. Edmonton Police Service members have also seized 679 firearms year to date.
Change to B.C. drug decriminalization policy prohibits use near playgrounds, parks
People are framed by wildflowers while walking a dog on a pathway at Garry Point Park, in Richmond, B.C., on Thursday, May 18, 2023. The B.C. government says its drug decriminalization policy has been amended to stop people from using illegal substances near playgrounds and parks.THE CANADIAN PRESS/Darryl Dyck
Vancouver
The British Columbia government says its drug decriminalization policy has been amended to stop people from using illegal substances near playgrounds and parks.
The Ministry of Mental Health and Addictions says in a statement that the federal government approved the changes to its drug decriminalization policy.
The federal government gave the province an exemption from the law in May last year to allow for the removal of criminal penalties for people caught with a small amount of illicit drugs for personal use.
The new changes mean illegal drug possession within 15 metres of playgrounds, waterparks and skate parks will be prohibited as of Sept. 18, although possession was already prohibited on school grounds and in child-care facilities.
The provincial government says the amendments mean police can again enforce federal drug laws if people are found with illegal drugs near "child-focused spaces."
Victoria Mayor Marianne Alto says in the statement that while decriminalization is one part of the response to the toxic drug crisis, it's important to take steps that specifically protect children.
Vancouver Mayor Ken Sim says the city had asked the provincial government to get Health Canada to make the change.
"This is a positive step forward in helping to find balance for our communities, including families, seniors, children, and our most vulnerable residents," he said in a statement issued Thursday.
This report by The Canadian Press was first published Sept. 14, 2023.