Victory! San Francisco Mayor Promises Crackdown on Drug Dealing & Crime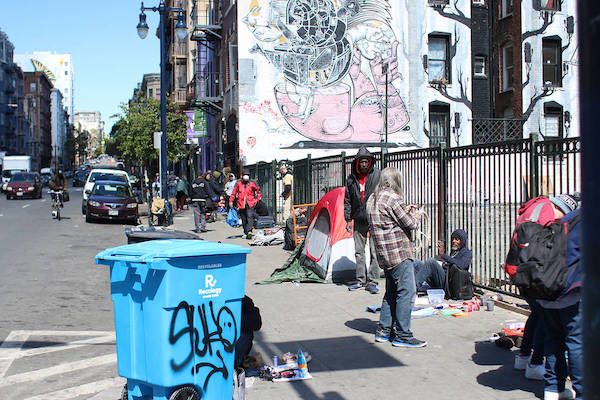 London Breed says city must be "less tolerant of all the bulls**t that has destroyed our city," and demands more money for cops
San Francisco Mayor London Breed announcing a police crackdown on crime and drug dealing
After Black Lives Matter protesters last year demanded that cities "Defund the Police," San Francisco Mayor London Breed held a press conference to announce that her city would be one of the first to do exactly that. Breed announced $120 million in cuts to the budgets of both San Francisco's police and sheriff's departments. A spokesperson for the police officers' union warned the cuts "could impact our ability to respond to emergencies," but the police chief assured the public that the cuts "will not diminish our ability to provide essential services."
Yesterday, Breed reversed herself in dramatic fashion, announcing that she was making an emergency request to the city's Board of Supervisors for more money for the police to support a crackdown on crime, including open air drug dealing, car break-ins, and retail theft. The plan contains much of what the California Peace Coalition, which Environmental Progress and I cofounded last spring, has been demanding, including in a series of protests by parents of homeless addicts, parents of children killed by fentanyl, and recovering addicts.
San Francisco Mayor Breed and other San Francisco politicians have for years promised to crack down on drug dealing and crime, and things have only grown worse over, so skepticism is merited. Already, progressives in San Francisco have denounced Mayor Breed's plan, which she announced with the support of just two members of the city's 11 Board of Supervisors, and without the apparent support of the city's District Attorney.
But there's good reason for hope. Breed's plan lays out big goals and makes very specific promises, including more funding for police. There will be a recall election next June of San Francisco's District Attorney Chesa Boudin which many political experts believe will succeed. And the progressive Supervisor who represents the Tenderloin, the neighborhood with most of city's open drug scene, is running for state assembly, creating a leadership vacuum and opportunity for Breed.
More importantly, Breed's speech has the potential to change the conversation about crime. Breed explicitly embraced "tough love," which is a very different philosophy from Woke victimology, which divides the world into victims and oppressors and demands that victims, a category that includes street addicts and criminals, only be given things, from cash and clean needles to their own apartment with butler service, and not be held accountable for their actions.
"I'm proud this city believes in giving people second chances," said Breed. "Nevertheless, we also need there to be accountability when someone does break the law…Our compassion cannot be mistaken for weakness or indifference…. I was raised by my grandmother to believe in 'tough love,' in keeping your house in order, and we need that, now more than ever."
Breed punctuated her emotional speech with an explicative. "It is time for the reign of criminals to end," she said. "And it comes to an end when are more aggressive with law enforcement and less tolerant of all the bulls**t that has destroyed our city."
Why is that? What explains Breed's 180 degree reversal in less than 18 months? And what will determine whether she keeps her promise?
Murder, Looting, and Drug Deaths
The main reason for Breed's turnabout is skyrocketing crime. A report released yesterday by San Francisco's Public Policy Institute of California concluded that homicides increased in Los Angeles, Oakland, San Diego, and San Francisco by 17% in 2021. Property crimes in those four cities rose 7% between 2020 and 2021, reaching 25,000 total in October. Two-thirds of increase is due to larcenies, mainly car break-ins (by 21%) and vehicle thefts (by 10%).
PPIC stresses that property and violent crimes are lower than historic levels, but business leaders and residents have told me for two years that they often do not report many crimes. And the rate of arrest has declined significantly for many crimes. In 2019, 40% of all shoplifting reports resulted in arrest; in 2021, only 19% did. San Francisco's progressive D.A. charged just 46% of theft arrests, a 16 point decline since he took office in 2020, and charged just 35% of petty theft arrests, a 23 point decline from two years ago.
In November, San Francisco was the first of several progressive cities hit by smash-and-grab mobs of thieves, sometimes as many as 80 in a group. Video from the San Francisco looting of Louis Vuitton shows criminals walking casually out of the store, goods in hand. In response, many of San Francisco's luxury stores in its Union Square shopping district boarded up their windows, making the area resemble a blighted neighborhood in Detroit, and embarrassing city leaders.
Meanwhile, San Francisco's open drug scene contributed to three times more deaths from illicit drugs than covid last year, and has degraded the low-income historically black Tenderloin neighborhood. San Francisco could shut the open drug scene down like European cities did but has instead refused to mandate proven medical treatment to drug addicts. San Francisco's progressive leaders have effectively been overseeing a radical social experiment, one that killed more African Americans last year alone than the entire Tuskegee syphilis experiment killed over 40 years.
Breed has been personally impacted by addiction and crime. Both Breed's sister and brother struggled with addiction while growing up in public housing in San Francisco. Her sister died of a drug overdose and her brother is in prison for armed robbery. "I am not for playing games with my life when it comes to politics," she told an interviewer. "I've been in that community, working in the trenches, dealing with the public safety issues, dealing with those things because my people are the ones getting left behind at the end of the day."
But Breed also had to be pushed. In May, I helped Jacqui Berlinn, a mother of a homeless fentanyl addict, organize the first-ever protest of open drug dealing in the Tenderloin, which generated national and local headlines and local TV coverage.
A few months later, Berlinn and I co-founded, with parents of children killed by fentanyl, recovering addicts, and community leaders, a new state-wide group, the California Peace Coalition, to demand the enforcement of laws against open drug dealing, mandatory treatment for addicts who break the law, and a state takeover of psychiatric and addiction care.
Then, in early November, over 200 mostly poor and working class people in the Tenderloin protested a 161% increase in violence in the neighborhood between 2020 and 2021, and open drug dealing, in march on City Hall. Part of their motivation was a brutal attack on an 11-year-old girl while she was walking to school. The day before, a 61-year-old man was shot while sitting in a donut shop. Two weeks later, a half a dozen gunmen fired 30 and 40 rounds at each other, sending bystanders running in chaos.
Breed put their voices at the heart of her announcement. "Last week, I met with a group of families from the TL [Tenderloin]," she wrote. "I was told about drug dealers threatening grandmothers. About mid-day shootings near a park where a single mother brings her toddler after school. About assaults on the street…. We need to take back our Tenderloin."
The response to Breed's remarks from parents and residents was overwhelmingly positive. "I can't express how happy this makes me," tweeted Berlinn. Tom Wolff, a formerly homeless drug addict who is on the city's Drug Dealing Task Force, said, "I'm really happy to hear the mayor take a tougher approach on this. We can't arrest our way out of everything, but there needs to be some target specific enforcement."
Michelle Tandler, a San Francisco native whose photos of boarded up Union Square stores went viral, said, "I've been observing Mayor Breed for many years now and have to say, I think this was her greatest speech to-date. Mayor Breed took a stand for what is right. I haven't seen her this impassioned since her inauguration a few years back."
Seizing the Momentum
Breed's speech puts pressure on progressive San Francisco supervisors and the District Attorney to shut down the open drug scene in the Tenderloin.
When he ran for office in 2018, San Francisco District Attorney Chesa Boudin called "open-air drug use and drug sales… technically victimless crimes." When Boudin announced that he was not going to prosecute street-level drug dealers he said it was because they are "themselves [are] victims of human trafficking."
But, after the looting of Louis Vuitton, Boudin struck a more tough-on-crime tone. "I'm outraged by the looting in Union Square last night" Boudin tweeted. "We are seeing similar crimes across the country. I have a simple message: don't bring that noise to our City."
But standing up for luxury stores is different from shutting down open drug scenes. "Boudin made a very strong statement after the [flash mob] theft of Louis Vuitton," said Stanford addiction specialist Keith Humphreys. "But I want a DA who is the most worried about the poorest residents and less about Louis Vuitton."
Other politicians are responding to the crime wave. California Attorney General Rob Bonta promised "more resources" for investigating retail theft. And the Mayor of Oakland, which will have record homicides this year, has demanded more funding for the police, and asked Gov. Gavin Newsom to finally implement technology that would allow police to read license plates on state highways to catch criminals.
Former San Diego Mayor Kevin Faulconer said he viewed Breed's announcement as vindication for what he has been advocating. "Californians are tolerant, but we don't tolerate brazen crime and dangerous streets," he said. "It should not even be a question as to whether or not the open drug markets should be shut down — I've been saying for years: if you let people live and do drugs on the streets, you're condemning them to die on the streets. I enforced this as Mayor of San Diego and it must be enforced throughout California."
Former Sacramento District Attorney Anne Marie Schubert, a former Republican running for California Attorney General as an independent, praised Breed and used her announcement to attack Attorney General Bonta as soft-on-crime. "Bravo to London Breed," Schubert tweeted, "and her commitment to cracking down on crime and open air drug usage. Breed has laid out common sense strategies that Rob Bonta clearly disagrees with. San Franciscans deserve better than an Attorney General who won't listen to local officials about common sense public safety measures."
Breed's announcement come days after former Philadelphia Mayor Michael Nutter attacked progressive District Attorney Larry Krasner for dismissing the city's record high homicides, and several weeks after Seattle voters, of whom less than 10 percent voted for Donald Trump in 2020, elected a Republican as the city's State Attorney in response to rising crime. "I don't think we can overestimate the influence of the city of Seattle voting 8% for Donald Trump one year ago and voting 55% for a Republican city attorney who had a law and order platform in this year's election," said Humphreys.
In the end, shutting down the city's open drug scenes is crucial to ending drug deaths and the chaos that plagues the city. "It is an entirely fixable problem," said Humphreys, "as many cities have shown. There will still be drug use and addiction in San Francisco. But harm reduction requires closing down open air drug scenes. Every city in America has drug problems. They do not all have a drug scene like San Francisco."
Humphreys emphasized, as did the authors of a study of how five European cities closed open drug scenes, that coordination between homeless service providers and police officers is crucial. The head of one of them, Urban Alchemy, Lena Miller, said, in response to Breed's announcement, "We are relieved. The problem wasn't created overnight and solving it will take time. But we very happy and looking forward to everyone coming off the sidelines to solve this."
For Humphreys, citing the European model, "Harm reduction is not a fantasy about a drug-free society, which we're never going to have. It's trying to minimize the damage that drugs do. Closing down open drug markets is going to have huge gains for people, particularly in the Tenderloin, but more broadly in the city."
Breed announcement may help change how Americans think about drugs. While it may not be possible to halt drug from coming into the U.S., it is possible to shut down open drug scenes, and mandate treatment for those who need it.
"The public is wanting some action here and she's going to try to deliver it," said Humphreys. "I think her announcement will resonate in some of these other cities, too, and give courage. I admire the mayor for taking a political risk on behalf of the least powerful people in the city."
Why Wishful Liberal Thinking Led to Disasters in Ukraine, Homelessness, And Climate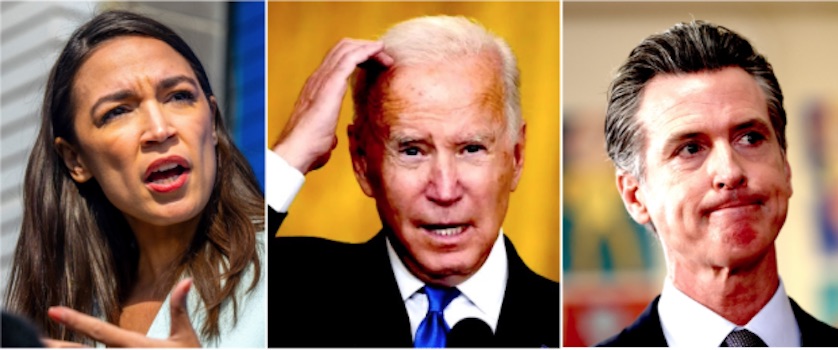 Rep. Alexandria Ocasio-Cortez (left) admits, "We're in Trouble," as President Joe Biden (center) struggles to respond to the worst energy crisis in 50 years, and as California Gov. Gavin Newsom (right) makes homelessness worse.
The good news is that everything is changing — and fast
In the three decades since the collapse of the Soviet Union, liberals in the West have denounced their political opponents as deniers of climate change, science, and reality in general. Progressives and neoliberals alike argued that they alone could see the shape of the new world being born. It would be increasingly globalized, democratic, and focused on new threats, like climate change.
It's now clear that all of that was a delusion. Neither China nor Russia is democratizing and both have become more autocratic and totalitarian. Neither nation views climate change as a major threat. On the contrary. Russia views climate change as an opportunity to expand agriculture and shipping through its newly ice-free waters. Where both Putin and Chinese Premier Xi used to give lip service to climate change, neither even bothered to attend last fall's United Nations climate talks.
It's true that the West has imposed sanctions on Russia, and the Ukranian people are battling the Russians fiercely and admirably. A few days ago, Russians retreated from the capital city of Kyiv. Western nations froze bank accounts of Russian oligarchs, hammering the ruble. And European governments are calling on their citizens to reduce energy consumption.
But those are hiccups on the way to a rapidly changed world. Consider that:
China aided Russia's invasion of Ukraine through a massive cyberattack on Ukraine's military and nuclear facilities, according to intelligence memos obtained by The Times of London.
Europe continues to import Russian energy while China nor India are buying Russian oil at a steep discount. There is little reason to believe conservation measures by Western consumers will make much of a dent in energy consumption.
And Russia's retreat from Kyiv appears to be temporary and strategic.
Russia's invasion of Ukraine comes at the very same time as: the collapse of the West's climate and renewables agenda; an energy crisis triggered by climate activists; and a worsening drug, crime, and homeless crisis in America's cities.
What do all these events have in common? They all point to the grave dangers of irrational liberal optimism.
Liberals aren't the only ones who are guilty of wishful thinking. There are an alarming number of Republicans who believe that Donald Trump was elected President in 2020 and that Larry Elder defeated Governor Gavin Newsom in California's recall election last fall. Only an elaborate electoral fraud conspiracy, the reasoning goes, kept them from assuming office.
And conservatives contributed to the disasters in Ukraine, homelessness, and climate change. George W. Bush famously said he looked into Putin's eyes and "was able to get a sense of his soul." Bush also made the disastrous "Housing First" policy of giving away apartment units, unconditionally, to addicts and the mentally ill, federal policy. And many Republicans have, in recent years, promoted renewable energy subsidies.
But when it comes to the West's failure to deter an increasingly totalitarian and violent Russia and China, the growing scarcity and unreliability of energy, and the destruction of America's cities by open air drug scenes, the fault lies squarely with people on the Left end of the political spectrum.
Western leaders, including President Joe Biden, French President Emanuel Macron, and former German Chancellor Angela Merkel, all denied to themselves, and to others, what was plainly obvious to many analysts for years: Putin intended to invade Ukraine.
Even as Russian forces prepared for war games last fall, Biden's national security adviser Jake Sullivan wondered "why Russia would take such a military action at that time," according to a reconstruction of the events leading up to Putin's invasion by the Wall Street Journal.
On climate change, center-Left parties around the world deluded themselves into thinking their high-energy economies could be powered by renewables, which energy historians have known for centuries had to be abandoned for fossil fuels in order for the industrial revolution to happen. And around the world it was liberals not conservatives who fought to shut down nuclear plants and block natural gas pipelines and infrastructure.
Liberals and progressives could have embraced a climate and energy strategy focused on domestically-produced natural gas and nuclear, as I have urged them to do for over a decade, and which Putin did, allowing him to gain a stranglehold over Europe's energy supplies.
Such a strategy was the only one that ever made any sense from an environmental point of view. Nuclear and natural gas are the two technologies that are most responsible for declining emissions by the US and Europe since the 1970s.
Instead, the Left in Europe opted for importing fossil fuels from Russia and the Left in the US for importing solar panels made by enslaved Muslims in China.
On crime, liberal cities have gradually reduced consequences for breaking laws, whether from addiction or malevolence, resulting in rising homicides, burglaries, and open air drug scenes. Relatedly, on homelessness, progressives have funneled hundreds of billions into "Housing First," which gives away apartments to homeless drug addicts without requiring sobriety.
California Gov. Gavin Newsom doubled down on Housing First last year. At a press conference announcing $12 billion for Housing First, a journalist asked, "How do you keep California from becoming a magnet for people who have issues in other states and coming here to take advantage of what California is spending. It's been a problem in the past."
Responded Newsom, "To the extent that people want to come here for new beginnings and all income levels, that's part of the California dream. And we have a responsibility to enliven and inspire. California's dream is still alive and well. A $80 billion budget surplus… And that should not just be for certain people."
The result is that, today, well over 50 percent of the people on the streets of San Francisco and Los Angeles are from out of town, according to expert insiders, homeless outreach workers, and the homeless themselves.
Why do liberals keep making the same mistake over and over again?
In part, it's because of what cognitive psychologists call "theory of mind." Liberals tend to think that other people think like they do. Western liberal leaders thought Putin was one of them, a liberal democrat committed to rule of law, even though he repeatedly said he wanted to reconstruct the Soviet empire.
Similarly, leading liberal leaders think homeless drug addicts are seeking a better life, and just need their own apartment to quit drugs, get a job, and re-connect with family and friends. In truth, many if not most homeless addicts maintain their addiction until they are forced to quit.
On energy and climate change, progressives indulged in the fantasy that we could power the world with energy sources that have no negative consequences. They convinced themselves that renewables were better in every way than either fossil fuels and nuclear, even as they demanded massive subsidies for, and the right to kill endangered species in, their deployment.
And liberals engaged in wishful thinking that high standards of living can be maintained with much lower levels of energy consumption, and that poor and working people will accept low standards of living.
There were financial rewards for such wishful thinking. Politicians like Newsom can raise much more money from homeless housing developers than from homeless shelter providers. Center Left parties take money from renewable energy companies all over the world. And it's now clear that climate activists in Europe, and perhaps the United States, took, took money from the Russian government to fight fracking and natural gas production.
The good news is that the failure of elites to govern at local, national, and international levels points to a coming change of leadership, triggered by covid, but ultimately resulting from the exhaustion of post-Cold War ideologies and institutions.
It will gradually become clear that the West must defend itself more vigorously against resurgent illiberal regimes, particularly Russia and China, which could well invade Taiwan, or even attempt to take a Japanese island, in the coming months or years.
In California, it has fallen to mothers of homeless addicts to speak out against the open drug scenes. Yesterday they held a press conference in San Francisco warning foreign tourists not to visit. The dangers of the open air fentanyl markets, unofficially supported by the governments of San Francisco, California, and the United States, are simply too great. The billboard they purchased in Union Square to warn tourists was covered by every major San Francisco news media outlet.
And major political changes are afoot. Republicans will likely take one or more house of Congress, and President Joe Biden is unlikely to run again in 2024. The result will be major changes within both parties. California, long a leader of change, for good or ill, will likely see the recall of district attorneys in San Francisco and Los Angeles, the election of a new attorney general, and the election of a new, more moderate, governor.
In this context, it becomes clear that the claims of reality denial by progressives were a kind of psychological projection. It was progressives who denied the realities of climate change and energy, the intentions of Vladimir Putin, and homelessness. The good news is that people are waking up, and quickly. The trend toward the dismantling of civilization could soon reverse itself. But, ultimately, what happens next is up to us.
The West's Green Energy Delusions Empowered Putin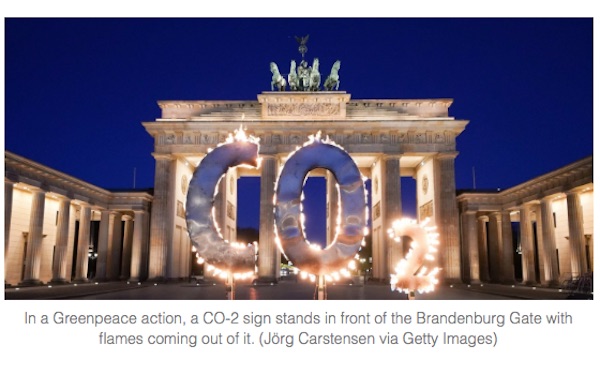 This article submitted by Michael Shellenberger
How has Vladimir Putin—a man ruling a country with an economy smaller than that of Texas, with an average life expectancy 10 years lower than that of France—managed to launch an unprovoked full-scale assault on Ukraine?
There is a deep psychological, political and almost civilizational answer to that question: He wants Ukraine to be part of Russia more than the West wants it to be free. He is willing to risk tremendous loss of life and treasure to get it. There are serious limits to how much the U.S. and Europe are willing to do militarily. And Putin knows it.
Missing from that explanation, though, is a story about material reality and basic economics—two things that Putin seems to understand far better than his counterparts in the free world and especially in Europe.
Putin knows that Europe produces 3.6 million barrels of oil a day but uses 15 million barrels of oil a day. Putin knows that Europe produces 230 billion cubic meters of natural gas a year but uses 560 billion cubic meters. He knows that Europe uses 950 million tons of coal a year but produces half that.
The former KGB agent knows Russia produces 11 million barrels of oil per day but only uses 3.4 million. He knows Russia now produces over 700 billion cubic meters of gas a year but only uses around 400 billion. Russia mines 800 million tons of coal each year but uses 300.
That's how Russia ends up supplying about 20 percent of Europe's oil, 40 percent of its gas, and 20 percent of its coal.
The math is simple. A child could do it.
The reason Europe didn't have a muscular deterrent threat to prevent Russian aggression—and in fact prevented the U.S. from getting allies to do more—is that it needs Putin's oil and gas.
The question is why.
How is it possible that European countries, Germany especially, allowed themselves to become so dependent on an authoritarian country over the 30 years since the end of the Cold War?
Here's how: These countries are in the grips of a delusional ideology that makes them incapable of understanding the hard realities of energy production. Green ideology insists we don't need nuclear and that we don't need fracking. It insists that it's just a matter of will and money to switch to all-renewables—and fast. It insists that we need"degrowth" of the economy, and that we face looming human "extinction." (I would know. I myself was once a true believer.)
John Kerry, the United States' climate envoy, perfectly captured the myopia of this view when he said, in the days before the war, that the Russian invasion of Ukraine "could have a profound negative impact on the climate, obviously. You have a war, and obviously you're going to have massive emissions consequences to the war. But equally importantly, you're going to lose people's focus."
But it was the West's focus on healing the planet with "soft energy" renewables, and moving away from natural gas and nuclear, that allowed Putin to gain a stranglehold over Europe's energy supply.
As the West fell into a hypnotic trance about healing its relationship with nature, averting climate apocalypse and worshiping a teenager named Greta, Vladimir Putin made his moves.
While he expanded nuclear energy at home so Russia could export its precious oil and gas to Europe, Western governments spent their time and energy obsessing over "carbon footprints," a term created by an advertising firm working for British Petroleum. They banned plastic straws because of a 9-year-old Canadian child's science homework. They paid for hours of "climate anxiety" therapy.
While Putin expanded Russia's oil production, expanded natural gas production, and then doubled nuclear energy production to allow more exports of its precious gas, Europe, led by Germany, shut down its nuclear power plants, closed gas fields, and refused to develop more through advanced methods like fracking.
The numbers tell the story best. In 2016, 30 percent of the natural gas consumed by the European Union came from Russia. In 2018, that figure jumped to 40 percent. By 2020, it was nearly 44 percent, and by early 2021, it was nearly 47 percent.
For all his fawning over Putin, Donald Trump, back in 2018, defied diplomatic protocol to call out Germany publicly for its dependence on Moscow. "Germany, as far as I'm concerned, is captive to Russia because it's getting so much of its energy from Russia," Trump said. This prompted Germany's then-chancellor, Angela Merkel, who had been widely praised in polite circles for being the last serious leader in the West, to say that her country "can make our own policies and make our own decisions."
The result has been the worst global energy crisis since 1973, driving prices for electricity and gasoline higher around the world. It is a crisis, fundamentally, of inadequate supply. But the scarcity is entirely manufactured.
Europeans—led by figures like Greta Thunberg and European Green Party leaders, and supported by Americans like John Kerry—believed that a healthy relationship with the Earth requires making energy scarce. By turning to renewables, they would show the world how to live without harming the planet. But this was a pipe dream. You can't power a whole grid with solar and wind, because the sun and the wind are inconstant, and currently existing batteries aren't even cheap enough to store large quantities of electricity overnight, much less across whole seasons.
In service to green ideology, they made the perfect the enemy of the good—and of Ukraine.
Take Germany.
Green campaigns have succeeded in destroying German energy independence—they call it Energiewende, or "energy turnaround"—by successfully selling policymakers on a peculiar version of environmentalism. It calls climate change a near-term apocalyptic threat to human survival while turning up its nose at the technologies that can help address climate change most and soonest: nuclear and natural gas.
At the turn of the millennium, Germany's electricity was around 30 percent nuclear-powered. But Germany has been sacking its reliable, inexpensive nuclear plants. (Thunberg called nuclear power "extremely dangerous, expensive, and time-consuming" despite the UN's International Panel on Climate Change deeming it necessary and every major scientific review deeming nuclear the safest way to make reliable power.)
By 2020, Germany had reduced its nuclear share from 30 percent to 11 percent. Then, on the last day of 2021, Germany shut down half of its remaining six nuclear reactors. The other three are slated for shutdown at the end of this year. (Compare this to nextdoor France, which fulfills 70 percent of its electricity needs with carbon-free nuclear plants.)
Germany has also spent lavishly on weather-dependent renewables—to the tune of $36 billion a year—mainly solar panels and industrial wind turbines. But those have their problems. Solar panels have to go somewhere, and a solar plant in Europe needs 400 to 800 times more land than natural gas or nuclear plants to make the same amount of power. Farmland has to be cut apart to host solar. And solar energy is getting cheaper these days mainly because Europe's supply of solar panels is produced by slave labor in concentration camps as part of China's genocide against Uighur Muslims.
The upshot here is that you can't spend enough on climate initiatives to fix things if you ignore nuclear and gas. Between 2015 and 2025, Germany's efforts to green its energy production will have cost $580 billion. Yet despite this enormous investment, German electricity still costs 50 percent more than nuclear-friendly France's, and generating it produces eight times more carbon emissions per unit. Plus, Germany is getting over a third of its energy from Russia.
Germany has trapped itself. It could burn more coal and undermine its commitment to reducing carbon emissions. Or it could use more natural gas, which generates half the carbon emissions of coal, but at the cost of dependence on imported Russian gas. Berlin was faced with a choice between unleashing the wrath of Putin on neighboring countries or inviting the wrath of Greta Thunberg. They chose Putin.
Because of these policy choices, Vladimir Putin could turn off the gas flows to Germany, and quickly threaten Germans' ability to cook or stay warm. He or his successor will hold this power for every foreseeable winter barring big changes. It's as if you knew that hackers had stolen your banking details, but you won't change your password.
This is why Germany successfully begged the incoming Biden administration not to oppose a contentious new gas pipeline from Russia called Nord Stream 2. This cut against the priorities of green-minded governance: On day one of Biden's presidency, one of the new administration''s first acts was to shut down the Keystone XL oil pipeline from Canada to the U.S. in service to climate ideology. But Russia's pipeline was too important to get the same treatment given how dependent Germany is on Russian imports. (Once Russia invaded, Germany was finally dragged into nixing Nord Stream 2, for now.)
Naturally, when American sanctions on Russia's biggest banks were finally announced in concert with European allies last week, they specificallyexempted energy products so Russia and Europe can keep doing that dirty business. A few voices called for what would really hit Russia where it hurts: cutting off energy imports. But what actually happened was that European energy utilities jumped to buy more contracts for the Russian oil and gas that flows through Ukraine. That's because they have no other good options right now, after green activism's attacks on nuclear and importing fracked gas from America. There's no current plan for powering Europe that doesn't involve buying from Putin.
We should take Russia's invasion of Ukraine as a wake-up call. Standing up for Western civilization this time requires cheap, abundant, and reliable energy supplies produced at home or in allied nations. National security, economic growth, and sustainability requires greater reliance on nuclear and natural gas, and less on solar panels and wind turbines, which make electricity too expensive.
The first and most obvious thing that should be done is for President Biden to call on German Chancellor Scholz to restart the three nuclear reactors that Germany closed in December. A key step in the right direction came on Sunday when Vice-Chancellor Robert Habeck, the economy and climate minister, announced that Germany would at least consider stopping its phaseout of nuclear. If Germany turns these three on and cancels plans to turn off the three others, those six should produce enough electricity to replace 11 billion cubic meters of natural gas per year—an eighth of Germany's current needs…
Subscribe to Michael Shellenberger to read the rest.
Become a paying subscriber of Michael Shellenberger to get access to this post and other subscriber-only content.