Updated 2021 Municipal Election and Referendum Results from the City of Red Deer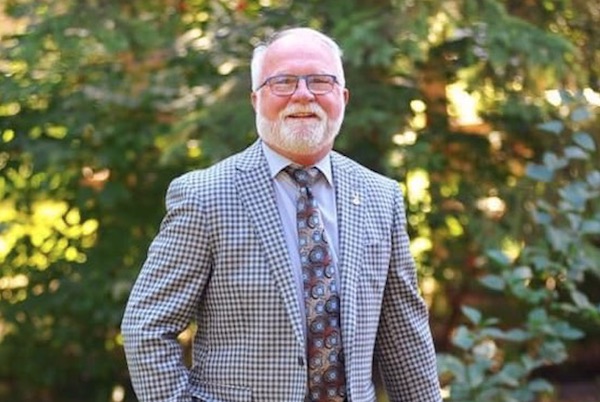 Updated unofficial 2021 Election results
Following a recount of two voting stations which had not yet reported results, The City has updated unofficial results to reflect 100% of votes cast. A recount was performed earlier today after an isolated technical issue disrupted results reporting for Advance Vote at the Baymont by Wyndham Red Deer and the Mustard Seed. The recount did not change the outcome of the Election.
Red Deer saw an increase in voter turnout compared to the last Municipal Election. In the 2021 Election, 21,548 out of 71,475 eligible voters, or 30.15 per cent, cast their ballots, including 10,622 during the Advance Vote. This was an increase over 2017, which saw 19,265 of 66,897 eligible voters, or 28.8 per cent, cast their ballots, including 2,639 during Advance Vote.
Unofficial results of the 2021 Municipal and School Board Elections are as follows:
MAYOR FOR THE CITY OF RED DEER
Number of positions to be filled: 1
CANDIDATE VOTES
1 Johnston, Ken 11,611
2 Moore, Jeremy Richard 3,169
3 Buchanan, S.H. (Buck) 3,086
4 Magee, Bradley James 2,049
5 Hickey, Dwight G. 900
6 Allen, James 389
COUNCILLOR FOR THE CITY OF RED DEER
Number of positions to be filled: 8
CANDIDATE VOTES
1 Dawe, Michael 12,141
2 Jefferies, Cindy 11,304
3 Wyntjes, Dianne 8,961
4 Lee, Lawrence 8,310
5 Buruma, Bruce 7,067
6 Higham, Vesna 6,298
7 Barnstable, Kraymer 5,892
8 Doerksen, Victor 5,884
9 Krahn, Chad 5,122
10 Khan, Sadia 5,000
11 Williams, Dax 4,865
12 Somer, Janise 4,809
13 Huizing, Hans 4,687
14 MacDonald, Jason 4,677
15 Curtis, Craig 4,543
16 Olubwale, Sheyi 4,245
17 Barclay, Graham 4,061
18 Lydiard, Nicole (Nikki) 3,725
19 Campbell, Brenda 3,525
20 Harksen, Sarah 3,290
21 Engel, Grace Joy 2,540
22 Ratra, Harish 2,495
23 Spencer-Cook, Lisa 2,468
24 Campbell, Calvin 2,067
25 Milaney, Liam 1,634
26 Larocque, Lindsay 1,362
27 Mihaly, Jozef 1,353
28 Laloge, Ryan Andrew 1,317
29 Chapin, Matt 902
30 Coop, Stephen (Steve) 435
TRUSTEE OF THE RED DEER PUBLIC SCHOOL DIVISION
Number of positions to be filled: 7
CANDIDATE VOTES
1 Manning, Bev 6,074
2 Gould, Matt 5,272
3 Buchanan, Nicole 5,143
4 Macaulay, Dianne 4,781
5 Peacocke, Cathy 4,775
6 Sommers, Angela 4,581
7 Watters, Jim 4,473
8 Tweedle, Jaelene 4,185
9 Peters, Paul 3,892
10 Warkentin, Reg 3,550
11 Parisian, Meagan 3,358
12 Elliott, Kari 3,274
13 Davies, Nathan 3,082
14 Grills, Terri 3,024
15 Chapin, Matt 1,653
16 Swarek, Mark 937
TRUSTEE OF THE RED DEER CATHOLIC SEPARATE SCHOOL DIVISION, RED DEER AREA WARD
Number of positions to be filled: 5
CANDIDATE VOTES
1 Watson, Anne Marie 3,169
2 Pasula, Kim 2,956
3 Hollman, Murray 2,923
4 LeGrange, Monique 2,546
5 Leyson, Cynthia 2,489
6 Mariani, Vanessa 2,209
The Red Deer Catholic Separate School Division's QEII Ward and Highway 11 Ward were both unaffected by the recount, as the two voting stations affected were within the Red Deer Area Ward. Unofficial results for the QEII Ward and Highway 11 Ward remain unchanged.
Official election results for the Municipal and School Board Elections will be announced at 12 noon on Friday, October 22.
The City also hosted a Senate Election and two Referendum questions on behalf of The Province. Updated results noted below are unofficial results for Red Deer voters only; official results from all Alberta voters will be calculated and confirmed by Elections Alberta at a later date.
ALBERTA SENATE ELECTION
Number of positions to be filled: 3
CANDIDATE RED DEER VOTES
1 Pam Davidson 7,951
2 Erika Barootes 7,227
3 Mykhailo Martyniouk 4,896
4 Kelly Lorencz 3,002
5 Doug A. Horner 2,945
6 Ann McCormack 2,475
7 Nadine R. Wellwood 2,464
8 Karina Pillay 1,959
9 Rick Bonnett 1,837
10 Duncan Kinney 1,777
11 Jeff Nielsen 1,510
12 Sunil Sookram 1,229
13 Chad Jett Thunders Saunders 1,004
REFERENDUM QUESTION 1: EQUALIZATION
1 Yes 13,980
2 No 6,393
REFERENDUM QUESTION 2: DAYLIGHT SAVING TIME
1 Yes 11,523
2 No 9,580
Council boosting budget for Downtown Business Association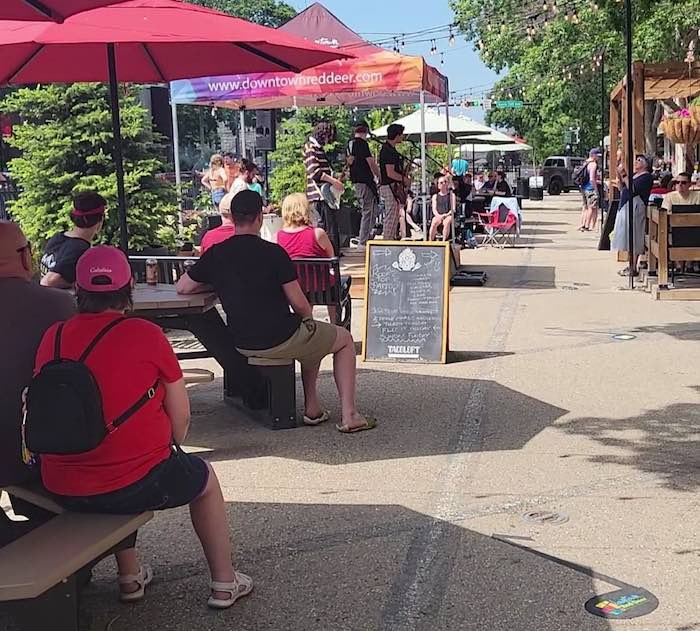 Council approves 2024 DBA budget, increased investment in events
The Downtown Business Association is investing more time, money and energy into downtown events following City Council approving its 2024 budget. During the presentation today, DBA Executive Director, Amanda Gould and Board Chair, Brandon Bouchard outlined the organization's plans for the upcoming year to continue to work towards creating a busier downtown that intends to result to increased support for businesses within the Business Improvement Area (BIA).

"The DBA remains steadfast in its objective to build on the growth seen in 2023. The collaboration between The City of Red and the DBA is at all time high and with the pending actions set to be delivered through the Downtown Activation Playbook, I know there are many great things to come that will support our business community and create the thriving downtown we all want to experience," said Amanda Gould, DBA Executive Director.

"Today Council demonstrated their commitment to their strategic priorities with the support shown to the DBA through unanimous support of the 2024 budget. This mighty Association continues to do great work on a shoestring budget and the 2024 Board of Directors are keen to lend their expertise and entrepreneurial skills to benefit the downtown in its entirety."
Brandon Bouchard, DBA Board Chair

The DBA's budget is partially funded through the BIA tax levy, which is collected by The City of Red Deer. Each year, the DBA presents its proposed budget to Council for their consideration. When reviewing the budget, Council considers alignment between the DBA's downtown priorities and City's community priorities.

"DBA has constantly hit far above its weight in our downtown, I can't think of a more supportive messenger of promotion than the team at the DBA, it's so encouraging to see this strong support for our downtown," said Mayor Ken Johnston. "I'm encouraged by the leadership and direction of the DBA and look forward to what they have in store for 2024. They continually bring positive initiatives to the downtown even with the constraint on finances."

The DBA's total approved budget for 2024 is $775,160, with $277,725 funded through the BIA with the remaining amount funded through items such as grants and contracts. The BIA portion for 2024 is an increase of five per cent from 2023.

The Downtown Business Association has been operating in Red Deer for more than 30 years, serving approximately 350 business owners in the Downtown area. Through partnerships and leadership in advocacy and promotion, the DBA is the catalyst for a vibrant and prosperous downtown that is the place to live, work, play and do business.
Annexation allows City of Red Deer to build new "Gasoline Alley" commercial district along QE2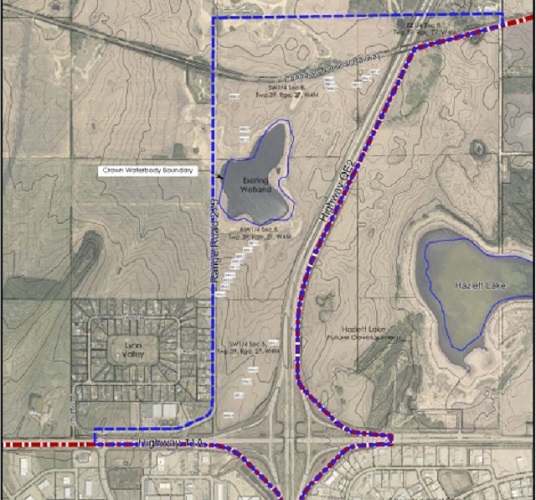 Annexation with Red Deer County approved
This week, The City received approval from Cabinet that the annexation for land north of the Queen's Industrial Business Park and west of Highway QEII from Red Deer County was approved."Our City Council is thrilled with the Government of Alberta's green light on this annexation. This pivotal move sets the stage for Red Deer's next 30 years, transforming our northwestern gateway. Leveraging Highway QEII for commercial expansion will redefine Red Deer's economic landscape. We extend our heartfelt appreciation to Red Deer County for their collaboration and to the local landowners for their invaluable contributions to these fruitful discussions," said Mayor Johnston.On June 22, 2021, Council gave direction to administration to prepare a Notice of Intent to Annex for this area of land. This annexation, encompassing approximately 216 hectares, addressed The City's deficiency in highway fronting commercial land. On February 14, 2022, Red Deer City Council passed a resolution endorsing a Notice of Intent to Annex, therefore supporting for the proposed annexation and directing administration to begin the formal annexation process.

Following that, the application was prepared for the annexation of approximately 216 hectares of land from Red Deer County. Based on landowner consultation, the proposed annexation area was altered from the Notice of Intent to Annex Land to include the entirety of one of the landowners' parcels.

Then in April of this year, the annexation was moved to the next step, when both Red Deer City Council and Red Deer County Council passed a resolution endorsing The City to submit an Annexation Application and Negotiations Report to the Land and Property Rights Tribunal. A Land and Property Rights Tribunal hearing was held on June 20, which allows the Tribunal to receive information and evidence from interested parties. After considering the submissions from all parties, the Tribunal made an annexation recommendation to the Minister of Municipal Affairs for the decision to be made.

Now that the annexation was successfully approved by the province, area structure plans will be prepared and adopted by bylaw, by Red Deer City Council. These annexed lands are intended to be developed as a regional commercial development along Highway 2, providing The City with a significant economic development opportunity.

"Securing this annexation approval has been a great success, thanks to all the collaborative partnerships involved. As we move forward, we're enthusiastic about the potential economic boost this annexation will bring, especially in addressing our shortage of commercial land along the highways," said David Girardin, Major Projects Planner.

Annexation is used by municipalities to realign jurisdictional boundaries to ensure a sufficient land supply for long-term development. The Intermunicipal Development Plan (IDP) between The City and Red Deer County provides guidance for all annexations.

To learn more information about this annexation are encouraged to visit www.reddeer.ca/annexation.