Fill those yellow bags to ease shortages at the Red Deer Food Bank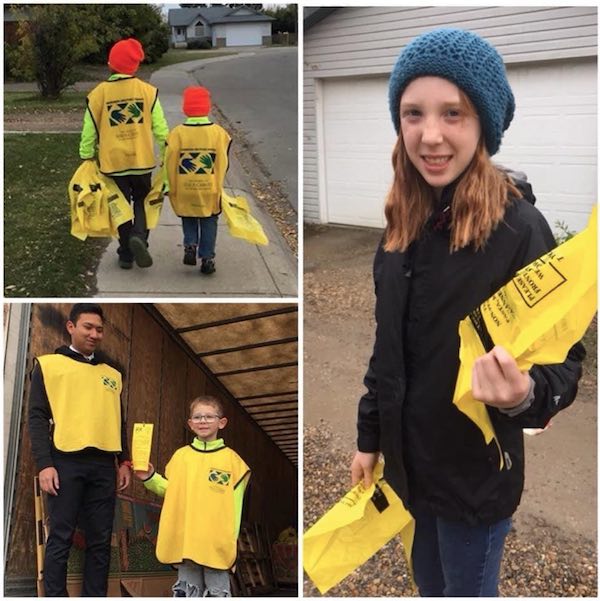 Article submitted by The Church of Jesus Christ of Latter-day Saints
The Red Deer Food Bank is consistently running out of specific food items. On October 23, Red Deer residents in the north half of the city are invited to participate in a food drive to help feed hungry central Alberta families.
It's not surprising that the Red Deer Food Bank is experiencing increased demand in the middle of a pandemic. While the food bank is doing a good job of meeting the needs of most users, there have been shortages in some food items. "We consistently run out of specific items like Kraft Dinner, canned beans and canned fruit," explained Mitch Thomson, executive director of the Red Deer Food Bank. "We've been holding our own, but we're consistently unable to provide those items. Forty percent of those served by the Red Deer Food Bank are children and comfort foods like macaroni and cheese is always in demand." Other items that are always in demand include canned vegetables, tomato sauce, spaghetti sauce, and canned dinners like beefaroni and hearty soups. All food
donations are used and appreciated.
How COVID has Affected the Red Deer Food Bank
The citizens of Red Deer have been very supportive of the Red Deer Food Bank and that has allowed the food bank to meet the increased needs it has seen since the pandemic began. It's important to note that the Red Deer Food Bank supports 23 other food banks. It's the only food bank in central Alberta that is
open five days a week and users come from Red Deer as well as other locations in the region. COVID has also resulted in a decrease in the numbers of volunteers who can assist stocking shelves, assembling and handing out hampers, and sorting donated food.
What's New at the Red Deer Food Bank
The Red Deer Food Bank is getting a more functional truck to transport food thanks to support from local donors. They've also moved bays, so that the warehouse area is now right next to the food bank.
A COVID-Friendly Food Drive
Food drives organized by members of the Church of Jesus Christ of Latter-day Saints in Red Deer have become an important way for the Red Deer Food Bank to stock its shelves. The upcoming food drive will involve additional precautions to prevent the spread of COVID-19. "Volunteers will drop off bags on the doorsteps of homes beginning on October 18 and then pick them up on October 23 without making any personal contact," explained Allison Strate, Red Deer Stake Food Drive Coordinator. "The bags will then be transported to the church and be placed on a truck to go to the Red Deer Foodbank. All volunteers will be wearing the appropriate personal protective equipment. We are hoping it will all run smoothly. We believe we can safely run the spring food drive and with the help of local citizens collect much needed food for those in need."
How to Participate in the Fall Food Drive
Bags will be delivered to the doorsteps of homes on the north side of the city the week of October 18 and they will be picked up on Saturday October 23 between 10 am and 12 noon and delivered to the Red Deer Food Bank.
All north-area residents are reminded to please support the food bank by leaving a food donation on their doorstep on Saturday, October 23. Anyone who does not get a yellow bag in their mailbox is welcome to bring donations to the Kentwood chapel of the Church of Jesus Christ of Latter-day Saints (8 Keast Way) between 10 am and noon on Saturday, October 23. Any community members or groups that would like to assist in delivering or picking up bags are welcome to contact Alison Strate, the Red Deer Stake Food Drive Coordinator at [email protected]
The Red Deer food drives are part of a series of food drives organized by members of the Church of Jesus Christ of Latter-day Saints. "The food drive is a huge undertaking with hundreds of volunteers working together for a really important cause," says Allison Strate, Red Deer Stake Food Drive Coordinator. "It's a wonderful opportunity to provide an important service to families and individuals who need help from the Red Deer Food Bank to put food on their tables."
Click to experience 2021 Festival of Trees online!
Red Deer Festival of Trees 2021 is dedicated to providing funding for critical operating room equipment. Having access to new and replacement equipment for the OR will improve the patient experience and reduce wait times for life-saving surgeries, allowing our friends and family to remain close to home during their procedures.
REBELS ANNOUNCE 'FESTIVAL WEEKEND' IN SUPPORT OF 2021 FESTIVAL OF TREES
News Release from The Red Deer Rebels
The Red Deer Rebels are proud to announce "Festival Weekend" on November 26 and 27, in support of the 2021 Festival of Trees!
Festival of Trees, hosted by the Red Deer Regional Health Foundation, will support critically needed equipment in the operating room at Red Deer Regional Hospital to help provide a higher level of service to Central Albertans.
Beginning Wednesday November 24 at 9 a.m., a five-day progressive 50/50 inclusive of both weekend Rebels home games, will support the 2021 Festival of Trees and RDRHF, Rebels Foundation for Education and Wellness, and the Rotary Club of Red Deer. Sales close at 9:30 p.m. on Sunday, November 28. Tickets can be purchased at Rebels5050.com.
Help support the 2021 Festival of Trees by using promo code "TREES21" to purchase your tickets via Tickets Alberta, for either the November 26 or 27 Rebels games. The Rebels will donate $7 from every adult ticket and $4 from every youth ticket back to the Festival of Trees. The promo code is available for online purchases only.
Fans can visit the Festival of Trees during the intermission of both weekend games and view all trees available for auction. Fans can also show their ticket for free entry to the Festival all weekend.