Update 8: Northwest Alberta wildfire (May 29 at 6 p.m.)
May 29, 2019
Wildfire battles continues as re-entry planning moves forward. To date, the province has provided more than $6 million in one-time, emergency support payments to evacuees.
Current situation
Chuckegg Creek Wildfire is burning approximately three kilometres southwest of the Town of High Level in Mackenzie County.
This out-of-control wildfire has grown to more than 150,000 hectares.
Resources on the ground include about 390 wildland firefighters and staff, 28 helicopters and heavy equipment.
Cabinet approved two orders in council to release funds to cover emergency response including structural firefighting efforts, evacuation costs, reception centre costs, and recovery costs as well as fire prevention, suppression, reclamation and reforestation costs.
Parts of northern Alberta remain under a special air quality advisory.
New mandatory evacuations have been issued for:

La Crete Ferry Campground
Steen River
Hawk Hills
Keg River
Carcajou
Residents living between Township Road 922 and north to Northern Lights County.

Residents should check Alberta Emergency Alerts for details.
Officials are preparing for residents to re-enter High Level once public safety has been confirmed.
Visit emergency.alberta.ca for detailed and frequently updated information.
Financial supports
You may qualify for the evacuation payment if you were:

living, working or vacationing in the affected area
forced to leave due to an evacuation order
paid for most of your costs to evacuate

Albertans who qualify will receive $1,250 for each adult and $500 for each dependent child.
Applications are open:

Apply online through the MyAlberta Evacuation Payment application using a smart phone, device or desktop. Interac e-transfers may take 24 hours to process.
Apply in–person at any Alberta Supports Centre in Alberta.
Evacuees in La Crete and Fort Vermillion can apply in person at La Crete Heritage Centre (25411 Township Road 1060, south of La Crete) or Fort Vermilion Community Cultural Complex (5001 44 Avenue)
If you require assistance registering, call 310-4455
If you're having technical issues, contact My Alberta Digital ID at 1-844-643-2789 (Monday to Friday, 8:15 a.m. to 4:30 p.m.)
Reception and call centres
Reception centres are open at:

Slave Lake Legacy Centre (400 6 Avenue NE)
High Prairie Gordon Buchanan Centre (5413 49 Street)
Grande Prairie Regional College (10726 106 Avenue)
Peace River Misery Mountain Ski Hill (10408 89 Street)
La Crete Heritage Centre (25411 Township Road 1060, south of La Crete)
Fort Vermilion Community Cultural Complex (5001 44 Avenue)
Dene Wellness Centre (In K'atl' Odeeche First Nation, 17 kilometres east of Hay River)

Hours of operation for evacuation reception centres can be found at emergency.alberta.ca.
310-4455 call centre hours are extended until Friday from 8 a.m. to 9 p.m.
Highway closures
Highway 35 is open between High Level and the Zama City turnoff. Travel is not permitted north of the Zama City turnoff.
Highway 35 is closed between approximately five km south of High Level and five km north of Highway 695 (Keg River turnoff). Access to Keg River remains open.
Highway 697 is closed between Highway 35 and Range Road 185, east of the La Crete Ferry.
The La Crete Ferry is closed.
Northbound travelers from the Peace River area should detour using Highway 986 to Highway 88.
Highway 58 remains closed between High Level and approximately 90 km west, at the junction of Range Road 45A (south of Chateh).
To stay informed on all road closure info visit 511.Alberta.ca or download the mobile app.
Insurance information
Evacuated residents should retain all their receipts for food purchases, accommodation and other related expenses to provide to their insurer for possible reimbursement.
Most home and tenant's insurance policies provide reasonable coverage for living expenses during an evacuation. Contact your insurance company for details.
Albertans who cannot remember or reach their insurance provider, can contact the Insurance Bureau of Canada at 1-844-227-5422 or by email at

[email protected]

. Information to understand your fire insurance coverage is online at ibc.ca/ab/disaster/alberta-wildfire.
Justice and legal matters
Sittings scheduled for Wabasca Desmarais Court on Thursday, May 30 will be heard in High Prairie Court.
High Level Court is closed. Call the Peace River Court at 780-624-6256 for inquiries on High Level Court matters scheduled for this week and next. All scheduled Fort Vermilion matters will be heard in Peace River. Call the Peace River Court at 780-624-6256 if you're unable to register your name and phone number. Matters will be held by phone if necessary.
In many cases, tickets can be paid online. For any other inquiries requiring direction from the court about Peace River and Fort Vermilion court matters, call the Peace River Court at 780-624-6256.
If you have an appointment with a probation officer in an evacuated area, report to the community corrections office nearest you. If you do not know where the nearest one is, call 780-427-3109 (to call toll free, first dial 310-0000).
If you are an intermittent server in an evacuated area, call the Peace River Correctional Centre at 780-624-5480 (to call toll-free, first dial 310-0000) for direction.
Education
Grade 12 students in the High Level area are eligible for an exemption from their diploma exam. When a student is exempt from the diploma exam, their classroom mark will be their final mark.
These students could also write the exam if they choose to do so and can safely make it to a school, either in their community or another. Students can also defer writing the diploma exams to August.
For grades 6 and 9 provincial achievement tests, students can be excused from writing. Alternately, these students could write the tests if they can safely make it to a school, either in their community or another.
Once students and their families have made a decision, they should contact their school division.
Air quality
Much of northern Alberta is under a special air quality statement.
Smoke from wildfires in northern Alberta is causing poor air quality and reducing visibility.
Alberta Wildfire recommends checking FireSmoke.ca to find out where the smoke is coming from.
Boil water advisory
Boil water advisories remain in place for Meander River (Dene Tha' First Nation) and North Tall Cree (Little Red River Cree Nation). Although power has been restored, the boil water advisories will remain in place until water testing is complete.
Health
Mental health support is available by calling Alberta's 24-hour Mental Health Help Line at 1-877-303-2642.
Alberta Health Services is providing supports to the receptions centres. These supports include addiction and mental health, indigenous health liaisons, nursing, emergency medical services, public health, home care and more.
Pets and livestock
Animal Control are collecting household pets that have been left behind. Pets will be moved to a safe and secure location outside of the Town of High Level. Contact 780-926-2201.
Mackenzie County has stock trailers to assist with livestock transport. Visit highlevel.ca for more information.
Donations and volunteers
Canada Post
Canada Post has suspended mail delivery services in the communities of High Level, Paddle Prairie Metis Settlement, Meander River, Chateh and Keg River.
Mail will be held at the Edmonton depot until mail service resumes.
Check the Canada Post website for updates.
Income Support, Alberta Supports and AISH
Residents receiving benefits from the Assured Income for the Severely Handicapped (AISH) or the Income Support program by cheque rather than electronic deposit, and who are affected by the wildfire in High Level, can visit their nearest Alberta Supports Centre to pick up their cheque.
If you are in La Crete, you can pick up your cheque at the local reception centre. If you receive your benefits via direct deposit, your payment will be deposited as usual.
For information on child intervention and child care, residents may contact 1-800-638-0715.
If persons with developmental disabilities, their families or contracted service providers need human, financial, or in-kind assistance to connect with loved ones, find accommodations or provide assistance to individuals receiving PDD supports, please contact the nearest Alberta Supports Centre for assistance at 1-800-232-7215 province-wide between 7:30 a.m. and 8 p.m., Monday to Friday.
For additional information on social benefits, affected individuals can contact Alberta Supports or call 1-877-644-9992, Monday to Friday from 7:30 a.m. to 8 p.m.
Employment insurance: evacuees can visit Service Canada online to apply at canada.ca/en/services/benefits/ei.html. Use code 4812014812201900.
Health card, driver's licences, ID cards, birth certificate
To get a replacement Health Care Insurance Card at no cost, you can contact 780-427-1432 or toll free at 310-0000 and then 780-427-1432 when prompted. Your Alberta Personal Health Card can be mailed to a temporary address.
If driver's licences, ID cards, and/or birth certificates were left behind during the evacuation, replacement cards and certificates can be ordered free of charge at a registry agent. A list of registry locations can be found at alberta.ca/registry-agents
Public information
You can call 310-4455 for more information.
Aerial footage of the northwest wildfires
B-roll of the Chuckegg Creek fire in northwest Alberta, taken Sunday, May 26, can be downloaded here.
Related information
McDavid scores in OT, Oilers down Flames to advance to Western Conference final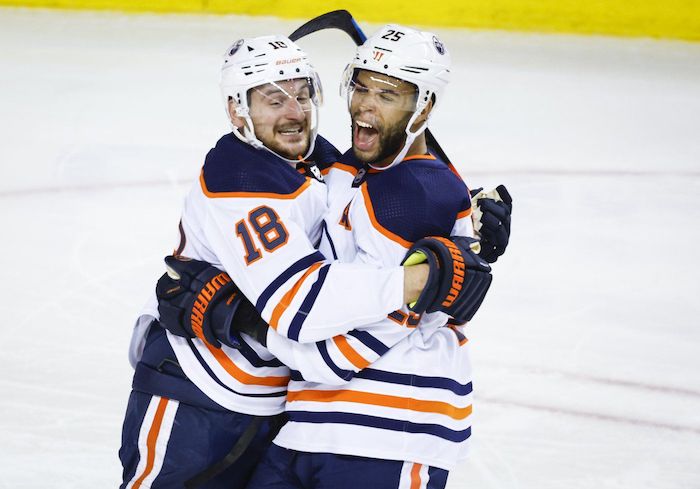 By Joshua Clipperton in Calgary
The Edmonton Oilers are off to the Western Conference final.
Connor McDavid scored at 5:03 of overtime as the Oilers defeated the Calgary Flames 5-4 on Thursday to win their second-round playoff series 4-1.
The Edmonton captain fired his seventh goal of the post-season past Jacob Markstrom off a pass from Leon Draisaitl to send the Oilers spilling over the bench in celebration.
Zach Hyman, with a goal and two assists, Darnell Nurse, Jesse Puljujarvi and Evan Bouchard also scored for the Oilers. Mike Smith made 32 saves as Edmonton claimed the first post-season Battle of Alberta in 31 years.
Draisaitl added four assists — his fifth straight contest registering three-plus points to build on the NHL playoff record he set in Game 4.
McDavid and Draisaitl have both amassed 26 points to lead the playoffs so far.
The Oilers will face either the Colorado Avalanche or St. Louis Blues in their first conference final appearance since 2006. Colorado leads that series 3-2, with Game 6 set for Friday in St. Louis.
Mikael Backlund, with a goal and an assist, Johnny Gaudreau, Calle Jarnkrok and Andrew Mangiapane replied for Calgary. Blake Coleman added two assists, while Jacob Markstrom made 30 saves as the Flames dropped to 0-10 when trailing a playoff series 3-1.
Coleman, who won the Cup the last two seasons with the Tampa Bay Lightning, appeared to snap a 4-4 tie with just under six minutes left in regulation after Backlund took the puck hard to Edmonton's net. But the goal was waved off following a video review after it was ruled the winger kicked the puck over Smith's goal line with his skate as he battled with Oilers defenceman Cody Ceci.
With his team trailing 1-0 after a tentative first period, Edmonton interim head coach Jay Woodcroft double-shifted Draisaitl and McDavid early in the second, and it nearly paid off on a couple of good opportunities.
But the Flames, who topped the Oilers by seven points in the regular season to claim the Pacific Division crown, went up 2-0 at 5:41 when Backlund scored his fifth on a slick deflection.
The Oilers got on the board at 7:40 after Draisaitl protected the puck against Backlund before finding Nurse in the slot for him to fire his second past a screened Markstrom.
Edmonton tied it up just 2:26 later on a 3-on-1 rush when Markstrom could only get a piece of Hyman's shot before Puljujarvi swept home his second as the Oilers erased another multi-goal deficit on the road.
The offensive floodgates then really opened over a wild stretch that would see four pucks find the back of the net in 71 seconds.
Hyman scored his sixth goal of the series, and eighth of the post-season, on a power play at 14:57 before Gaudreau tied things again at 3-3 at 15:12 with his third.
Jarnkrok then scored his first as a member of the Flames since coming over in a trade with the Seattle Kraken at 15:28 to make it 4-3.
But the Oilers responded again at 16:08 when Bouchard's blast beat Markstrom for his second as the teams set an NHL record for the fastest four goals in playoff history — 22 seconds faster than the previous mark set by the Philadelphia Flyers and Toronto Maple Leafs in 1976.
Following a tepid start for both teams inside a nervous Scotiabank Saddledome, the Flames nudged in front at 10:13 of the first when Mangiapane took a terrific pass from Coleman to bury his third goal of the playoffs.
The winger's first point of the series gave his team its first lead since late in the second period of Game 2 — a stretch of exactly 155 minutes — that started a run of three straight losses to push Calgary to the brink of elimination.
One of three finalists for the Vezina Trophy as the league's top goalie in the regular season, Markstrom entered Thursday with an .850 save percentage in the series after posting a .943 mark in Calgary's seven-game victory over the Dallas Stars in the opening round.
After the Oilers, who beat the Los Angeles Kings 4-3 to set up the matchup with their provincial rival, killed off a McDavid high-sticking penalty, the Flames goaltender had to scramble to keep the Edmonton captain's dash to the net at bay with the puck briefly lying free in Calgary's crease.
This report by The Canadian Press was first published May 26, 2022.
___
Follow @JClipperton_CP on Twitter.
Alberta justice minister demands answers from Edmonton on crime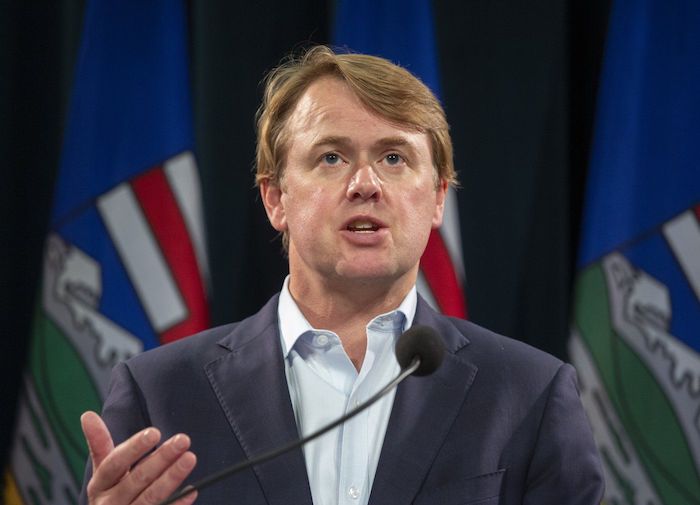 By Dean Bennett in Edmonton
Alberta's justice minister says people in Edmonton are not being kept safe from violent crime, particularly on public transit, and he's ordering Mayor Amarjeet Sohi to provide answers.
Tyler Shandro has told Sohi he's invoking his ministerial powers under the province's Police Act to demand a report within two weeks on what the city will do to arrest a spike in serious crime.
In a letter to Sohi made public Thursday, Shandro cited an increase in downtown crime as well as in aggressive encounters and drug use on light-rail rapid transit.
He pointed to the killings last week of two men in the Chinatown district downtown.
"As the minister of justice and solicitor general, I have a responsibility under the Police Act to ensure the people of Edmonton receive adequate and effective policing," Shandro said in the letter.
"It is quite apparent that residents feel uncomfortable and unsafe in the downtown core, riding transit and traversing the transit centre corridors.
"In short, the people of Edmonton deserve better than what this city council is delivering."
Sohi called the letter an overreach by the provincial government, but added that he is glad the provincial government is finally paying attention.
"I share the same concerns about the safety in our downtown, Chinatown and on the LRT that he highlighted in this letter," Sohi said Thursday. "The social issues that are causing these safety issues are nothing new.
"The disorder and crime that we are seeing in our downtown is directly linked to the lack of provincial investments in ending houselessness, the mental-health crisis, the drug poisoning and addictions crisis."
Shandro's letter said the United Conservative government is doing its part to address core issues that can lead to crime, including spending millions of dollars to fight drug addiction and homelessness.
Shandro did not make himself available to media to answer questions.
There was no comment from the Edmonton Police Service. Chief Dale McFee was to attend a city council meeting Friday.
Edmonton city councillors are currently debating whether to set this year's police budget at $385 million, which would be a drop of $22 million if police could not secure extra funds from declining photo radar revenues.
Shandro said earlier this week he would be concerned if Edmonton's police budget were to be cut.
The police budget has not been cut, said Sohi, who added that the city has invested more in transit officers, community action teams and in safety-related projects in affected areas.
"Council is investing in many issues that are the responsibility of the province and, frankly, they are falling short," he said.
"The pandemic has brought to light so many social issues that are not being properly addressed or adequately funded."
Sohi said he looks forward to meeting with the minister next week to outline his concerns and explain how the city is doing its part.
Irfan Sabir, justice critic for the Opposition NDP, said violent crime in Alberta's capital is a serious issue that needs to be addressed. But, he added, the UCP government is choosing to off-load complex problems and pick fights instead of collaborating.
"People in Edmonton want a plan in place (so) they can be assured that they are safe in their homes and their communities. But in this instance, the minister is just passing the buck," said Sabir.
This report by The Canadian Press was first published May 26, 2022.
— with files from Colette Derworiz in Calgary