United Way Central Alberta delivers over $1 million to 22 community service organizations through the government of Canada's Community Services Recovery Fund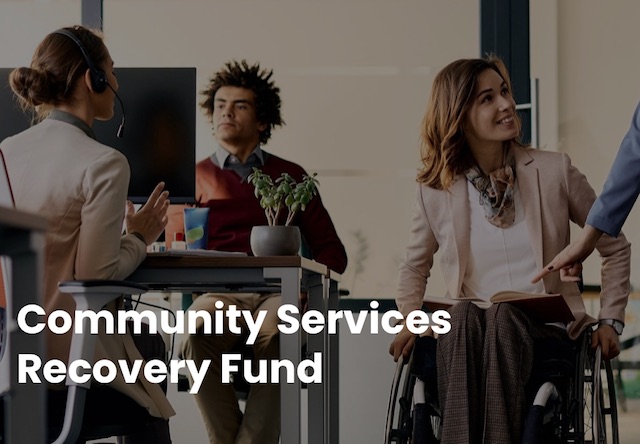 News release from the United Way of Central Alberta
United Way Central Alberta (UWCA) is pleased to announce over $1 million in funding to support 22 projects in Central Alberta through the Government of Canada's Community Services Recovery Fund.
The Community Services Recovery Fund is a one-time investment of $400 million to help community service organizations (charities, non-profits, Indigenous governing bodies) adapt, modernize, and be better equipped to improve the efficacy, accessibility, and sustainability of the community services that they provide though the pandemic recovery and beyond.
The following projects are being supported within Central Alberta:
• $63,000 was invested to fund Bashaw and District Support Services Association towards a regional wellness initiative;
• $59,609 was invested to fund Boys and Girls Club of Olds and Area towards a Youth and Parental Supports Pilot Project;
• $75,704 was invested to fund Boys and Girls Club of Red Deer towards program service innovation;
• $52,000 was invested to fund Camrose Adult Learning Council towards Immersive Technologies;
• $62,552 was invested to fund Camrose Association for Community Living towards Next Level Wellness;
• $36,286 was invested to fund Canadian Mental Health Association, Alberta East Central Region 2000 towards Recovery College technology;
• $9,621 was invested to fund Carstairs Public Library towards permanent adaptions;
• $89,638 was invested to fund Central Alberta Immigrant Women's Association to transform program delivery;
• $41,320 was invested to fund Drumheller Community Learning Society towards Empowering Youth;
• $47,000 was invested to fund Family Violence Action Society: Camrose and District towards infrastructure design;
• $14,000 was invested to fund Friends to the Drayton Valley Library Society towards a children, family, and youth space;
• $9,036 was invested to fund Mary C Moore Public Library towards Kinsmen Program Room Makerspace;
• $76,230 was invested to fund Mountain Rose Women's Shelter Association towards West Central Community Connections;
• $16,135 was invested to fund Ponoka Youth Centre towards mental health support;
• $9,714 was invested to fund Red Deer Public Library towards their Youth and Literacy Program;
• $98,112 was invested to fund Rocky Primary Counselling Centre of Alberta towards mental health;
• $98,083 was invested to fund Shalom Counselling Centre of Alberta towards healthy families;
• $21,296 was invested to fund Stettler Community Support Centre towards community outreach;
• $81,600 was invested to fund Stettler Information and Referral Centre towards Stettler Circle of Services innovation and expansion;
• $10,757 was invested to fund The Lord's Food Bank towards hot meal program revitalization;
• $40,337 was invested to fund Ubuntu-Mobilizing Central Alberta towards Collective Alberta-Project; and
• $85,970 Was invested to fund Wetaskiwin & District Association for Community Services towards re-building community and personal engagement.
Community service organizations are at the forefront of addressing communities' needs. Since the early phases of the COVID-19 pandemic, they have struggled with increased demand for their services, reduced revenues, declines in charitable giving due to the rising cost of living, and a greater need to make use of digital tools. Many organizations are struggling to recover and adapt their services to the changing needs of Central Alberta.
For more information, visit the Community Services Recovery Fund website. For more information on United Way Central Alberta, you can visit our website or contact us at [email protected] or 403.343.3900.
Quotes:
"The value United Way Central Alberta adds as a locally governed and operated funder is that we have the trusted systems in place to identify local needs and ensure dollars are invested where they are needed most"- United Way Central Alberta CEO, Chelsea O'Donoghue.
"United Way Central Alberta is proud to have worked with the Government of Canada and United Way Centraide Canada as part of the Community Services Recovery Fund" – United Way Central Alberta CEO, Chelsea O'Donoghue.
Quick Facts:
• The Community Services Recovery Fund is a $400 million investment from the Government of Canada to support community service organizations, including charities, non-profits and Indigenous governing bodies, as they adapt their organizations for pandemic recovery.
• Now more than ever, community service organizations play a key role in addressing complex social problems faced by many communities across Canada.
• From the beginning of the COVID-19 pandemic, community service organizations across Canada have shown impressive stamina and creativity in their response to the diverse and increasingly challenging needs of their
communities.
• The Community Services Recovery Fund responds to what community service organizations need right now and supports them as they adapt to the long-term impacts of the pandemic.
• As community service organizations across Canada work to support recovery in their communities, the CSRF will help them adapt and modernize their operations to grow their impact.
• The Government of Canada is delivering the CSRF through three National Funders (Canadian Red Cross, Community Foundations of Canada, United Way Centraide Canada). The National Funders are distributing funding to
eligible community service organizations, including charities, non-profits, and Indigenous governing bodies, providing services in communities across Canada.
• The Government of Canada supports a more inclusive model of economic growth, one that creates opportunities for everyone in Canada, as the long-term recovery from the COVID-19 pandemic continue.
Penhold and Innisfail homes searched during Canada-wide 3D printed gun investigation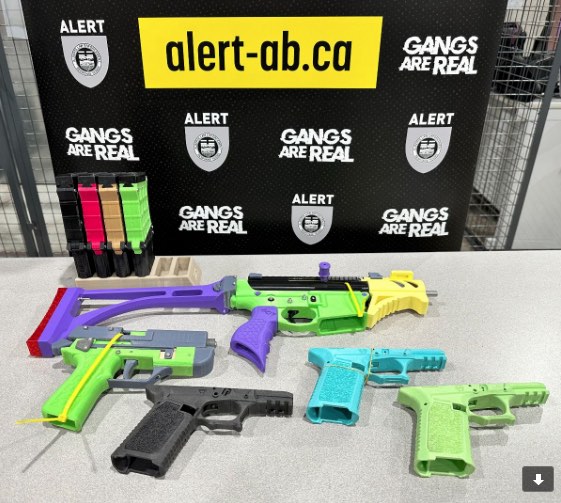 News release from ALERT (Alberta Law Enforcement Response Team)
Cross-Canada firearms manufacturing operation
Edmonton… ALERT has executed a number of search warrants across Alberta as part of a Canada-wide operation related to illicit firearms trafficking and manufacturing. Project Reproduction was being led by Quebec's integrated team against firearms trafficking, known as EILTA.
ELITA, Équipe intégrée de lutte au trafic d'armes, is a joint forces initiative comprised of Sûreté du Québec, the Montreal Police Service, RCMP, and Canada Border Services Agency (CBSA). Here is the original release.
Based on criminal intelligence provided by EILTA, ALERT conducted a number of search warrants on June 21, 2023 at homes in Grande Prairie, Penhold, Innisfail, Brooks, Lloydminster, and Onoway.
ALERT's investigations are ongoing. Numerous 3D-printed firearms and other firearms parts have been seized and are currently being analyzed. A news conference with further details will be held in the near future.
"This cross-Canada investigation has highlighted the divergence of technology and organized crime. These 3D-printed firearms are self-produced crime guns designed to evade detection, or modify existing firearms in a prohibited capacity," said Supt. Marc Cochlin, ALERT CEO.
In addition to Alberta, numerous searches were carried out in Ontario, British Columbia, New Brunswick, Nova Scotia, Manitoba, and Saskatchewan.
ALERT was established and is funded by the Alberta Government and is a compilation of the province's most sophisticated law enforcement resources committed to tackling serious and organized crime.
Mayor Ken Johnston and County Mayor Jim Wood attending Paris Air Show to sell Central Alberta to aerospace industry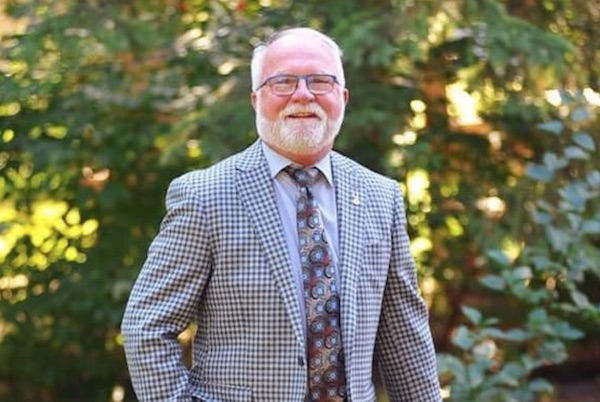 Mayors of City and County travel to Paris to showcase Central Alberta region economic opportunities
Next week Mayor Ken Johnston of The City of Red Deer and Mayor Jim Wood of Red Deer County will be in Le Bourget, France to embark on an exciting opportunity for economic development and growth for the central Alberta region. This trip is aimed at highlighting that Central Alberta is open and ready for business on the global stage.

The trip is organized by the Government of Alberta, and in partnership with Red Deer Regional Airport will provide an opportunity to attend the Paris Air Show and showcase Central Alberta as a competitive aerospace sector which continues to evolve and is highly regarded in the global aerospace industry.

"Mayor Wood and I will be planting seeds that Central Alberta is the preferred place of doing business in Alberta, that we are an emerging logistics hub, and we are preparing Red Deer for an exciting future," said Mayor Johnston. "Paris, with its vibrant economy and position as a global business center, provides an ideal platform for us to share the unique opportunities and advantages Central Alberta offers. By participating in this economic development trip and attending the airshow, we aim to foster new relationships, explore investment prospects, and attract global enterprises to our doorstep."

"Over the years, throughout my 19-year tenure with Red Deer County, I have witnessed tremendous growth and development in both the County and City that is fueled by the dedication and innovation of our local businesses and entrepreneurs. Central Alberta has become a hub of economic activity, attracting investments, and creating jobs. We are now taking the next step to highlight the immense potential of our region to international partners and the partnerships forged during this trip will pave the way for increased trade, knowledge exchange, and collaboration, leading to mutual benefits for all involved," remarked Mayor Wood.

Mayor's Wood and Johnston will engage in productive discussions and meetings with government officials, industry leaders, and potential investors, highlighting the strategic advantages of the region, including central location, skilled workforce, diverse economy, and a welcoming business environment. They will work to demonstrate that both The City of Red Deer and Red Deer County are an ideal destination for businesses seeking growth and prosperity.

"I would like to extend my gratitude to Red Deer County and Red Deer Regional Airport for joining hands with us on this journey and to the Government of Alberta for bringing the opportunity to us. Together, we are leveraging our collective strengths to put Central Alberta firmly on the global map," said Mayor Johnston.

Presenting Central Alberta as a viable investment option will bring new opportunities to our local businesses and contribute to the overall economic vitality of our region. Mayor's Johnston and Wood are the only Mayor's attending the Paris Air Show from Alberta.

Expenses for the trip will be a combination of funding from the Red Deer Regional Airport, City of Red Deer and Red Deer County with a large portion personally covered by both Mayor's.