UCP Tax Cut Hits the Target but Misses the Mark
Opinion by Cory G. Litzenberger
Well for fear of being lynched, let me talk about how I think the UCP's Job Creation Tax Cut may be (partially) incorrect.
While I applaud politicians for laying out their plans in advance of an election, my fear is that the plan is too slow in implementation and cuts too far.
I think a tax cut needs to be moderate and quick – not slow and deep.
Here are my thoughts for various tax changes we need to do in Alberta:
General Corporate Income Tax Rate:
Instead of cutting by 1% per year over 4 years, bring it back by 2% to 10% from 12% in the first year and keep it there.
By delaying the cut as the UCP currently proposes, it could reduce the impact it will have on the economy as the change to the bottom line will not be impacted enough for a corporation to make larger investment until year two or three of the plan.
Quicker action by government will result in quicker action by business, resulting in quicker action in the economy and job creation.
10% also still makes us the lowest jurisdiction in Canada.
Personal Income Tax change to 3 brackets:
– 8% for first $50k
– 10% for the next $100k
– 12% for over $150k
This reduction from 10% on the first $50,000 saves roughly $600 in personal income tax (after factoring in the basic personal tax credit) for every individual making more than $50,000 a year.
It also saves 2% for those making under $50,000 currently.
This is an important cut in order to reward people that call Alberta home, as you will see below.
A rich person paying 12% in Alberta on their personal income is better than them paying 0% because they live somewhere else.
Harmonized Sales Tax (HST) 5%
Yes, I think we need to remove the inflationary and regressive carbon tax as it is way too high of a burden and causes a ripple effect in inflationary pricing how it was implemented.
However, I suggest we implement a 5% HST (which is a flow-through for businesses and does not have the same impact on pricing).
Now, hear me out before you break out the yellow vest!
Currently, anyone visiting our province as either a tourist or a temporary worker from another province are using our infrastructure like roads, water, and yes, even hospital emergency rooms.
When these non-Alberta residents file their personal tax returns, they file it based on their home province of residence as of December 31. Since most of them don't have a permanent residence in Alberta, this results is them paying income taxes to other provinces, while using our infrastructure for free.
Other provincial residents not paying any taxes in Alberta while here unfairly puts the cost on all of us that live here.
If we implemented an HST similar to the GST program, low income households would still receive credit back (just like GST credit) to offset most (if not all) of any HST they pay.
The $600 in income tax savings we mentioned above for everyone else, is equivalent to $12,000 of taxable supplies consumed ($24,000 in a double income household where they each make over $50,000 of income).
Don't forget that basic grocery and shelter do not have sales taxes, and if Andrew Scheer gets elected, neither will basic home heating.(https://twitter.com/andrewscheer/status/854364648388182016)
This income tax reduction of $600 to $1,200 would offset much of the sales tax you would pay, but would now start to charge non-Alberta resident visitors and workers.
The reason for an HST instead of a PST is that currently, an HST is required to be charged by all GST registrants across Canada. If you are a GST registrant, you are automatically an HST registrant.
For example, in my office in Red Deer, I have to charge my Ontario customers HST and send it in to the government even though my business is in Alberta.
An HST could reduce the potential for tax leakage out of our province by funneling it back to Alberta because of other retailers in other provinces requiring to charge it on things purchased outside of, or shipped to, Alberta.
Results
– a competitive corporate tax rate to attract investment and do it quicker than the original UCP plan;
– low personal income tax to attract wealthy individuals (and their tax residency) back to Alberta to make it their place of residence, again, quickly;
– removal of the inflationary carbon tax;
– insertion of a relatively low cost HST so that we can get back some of that transfer payment money from the residents of other provinces.
In Summary
– Reduce Corporate moderately and quickly.
– Reduce Individual moderately and quickly.
– Remove Carbon tax.
– Implement an HST.
I know that the slight mention of a sales tax in Alberta makes the hair on the back of your neck stand straight up, and for many conservative politicians, they would resign before suggesting it. However, even as a fiscal-conservative tax accountant like myself, I believe that if it is implemented properly with tax reductions elsewhere, it can add to the bottom line for the province.
I also think it can do so without being a burden to those that live here by taxing those that don't.
———
Cory G. Litzenberger, CPA, CMA, CFP, C.Mgr is the President & Founder of CGL Strategic Business & Tax Advisors; you can find out more about Cory's biography at http://www.CGLtax.ca/Litzenberger-Cory.html
Fortress Australia Gets Its Scalp, Tosses Djoker Out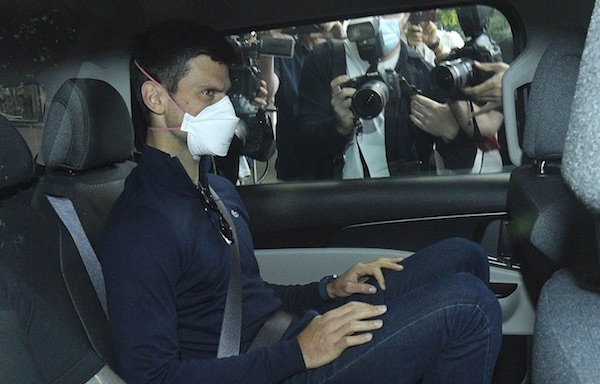 The ceremony of innocence is drowned;
The best lack all conviction, while the worst
Are full of passionate intensity. —W.B. Yeats
There has always been a large reservoir of affection for Australia in the West. The sun-kissed land down under. Kangaroos. Beaches. Crocodile Dundee. Aussie Rules Football. Men At Work. Foreigners embraced all the clichés gleefully.
The Australian Open tennis tournament was part of that scenario. The first Grand Slam, played in scorching sunshine while the Northern Hemisphere freezes in January. TV coverage was laced with tourist entreaties to fly 14 hours to the Great Barrier Reef and Gold Coast.
But with the nation's behaviour in fighting Covid-19, this is all (in the words of Yeats) "changed, changed utterly." The fever-swamp regime now running the nation has gone off the rails with detention camps for unvaxxed, flying squads of police roaming the streets and total lockdowns in emulation of the Chinese.
Australia's heavy-handed "cures" for Covid would make Curfew Quebec look a model of tolerance. While America is moving away from draconian lockdowns, (Associated Press is now asking its writers to play down Covid numbers) Australia is still singing from the 2020 WHO hymn book that pretends lockdowns save lives. For example, mask mandates were recently re-imposed when five— count 'em— five local cases were spotted in Perth.
Look, Australia is entitled to run their nation any way they want. They have the constitutional right to act like so many scared kookaburras in the face of a virus that will spare 99.98 percent of them. But don't push the "shrimp on the bar-b" hokum on the world when the tennis begins.
This whack-a-mole mania culminated in Sunday's expulsion of Covid rebel Novak Djokovic. After granting the No. 1 men's player in the world a visa to play, Australia's Minister of Immigration Alex Hawke said he had cancelled the 34-year-old's visa for a second time on "health and good order grounds, on the basis that it was in the public interest to do so". He said Djokovic's example was— wait for it— a threat to his people.
Good order? Hawke and his government have to lock up the population because their Island Fortress strategy isn't enough to curb Omicron's arrival. Yet Djokovic is the threat, not their frantic search for a fifth column of viral killers in Canberra.
Djoker knew he was going into headwinds as he sought to play in the Open as an unvaccinated player. He was less than forthcoming on his entry documents. So his highly political stance made him a target. But a threat to the people of Australia? Please. (The cops escorting him to the airport was reminiscent of Judy Garland being shooed from the country in the 1960s for being too drunk to perform.)
The Australian PM Scott Morrison, with his eyes on re-election, greeted the expulsion, mumbling about needing to "keep our borders strong and keep Australians safe… It's now time to get on with the Australian Open and get back to enjoying tennis over the summer."
Djokovic's argument is that the Australian government that initially granted him a visa is now using him as an easy target to whip the natives in line. The independent, unapologetic Djokovic has certainly served the Aussie politicians well as a convenient whipping boy for the petrified millions who put their faith in governments and health "experts" to save them from the dreaded virus.
(Sounds like France, which never misses an opportunity to enforce the status quo, will emulate Australia by banning an unvaxxed Djokovic if he ventures there in June for the French Open.)
The "burn the witch" frenzy feeds into the non-vaxxed insanity currently underway in Canada and the U.S. There are demands that those who declined the juice be denied healthcare or fined or have their taxes audited. Immunity is dismssed. Cobbled hospital numbers are conflated with truths. Instead, images of gap-toothed hillbillies saturate progressive media who find their allies have been unable to halt the virus as promised.
Inconveniently, polling by Abacus in Canada has shown that the typical anti-vaxxer is not a swaggering tennis player, a bow hunter or toothless yokel but is in fact a 42-year-old Ontario white woman who votes Liberal.
The bright side of this Kafkaesque farce is that Omicron is fading like old Xmas decorations. Many are predicting that it is peaking now and will be a spent force by February. The tinpot tyrants in Australia, having booted Djokovic, will need something else to reinforce their desperate grasp on power.
Ditto here in North America. Unless a follow-up variant can be swiftly produced (remember that subsequent viruses are always weaker) Skippy and Biden will be left to explain their enforced vaccines and virus solutions to a public disinterested in their ongoing need for power.
To use a tennis analogy they'll be down two breaks and facing Djokovic's best serve. Should be entertaining.
Bruce Dowbiggin @dowbboy is the editor of Not The Public Broadcaster (http://www.notthepublicbroadcaster.com). The best-selling author was nominated for the BBN Business Book award of 2020 for Personal Account with Tony Comper. A two-time winner of the Gemini Award as Canada's top television sports broadcaster, he's also a regular contributor to Sirius XM Canada Talks Ch. 167. His new book with his son Evan Inexact Science: The Six Most Compelling Draft Years In NHL History is now available on http://brucedowbigginbooks.ca/book-personalaccount.aspx
Once Biden's Ace Against Trump, Covid Now Sinking Him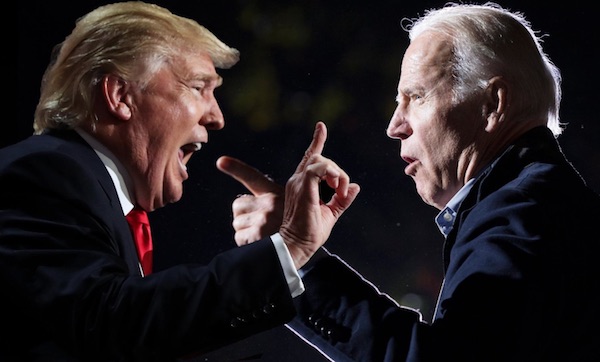 "220,000 Americans dead," said Joe Biden during the second presidential debate."If you hear nothing else I say tonight, hear this — anyone who is responsible for that many deaths should not remain as President of the United States of America,"
In March of 2020, the Democratic Party was dead in the water. Despite three years of Impeachment Theatre, RussiaGate inquiries, SCOTUS witch-hunts and the assault by Hollywood/ mainstream media on #OrangeManBad, the Dems were facing the likelihood that Donald Trump would win a second term in November 2020.
It was the economy, stupid. What to do with a front bench of mediocrities, radicals and lunatics running for the party nomination if the markets are booming?
Then the political gods gifted the party with Covid-19 in February 2020. The Wuhan-sourced pandemic was the ultimate political Hail Mary, an exploitable vehicle the Dems would manipulate to win the White House. From the time of the first deaths in February to Nov. 3, the Dems made sure everything Covid was attributed to the tempestuous Trump. And it stuck.
Trump's attempts to marshal Operation Warp Speed, his confrontational press conferences, his bans on foreign travellers and, ultimately, 15 Days To Flatten the Curve— no matter. The DEMs tied the shocking death numbers in the U.S. to Trump. Might early and alternative treatments have helped slow the pandemic? It didn't matter. Trump could not be given a win.
It mattered little that every other nation was helpless to stop the virus. The Dems made Americans believe Trump was making it worse. Looking at his opponent, Biden said in October's debates. "He knew all the way back in February how serious this crisis was… The president has no plan… It is what it is, because you are who you are." And so on.
This cynicism allowed the Dems and their leaking pals in the bureaucracy to flail the idea of vaccines being available in 2020. "If Donald Trump tells us that we should take it, I'm not taking it," future VP Kamala Harris shouted during her debate with Mike Pence. They also got a hand from their Big Pharma donors who delayed release of the vaccines till after the election, robbing Trump of a needed PR victory before the vote.
Famously, the DEM media party eviscerated Trump's attempts to discuss early treatment options such as Ivermectin, HCQ, vitamin therapy and, of course, falsely accusing the blustering Trump of telling people to drink bleach. It all stuck— and became Covid orthodoxy. Trump said it? Print it.
The "approved" CDC, WHO, NIH and Democrat prescription? Go home if you get sick, and wait till either you recover or go to the hospital to die. Anyone daring to contradict Team Fauci on Covid catechism was tossed from Twitter, Facebook and the MSM. Trump, Alex Berenson, Ivor Cummins, Naomi Wolff, Mike Lindell, Steve Bannon and the New York Post were among the many suspended or banned for "seditious" thought.
The October banning of the Post was the apogee of Pandemic Cancel Culture hubris. Because nothing was allowed to deflect from the pandemic, the oldest newspaper in America was banned for an October series of sourced stories on how Biden and son Hunter had been operating a shakedown scheme for years in China, Ukraine and other nations. How complete was the blackout? One in six Bidden voters later said they wouldn't have voted for him had they known.
(Canadian media, in the process of being bought out by PM Justin Trudeau, swallowed the Democrat narratives and sold them to mortified Canadians who were told Trump was the Grim Reaper. If anything, Canadians accepted harsher restrictions and lockdowns for fear of the media-manufactured apocalypse "created" by Trump.
The pandemic panic also allowed DEM operatives and sponsors to have election rules changed to permit mail-in voting, vote harvesting and to have ID rules relaxed— often in states run by GOP legislatures. It paid off as DEM votes went from 65,853,625 in 2016 to 81,284,666 in 2020. (Trump jumped from 62,985,106 to 74,224,319.)
The problem for new president Biden was that, having captured the WH, he now had to live up to the standards he'd imposed on Trump. Having told the public he was the man to conquer Covid Biden was soon eating humble pie. As of this writing 330,000 Americans have died on Biden's watch— 110,000 above the number he'd used to attack Trump. No surprise, Biden isn't resigning.
The media forces that put Biden in power quickly began campaigns of acceptance for one, then two, then three, now four shots of vaccine. Vax passports become good-behaviour badges. The unvaxxed were ostracized, portrayed as sub-human to distract from the collapse of the Omnipotent Vaccine narrative.
If the end result had not been thousands of deaths one might have even admired the hubris of the Biden operation. But people have died in large numbers as a result of a political scam.
Further, polling now shows the weary public is not distracted by this chicanery. Having failed to deliver on his Covid election promises, Biden now sees numbers at levels Trump experienced. Worse, a midterm massacre is in the offing, one that could see GOP take over both Houses of Congress. And repeal many of the progressive policies now being fed to the public.
The Biden media is now signalling the failure of its Covid strategy, pivoting to voting rights. DEM operative Donna Brazile catches the rage flavour. "Just as Revere and other patriots rode through Massachusetts on the night of April 18, 1775, warning rebellious colonists that the British were coming to prevent the creation of American democracy, Biden and Harris have warned that Republicans are coming now to destroy our democratic processes."
And all this because the Left, smarting from 2016 defeat, put its selfish destruction of Trump ahead of the safety of Americans. Karma is a bitch, no?
Bruce Dowbiggin @dowbboy is the editor of Not The Public Broadcaster (http://www.notthepublicbroadcaster.com). The best-selling author was nominated for the BBN Business Book award of 2020 for Personal Account with Tony Comper. A two-time winner of the Gemini Award as Canada's top television sports broadcaster, he's also a regular contributor to Sirius XM Canada Talks Ch. 167. His new book with his son Evan Inexact Science: The Six Most Compelling Draft Years In NHL History is now available on http://brucedowbigginbooks.ca/book-personalaccount.aspx