UCP Tax Cut Hits the Target but Misses the Mark
Opinion by Cory G. Litzenberger
Well for fear of being lynched, let me talk about how I think the UCP's Job Creation Tax Cut may be (partially) incorrect.
While I applaud politicians for laying out their plans in advance of an election, my fear is that the plan is too slow in implementation and cuts too far.
I think a tax cut needs to be moderate and quick – not slow and deep.
Here are my thoughts for various tax changes we need to do in Alberta:
General Corporate Income Tax Rate:
Instead of cutting by 1% per year over 4 years, bring it back by 2% to 10% from 12% in the first year and keep it there.
By delaying the cut as the UCP currently proposes, it could reduce the impact it will have on the economy as the change to the bottom line will not be impacted enough for a corporation to make larger investment until year two or three of the plan.
Quicker action by government will result in quicker action by business, resulting in quicker action in the economy and job creation.
10% also still makes us the lowest jurisdiction in Canada.
Personal Income Tax change to 3 brackets:
– 8% for first $50k
– 10% for the next $100k
– 12% for over $150k
This reduction from 10% on the first $50,000 saves roughly $600 in personal income tax (after factoring in the basic personal tax credit) for every individual making more than $50,000 a year.
It also saves 2% for those making under $50,000 currently.
This is an important cut in order to reward people that call Alberta home, as you will see below.
A rich person paying 12% in Alberta on their personal income is better than them paying 0% because they live somewhere else.
Harmonized Sales Tax (HST) 5%
Yes, I think we need to remove the inflationary and regressive carbon tax as it is way too high of a burden and causes a ripple effect in inflationary pricing how it was implemented.
However, I suggest we implement a 5% HST (which is a flow-through for businesses and does not have the same impact on pricing).
Now, hear me out before you break out the yellow vest!
Currently, anyone visiting our province as either a tourist or a temporary worker from another province are using our infrastructure like roads, water, and yes, even hospital emergency rooms.
When these non-Alberta residents file their personal tax returns, they file it based on their home province of residence as of December 31. Since most of them don't have a permanent residence in Alberta, this results is them paying income taxes to other provinces, while using our infrastructure for free.
Other provincial residents not paying any taxes in Alberta while here unfairly puts the cost on all of us that live here.
If we implemented an HST similar to the GST program, low income households would still receive credit back (just like GST credit) to offset most (if not all) of any HST they pay.
The $600 in income tax savings we mentioned above for everyone else, is equivalent to $12,000 of taxable supplies consumed ($24,000 in a double income household where they each make over $50,000 of income).
Don't forget that basic grocery and shelter do not have sales taxes, and if Andrew Scheer gets elected, neither will basic home heating.(https://twitter.com/andrewscheer/status/854364648388182016)
This income tax reduction of $600 to $1,200 would offset much of the sales tax you would pay, but would now start to charge non-Alberta resident visitors and workers.
The reason for an HST instead of a PST is that currently, an HST is required to be charged by all GST registrants across Canada. If you are a GST registrant, you are automatically an HST registrant.
For example, in my office in Red Deer, I have to charge my Ontario customers HST and send it in to the government even though my business is in Alberta.
An HST could reduce the potential for tax leakage out of our province by funneling it back to Alberta because of other retailers in other provinces requiring to charge it on things purchased outside of, or shipped to, Alberta.
Results
– a competitive corporate tax rate to attract investment and do it quicker than the original UCP plan;
– low personal income tax to attract wealthy individuals (and their tax residency) back to Alberta to make it their place of residence, again, quickly;
– removal of the inflationary carbon tax;
– insertion of a relatively low cost HST so that we can get back some of that transfer payment money from the residents of other provinces.
In Summary
– Reduce Corporate moderately and quickly.
– Reduce Individual moderately and quickly.
– Remove Carbon tax.
– Implement an HST.
I know that the slight mention of a sales tax in Alberta makes the hair on the back of your neck stand straight up, and for many conservative politicians, they would resign before suggesting it. However, even as a fiscal-conservative tax accountant like myself, I believe that if it is implemented properly with tax reductions elsewhere, it can add to the bottom line for the province.
I also think it can do so without being a burden to those that live here by taxing those that don't.
———
Cory G. Litzenberger, CPA, CMA, CFP, C.Mgr is the President & Founder of CGL Strategic Business & Tax Advisors; you can find out more about Cory's biography at http://www.CGLtax.ca/Litzenberger-Cory.html
The Real "Conservative Movement"
My kid has covid. Now what do we do? – Dr. Peter McCullough Interview Part 2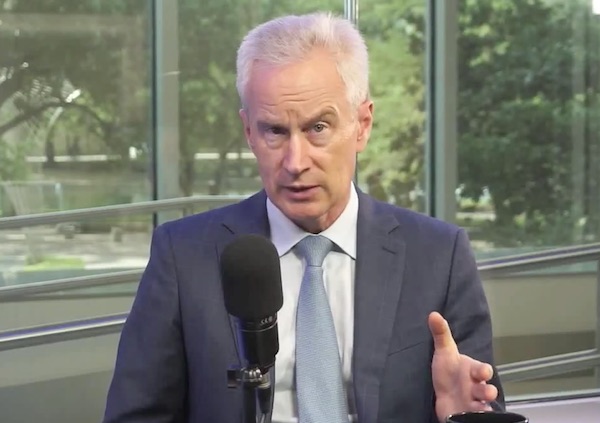 This may seem a little strange because I'm going to willingly breech my own doctor / patient confidentiality.  I'm not sure what my obligation is here but I know doctors are guided by the Health Information Act (HIA) and the Personal Information Protection Act (PIPA).  Nowadays though we all know that every time I go to coach my son's hockey team I have to divulge my health information in front of whoever happens to be near me in front of a stranger in the entrance of a hockey rink.  In other words, I'm guessing I'll get away with this.
Recently I asked my doctor the same question we all should be asking our doctors.  "If I get a positive covid result and I'm symptomatic, can I call you and ask for some kind of treatment?"
My doctor answered in the way I suspect most doctors would.  He looked at me quizzically and said "You mean in hospital?  You'll be treated by the doctors there."
That's not what I meant and I said, "No.  I mean if I have symptoms.  Will you offer me treatment to help me stay 'out' of the hospital in the first place?"
My doctor is a pretty good egg and I like him and all but from his response I know that if (when) I get covid I am going to be in the same position as almost every other Albertan.  I will go home and isolate and pray that this doesn't get serious.
I don't know about you, but as far as I'm concerned that doesn't seem good enough. I'd like to think there are treatments out there and maybe that's why I really like to research articles with data regarding Ivermectin and Hydroxychloroquine  (not to mention Zinc and vitamins D, and C).  Months ago these were just stories.  Then I started to meet people who told me about a family member or friend who quickly bounced back after taking treatment for covid.  Then I met a couple of those people myself.  Now I'm convinced there's something to all these articles I'm reading.
The studies say (so does my experience with people I know) that these treatments don't work every time.  However, if you could save even 10 percent of lives and keep even 10 percent of people out of the hospital by taking an inexpensive drug that has no serious side effects, why wouldn't you promote the living (beep) out of that?  Seriously?  What if it was 20 or 30 or 50%.  It's incredible to me that so many people will turn their noses at something like Ivermectin because someone on TV called it 'horse dewormer'.  For my opinion of the people who block their ears and yell "HORSE DEWORMER" see here.  If you've been doing that, please stop. I guarantee you someone you know and maybe even love has either taken Ivermectin, or they're going to want to some day. You may not know there are actually quiet a few studies.  Maybe you haven't met anyone who swears they turned around within hours of getting treatment. But trust me, the people making decisions for us (the politicians at the very top and even more importantly the health officials) know there are treatments out there.  They've just chosen not to pursue them.
While those who supposedly follow the science denounce studies that looked extremely promising but were really too small, or studies that were done so far away that we simply don't know enough to give them credence, other people who also  supposedly follow the science have found some very interesting data themselves.  Just check out this beauty from the American Journal of Therapeutics, called Ivermectin for Prevention and Treatment of COVID-19 Infection, published back on June 21 of 2021.  This is way better than 10%. This looks really promising. This is also being completely ignored by our political leaders. Don't ask me why. Seriously don't ask unless you have at least 2 tall boys.
The bottom line is, after all I've read and seen and the people I've met, I refuse to believe there is no such thing as a treatment for covid.  I know they're coming out with new ones for this specific purpose, but I'm convinced by data that there are repurposed drugs that are already doing the job. Not perfectly of course, but far better than say .. nothing.
This really gets me when I think about my children.  The thought of one of my kids getting covid and then becoming symptomatic, and then getting really ill, and then not being able to access treatment when I'm pretty sure there's something out there that would help them…  That's not a very nice thought.  It became real for me recently when a good friend told me his son (same age as my son) tested positive.  He knows I'm keeping up on this as much as I can and he texted to let me know (and I think ask if I could recall some of the things I've said to him about treatment).  I shared the video I'm sharing here, below.  I also emailed links to two very similar resources for us regular folks who can only talk about the people who actually follow the science.  I'll include these links because I think they're REALLY worth looking at.  Especially because there's literally nothing else to look at when someone in your household gets a positive test result.  Here's the Guide to Home Based Treatment for Covid from the American Association of Physicians and Surgeons, and here's the Guide to Covid Early Treatment from a group of US doctors on their website TruthForHealth.
The video below refers only to children but the two "home treatment" guides are helpful for people at any age.  I hope you never need this kind of info, but personally I don't think we're going to achieve the magical zero covid even if we take all the vaccine in the world. This very nasty virus is here to stay.  The way we're going to get back to living like we should be, is with EARLY treatment.. as in BEFORE we're deathly ill in the hospital.  I suspect we're about 6 months away from recognized and emergency approved early treatment pills that will eventually swoop in and save the day for the vast majority.  But seriously, who cares if you put out a fire with water, or retardant, or a cut line, or by stomping on it with your foot? The important thing is that you start fighting fire as soon as you can.  For me?  I'm happy to start by throwing a little dirt on this campfire while I wait for the water bombers.
Thanks for checking this out. If you need a bit more convincing that early treatment even exists.. check out this next article.
Emergency of Under-Treatment – Panel of 8 prominent doctors and scientists say earlier treatment is the only way out of health emergency