Town Of Sylvan Lake Looking To Acquire Its Provincial Park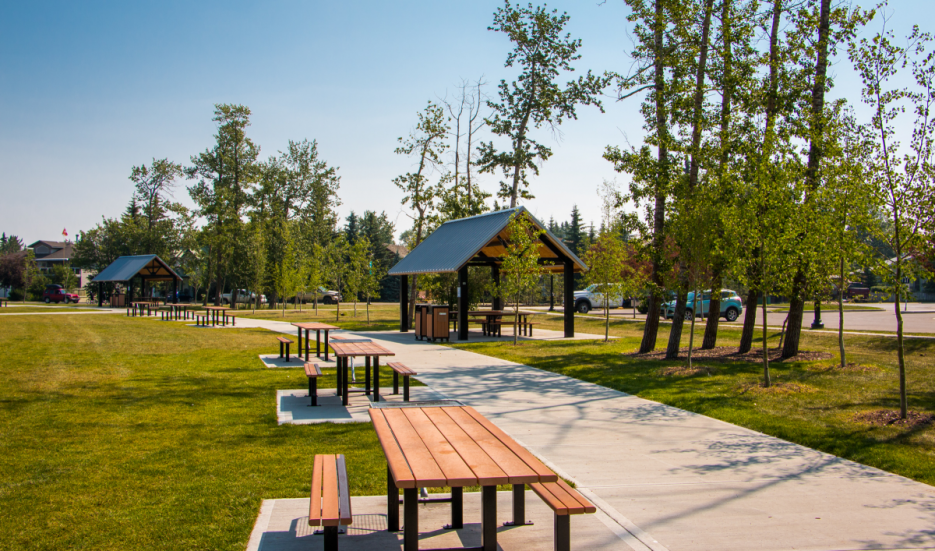 By Sheldon Spackman
The Town of Sylvan Lake is going ahead with plans to request to the Province of Alberta the divestiture of the Sylvan Lake Provincial Park to the Town of Sylvan Lake. As a result, the Town is requesting the Province provide a total funding allocation to the Town in the amount of $1.96 million, as part of the request.
In a release, Mayor Sean McIntyre says "The transfer of land will increase access to the lake, create opportunities to better manage park visitor experience, and contribute to the ongoing municipal efforts to expand local tourism economy. We're anticipating a complete, integrated plan for the entire waterfront area, with the goal of ensuring quality public access to the lakefront."
Town officials say if the Provincial Park is acquired, the Town will further be able to diversify its economy in an area already proven strong in tourism. They say the Town already has a proven track record of developing, operating and maintaining lands for public recreation and tourism, as evidenced through the redevelopment of Lakeshore Drive and Centennial Park. The Town has also held the maintenance contract for the Sylvan Lake Provincial Park for the past four years, providing a level of service that exceeds the requirements within the contract.
Since 2008, the Town of Sylvan Lake has taken over management of the washroom replacement project along Lakeshore Drive, the Centennial Park portion of the Sylvan Lake Provincial Park and received ownership of Lakeshore Drive (formerly Highway 11A), from the Province and embarked
on a downtown redevelopment project.
(Photo courtesy of the Town of Sylvan Lake)
Minister reviewing CBC's mandate with eye to making it less reliant on advertising
Canadian Heritage Minister Pablo Rodriguez is hinting that the Liberal government's online news bill could help the public broadcaster less reliant on advertising dollars. Rodriguez leaves a cabinet meeting on Parliament Hill in Ottawa on Tuesday, May 2, 2023. THE CANADIAN PRESS/Sean Kilpatrick
Heritage Minister Pablo Rodriguez is hinting that the Liberal government's online news bill could help the national public broadcaster become less reliant on advertising dollars.
Rodriguez says he has begun reviewing CBC/Radio-Canada's mandate, including ways the government can provide more funds to the public broadcaster.
Rodriguez's mandate letter from the prime minister says the goal in providing more money is to eliminate advertising during news and other public affairs shows.
During a House of Commons heritage committee meeting today, Rodriguez says the the CBC will financially benefit from passage of the online news act, also known as C-18.
The bill, being studied in the Senate, would require tech giants to pay Canadian media companies for linking to or otherwise repurposing their content online.
The parliamentary budget officer released a report last year that shows news businesses are expected to receive over $300 million annually from digital platforms when the online news bill becomes law.
This report by The Canadian Press was first published May 29, 2023.
New Democrat MP says she is target of foreign interference by China
New Democrat member of Parliament Jenny Kwan says she was briefed by Canada's spy agency, who informed her that she is an ongoing target by the People's Republic of China. Kwan speaks during question period in the House of Commons on Parliament Hill in Ottawa on Thursday, May 5, 2022. THE CANADIAN PRESS/Sean Kilpatrick
Ottawa
New Democrat MP Jenny Kwan said Monday that Canada's spy agency has confirmed her long-held belief that she is being targeted by the Chinese government over her advocacy for human rights in Hong Kong and for the Uyghur Muslim minority in China.
Kwan said the Canadian Security Intelligence Service spent an hour with her on Friday laying out the intelligence it possesses that she has been targeted by China since before the 2019 federal election.
But Kwan said she can't divulge the nature of the alleged actions against her, nor has she noticed them happening.
"What CSIS confirmed with me is that I was a target and I continue to be a target," Kwan said outside the House of Commons. "They use the term 'evergreen' meaning that I will forever be targeted."
The news is further evidence of the need for a full public inquiry on foreign interference, NDP Leader Jagmeet Singh said. He said the NDP will put a motion to the House of Commons on Tuesday asking MPs to vote in favour of a public inquiry, as well as for the ousting of former governor general David Johnston as the government's special rapporteur on foreign interference.
Johnston was appointed by Prime Minister Justin Trudeau in March to look at the intelligence collected about attempts by foreign governments, including China, to interfere in the last two Canadian elections, as well as whether the government's protections against, and response to, such interference are sound.
The Conservatives have accused Johnston of being biased because he has old family connections to Trudeau. Singh said while he has not seen evidence that Johnston was biased, he believes the very appearance of any bias is reason enough for Johnston to be replaced.
Last week Johnston said a public inquiry was not warranted, in part because too much of the information is classified for national security reasons. Opposition parties agree that the elections were not compromised but several still say a public inquiry is the only way for Canadians to feel confident in their electoral system.
Kwan said it is troubling that MPs were not given information about possible threats against them for years. A party official confirmed to The Canadian Press Kwan is not concerned about any physical threats to her safety or that of her family.
Kwan said MPs should be told immediately if CSIS has information about threats or tactics being used against them. Public Safety Minister Marco Mendicino issued a new directive earlier this month requiring that to happen.
Kwan squirmed as reporters tried to get more information about exactly how she was being targeted, repeating over and over she cannot say because the information is classified.
While she has long suspected she may be fodder for attempted interference by the Chinese government, she was not aware of any actions and those suspicions were only confirmed in the briefing on Friday.
"The short answer is, no, I didn't know until this moment when I've been informed. Did I suspect that there might be something, especially in light of the information that's coming forward? I did wonder. I can't help but to wonder, because of my outspokenness."
Kwan said she has no intention of backing down in her advocacy work, pointing out that in the last week she participated in two rallies including a photo exhibition marking anti-democratic events in Hong Kong and a democracy walk over the weekend.
"Out of this briefing it is more clear to me than ever that I will not be intimidated, that I will not be silenced in any way," Kwan said. "Whoever is trying to put pressure on me in whatever way that they're trying to do it, they will not succeed."
This report by The Canadian Press was first published May 29, 2023.