Todayville Tech Partner Edmonton Top 40 under 40
Edmonton's Avenue Magazine held its annual Top 40 under 40 Awards Tuesday night and Todayville's technology partner, Raoul Bhatt, was a member of that illustrious group. As someone no longer in that particular age demo, it's a humbling experience to sit in the crowd and listen to the incredible achievements of these serious over-achievers.
Raoul and his team brought to life our Todayville vision over the past year.  It's been quite an undertaking, more than anyone realized. Who knew it could be so challenging to create a technology platform that allows us to connect an entire community so we can all publish to the same platform?  Raoul is one of our province's top software and app designers.
In his own words, "My greatest interest is in taking a concept and developing that idea into a business, whether for profit or not for profit, that people want to be a part of; inventing a product, bringing it to life and making it excellent. To make the experience so exceptional that people will buy it, or download and use it. Either way, it's rewarding."
Raoul is an accomplished artist/designer and photographer. Always a self-starter he studied countless design books and Internet digital design tutorials, and by the age of 14 was putting his skills to good use creating posters for local nightclubs. At the same time, he was coding thousands of scripts for a variety of businesses. In the years since, Raoul has worked with some pretty cool companies including Twitter, Yahoo, Bosch, the Oilers, Wrestlemania, and a bunch of police agencies in Alberta including the Edmonton Police Service.
Raoul's first company FireText enjoyed wide­spread usage in stadiums, nightclubs, even with artists like Mark Anthony and Fall Out Boy. In 2005, it was used as the text to screen provider for the Superbowl and used on location on more than 60 giant screens at MET Life Stadium in New Jersey. Heady stuff before social media hit its stride.
In 2010 he developed then Canadian National Games brand for Special Olympics that was used across Canada and helped the United Way's Tools for Schools initiative during the Charlie Hebdo attacks.
Hats off to you Raoul on being one of the 40 smartest and brightest in our northern city.  We're proud to have you as a key player on the Todayville team!
Michener North lands selected as location for future multi-use aquatic facility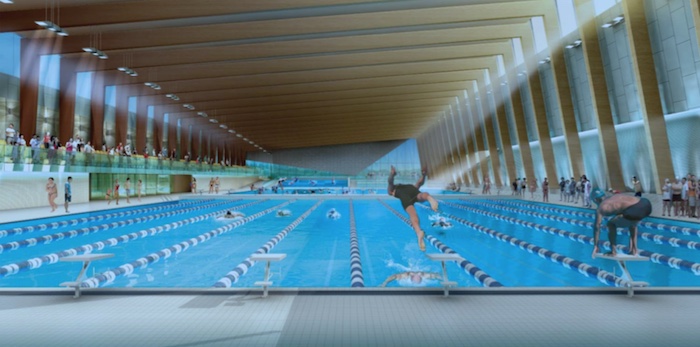 Monday, Red Deer City Council approved Michener North lands as the site for a future multi-use aquatic facility in Red Deer.
"Confirming the location for the future multi-use aquatic centre is an important milestone in bringing the vision for a new aquatics centre to life for our community," said Mayor Tara Veer. "Both Rotary Recreation Park and Michener North lands were viable options for the facility; however, selecting Michener North lands offers us the opportunity to re-imagine a future for this significant piece of Red Deer's history and create a legacy for future generations. Today's decision also signals Council's desire to move forward with this long anticipated project when economic conditions are more favourable in the future, as well as our commitment to re-purpose Michener North for public purposes and park expansion. One of the challenges for funding a new aquatic centre was the many pragmatic financial uncertainties of the project. We have now determined location and scope, which will help us to plan more definitively for funding of future construction."

In December, Council directed administration to consider two possible locations for the multi-use aquatic facility: Michener North lands and Rotary Recreation Park. In addition to an in-depth evaluation of both sites, several factors were considered in selecting Michener North lands:
The City is purchasing the Michener North lands from the Province, with funds approved in the 2021 Capital Budget.
Solidifying this location allows the multi-use aquatic facility to be included in the visioning for Michener North. This visioning will help develop ideas around what this site could for the community and will begin in early 2022.
The multi-use aquatic facility serves as an anchor to this future major park node.
Scoping, design and cost were also determined in December as part of Phase 1 of this project. At this time, the facility includes a 53M x 25M pool with 10 lanes, ranging in depth from 2.5M to 3.8M with diving platforms at the deep end and two 1.5M movable bulkheads. This competition pool is compliant with FINA standards and Swim Alberta recommendations. The facility also includes a 25M x 20.6M pool with eight lanes, ranging in depth from 1.2M to 2.2M to accommodate swim competitions, warm up for aquatic sport competitions, and floor based depths serving local community programming needs. Two hot tubs, steam and sauna amenities, universal change rooms, spectator seating for up to 750 people, storage, sport group dryland training area, and staff supports are accounted for in the design.
The facility construction costs are estimated at $51,600,000, and by selecting Michener, The City is in a better position to quantify the variable site development costs as plans are solidified to place the item in the capital plan.
We now know that Michener North lands will be used for municipal purposes and become a major park node for community use," said Sarah Tittemore, Community Services General Manager. "Major park nodes need indoor facilities to serve the needs of park users, and deciding on the multi-use aquatic facility at this site allows the visioning for the Michener North lands to include this anchor and the community. We look forward to working with the community to enrich the vision through planned future consultation."
Last day to buy tickets – Buy and share to support your hospital!
Today at 11pm it's all over but the winning in the 2021 Red Deer Hospital Lottery.
No extensions will be made.
Buy now – it's your last chance! 
The Grand Prize Dream Home package is valued at $880,619 and includes furnishings from The Brick
and $10,000 Dream Home CASH!
CHECK OUT OUR GREAT TICKET PACKAGES
$25 EACH | 5 FOR $75 | 10 FOR $125 | 25 FOR $250
And remember, your purchase of a Red Deer Hospital Lottery ticket will directly benefit Central Alberta's tiniest patients.  
The Mega Bucks 50 jackpot is the highest ever!
Some ticket packages are still available.
1 for $10   ·   10 for $25
25 for $50   ·   50 for $75
Win half of the current jackpot of: