Thieves steal empty ATM with U-haul
From Strathmore RCMP
Strathmore RCMP seeking assistance identifying suspects in ATM theft in Lyalta, Alta.
On Feb. 17, 2020, at 9 a.m., Strathmore RCMP received a call of an ATM theft that had occurred sometime overnight at the Mercantile at Muirfield located in Lyalta, Alta.
Preliminary investigation indicates a Ford pick-up truck was used to back into the storefront of the business to steal the ATM. It is noteworthy that the ATM did not have any cash inside due to business practices. As the business was closed at the time of this break-in, no one was injured; however, the break-in caused extensive damages in excess of $15,000.
The suspect vehicle is believed to be a Ford pick-up truck and would have sustained damage to the rear of the vehicle and both side mirrors were broken off.
Surveillance photos of the suspects and the suspect vehicle are attached.
Strathmore RCMP are seeking the public's assistance to identify those responsible. If you have information about this incident, please contact the Strathmore RCMP at 403-934-3968 or call your local police. If you wish to remain anonymous, you can contact Crime Stoppers at 1-800-222-8477 (TIPS), online at www.P3Tips.com or by using the "P3 Tips" app available through the Apple App or Google Play Store.
Red Deer bike enthusiast finds his expensive rides on Kijiji, RCMP make arrest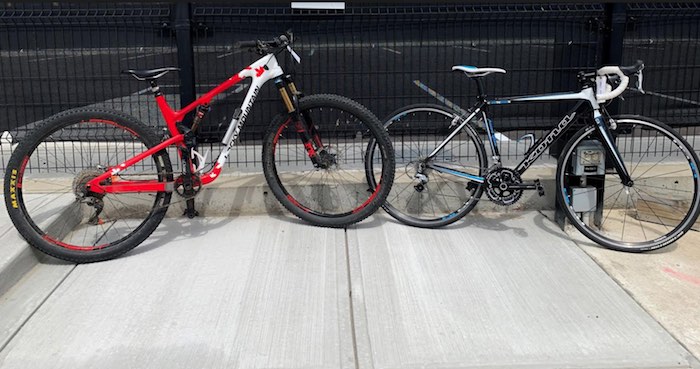 News release from Red Deer RCMP
Red Deer RCMP return stolen property to owner
Red Deer RCMP reunited an owner with their valuable property after a successful joint detachment effort to recover two stolen bicycles worth approximately $7,000 dollars.
On May 12, Red Deer RCMP were contacted by police at the Wainwright detachment regarding two bicycles posted on Kijiji for sale in the Red Deer area. The owner of the bicycles had been keeping a watchful eye out on classifieds websites for his property, when he discovered the ads and called his local police department.
The owner was able to provide police with a list of identifying marks to confirm their ownership of the bicycles in the ad. Red Deer RCMP conducted an investigation that led them to a residence in Oriole Park. At this residence, officers observed a man leaving with one of the bicycles. Officers intercepted and arrested the suspect. The second bike was later seized from the residence in Oriole Park.
The stolen property was returned to the owner, and the suspect, Brody Kaus, 31, of Red Deer was charged with Trafficking in Property Obtained by Crime over $5,000, as well as a charged with Operation of a Motor Vehicle while Prohibited. Kraus is scheduled to appear at Red Deer Provincial Court on June 29, 2021.
There are steps you can take to protect yourself and help police return a stolen bicycle. Record the make, model, and serial number of the bicycle, as well as take photos. Owners are also encouraged to register their bike at the 529 Garage online bike registry. Additionally, a coded, tamper-resistant shield decal can be purchased. To register a bicycle on 529 Garage, visit www.project529.com/reddeer
RCMP looking for suspect in weapons investigation after disturbance at Sylvan Lake Beach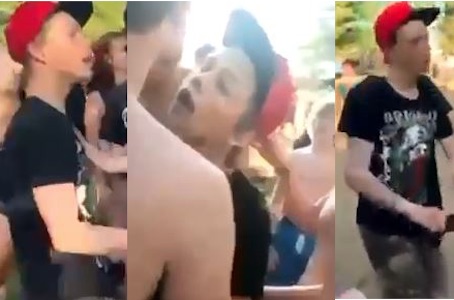 Sylvan Lake RCMP Investigate Weapons Offences
On June 2, 2021 at approximately 8 p.m., members of the Sylvan Lake RCMP detachment responded to numerous 911 calls regarding a large disturbance involving firearms and knives in the pier area of Sylvan Lake Beach
Approximately 200 people were in close proximity to the event, and the investigation has identified a smaller group and a person of interest.  Sylvan Lake RCMP are seeking the assistance of the public in identifying the subject of interest in the photographs.  The subject is described as follows:
Caucasian male
Slim build
Wearing red high top shoes with black laces,
Camouflage pants,
Red ball cap with flat brim
Black t-shirt with a masked skull logo.
Should you have any information regarding the subject of interest, please contact the Sylvan Lake RCMP Detachment directly at 403-858-7200 or via e-mail at [email protected] or CrimeStoppers at 1-800-222-TIPS (8477).