THE YMCA AND WALK OFF THE EARTH REIMAGINE THE Y.M.C.A. ANTHEM, FOCUSING ON YOUTH MENTAL HEALTH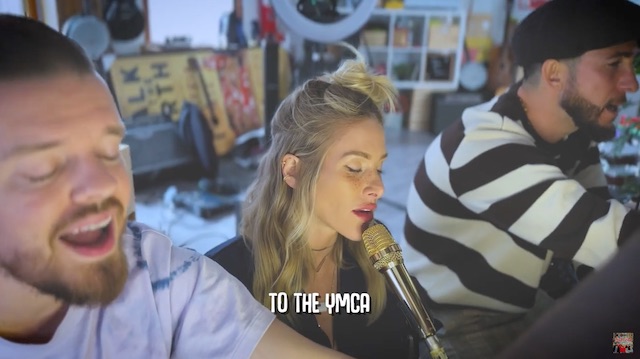 From the YMCA of Northern Alberta
The musical collaboration introduces expanded access to the YMCA's free youth mental health program, Y Mind
YMCA Canada and Canadian indie pop band Walk off the Earth today released a modern take on the Y.M.C.A. anthem to raise awareness of expanded access to the free youth mental health program, Y Mind. Originally released in 1978, the hit song has brought crowds to the dance floor, with an enduring legacy internationally. The reimagined cover of the classic party anthem, performed in a more soulful and sincere tone, brings new light to the original lyrics through a mental health lens as the YMCA aims to highlight today's need for community and open dialogue surrounding mental health. Alongside the new musical arrangement, Walk off the Earth has also released an accompanying full-length music video now available on YouTube.
"We've seen how music is so connected to emotions – for us and our fans – so we were honoured to take on the challenge of reinventing such an iconic song and give new meaning to its enduring lyrics," says Sarah Blackwood of Walk off the Earth. "When we took a look at the original lyrics, it was staggering how a message about the YMCA from 45 years ago is just as relevant and pointed today – but now we're sharing that message with a focus on mental health tied to Y Mind."
The collaboration aims to bring awareness to a new era YMCA Canada hopes to usher in, as the charity has expanded their broad range of programming to include free mental health services through Y Mind, serving the changing needs of Canadian communities.
Y Mind is an innovative early intervention mental health program that helps teens (ages 13-18) and young adults (ages 18-30) cope with stress and anxiety with the support of health professionals. The seven-week program is available online or in person, in English and French (under the name YMCA Libère ta tête). The Y Mind program is offered completely free of charge thanks to support and funding by the Public Health Agency of Canada.
"YMCA Canada has been proud to serve our communities for decades, helping Canadians overcome many obstacles that impact overall health, which includes mental well-being," said Peter Dinsdale, President and CEO of YMCA Canada. "The number of stressors that today's youth face can seem overwhelming, including the post-pandemic experience, school and social media pressures. While there has been good progress made to alleviate the stigma around mental wellbeing, programs like Y Mind are critical to addressing one of the biggest barriers to accessing help: cost."
"Mental health is health, and everyone, including Juno Award winners, like Walk off the Earth, are opening up and having conversations about their mental health. The music lets young people know that it's okay to not be okay and that there is help available through YMCA's Y Mind program. Our government continues to be very supportive of this initiative," says The Honourable Ya'ara Saks, Minister of Mental Health and Addictions and Associate Minister of Health.
The Y Mind program comes at a time when young people's stress and anxiety levels remain at an all-time high. According to a survey conducted in 2023 by Deloitte, close to half of Gen Zs (46%) and four in 10 Millennials (39%) report feeling stressed or anxious all or most of the time.1 Guided by qualified mental healthcare professionals, participants in the Y Mind program have reported reduced anxiety, improved well-being and reduced feelings of isolation.
To learn more about the Y Mind program or find a location near you, visit www.ymca.ca/ymind.
About Y Mind
Y Mind was first developed by the YMCA of Greater Vancouver (now YMCA BC) and has been offered across British Columbia since 2018 thanks to financial support from the British Columbia government. Y Mind was born to meet the growing need for free, accessible mental health support. It quickly established itself as a pillar of support for the region's youth, serving over 3,200 young people in 54 communities. Building on this momentum, the Y Mind program was extended across Canada, including Quebec with YMCA Libère ta tête, through the support of YMCA Canada and YMCA BC. Y Mind has now expanded to 21 YMCAs across the country and is currently being supported though the Public Health Agency of Canada's investment Supporting the Mental Health of Those Most Affected By COVID-19.
About YMCA Canada
The YMCA is a charity that ignites the potential in over 2 million people annually, helping them grow, lead, and give back to their communities. Across Canada, the YMCA delivers a wide variety of programs and services that empower people of all ages and life stages to overcome barriers and rise to their full potential. Programs include child care, health and wellness, aquatics, employment services, immigrant settlement, camps, mental wellness, and many other community initiatives that respond to local needs. Foundational to all this is the YMCA's commitment to creating spaces and experiences where everyone feels safe, welcome, and a sense of belonging.
The YMCA in Canada is comprised of 37 YMCA Member Associations, supported by YMCA Canada, the national office, working together so all Canadians can shine on.
Addiction Recovery: City hosting full day information session on "Recovery Oriented Systems of Care"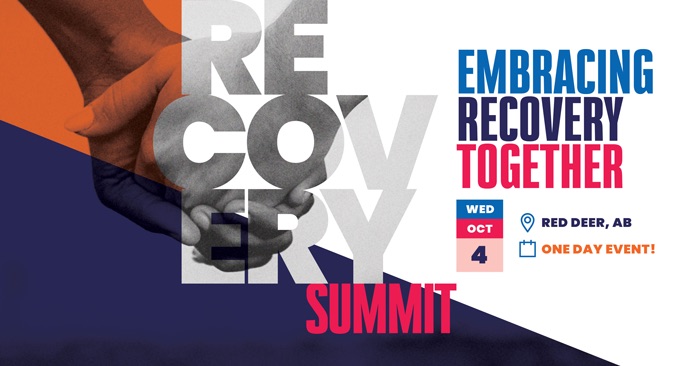 Embracing Recovery Together
Come together in Red Deer for a one-day conference focused on building an understanding of what a Recovery Oriented System of Care is, and what implementation can look like for Red Deer specifically.
Join industry, not-for-profits, government, and interested members of our public to learn, grow, build and start a journey towards recovery.
The word "recovery" can have various meanings in various contexts. For the purposes of an ideal coordinated response, it means helping individuals maintain forward momentum toward better wellness and fulfillment, across all dimensions of their life – physically, mentally, emotionally, spiritually and culturally.
When:
Wednesday, October 4 – 7:30 a.m. until 4 p.m.
Where:
Westerner Park (4847A 19th Street)
Event Details:
7:30 – 8:30 a.m. – Breakfast & Registration
8:30 – 9:15 a.m. – Welcome & Opening Prayer with Mayor Ken Johnston and Elder Lynn Jonasson
9:15 – 10:15 a.m. – Opening Plenary: Let's Get to Work with Alison Jones Webb
10:15 – 10:30 a.m. – Coffee break
10:30 – 11:15 a.m. – Breakout Option #1: What is Recovery, Recovery Capital and Recovery Oriented Systems of Care (ROSC) with Paul W. Sobey, MD
10:30 – 11:15 a.m. – Breakout Option #2: Understanding Trauma and Behaviour with Elicia Miller
11:15 – 11:30 a.m. – Break
11:30 a.m. – 12:15 p.m. – Breakout Option #3: Conversation with Elder Lynn Jonasson
11:30 a.m. – 12:15 p.m. – Breakout Option #4: Panel discussion with Kath Hoffman, Reed Charbonneau, Ben Borger, Samantha Shortneck and Sarah Fleck
12:15 – 1 p.m. – Lunch break
1 – 3:30 p.m. – Afternoon Keynote: "Whole of Society Approach" to Recovery with Dr. Alina Turner
3:30 – 4 p.m. – Closing remarks with the Honourable Dan Williams, Minister of Mental Health and Addiction
More information about the facility, including directions, can be found here: https://westernerpark.ca/
More information about Red Deer, hotels, what to do, and restaurants, please visit Tourism Red Deer
Thank you to the Government of Alberta for providing financial support for this event. For more information about the Provincial Government's approach, please read the report here: Toward an Alberta Model of Wellness
*Note: If the cost of the conference is a barrier to attending, please reach out to [email protected] and we would be happy to work with you to ensure everyone has the opportunity to attend.
Speaker Bios
THE JACKPOT IS OVER $14000 AND THE WINNER WILL TAKE HALF!!!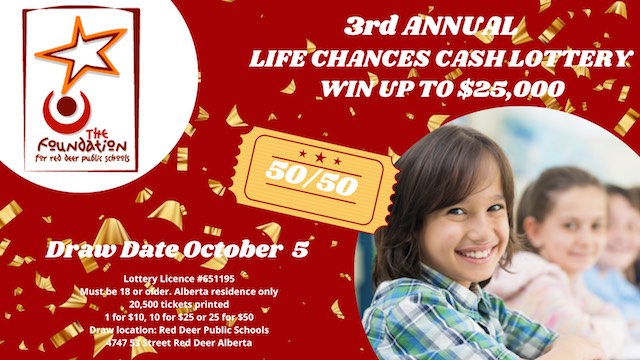 GET YOUR 50/50 TICKETSTODAY!!!! Winner could take home up to $25,000!!!
The Foundation for Red Deer Public Schools supports programs that have a significant impact on the LIFE CHANCES of students across the Division. By purchasing a ticket to support our 50/50 cash lottery you are giving students opportunities to have better life chances.
From giving kids a Bright Start to school to reconnecting with students so they graduate and cross the Finish Line, the Foundation helps students who face challenges in school and makes things better. We motivate struggling students and inspire them to read and write through Reading College. For students who come to school without basic needs, we give them that needed Step Up.
With the support from the Foundations 50/50 Life Chances Raffle, you are providing a student with opportunities that will improve their life. They can't always control the situations they're in but with your help students will continue to have these chances.
Don't miss your chance, CLICK HERE to buy your tickets today – Draw will be held on October 5! Good luck!
NOTE: This raffle is open to all community members in Alberta and over the age of 18.