The Show Must Go On – RDC collaboration will keep The Nutcracker festive tradition alive
RDC continues festive tradition with The Nutcracker
The evolving COVID-19 pandemic has brought significant challenges to public performances, but with safeguards and creative planning, Red Deer College is continuing its magical holiday tradition by presenting Pyotr Tchaikovsky's The Nutcracker ballet through a host of online video options.
"RDC is extremely proud to once again help showcase the talented dancing of central Alberta youth in The Nutcracker, which is one way to help cultivate the festive spirit over the coming months," says Dr. Peter Nunoda, RDC President. "Despite the inability to watch the performance in person this year due to COVID-19 restrictions, the ballet is bound to entertain and enhance connections in the surrounding communities with this collaborative effort between College students, instructors, dancers and community members."
For over 100 years, Tchaikovsky's perfect score and epic battle of mice and toy soldiers has mesmerized audiences. When young Clara receives a treasured Nutcracker from her mysterious Uncle Drosselmeyer, mystical things begin to occur when everyone goes to sleep. The Nutcracker is a tradition that resonates with viewers of all ages as the magic of the season comes alive in a creative blend of artistic expression.
Preparation for The Nutcracker has looked different for 2020, but the skill and enthusiastic performances remain at a premium level. The 37 dancers, who are between the ages of five and 18, have been diligently practicing in cohorts while following health and safety protocols, as identified by Alberta Health Services (AHS) and RDC.
Using picturesque outdoor locations around Red Deer, RDC's students and instructors from the Bachelor of Applied Arts, Film, Theatre and Live Entertainment program have helped film and edit scenes of The Nutcracker. Beginning on December 14, the general public will have unique options to view the production online, including through rental and standard purchase of a digital copy.
The Nutcracker Extended Edition, which will be available to buy between December 20 and January 8, contains exclusive footage of rehearsal, along with interviews from Tania Strader, Choreographer and Director, dancers and film crew. These bonus features allow viewers to have a glimpse behind- the-scenes into the unwavering hours of practice and preparation, while gaining insight from the dancers and crew through a collection of candid conversations, which are unavailable on the other rental and standard purchase options.
With several choices to view The Nutcracker, an entire family can conveniently watch the holiday classic for one price. Fans who purchase the video performance, which was adapted from E.T.A Hoffmann's story, have the benefit of reliving the cherished ballet well into the future.
For more information about The Nutcracker, including how to order, please visit: rdc.ab.ca/nutcracker.
Larry Reese and Judy Sutter among five Central Alberta artists featured in OUR West Country exhibition at MAG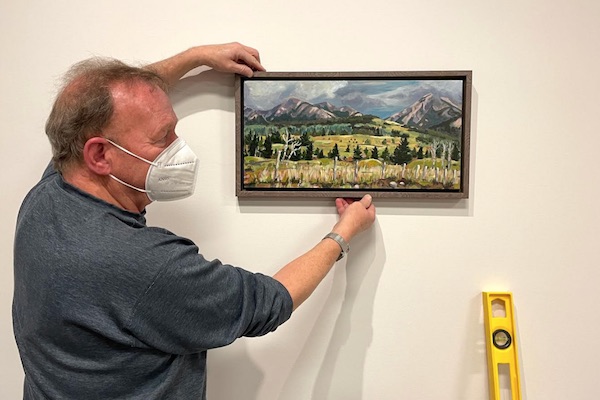 News Release from Red Deer Museum & Art Gallery (MAG)
Five Central Alberta artists worked en plein air, painting the incredible landscape that is the West Country.
The Eastern Slopes of Alberta and prospective coal mining in that area have been the focus of much controversy in the last year. These mountains are more than the resources they hold. They provide the people of Alberta with much of the province's fresh water supply as well as mental and physical connections to nature. In the summer of 2021, central Alberta artists Lynn LeCorre, Kate More, Larry Reese, Judy Sutter, and Susan Woolgar worked en plein air, painting and sketching onsite in the open air. Through their eyes, we experience the incredible landscape that is the West Country along the eastern slopes of Alberta's Rockies. See the exhibit OUR West Country: Plein Air Painting in Alberta's Eastern Slopes on display at the Red Deer Museum + Art Gallery (MAG) December 11, 2021 to March 12, 2022, with an opening reception on Sunday, December 12th from 2-4pm.
Words from Pat Matheson, Curator of Art:
"The MAG is looking forward to seeing this exhibition installed as it touches on a topic near and dear to many Albertans, including myself. With the new awareness most Albertans have with the landscape so close to us to the west, we invited a group of en Plein Air artists to capture the atmosphere, the beauty and the spirit of Alberta's eastern slopes through their eyes."
Opening Reception: Sunday, December 12, 2-4pm
Join us at 2 pm for the opening of the new exhibits OUR West Country: Plein Air Painting in Alberta's Eastern Slopes and Ya Ha Tinda – The Ranch: Photography by Arto Djerdjerian. Artists in attendance.
Talks & Tours:
Open for First Fridays! Guide in the Gallery – January 7, 5-8pm
2 O'CLOCK TOURS – Staff-led informal tours. February 12, 2pm
Yvette Brideau's photography captures small and silent spots throughout Central Alberta.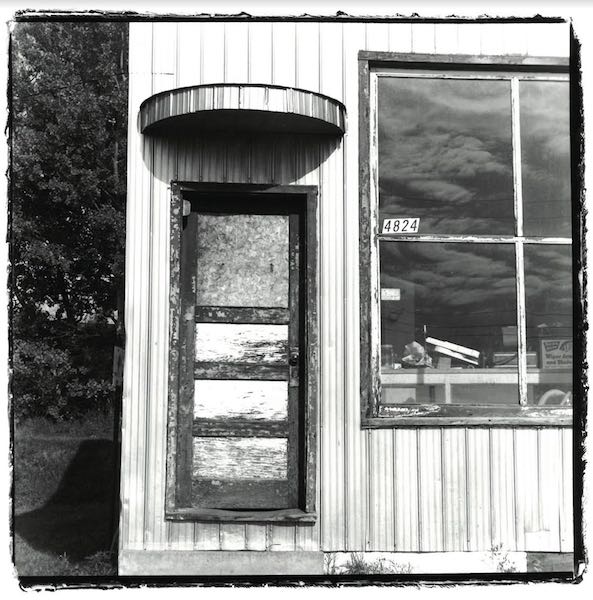 Yvette Brideau,"Tunnie" (Lorne) Nielsen's Welding/Mechanic Shop, Benalto, AB 1995.
Empty windows and empty rooms reflect and echo what once was.
Yvette Brideau's small black and white photographs of abandoned churches and quiet spaces reflect what is left behind by the passage of time. See the photographic exhibit Vestige: Photography by Yvette Brideau on display at the Red Deer Museum + Art Gallery (MAG) December 10, 2021 to February 27, 2022.
This is a hallway exhibit: a small collection of 2-dimensional works.
Vestige /'vestidᴣ/ noun [French from Latin vestigium sole of the foot, footprint, trace.] A mark, trace, or visible sign of something no longer present or in existence; a piece of evidence, an indication; a surviving remnant.
Words from Joanne Gruenberg, Curator of Art: "In Vestige, photographer Yvette Brideau's small scale black and white photographs take us to the quiet spaces that are often overlooked or left behind as people pass by and move on."
About the Artist
Born in northern New Brunswick of Acadian descent, Yvette Brideau attended St. Thomas University in Fredericton, graduating with a degree in French Literature in 1973. She developed a fascination for black and white photography and
studied with Dr. Harry Thompson, a devotee to the zone system of Fred Picker and methods of Ansel Adams. Yvette moved to Red Deer in 1984 and in 1994 Yvette and her husband David More re-located to the hamlet of Benalto and established a wee home and former church studio and a garden named Benhaven. Partners since 1977, Yvette and David's journey together is revealed in the Red Deer MAG book The Greatest Garden.